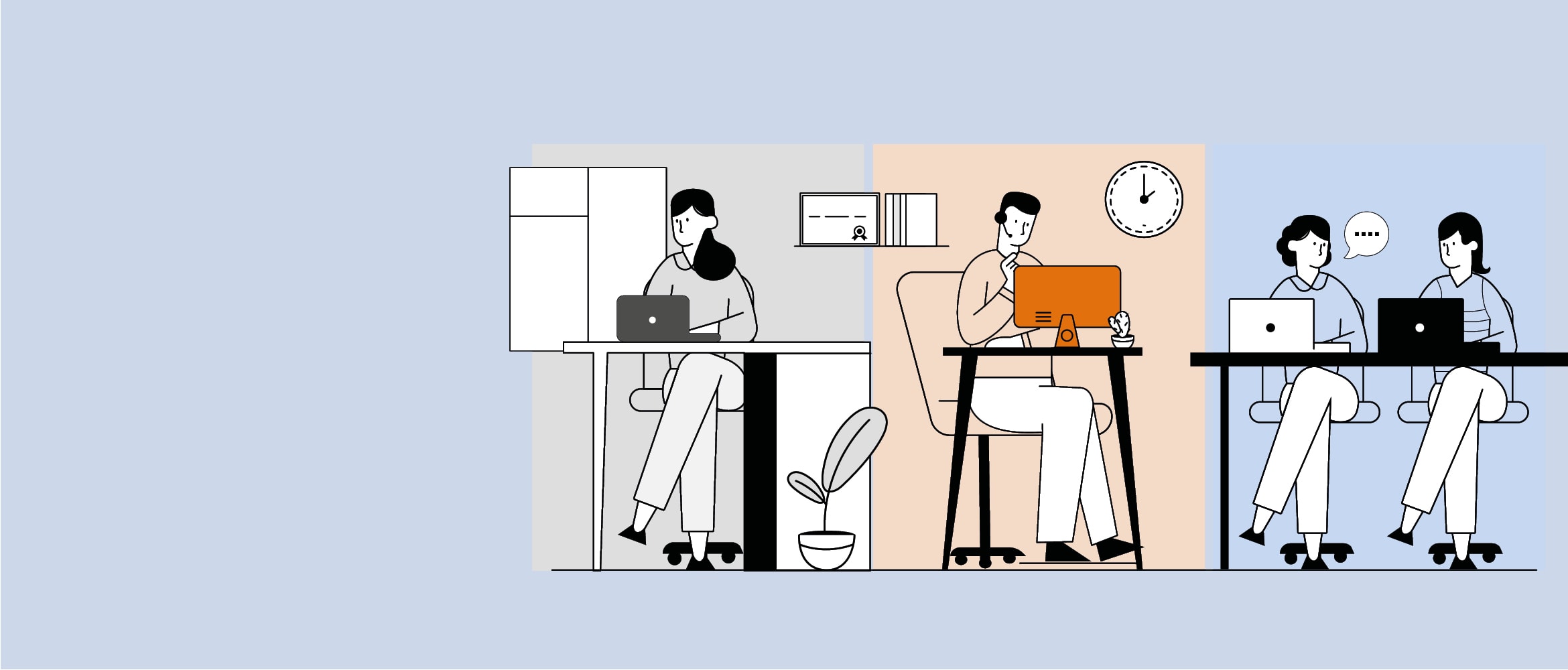 The future of work: The hybrid office
The future is now. Hybrid working has arrived, and it's here to stay. While the global pandemic forced the whole world to work from home, this crisis also demonstrated the resilience and adaptability of many businesses, organisations, and their workforces.
The shift to home working may have been a necessity at first. Still, it soon became apparent that it was also an opportunity, especially with the latest technology and innovative solutions available. Employees gained greater independence, flexibility, and empowerment. At the same time, organisations benefited from a more engaged, motivated, and productive workforce and cost savings from reduced utility bills and infrastructure. As workplaces reopened this year, it was clear that the world of work had changed forever and that the future of the office had become the present.
What is a hybrid office?
Put simply, a hybrid office is a combination of a traditional office and working from home. This could be anything from a 50/50 split to any other combination. For example, having colleagues who work exclusively from home but visit the office for meetings or brainstorming and other permanently office-based employees. This blended approach is aimed at giving both workforces and organisations maximum flexibility.
The benefits of hybrid working
The key benefits of hybrid working bring together the best of home working and the advantages of traditional offices in one flexible model.
A happier, more productive workforce
Empowered and independent, many staff thrived while working from home during the pandemic and seized the opportunity to develop new, more efficient ways of doing their job. This led to increased productivity and a more engaged, motivated workforce with reduced absences. Of course, for every happy home worker, there is someone who also missed the office dynamic, working in teams, and interacting with their colleagues. Hybrid working allows staff to do both.
Digital transformation
Many organisations were already on the path to digital transformation before the pandemic. Still, the dramatic change in business practices has led to the rapid and widespread adoption of new technologies and IT.
For businesses and other organisations, this has been a positive outcome and has led to new, cost-effective ways of working and greater efficiencies thanks to innovative technologies. These include remote monitoring and management, automated workflows, virtual desktops, and more.
Cost savings
Downsizing traditional workplaces and moving to a hybrid office could save money on equipment, furniture, hardware, and utility bills. If half of your workforce was now based at home, these savings could be significant.
Environmental benefits
Fewer employees commuting means less transport damaging the environment.
How to set up a hybrid office
Organisations have several important considerations when setting up a new hybrid office for their remote workforce.
Communication
While good communication has always been vital, it is even more critical with a distributed workforce. Video conferencing may have existed before the pandemic, but it became an essential tool during lockdowns. Video calls are now likely to be a part of every office going forward.
Similarly, WhatsApp and other platforms were creatively utilised by managers and teams to stay in touch. Brother Web Connect and Mobile Cloud Apps are also great ways for colleagues to share files, collaborate, and communicate with each other.
With in-person meetings now possible, too, it's essential to get your communication and messaging right to help keep your hybrid workers engaged.
Infrastructure
Whether migrating to the cloud, investing in virtual desktops or managed print services (MPS), the proper infrastructure is essential for successful hybrid-remote working. It's also necessary for office and home workers to have the same user experience regardless of their location or the device they're using – Brother's award-winning devices allow colleagues to interact with the same intuitive user interface across our range. Brother's hybrid technology solutions help IT decision-makers maintain control while empowering their teams across a new borderless office environment.
Office and workspaces
The traditional office still has a part to play. Still, it may need adapting to meet the new needs of hybrid working with re-configured collaborative spaces, video conferencing rooms for communicating with home workers, hot desks, and more. This might mean fewer desks and more social areas, smaller offices, or new kinds of office environments we've yet to imagine.
Education and training
It's not just about investing in new technology but ensuring your staff have the training to make the most out of hybrid working. An organisation's biggest asset is its workforce. Successful hybrid working is as much of a cultural change as a technological one – that's one of the reasons why communication is vital.
Security
Hybrid working brings different kinds of security risks. These can include work devices being lost or stolen or colleagues accessing unsecured Wi-Fi networks while working remotely.
Organisations need to protect themselves against new threats by investing in technology designed for security. For example, Brother's professional printer range comes with a range of features, including intrusion detection, digitally-signed firmware, and programmes like Secure Print+. For tailored expert support, organisations can also contact our specialist team for bespoke solutions to suit your organisation's needs.
IT
Naturally, one of the biggest challenges facing organisations as they move to hybrid working is around IT. During the pandemic, the sudden shift to home working revealed the benefits of this model to both employees and organisations. Still, it also took companies time to find practical solutions to the unique challenges of having a distributed workforce. One of the biggest was adapting traditional IT infrastructures to remote working and the subsequent loss of control for IT decision-makers and administrators.
Pre-pandemic working from home often meant poor connectivity and collaboration. Times have changed, and organisations now have a wide range of hybrid working technology solutions available. From scalable workflow solutions like Kofax ControlSuite to updated network security, remote device management and virtual desktops (VDIs). Brother's award-winning range of devices and software has been designed to help businesses and employees work at home, in the office, and on the move. We're hybrid ready, and we're here to help you get there too. Find out more about Brother's Hybrid Working Technology Solutions.
Remote working policy
Since hybrid offices are an extension of flexible working, organisations may need to adapt existing policies or create a new remote working policy. This will help establish a framework around the hybrid approach so that employees and organisations know what is expected. For example, whether staff need to be physically present for meetings and collaborations.
A policy could include guidance on which roles are suitable for hybrid working and any legal implications. Not to mention how this new way of working impacts IT and data protection. It should also cover eligibility, the implications for providing equipment, security, staff selection, performance monitoring, insurance, and health and safety.
Summary
Working from home during the pandemic doesn't mean the days of the traditional office are over, far from it. Instead, hybrid working has been heralded as the way forward. This brings together the best of both working environments to create a new kind of workplace that is more flexible, dynamic, and adaptable for whatever the future holds.
In many ways, the pandemic accelerated a change that was already happening. But the new world has certainly arrived sooner than we thought. It's now down to businesses and organisations moving quickly and capitalising on the exciting opportunity to transform.
Find out more about our solutions for hybrid working, here.