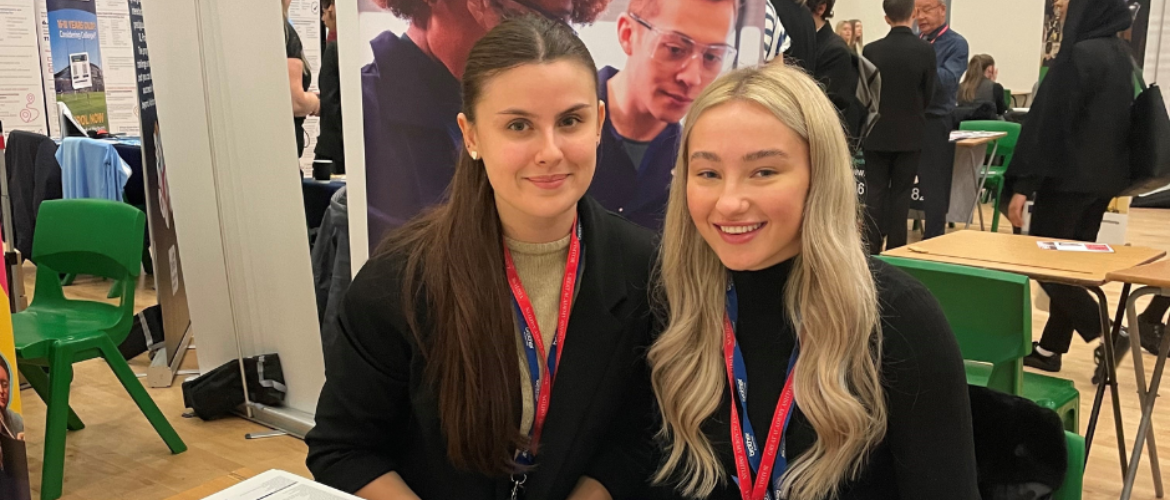 Apprenticeships and responsible businesses: how skills for life bring long-term business sustainability
Isobel Hall, 20, wakes to another day in the career she'd wanted since before leaving school. Confident, engaging and blessed with a smile that would place even the most anxious recruit at ease, she is often the first person new starters meet as they begin a career with Brother UK.
It's fitting that Isobel should now include inductions among her responsibilities as an Organisational Development Administrator. She experienced first-day nerves at the company's Manchester headquarters as a teenager on work experience. Now a fully-fledged colleague, with one apprenticeship completed and another well underway, Isobel is the local girl made good.

Her commute is short. Isobel is a Tameside resident and, like Brother UK, calls the borough home. The company's unmissable presence, whether measured by its sizeable premises or its service to local and regional communities, made it her preferred employer, even while studying at nearby Fairfield High School for Girls.

"Initially, I did work experience in year ten at high school. The school had set up a choice of placements. I selected 'administration work'. The school contacted Brother UK, and I gained a week's worth of experience. That gave me a taste of working in an office environment," she recalls.

"I was really enthusiastic about working at Brother. I was treated fairly and equally and immediately felt at home. I felt the company's values reflected my own. I stayed in contact with Sam Johnson, Brother's Organisational Development Manager, and did more work experience days over the Christmas period.

"That led to an offer of an apprenticeship once I'd left high school. I'd built relationships within the business. They knew me, and I knew them. An apprenticeship allowed me to join the world of work and train on the job, which I knew I'd prefer to college and university."
Sam is now Isobel's line manager and has been central to developing the company's Investors In People-certified apprenticeship programme, introduced ten years ago. She has been consistently impressed by interviews with school leavers. Often, she says, their research, preparation and company knowledge is superior to that of more experienced candidates.

"The drive young people have is amazing. As proud as we are of the success of our programme, where nine out of ten apprentices stay with us, it's down to their hard work, too. They're enthusiastic and perform at a very high level. Isobel is an excellent example," Sam says.

Typically, Isobel arrives at the office anywhere between 8.15am and 8.30am, leaving plenty of time to begin work at 8.45am. Variety is a feature of her role ("every day is different") but she completes certain tasks on a daily basis, such as uploading employee absence data to an internal database.

Other responsibilities reflect the dynamic needs of a continually evolving business. Isobel administers changes to employment contracts, coordinates training with internal and external agencies, and issues letters with formal offers of employment, among other duties. She also supports the career journey of new starters from onboarding to completing their probation.

Much of Isobel's day is spent on detailed work, such as ensuring health and safety training decks are up to date. But there is time, too, for the people-centred activities she enjoys most. Community engagement was central to her first role and is an enjoyable aspect of her latest position.

From flying Brother's flag at careers fairs to judging entrants to the Hallé Orchestra's Impresario initiative, an exercise that tasks students in Manchester with the organisational challenge of staging a concert, Isobel is in her element when dealing with people. Friendly, good-natured and outgoing, she is a self-confessed "people person".

"Community engagement was a big part of my previous role, and now we're moving away from the pandemic, we can get back into the community, start paying forwards and giving back. I'm a people person. That's the world I'm in: building relationships with people. I love the interaction," she says.

Sam maintains that the concept of 'paying forwards' isn't limited to Brother UK's apprentices. The entire company, from Managing Director Phil Jones MBE to the 16-year-olds who join as school leavers, are bought in to promoting apprenticeships, and in the local community, especially. Brother UK prioritises Tameside when recruiting apprentices.

"We encourage apprentices to spread the word in the community. I pay forwards as often as I can, speaking about apprenticeships to local schools, colleges and businesses. Phil delivers keynote speeches in Greater Manchester and nationally. He strongly believes our apprenticeship cohort will provide the next generation of Brother's leaders."

Following the pandemic, Brother UK adopted a hybrid structure, allowing colleagues to combine office days with remote working.

Isobel's 'home' day is Wednesday, but this is for study. Apprentices spend 20 per cent of their working week completing course assignments. Isobel lives with her parents and brother, but the house is empty during the working day, and the family kitchen becomes her library. She has no difficulty concentrating.

"I completed a Level 3 apprenticeship in Business Administration, studying company policies and how an organisation functions as a business. For the end-point assessment, I completed a project to make a business more efficient. I'm now a full-time employee, upskilling with a Level 3 apprenticeship in HR Support," she says.

"I hope to begin my end-point assessment after twelve months when it usually takes eighteen. I had a lot of responsibilities in my previous role, but I have many more now, and I can use those as evidence for my skills, behaviours and knowledge, which leads to the apprenticeship standard."

Isobel is not overstating the case when she speaks about responsibilities. Many have a legal context and demand the highest standards of professionalism. From administering employment contracts to organising statutory training, she has no margin for error. Her work supports many of the most critical events of the employee lifecycle.

She combines a people-centred approach to organisational development with the diligence of a qualified administrator. Isobel enjoys the structure of the working day and maintains a positive work-life balance. The gym and dog walking often feature on her 'to-do' list before relaxing with her family in front of the television.

Isobel is an enthusiastic supporter of learning in a professional environment. From her earliest exposure to corporate life, on a work experience placement, she has preferred the office to the classroom as a place to develop, both personally and professionally. Apprenticeships have shaped her life, as well as her career.

"When I started work experience, I didn't even know how to attach a document to an email. Now, it's second nature. I love the pathway I've followed into the world of work. I feel that I have my own identity. I'm responsible for myself. I've become an adult," she says.

At Brother UK, Isobel found, at her first attempt, an empowering environment and a supportive culture that has promoted her personal and professional growth. There can be few clearer examples of the mutually beneficial relationship between a responsible business and an apprentice eager to maximise the opportunity of workplace learning.