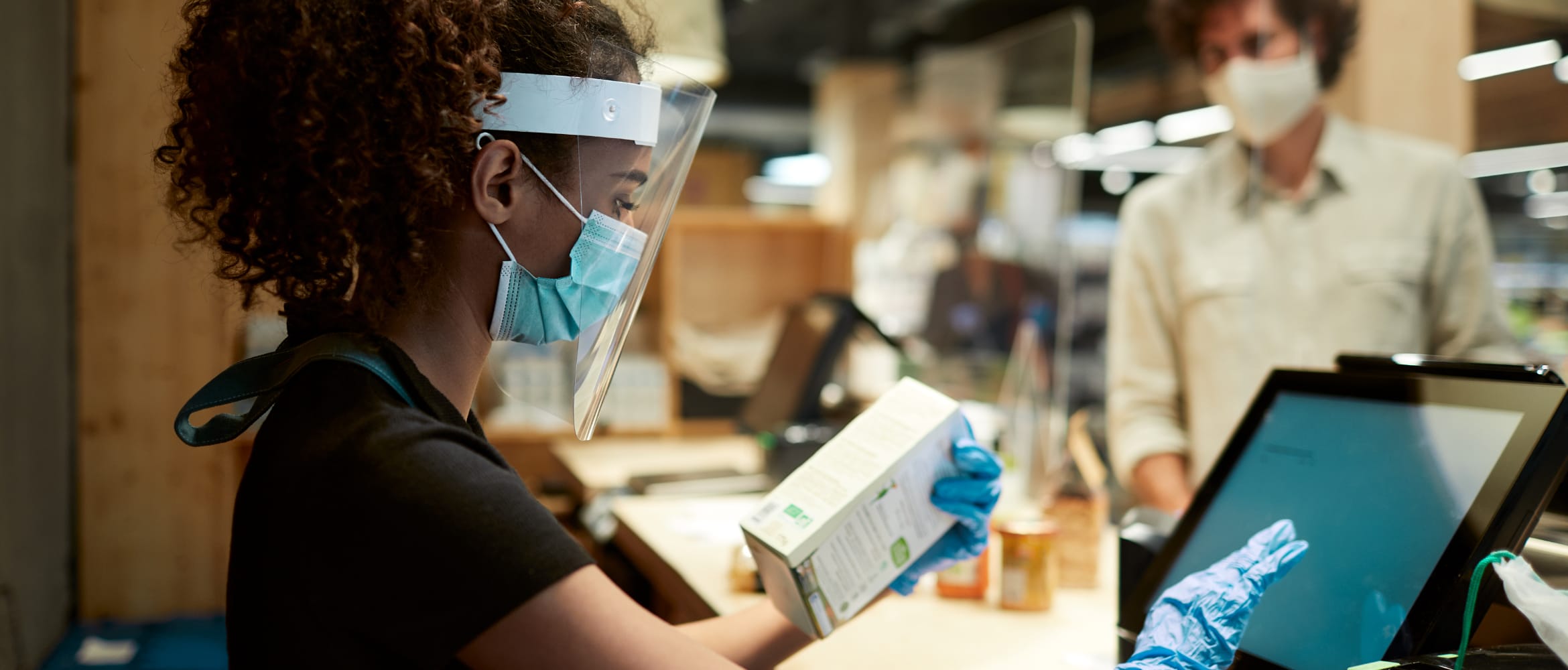 Improving customer service experiences with portable printing
How specialist printing including mobile and portable printing can enhance retail customer service experience and business productivity during a post-coronavirus era.
With the country in and out of lockdown, as well as accounting for unpredictable restrictions based on an evolving tiering structure, many retailers have been hit hard financially from the impact of COVID-19.
A strong recovery will be reliant on a number of factors, including transforming manual or time-consuming processes into more effective ones to make the experience safer and quicker for consumers and more efficient for colleagues.
Handling demand efficiently is key in driving revenue numbers, while delivering a good service should remain the bedrock for businesses keen to ensure future custom through positive brand affinity.
To get the best results, retailers need to have robust and reliable processes in place throughout their organisation, which can be supported through integrated efficient labelling and mobile printing processes.
Below, we look at the benefits of labelling and printing throughout the retail sector.
Specialist print and labelling solutions for grocery and food retail
Supermarkets and food stores have a rapid turnover, meaning shelves need to be continually restocked to keep sales flowing. A mobile workforce will require reliable and ready-for-work mobile printers to print on the go, so shelves are up to date and sales and discounts are suitably advertised. Devices, such as Brother's RJ mobile print range being battery powered, can be used either on a trolley or a shoulder strap to be kept within arm's reach at all times. Portable print devices are perfect for creating shelf-edge labels, clear barcode labels as well as sale and discount pricing labels.
Labelling can also support grocery retailers in complying with food safety regulations. There are millions of allergy sufferers in the UK, and that figure is thought to be rising. So businesses need to be in the know about allergens and how they inform their customers about them. There are currently 14 key allergens food businesses are legally required to display, making correct labelling critical.
In October 2021, new legislation known as 'Natasha's Law' will come into force. It states that foods that are made on site and pre-packed for direct sale (PPDS) must have full allergen information on packaging, highlighted in bold or a different colour. Those restaurants now offering takeaways and pre-prepared meals for customers to eat at home will need to be aware of these new rules and follow them to the letter. Brother has a number of solutions that can help food workers label these key allergens more precisely, efficiently and cost-effectively to give your customers confidence and keep them coming back.
For in-depth, expert guidance on achieving and maintaining compliance with Natasha's Law, download our ebook here.
Specialist print and labelling solutions for fashion retail
Having to join the end of a long queue is a common frustration for shoppers and now, more than ever, customers don't want to feel crowded when making their purchase. Queue-busting portable print solutions can be implemented to prevent this. Additional tills can be created using mobile printers to print mobile point of sale receipts to reduce queue length. This pop-up till can support social distancing and help to reduce the time consumers spend in store, therefore improving their experience. From a charity retail perspective, stores can use a similar process to set up dedicated Gift Aid drop off stands, making dropping off donations quicker and easier by avoiding the need to queue alongside shop customers. Devices, including Brother's RJ mobile print range, can be used on a belt clip or a shoulder strap so that staff can produce receipts, wherever they are in store, without the need to transport a bulky device. And when placed on a portable POS stand, it means that mobile tills can be located anywhere throughout the shop.
An additional consequence of COVID-19 is the increased need for retailers to highlight safety measures to ensure customers and staff feel and stay safe, using a combination of clear labelling and signage. Brother's PT range can be used to create customisable, durable labels, instantly on site, up to 3m in length, to highlight safety measures such as hygiene stations, one-way systems and social distancing measures.
Evolving guidelines mean that retailers need to be able to adapt quickly, so having access to customisable printing solutions will help them stay on top of evolving advice. Free P-touch Editor software can be used to create fully personalised labels, and because the printers can integrate with Microsoft application databases, including key information from frequently used programmes is simple.
You can find more information about our retail solutions here.
Specialist print and labelling solutions for eCommerce warehouses
In vast warehouse settings, having a portable and rugged device for remote print makes processes more efficient, faster and therefore more cost-effective. However, ensuring that these printers can be integrated seamlessly into existing systems is vital. With a range of connectivity options and various printer command languages supported, RJ mobile devices are the standout choice for improving warehouse efficiency. They can also be clipped onto a belt to enable printing on the go throughout the working day, meaning your mobile workforce can label products for picking, packing and dispatching products, as well as printing barcodes, to deliver a more streamlined process.
Specialist print and labelling solutions for eCommerce delivery drivers
Reliable delivery is a huge factor in the success of an eCommerce business. It can prevent customer complaints and increase return custom. Mobile printers from the RJ and PJ range can come with an optional vehicle mount, wired car charger or cigarette adaptor, ideal for the mobile workforce. Empowering your delivery drivers to print delivery slips and confirmations quickly and easily not only offers a more streamlined process, allowing more deliveries to be completed, but also provides you with instant/real-time information, reduces admin time after delivery, fewer mistakes incurred and the ability to make amends on the job, rather than later when key details may have been forgotten.
Brother has a complete range of labelling and printing devices designed for users in the retail sector including, thermal portable, on-body 4-inch printers and portable A4 printers, as well as durable label printers. The vast ranges create durable labels, designed to make processes smoother, faster and more efficient.
Specialist print and labelling solutions for retail
Retail is a broad sector, with a wide variety of business challenges. One commonality in challenges faced by retailers across the sector is the need to empower teams to be more effective in their processes.
Whether you're looking to introduce new and innovative processes or the ability to integrate into your existing workflows and improve your customer services, Brother has the products, solutions and software you need to make a difference to your users and consumers.
Learn more about Brother's mobile print and label solutions here.
For more information about specialist print and labelling solutions, visit our label and receipt printers hub.