Choosing the right desktop document scanner for high-volume applications in healthcare
There are few environments where speed and accuracy of data sharing matter more than in healthcare. The importance and sensitivity of the information being handled mean efficiency and attention to detail are paramount.
That's what makes digitising patient records such an important project, but also why it's a significant challenge from a technology perspective.
That's where Brother's range of desktop document scanners can make a world of difference.
Our line-up of high-performance devices come complete with an arsenal of features to ensure that practitioners are supported from day one, right out of the box. Helping you to capture patient data, optimise its transfer across your healthcare setting and boost internal collaboration.
Each device is designed to handle high scan loads while remaining as unobtrusive in the workspace as possible, with its sleek casing presenting a clean and minimalist feel, complementary to any healthcare environment.
Here's a quick rundown of the products in the range, to help you decide which might be right for you.
ADS-4100
Competitive on price, but high on quality, the ADS-4100 can be thought of as the little brother in our desktop document scanner line. Its uncluttered facings keep things simple with easy to identify button controls.
The ADS-4100 comes with a 60-page automatic document feeder, so it's able to handle large amounts of documentation at the click of a button, perfect for the high administrative demands of a doctor's practice.
Designed with resilience in mind, the ADS-4100 has a recommended daily duty cycle of 5,250 sheets and operates at a speed of 35 pages per minute, allowing it to carve its way quickly through your document digitisation project, and stay on top of ongoing scanning needs.
Featuring USB connectivity as standard, the ADS-4100 is perfect for single users who want a dedicated scanner for personal use. With USB3.0 and USB host, you can also securely scan documents to a flash-memory drive, without the need for a PC.
ADS-4300N
This model represents a step up for practitioners who have a significant need for faster and larger scan loads.
To ensure that pages are never missed, the ADS-4300N uses ultrasonic detection functionality.
Able to manage 80 sheets at a time in its automatic document feeder, and to print significantly faster at 40 pages per minute, the ADS-4300N offers access to the highest speed and most reliable scanning for those focused on keeping budgets down.
The ADS-4300N is also compatible with Brother's Barcode Utility software - an automated document-routing solution that helps practitioners to streamline their digitisation workflow right out of the box.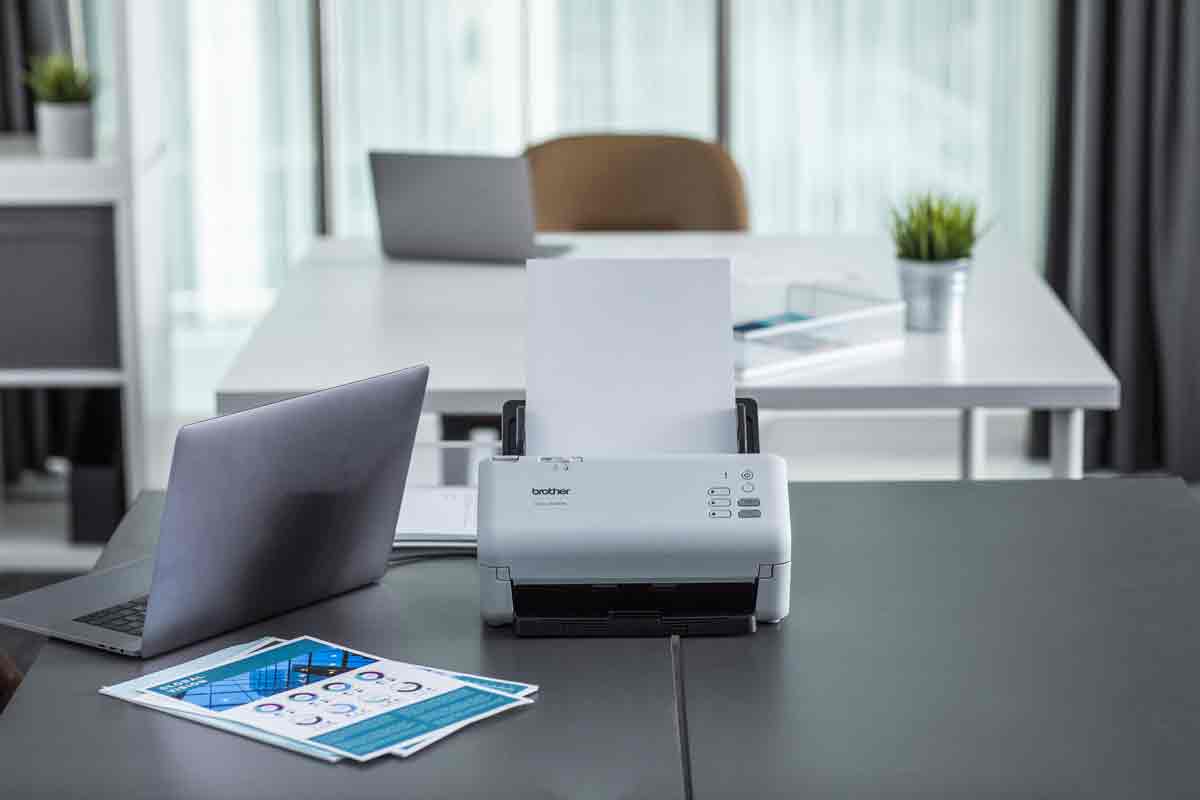 ADS-4500W
Built for accessibility, the ADS-4500W is the first in the desktop document scanners line that comes fitted with a touchscreen as standard, so users can check on scan loads and other features, right on the device. Users can also set up shortcuts on the scanner for their most common scanning tasks.
Alongside the touchscreen, the ADS-4500W offers a scan speed of 35 pages a minute and, like the ADS-4100, can handle 60 sheets at a time in its document feeder.
Featuring wireless connectivity, the scanner is ideal for applications where multiple users will use the device.
ADS-4700W
The ADS-4700W steps things up again, combining the touch screen with 40 pages-per-minute scan speeds, a document feeder with an 80-page capacity and a 6,000-sheet daily duty cycle.
Just like all others in this list, it comes readily equipped to handle print media weights between 40-200gsm and offers the same abilities for Barcode Utility as the ADS-4300N.
What makes the ADS-4700W stand out is its customisable user interface and larger touchscreen, sitting at an unmissable 10.9cm right in the centre of the scan console.
ADS-4900W
This model represents the biggest and best in our desktop document line of products. Boasting a highly optimised 60 pages per minute scan speed and a 100-sheet scan feeder, it holds the top spot in the range for utility in any clinical setting.
Capable of USB, LAN and Wi-Fi connection, it can operate anywhere, anytime and can take on most of the different kinds of media you would want to throw at it, with an operating range between 25 to 400gsm.
The ADS-4900W also comes equipped with a 10.9cm touchscreen and offers all previously mentioned Brother upgrade solutions as well as ultrasonic page detection.
Rugged by design, the ADS-4900W also offers a hyper extended daily duty cycle of 9,000 pages making it ideal for the heaviest-duty digitisation projects.
The bottom line
Scanning solutions are playing an increasingly key role for healthcare providers, from hospices and surgeries to hospitals as they move towards greater levels of digitisation. Our varied product range offers choice and peace of mind for healthcare IT administrators who are looking for the best fit for their practice.
All of our scanners offer USB connection as standard and are fitted with TWAIN drivers out of the box, meaning minimal set up headaches when implemented into pre-existing systems.
Our years of experience have informed our product design, focusing in on the key tenets at the heart of scan responsibility: Capture. Optimise. Collaborate.
View our desktop scanners for business to find out how they can help make a difference to your practice.
Hopefully after reading this, determining which devices will give you what you need shouldn't be too difficult. But when it comes to actually implementing technology solutions into your healthcare setting, where do you start? Learn more about how our experienced team can be 'At your side' as you embark on healthcare digitisation projects large and small.