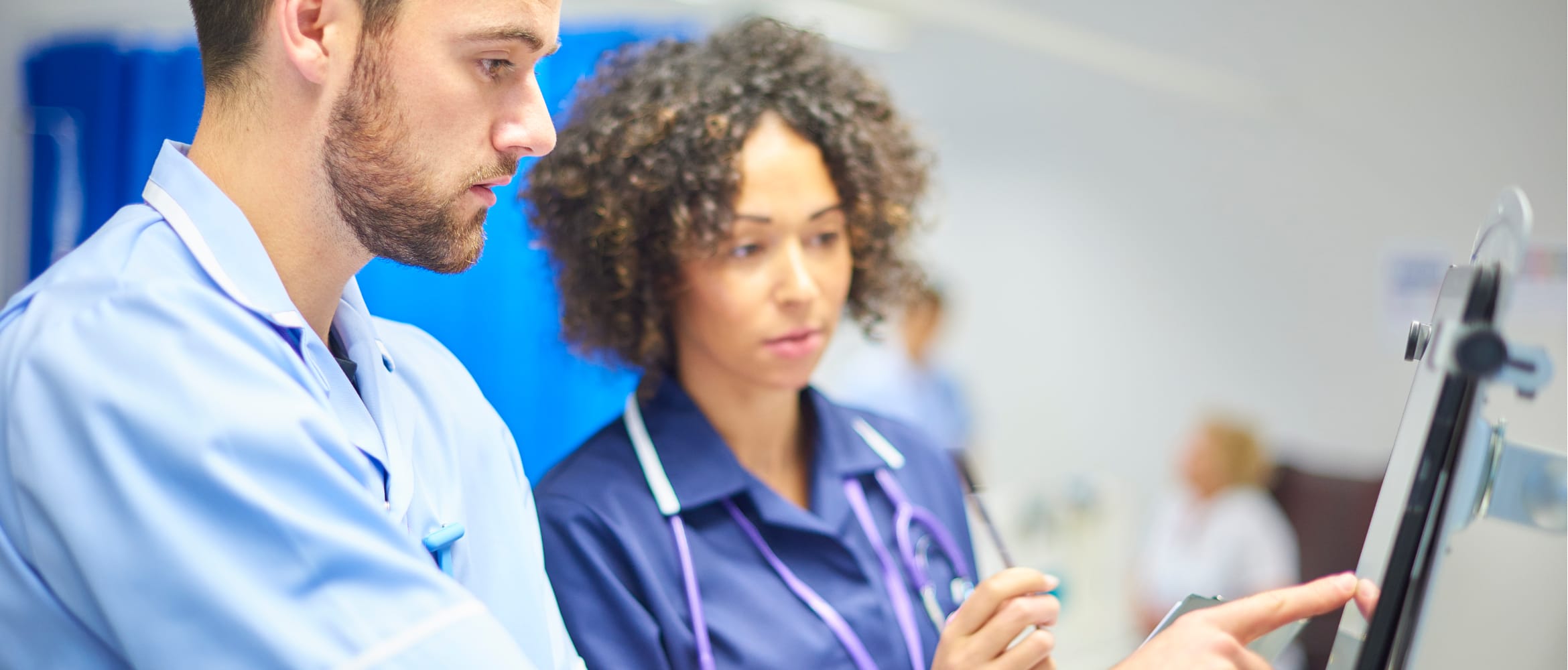 Digital transformation in secondary healthcare: How Brother can support going paperless in healthcare
IT has a key role to play in improving patient care, whether it's supporting diagnosis at the bedside or speeding up admin at a desk. Paperless working can be a major part of this, and not just because cutting supplies costs can free up budget for elsewhere.
Security – and with it, peace of mind for patients – can be enhanced with a paperless policy. Physical records can be mislaid, or in extreme cases, stolen, putting patient information and possibly safety at risk. Secondary healthcare organisations will have processes in place to prevent this, but using digital records is an effective way to safeguard against issues.
Sustainability is a key component of paperless working. An organisation the size of the NHS can have a genuine, wide-ranging impact by reducing the amount of paper it uses. It's something we care about a lot at Brother, and though it may seem counterintuitive as a print technology company, if we can find a way to help you print less, we will.
However, we also understand that going paperless – that is, completely eradicating the use of paper – is a big commitment. For some organisations, it may be an unrealistic target. Going 'paperlite' is a more achievable, yet still effective, option. Paperlite involves limiting your usage of paper day by day, until only the absolute essential requirements are left. The goal is to vastly reduce the use of paper, rather than getting rid of it altogether. This may be a better solution for the secondary healthcare environment. After all, some paper documents exist for a reason, especially when it comes to legal purposes and the need for signatures. Plus, not everything can live as a piece of digital data. There may always be a need for clear labelling on things like lab samples or patient ID.
How Brother can help you
As your technology partner, Brother can carry out an in-depth assessment of your print needs and practices. That way we can uncover any areas where paper is vital, and those where a transition to digital would be beneficial. To help this process, we're able to establish a virtual environment that replicates your location at our own offices. That way we can run and test different solutions without becoming a barrier to patient care on site. Any managed print solution we do implement will be completely bespoke to your organisation and way of working. Ultimately, our aim is to enable you to spend less time with IT equipment and more time where it matters – with patients.
One of the major considerations for any transition to paperlite working is the way you move data as an organisation. A priority is eliminating replicated or unnecessary tasks. For example, printing the same thing twice to store in two different places. The first thing to consider is whether these physical documents are actually needed, or if we can streamline this process digitally.
If there is a need for a physical print, the inclusion of options like a GS1 barcode can enable more efficient capturing and sharing of data. When scanned, it can automatically send files direct to particular folders or servers. That way healthcare professionals can access those files quickly from anywhere.
The data you do share is often confidential, and security settings on our devices can help keep this protected, as well as reducing the amount of physical printouts you use. Using pull print, whether through PIN or RFID cards ensures documents are only released and printed when authorised by the user. That means no confidential papers left in the output tray, and no wasted paper and ink on documents staff print and forget about.
To enable the transition to paperlite to be simple and efficient for users, you can also customise the user interface on your Brother machines. Not only can you set shortcuts for popular tasks, but also create rules where scanned documents are sent automatically to certain folders – saving time and helping prevent data loss.
A managed print service will provide much better visibility of your print estate. With the ability to monitor usage (in real-time and as trends), you can uncover areas where excess printing may be taking place, then deploy technology to solve this problem, such as software updates or changes in the user interface. To make day-to-day tasks as efficient as possible, we also ensure our technology integrates seamlessly with your PAS so you can continue to use your own devices at the bedside.
So, is a paperless future feasible for secondary healthcare?
Healthcare professionals are adept at picking up new technology that can improve patient care. While what we've discussed may not be as transformative as other innovations, it does enable better ways of working with the technology staff have to use on a daily basis.
Going completely paperless may be too big of an ask, but a paperlite future for secondary healthcare is achievable. Yes, there may still be a requirement for paper. In critical situations staff may rely on printouts, and samples may need printed labels to help identify them. But if we can modify behaviour and provide the right support, we can help secondary healthcare transition to a more efficient and sustainable model of printing and sharing information. One that frees staff up to spend more time with patients.
To learn more about how Brother can support your digital transformation, speak to our secondary healthcare specialists today.
For more on our healthcare solutions across the whole industry click here to find out more.