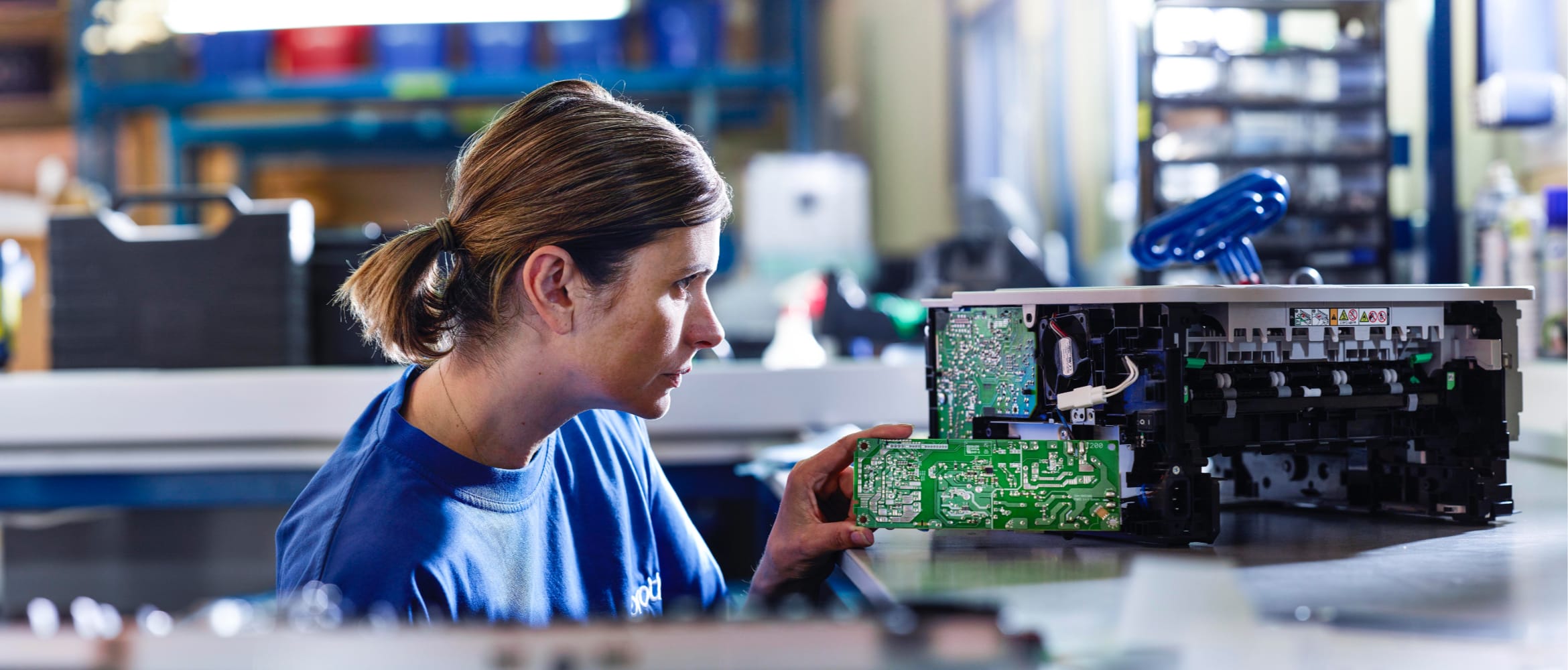 How to dispose of old printers
Want to know what to do with your old printerr? Brother UK explain where and how you can responsibly dispose of old printers and recycle them.

If your printer broke down tomorrow and couldn't be fixed, would you know the best place to have it recycled?
Recycling printer cartridges is familiar to most of us, but rehoming an unwanted or broken printer may feel more daunting. However, it's important to persevere and not take the easy way out by dumping your printer somewhere unsuitable like a landfill where it could take up to 1,000 years to degrade. Recycling is one of the keys to a sustainable future. That's why the message coming from responsible printing companies such as Brother and national charities like Recycle Now, is the same: 'Don't bin it. Bring it'.
How to recycle old printers
Printers contain large amounts of recyclable material that can be repaired or repurposed by manufacturers. Many old or broken printers can be reused, sold, or donated to charity before recycling is even necessary. Furthermore, investing in a business printer which allows for modular repairs means that if one element is broken it can simply be replaced, rather than rendering the whole machine redundant. When that time comes, there are a number of ways you can recycle your old printer and help the environment, from local recycling centres to household recycling collection schemes, as well as returning the printer to the manufacturer or retailer you bought it from. At Brother, we take our environmental responsibilities seriously and ask our customers to do the same by supporting printer recycling.
Brother's award-winning and industry-leading printers are collected and recycled in accordance with European legislation known as the Waste Electrical and Electronic Equipment Directive (WEEE), which aims to reduce the amount of waste electronics going to landfill. This is vitally important to safeguard the environment and we encourage our customers to help support our commitment to responsible, ethical and sustainable business practices, by recycling all used printers and batteries, and sending their Brother ink and toner cartridges back to us for recycling at no cost.
Where can you recycle printers locally
There are lots of options when it comes to rehoming an old or broken printer. In the first instance, it's always worth checking if the printer could be repaired or reused. You could also take it to a charity shop or donate it to a good cause, list it for sale online via sites such as eBay and Gumtree, or give it away for free using networks such as Freecycle and Freegle. It's also worth considering social media, particularly local Facebook groups. Once these ideas have been exhausted, there are a number of places where you can recycle printers locally.
Some UK councils offer household recycling collection services for electrical items, but this can vary from region to region. We would always advise contacting your local authority directly if you're unsure what schemes are operating in your area and which waste electrics they can take. Alternatively, you can also locate your nearest recycling centre using an excellent and easy-to-use feature on the Recycle Now website.
When your printer reaches the end of its life, remember the three Rs - reduce, reuse and recycle. Don't bin your broken printer. Instead, help reduce waste by taking it back to the manufacturer or retailer you bought it from and ask if they have a recycling programme. And if that's not an option, there are numerous ways to safely, ethically, and quickly dispose of your old printer locally, from collection schemes to recycling centres, online networks to charities who are happy to take waste electrics.
Finding a home for your old printer may seem like a chore for a split second, but in reality, it's never been easier and you'll be helping do your part towards a better environment and a more sustainable future.
Find out more about Brother's recycling programme.