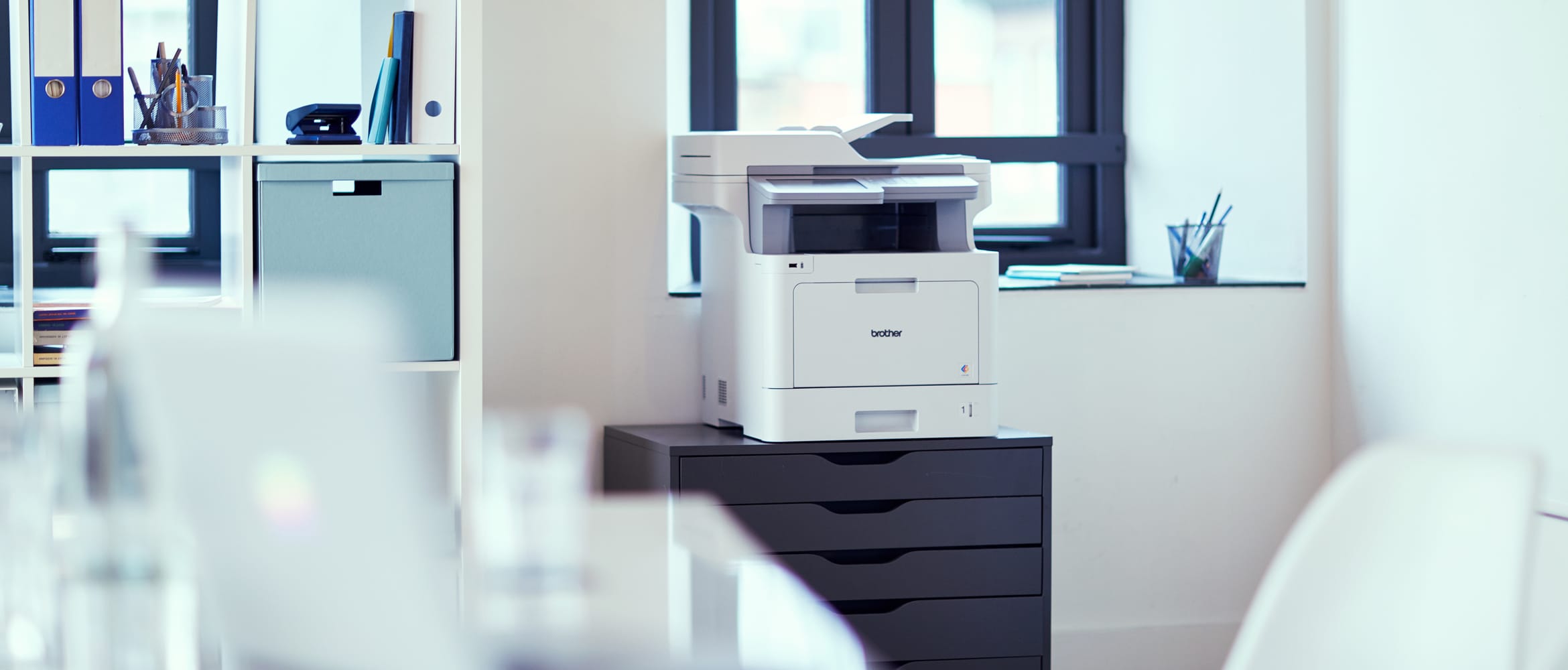 The benefits of Managed Print Services: Why use MPS?
When faced with the laborious task of installing and maintaining a fleet of printers, it's little wonder organisations ask for help.
Thankfully, the cost and complexity of printer management can be reduced thanks to Managed Print Services (MPS). But what are they and what exactly can organisations stand to gain from using them?
7 Benefits of Managed Print Services
Managed Print Services are programmes offered by print providers to manage your printing devices, including scanners, faxes and copiers. They enable organisations to improve their efficiency, productivity and information security, typically by monitoring usage, replacing consumables and meeting the organisation's printing needs. The features of managed print services vary by supplier, but they can offer many of the following benefits to organisations large and small. You can read more about 7 key benefits of managed print services below – but feel free to jump straight to whichever section is most relevant to you using the following links:
1. Save time and improve efficiency
The amount of time your employees spend on printer-related tasks can be frustrating. The process of printing, scanning, copying or faxing documents on old hardware or poorly configured software is just the start. There is also the time spent fixing device malfunctions and replacing ink cartridges and toners to consider too. A Managed Print Service should identify such problems and include plans to reduce the hidden waste of employees' time incurred on print-related tasks. This frees up staff time to focus on other strategic initiatives, as opposed to day-to-day maintenance tasks.
Colin Kendrick, Head of IT, Day Lewis Pharmacy, enjoyed these benefits first-hand with Brother's Managed Print Service. He said: "We are now able to pull off clear management reports about our entire print usage, costs per page and consumable spend. We've freed up valuable resource as Brother now provide excellent maintenance support, helping us to provide an uninterrupted service for our customers."
"We have a view of every printer in our organisation and how it is performing. This visibility and the ability to control our efficiency is refreshing in business."
2. Reduce costs and save money
A sporadic approach to your organisation's print setup can lead to inefficiencies in a number of areas. First and foremost, there are maintenance costs. Maintaining individual devices one at a time is costlier than having an automated, cloud-based system for doing so at scale. Managed Print Services very often connect all devices to one monitoring system to ensure just-in-time delivery of replacement toners and repairs. This makes better use of economies of scale by allowing you to bulk buy supplies at a discount. It also reduces the cost associated with stockpiling unused inventory.
A thorough print audit and assessment can also identify ways to consolidate your hardware. After all, having too many devices scattered around your organisation will cost more to maintain and use up space and electricity. A print expert will have the ability to calculate the true cost of an ad-hoc approach and identify ways to make savings.
Guy Bickerstaffe, National General Manager, Euro Garages discovered these cost saving benefits as a Brother MPS customer. During a 100+ site print installation, the networked print system brought efficiency savings across the board, including the ability to save space by sharing networked print capacity with its Subway and Starbucks franchises.
"We have been able to streamline our old process of posting daily invoices, saving approximately £6-£8 a site on postage. That equates to about £34,000 cost savings a year, and that doesn't take into account the considerable time-saving benefits," he said.
Overall, it's clear that the cost savings associated with an MPS can be significant compared to DIY printer installation and maintenance.
3. Improve productivity in your organisation
The printing needs of various departments within an organisation can vary. After an initial assessment of an organisation's current and future needs, the MPS provider should be able to recommend a tailored programme for these departments. This might include printing from mobile devices or off-site, for example, or the need to print special types of document sizes and formats which you use regularly.
Day Lewis Pharmacy had such a requirement. The EPS2 specification for electronic prescriptions required a dedicated print function, with hands-on help from Brother proving valuable in meeting strict regulatory standards. "Brother has been instrumental in helping us achieve EPS2 deadlines, enabling us to implement the new electronic prescription service for our customers," Kendrick said.
Another plus point comes in the form of frequent hardware upgrades, giving you access to cutting edge technology when it's released. The best Managed Print Services usually involve staff training too, which will help get your colleagues up to speed with new hardware and workflows.
4. Reduce capital expenditure and improve cash flow
The cost of purchasing an entire fleet of devices can be daunting, but Managed Print Services typically offer flexible payment options. Pay-per-page print models with leased hardware are perfect for companies who baulk at the idea of a huge one-off bill for hardware every five to ten years. According to Computing, over half of IT Managers surveyed in 2015 go already pay-per-page for their Managed Print Service (see chart above). Plus, you can enjoy real-time usage dashboards and forecasting tools for your network of devices. This leaves you in a better position to manage your budget.
Ercall Wood Technology College took advantage of this payment method as a Brother customer. "Brother's Managed Print Service is perfect for our college. We are heavy print users and it has helped us manage our print more effectively. Brother has recommended the best printers for our needs and we have now reduced costs, cut back on administration time and have a much better support service. Plus, we simply pay for what we print without incurring any penalties, unlike our previous contract," said Matthew Cooke, IT Technician at Ercall Wood Technology College.
5. Reduce your environmental footprint
Reducing the amount of paper, electricity and print consumables you use is all part of being a responsible corporate citizen. With a monitoring system in place as part of your MPS package, you should be able to identify and track levels of print usage. That way, you'll in a better position to intervene and reduce your environmental footprint. And once you've done so, you can show the results of your paper saving efforts in your Corporate Social Responsibility report.
The most successful organisations look to continuously improve their processes to stay ahead. In the 2015 Computing survey, we saw this in action. Take a look at the sheer number and variety of workplace technology projects IT Managers had planned over the following 24 months in the chart above.
With the right Managed Print Service provider at your side, you'll receive ongoing advice and strategic support from experts in the field of workplace technology. Day Lewis Pharmacy's Colin Kendrick understands the value of this all too well:
"Brother planned, delivered and installed 380 new printers in record time, trained our staff and supported us throughout this major business change," Kendrick said. "[With] Brother's support and desire to build a real partnership with your organisation, I can highly recommend their Managed Print Services to others."
7. Improve your information security
According to a group of IT Managers surveyed by Computing for Brother UK, 28% are looking to introduce secure printing technology or further enhance their print security. That's no surprise, given the ever-present risk of intellectual property theft and information security breaches. So how does an MPS help mitigate those threats?
An organisation-wide print assessment which comes with a Managed Print Service can identify print and IP security risks your organisation faces. The subsequent MPS programme should help mitigate those risks with a tailored print security plan. This might include recommending printer sign-in procedures to minimise documents being stolen from output trays. It could involve waste disposal and document management facilities. It could also include installing multifunctional printers with automatic hard drive wiping functionality, and network-level solutions to reduce the risk of information being retrieved by hackers.
And, almost by default, having just one print provider implementing an MP reduces the number of people from outside your organisation having access to your networked devices. This common security threat cannot be underestimated. But be warned – not all MPS providers are the same when it comes to their ability to combat information security threats. Information security requires ongoing audits, improvements and vigilance and a below-par MPS provider is unlikely to offer this.
Find out more about Managed Print Services.