Better shop floor labelling: it's in the bag
The formula for better shop floor labelling that helps retailers stay competitive.
In retail, print is more than just print. From back-office devices to shop floor solutions, print enables people to do their jobs without interruption – making it a key part of your team. And when printers aren't working efficiently, or don't seamlessly integrate with your other systems, the impact on your retail business day-to-day can be huge. Retailers that know the importance of good retail or shop floor labelling will understand the value of equipment that can meet the daily challenges they face at work, making printing not just stress-free – but seamless. Yet, identifying and implementing a truly effective retail labelling solution goes beyond the simple choice of label printing hardware.
At Brother, we believe the formula for seamless printing is:
Optimal products + quality service + added value from a retail print solutions expert = better labelling.
This guide comprehensively sets out everything you need to know from the retail print experts – but feel free to jump straight to whichever section is most relevant to you using links below.
1. Optimal products
Procurement based on product alone ignores the two key factors of service and added value, so this should be avoided to achieve an effective solution. However, you will still want to ensure your devices meet your requirements – so we're taking you through what to look out for in this section.
As a retailer, you need professional, robust, and secure label printing solutions that you can rely on day after day. After all, you carry out a wide range of labelling tasks throughout your store, from shelf-edge ticketing to in-aisle price mark-downs and back of house labelling. So, you need printing solutions that meet those individual requirements – whether that's barcode labelling devices or mobile printers for on-the-go use across the shop floor. By choosing products that are the right fit, set up correctly, and easy to use (what we call optimal products), you can get:
More accurate reporting and analysis of your retail business' labelling usage – so you can pinpoint any gaps in productivity.
Database connection – to enable you to centrally update data that can be shared with different stores.
Automatic calculation of discounts – to avoid human error on the shop floor.
Streamlined in-store relabelling with portable printers.
Shorter queues thanks to mobile receipt printing.
But, as we've already explored, choosing a good device without considering service and added value represents a flawed investment – a common pitfall you should avoid.
2. Quality service
When you're choosing the best label printer for your retail store, it's not only about the device itself – it's just as much about the service that comes with it. Does the service you're receiving go above and beyond basic tech support? Does your print provider support you in integration?
Because great service that focuses on integration can mean the difference between short-lived systems and systems that are successful long-term. In fact, the right service helps retailers keep sales on track, and deliver nonstop print performance by ensuring their systems don't just stay up and running, but run to their maximum potential. This is all achieved while keeping customers informed and stock moving – providing a seamless overall customer experience. Because, as you know, downtime in retail is out of the question.
Brother makes the ideal partner in label printing. As the retail print solution expert, we work with you, the retailer, and our trusted technology solutions suppliers, to develop the very best labelling solutions that address your pain points and help you overcome them. From the warehouse, all the way to the shop floor.
For us, that means doing the simple things well, whether that's assisting with device set up, providing everyday service and support, or helping you reduce downtime and wastage. We provide onsite demonstrations and product trials to show you just how seamlessly our solutions integrate with other brands and existing systems, so you can get printing straight away.
A combination of optimal products and quality service will provide you with a passable printing solution – and this is something you're likely to receive from a vendor purporting to offer everything you need. However, for a truly effective solution that'll give you a competitive advantage over other retailers, you need to take into account the final element of our formula…
3. Added value
Many print providers will offer standard products and services, but few give you that extra value that takes your printing performance to the next level. So, whether you're looking to upgrade your devices or maybe just considering what else is out there, it's important to look at the whole picture in order to get the best labelling systems in place. Because even if you don't look at the whole picture when choosing the right supplier, one of your competitors will.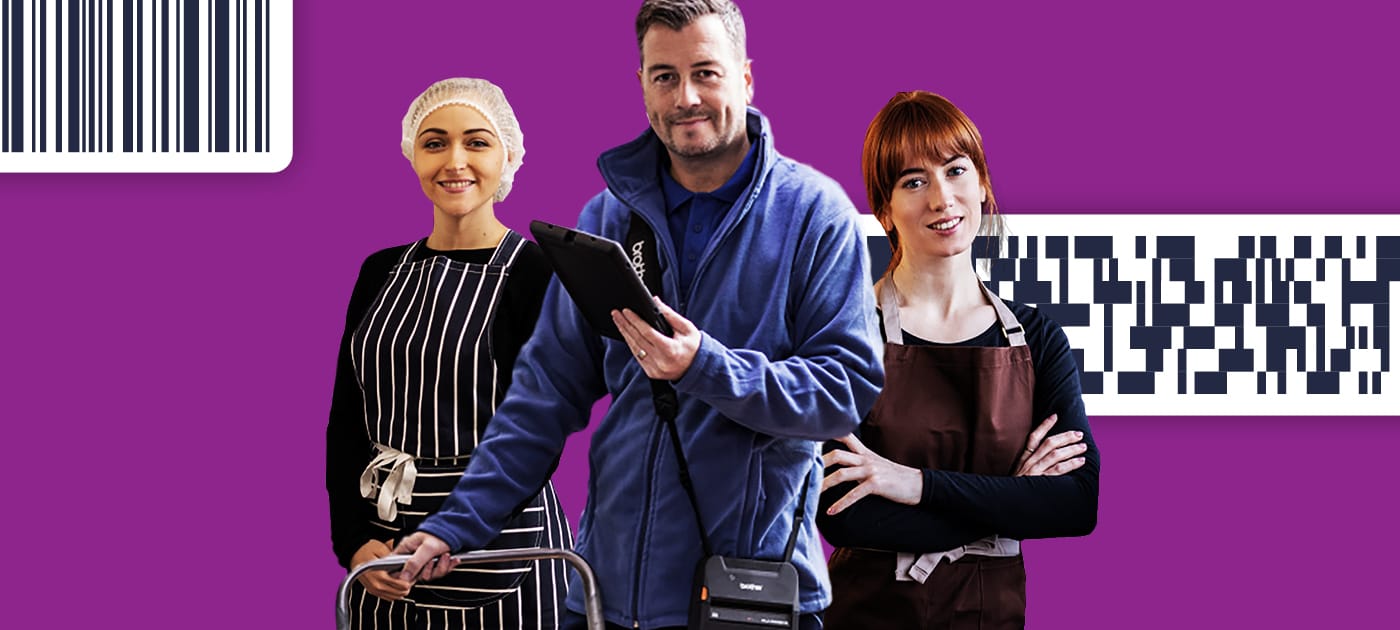 So, what sort of added value should you be looking out for? At Brother, we work hand-in-hand with you and your technology solutions supplier to define the best print solution for your business, whether you're replacing or upgrading. We pride ourselves on getting it right first time, and we do this by taking the time to develop a thorough understanding of how your business works, as well as your individual labelling and receipt printing requirements. Then, we offer live customised demonstrations to take you through the set-up and testing of your printing solutions in real time – so there are no surprises during final deployment.
When it comes to getting it right first time, it's in the bag with Brother.

4. How Brother is "At your side" as the retail print solution experts
Our level of support is what sets us apart, but what does this support look like in action for decision makers, retail staff, and technology solutions suppliers?
"At your side" … supporting retail decision makers
We support retailers of all sizes – Brother works with your technology solutions supplier to get to know your individual business.
We walk and talk retail – We walk the floors of the offices and the stores, and we talk to the right people to understand how a retail business uses print to design the right solution – in fact, 3 out of the UK's top 5 grocers choose Brother as their printing partner.
Simplifying the complexities of retail print – We work with complex retail businesses who operate in small spaces across multiple sites and simplify their print requirements.
One of these businesses is ATOL, a cooperative of opticians in France. Because each spectacle frame in the stores requires its own label to comply with French law, the need for consistently legible labels is essential. We provided them with the TD-4D printer, and collaborated with ATOL's software editor to develop a customised label solution that fits perfectly in this small space. They now gain back those hours wasted undoing the mistakes caused by unreadable labels, and can spend this time supporting customers with their glasses needs.
Brother helps make the shop floor run smoothly – With comprehensive compatibility with retail label printing software and printing languages, Brother can deliver barcode label printers, document printers, and ticket and receipt solutions, offering one centralised point of support and management. This makes us the only vendor with such a wide product range that can confidently provide one end-to-end print solution.
"At your side" … supporting people in retail
Easy printing – We set up the right print solution with seamless integration, so we make printers easy to work with. This means…
- Quick and easy replacement of consumables with virtually no learning curve required
- Portable printers with full working day autonomy
- Charging cradles with Ethernet connection
- Automated features like price discounts and expired data
- Compatibility with your software to ensure labels are printed in the right shape, format, and size
- Direct links with your product file and customer database to reduce errors while maintaining compliance
Centralised print management and centralised support – You get a single provider for retail labelling and printing solutions, with the retail experts overseeing your print estate for peace of mind.
Simpler solutions – Simplified workflows, clever prompts, and automated processes take the friction out of working with printers in the office or on the shop floor.
Enabling people – By thinking about the way people use printers, we help make it easy and minimise errors to enable your people to deliver a smoother customer experience. You can configure your printers to undertake tasks without staff intervention, these include…
- Creating templates with fixed information, and enabling you to link variables to your database so your printer does the work for you
- Using an application that reads barcodes and automatically gives the printer a new price, perfect for when you're undertaking a large re-pricing task
"At your side"… supporting technology solutions suppliers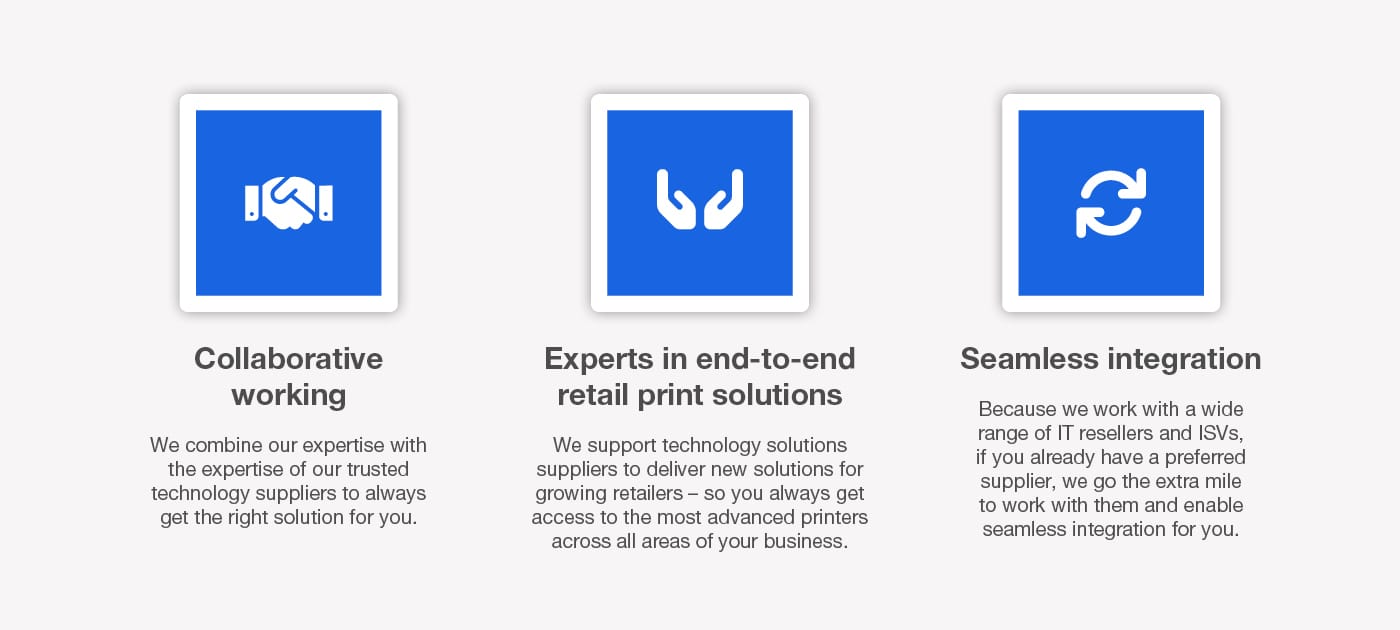 5. With the retail label printing experts at Brother, it's in the bag
We support multiple applications with a comprehensive range of labelling solutions for all your shop environments. From the TD-4 desktop thermal printers for faster performance and seamless integration… to the lightweight RJ-4230B rugged mobile printer for shelf edge labels… to the versatile TD-2120N/TD-2125N for food ingredient and allergen labels. We've got you covered for all your print requirements in one place – meaning there's no need to waste time shopping around.
Ready to improve your retail label printing? We're here to make the process seamless, so get in touch with Simon Brennan to discuss your requirements – and we'll be "At your side" every step of the way.
Simon Brennan
Tel: 07787 401031
Email: simon.brennan@brother-uk.com
Alternatively, if you'd like to get in touch with the team to discuss Brother's Retail Solutions, simply fill in our form here and a retail expert from Brother or one of our selected partners will respond to your query.
Tags: