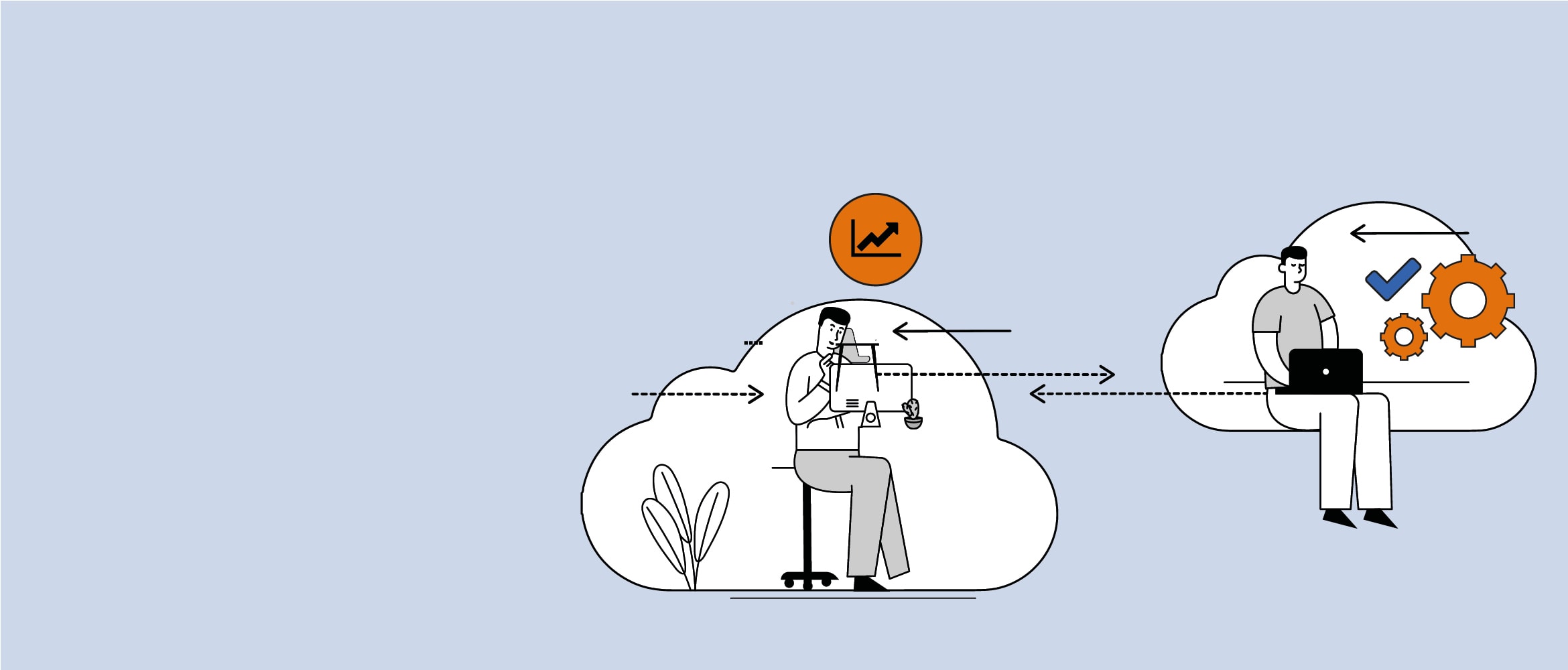 What is a virtual desktop?
While virtual desktops have been around for more than a decade, the recent move to hybrid working has made this software more relevant than ever.
With increasing numbers of organisations adopting new ways of working and moving infrastructure to the cloud, virtual desktop environments like Citrix have suddenly returned to the forefront. But what is a virtual desktop, and how does it work?
Remember when we used to work in offices from a desktop computer? On each of our screens, we would see our own documents and applications and our organisation's shared files, folders, and internal links. How does a virtual desktop work? It is essentially a virtual recreation of our office desktop (or any desktop) accessible remotely on a separate device, whether a home computer, laptop, or even a smartphone. In short, virtual desktops are an example of how software can emulate physical hardware.
There are several variations of virtual desktop technology, with names such as Desktop Virtualisation and Virtual Desktop Infrastructure, or VDI. Since the technology was introduced, you can now also get cloud-based virtual desktops while also connecting via mobile devices and apps. The principle remains the same, and the benefits are wide-ranging.
Benefits of a virtual desktop
Virtual desktops have always had their benefits. The recent shift to hybrid working and distributed workforces has made this technology more valuable to businesses and other organisations. After all, when you're working virtually, you need virtual solutions. So, what are the benefits?
Maximum flexibility for hybrid working
Virtual desktops allow colleagues to have the same desktop experience, whether they're working in the office, from home, or on the move. More importantly, the technology enables increased mobility and remote access, which is essential for hybrid working.
They also reduce the dependence on physical devices, minimising the impact when they are lost or damaged. And if that wasn't enough, you can even run several operating systems on one computer by having many virtual desktops.
Efficiency and control
Virtual desktops put the control back in the hands of an organisation's IT department. As well as a more consistent user experience, a centrally managed desktop environment offers greater control of information security. This is especially true for data stored centrally or in the cloud.
Plus, virtual desktops provide the ability to enforce company-wide policies even where colleagues are widely distributed. Virtual desktops are also helpful for business continuity by helping organisations protect against outages.
Reduced costs
With increasing numbers of organisations adopting hybrid working models and virtual desktop environments, it's easy to overlook the impact that printing is now having on network bandwidth performance and costs. To help with this, Brother has partnered with ThinPrint, the world's leading provider of print management software and services, to deliver a plug-in that compresses print jobs to a smaller data size for more cost-efficient printing across your entire fleet, easing the strain on the IT department, while enabling significant cost savings across multiple locations.
With ThinPrint's adaptive compression method, data volumes when transferring print jobs are reduced by up to 98%. As a result, there is a significantly reduced burden on a company's network combined with maximum performance. Brother users can also benefit from ThinPrint's advanced customisation capabilities from both a physical desktop and visualisation solution, while the plug-in's Cloud Printer option makes mobile, location-independent printing easy. ThinPrint allows organisations to install printers effortlessly and can help reduce print costs for businesses interested in adopting a virtual desktop model by optimising print performance and infrastructure and enhancing enterprise productivity in a distributed workplace.
Scalability
Virtual solutions are much easier to scale up or reduce based on your needs. Whether a distributed workforce is temporary or permanent, virtual desktops and Virtual Desktop Infrastructures (VDIs) can be scaled up for less. The same growth would be much more expensive and time-consuming to achieve with hardware.
Difference between virtual desktop and virtual server
We've discussed virtual desktops, but what about servers? While the former emulates a desktop computer, the latter mimics what a physical server does and can host multiple virtual desktops and operating systems.
In many ways, a virtual server is similar to cloud hosting, storing your data offsite. In this case, a powerful offsite server, or multiple servers, are divided into several virtual servers for different users who share the cost. Virtual servers, like virtual desktops, reduce the cost of hardware and physical infrastructure and power consumption and overheads.
On the other hand, a virtual desktop is a virtual computer environment that emulates your desktop experience wherever you are, from almost any device.
Types of virtual desktop
There are several different types of virtual desktops, and your choice between them will depend on your needs and capabilities.
Virtual desktop infrastructure (VDI)
In this model, a desktop operating system (OS), such as Microsoft Windows, runs on a Virtual Machine (VM), managed in the data centre over its network. Special software (hypervisor) is used to emulate the OS and its functionality for each user.
Remote desktop services (RDS)
For end-users, RDS and VDI appear to offer the same virtual desktop experience. However, this is delivered using Microsoft Remote Desktop Protocol and their Terminal Server rather than an organisation's data centre. This can be more cost-effective and has the advantage of running simultaneous users. The downside is that it is more limited than full VDI environments.
Desktop-as-a-Service (DaaS)
This is essentially a virtual desktop hosted on the cloud by a third-party provider. Suppose your organisation does not have the resources to manage the infrastructure and software itself. In that case, this option is arguably the most straightforward and most cost-effective to implement.
How to use a virtual desktop
Once set up, the user can log in wherever they are and from almost any device. Their desktop should look, feel, and respond as if they were sitting at their office computer. At its best, the experience is seamless. No technical expertise should be required since the whole environment is managed centrally by the organisation's IT department or a third-party DaaS provider.
How to Set Up a Virtual Desktop
Organisations wishing to create or set up their own virtual desktop environment and take advantage of the benefits will need special software or a third-party provider. However, this depends on the type of virtual desktop required.
To set up a VDI, your organisation will need its own hypervisor and connection software. RDS, on the other hand, can be installed using standard Microsoft Windows Server operating systems. In contrast, DaaS models will be installed by the service provider.
Regardless of how your workforce is distributed, virtual desktops offer a wide range of benefits. They were created for remote working long before hybrid offices became the new normal and can provide access to the documents, applications, and user experience colleagues need.
However, virtual desktops have many more benefits for organisations beyond flexibility and agility. Virtual desktops offer an innovative, centrally controlled solution with cost savings and efficiencies, enhanced security, and almost unlimited scalability in a new hybrid era.
To find out more about solutions for hybrid working, visit our hub here.