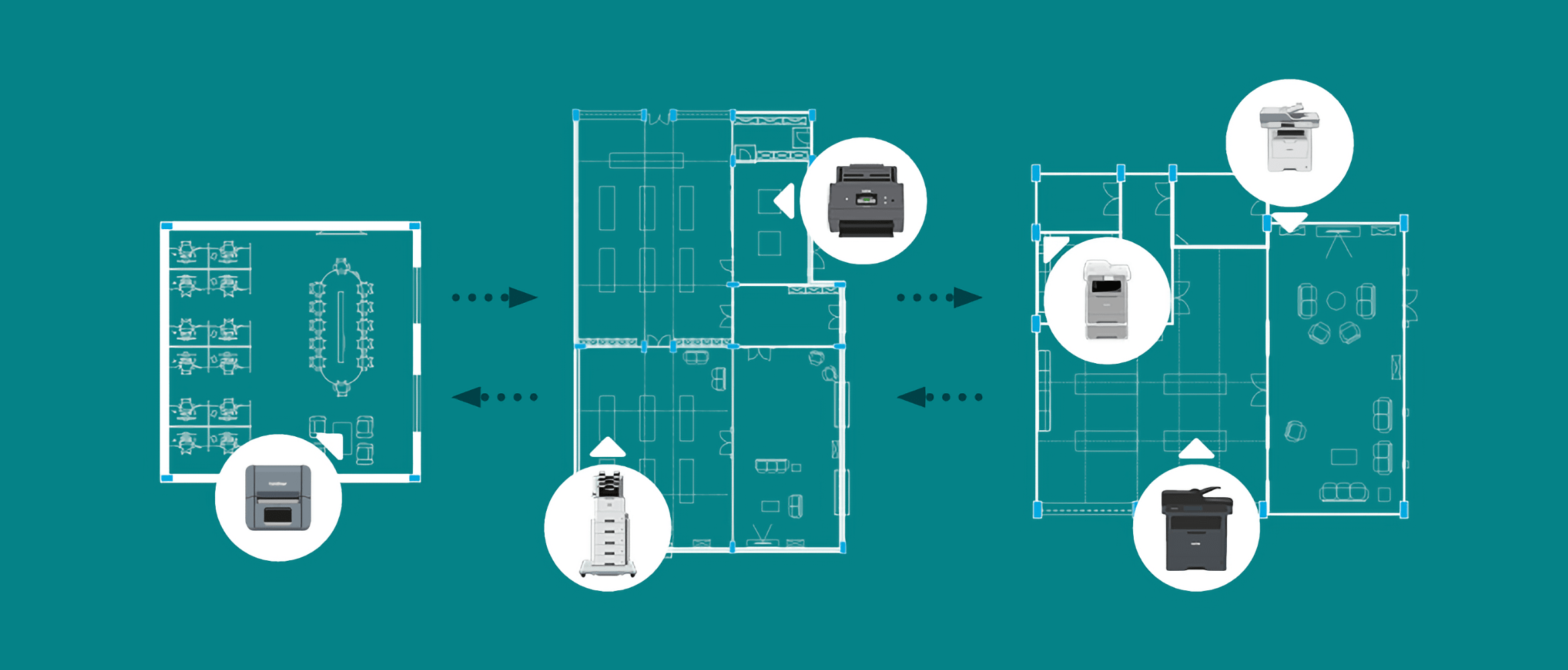 Is centralised printing costing you money?
The changing requirements of office technology
The IT landscape doesn't remain unchanged for very long. It's not just technology that changes though – attitudes do too. As a cost centre, IT is coming under increasing pressure to reduce outgoings. We've also seen a shift in the way people use their technology. At Brother, our assessments have shown that while businesses may still print in A3, the volume of printing doesn't always justify investing in a large, freestanding device. Yet many customers often still put it on their prerequisite lists, only for it to stay underutilised.

In theory, centralising print should be a way to cut costs. However, the reality is less clear. In fact, centralising print could actually lead to higher costs and introduce unnecessary risk. Wasted time, reduced productivity and even unsecured data could all be issues. Not to mention functions like stapling and folding that are still specced and paid for yet remain increasingly redundant.

The way we work is in flux too. As well as driving more people to work remotely, the COVID-19 pandemic forced many to reappraise health and safety in the office environment. Social distancing, alongside a reluctance to have many people using the same machine all day, need consideration. A solution for these issues is available in the form of balanced deployment.


What is balanced deployment and what are the benefits?
Balanced deployment is about strategically placing devices in areas throughout the business or work environment where they are best suited for people's needs and demands. I like to think of it as ensuring the right people have the right printers in the right places. It's based around how everyone works and what they actually use the devices for, helping to maximise efficiency levels.

For example, a marketing department may need to print and scan in colour, whereas someone on reception may only need to print documents in black and white. Rather than everyone sharing centralised printers, the marketing department can have their own colour multifunction device, while the reception can have a small mono desktop printer. Confidential data is kept safely on the marketing machine with SecurePrint and pull printing, while reception don't have to leave their desk unmanned if they need to print a document for a visitor.

Balanced deployment is carried out as part of Brother's managed print service offering. A managed print service enables organisations to improve their efficiency, productivity and information security by monitoring usage, automating supplies ordering, and meeting the organisation's unique printing needs. Devices are either leased or bought outright, with printing paid for on a 'per page' basis. Balanced deployment further enhances the managed print process by ensuring everyone's exact needs are met efficiently.

One of the great advantages of a balanced deployment approach that many businesses won't have considered as part of a standard, off-the-shelf managed print solution, is the reduction in soft costs – like employee time, for instance. Aside from higher availability (if a centralised printer breaks, there are usually no alternatives, meaning critical documents go unprinted) having multiple printers increases availability and reduces inefficiency. Typically, when employees walk to centralised devices they end up talking to someone along the way, and may end up having to queue for their turn to pick up documents. This may seem insignificant, but over the course of a year the infrastructure causes inefficiencies to mount up and eventually affect productivity. One customer we visited had 100 different models of printer, all using different consumables. Not only did this make ordering a hassle, storage was a major issue too, and getting the right supplies to the right printer became very complicated.


Is balanced deployment right for you?
As with a good managed print service, the whole point of balanced deployment is that it's tailored to your business and the unique way you work. In order to do this, my team of Pre-Sales Technical Consultants provides a multitude of different assessment services such as Remote DCA (data collection agent) to capture current print fleet data and analyse print volumes and trends. We can also offer site visits to determine any pain points, and uncover inefficiencies and security risks. The team would also look to conduct super user interviews to gain an appreciation for what is working and what isn't working from a user perspective, and take this information into consideration for the future solution design. A key goal for us is identifying ways to improve the user experience, so the teams really immerse themselves in your business, using the same language and terminology that's used internally for ease of communication and education.


Finding the right balance
The way we work has changed, and a centralised, off-the-shelf print setup is no longer the most efficient way to do things. As part of a wider managed print service, balanced deployment offers a bespoke solution focusing on cost, control, security and sustainability. This allows you to uncover new ways to increase efficiencies, reduce costs and increase security in ways that may have never been considered before. It's the perfect print solution for the modern workplace.

You can see Brother's approach to balanced deployment in action in this use case. And if you'd like to learn more, visit our Business printing services page to see our range of services on offer and get in touch with our team today.