Asset tags and asset label printers: a guide to keeping organisational assets under control
Whether it's tech, vehicles, furniture or machinery, organisations rapidly accrue assets in the process of day-to-day operation. But once owned, how do businesses track their assets? And why should businesses track their assets?
This guide comprehensively sets out everything you need to know to stop your organisational assets becoming liabilities – but feel free to jump straight to whichever section is most relevant to you using the links below.
What are assets in business?
First, let's be clear on what we mean by assets. There are two types of assets that organisations need to track: moveable assets and fixed assets. The former includes things like laptops, smartphones and vehicles (and even furniture and coffee machines) – essentially, objects that are not a fixed part of the infrastructure. The latter, fixed assets, can also be referred to as 'infrastructure assets' and occupy a fixed location for the duration of their lifespan. This can be heavy machinery that is attached to the building or even the building itself.
What are asset tags?
So, now we have a clear picture of what assets are – what are asset tags? Sometimes called asset labels or asset stickers, asset tags are attached (predominantly as an adhesive label) to items owned by the business and contain data that allows the organisation to monitor and track the asset. One of the most commonly seen uses for asset tags is as asset stickers for laptops.
Often used alongside asset tracking software, asset tags identify the item they are attached to by the use of a unique serial number, code or barcode. As well as identifying the asset, asset tags can contain further useful information – this can include date of purchase/service, designated owner and place of origin, as well as guidance for the user or owner of the item, such as safety warnings or support and guidance.
Most commonly, asset tags and asset labels will include the organisation's logo, some text or numerical information for manual reference, and increasingly barcodes or QR codes and NFC tags to speed up the process of data entry and decrease the potential for human error.
Are asset tags, asset labels, asset stickers and equipment labels the same thing?
There are various industry names for asset tags, and the answer to the above question is, essentially, yes – the terms are generally interchangeable. However, that's not to say that all asset tags are the same.
Asset tags come in a variety of different types ranging from standard equipment labels to more specialist asset labels including: security asset tags (anti-tamper asset labels), metallic asset tags, industrial asset tags, barcode asset tags and full colour asset labels, as well as etching asset tags onto metals for unique device identification (UDI) purposes. For more automated tracking, RFID tags can also be applied to assets – reducing the manual intervention required with other asset tagging options.
Industrial asset tags
Industrial asset tags are required for use in the toughest and most hard-wearing environments. They are designed to permanently mark assets while withstanding extremes of heat, cold, moisture, chemicals and abrasion.
One such type is stencil tape. Designed for use with Brother's P-touch label printers, stencil tape has a thermal sensitive layer that masks ink or special fluids for direct part marking with an electrochemical marking device. This non-adhesive tape enables you to quickly create stencils in a variety of lengths for industrial asset tagging.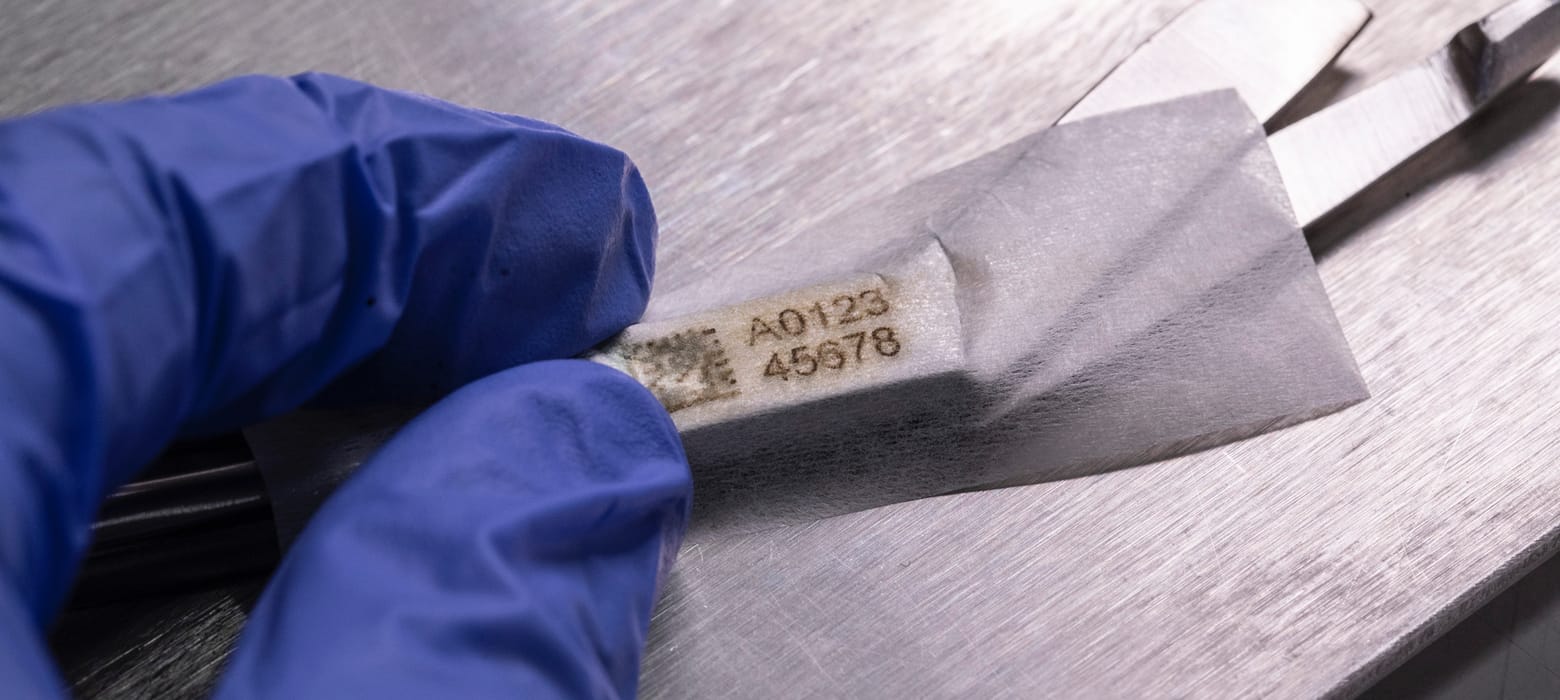 Anti-tamper asset labels help to guard against theft and tampering. The asset tag's laminated tape ensures that the label can't be removed from one location and added to another. Once the tamper-proof security tape is peeled, the label leaves a checkerboard pattern, destroying the print, to stop the label being reapplied.
By choosing Brother labelling tape, you can ensure that your assets remain safe from tampering, with anti-tamper asset labels that are clear, legible and designed to last.
QR code asset tags
QR code asset tags offer greater information storage than a standard asset label. Through scanning the QR code on the asset label, vital information can be transmitted. Things to consider when printing QR code asset tags are the durability of the label as well as the quality and legibility of the code.
Brother's free P-touch editor software can create QR codes by simply entering in the required URL or loading a pre-populated spreadsheet into our free editor software to quickly print a batch of labels for quick asset tagging – which can be done on a PC, Mac or smartphone – while Brother label printers ensure high quality printing of linear or two-dimensional barcodes.
Barcode asset tags
Barcode asset labels are an efficient, information-rich, error-free option for tagging assets that need to be monitored, maintained and tracked. QR codes can also be used to link to online platforms, where greater amounts of information can be made accessible, including instructions and guidance, maintenance schedules and safety information. Through using a Brother label printer and our P-touch editor software, you can also ensure that your asset tagging output is GS1 compliant.
Waterproof asset tags
It might not seem like the most obvious requirement for asset tags to be waterproof – particularly if you associate them with tech and office equipment assets, but there are plenty of applications where resistance to water (and other environmental factors) might make this a must have.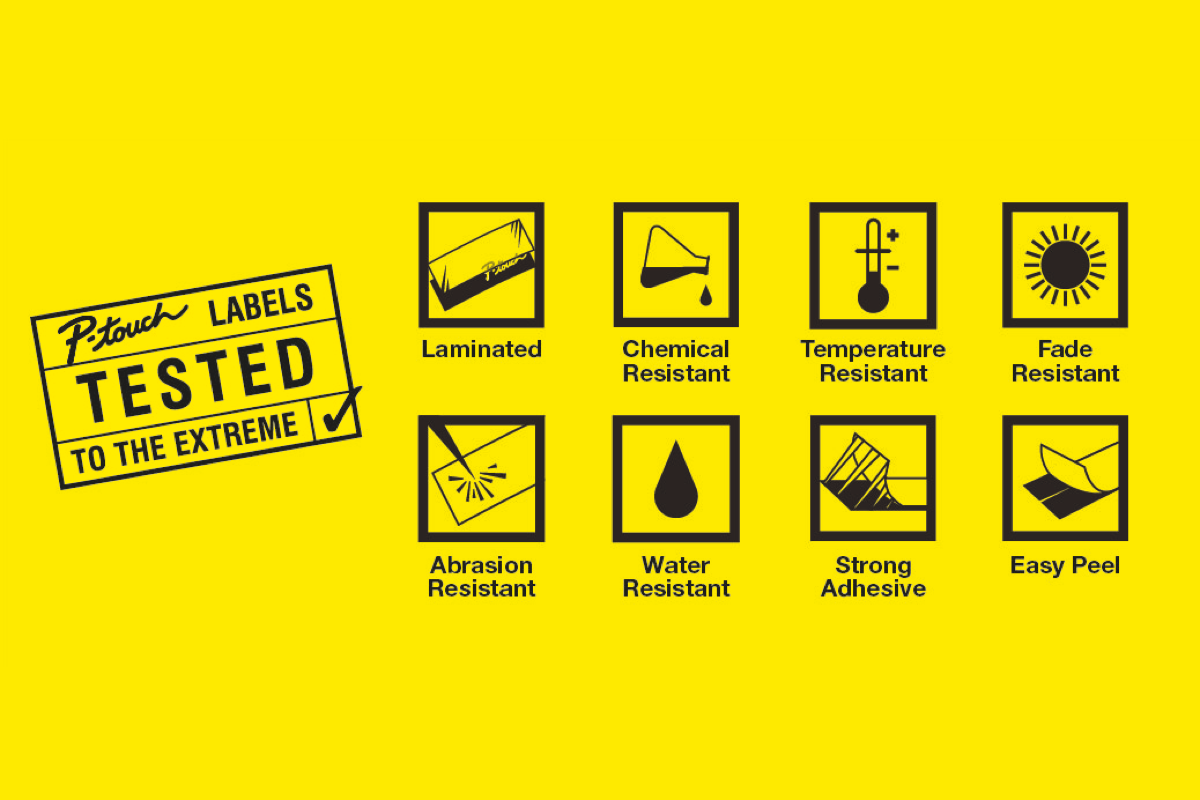 Where staying power is needed, labels that are resistant to water, chemicals, abrasion, sunlight and UV light, as well as fluctuations of temperature are vital. Ranging from 12mm-36mm, our laminated TZe labels are designed to last in exactly these conditions, including temperatures as low as -80C and as high as +150C.
What is asset tracking and how does asset tracking work?
Despite listing all the benefits of asset tagging above, asset tagging items alone won't get you too far. To get the most out of the benefits of asset tagging, you need a clear plan in place for both how and what you'll tag, as well as how you will interpret the data from the labels in order to track them – this could be manual, scanning to a software program or a blend of the two.
This combined process is called asset tracking – it gives organisations with a variety of assets the ability to track an item's location, status or condition, through identifying the item's asset tag through manual interpretation or the use of a scanning technology, such as barcode or RFID.
The fundamental objective of asset tracking is to improve the cost efficiency, speed and security of organisational inventory management processes. Asset tracking software integration ensures that organisations have a reliable and accessible inventory database. The applications from this point extend from everything, including safeguarding physical assets from theft, to ensuring that necessary security updates have been rolled out to all business-owned technology devices.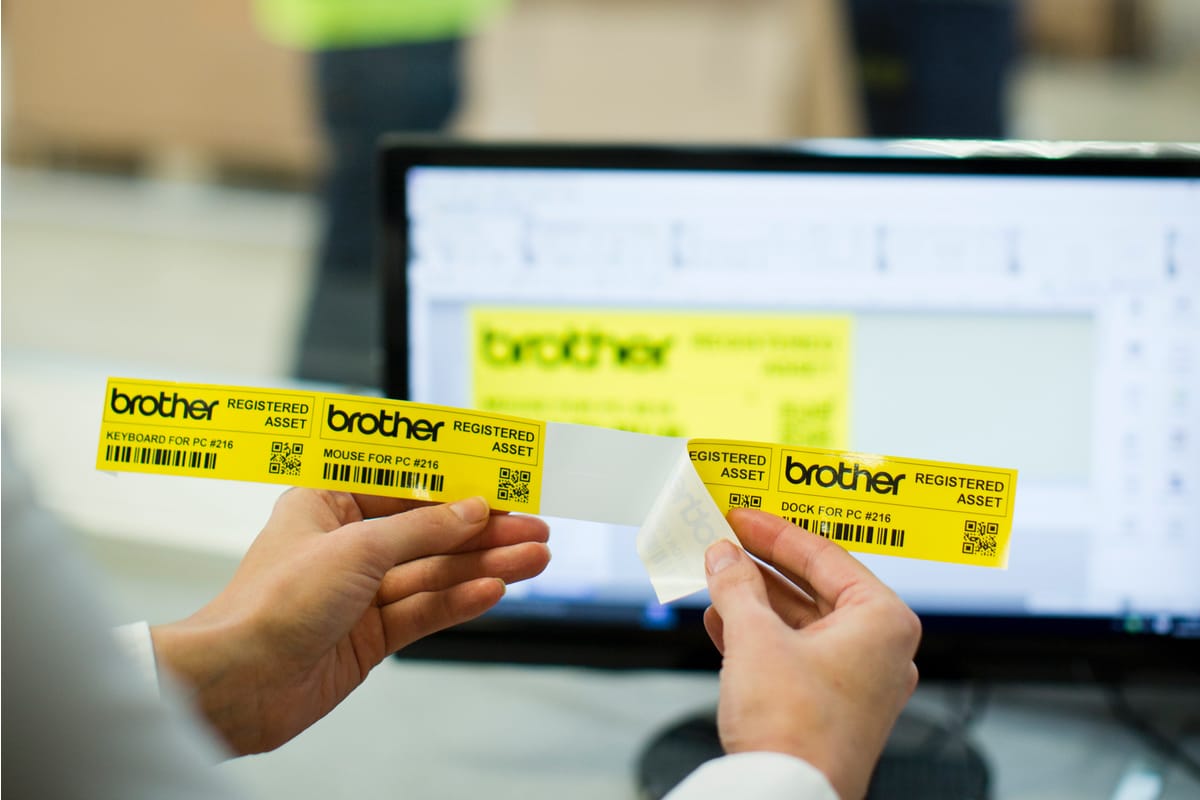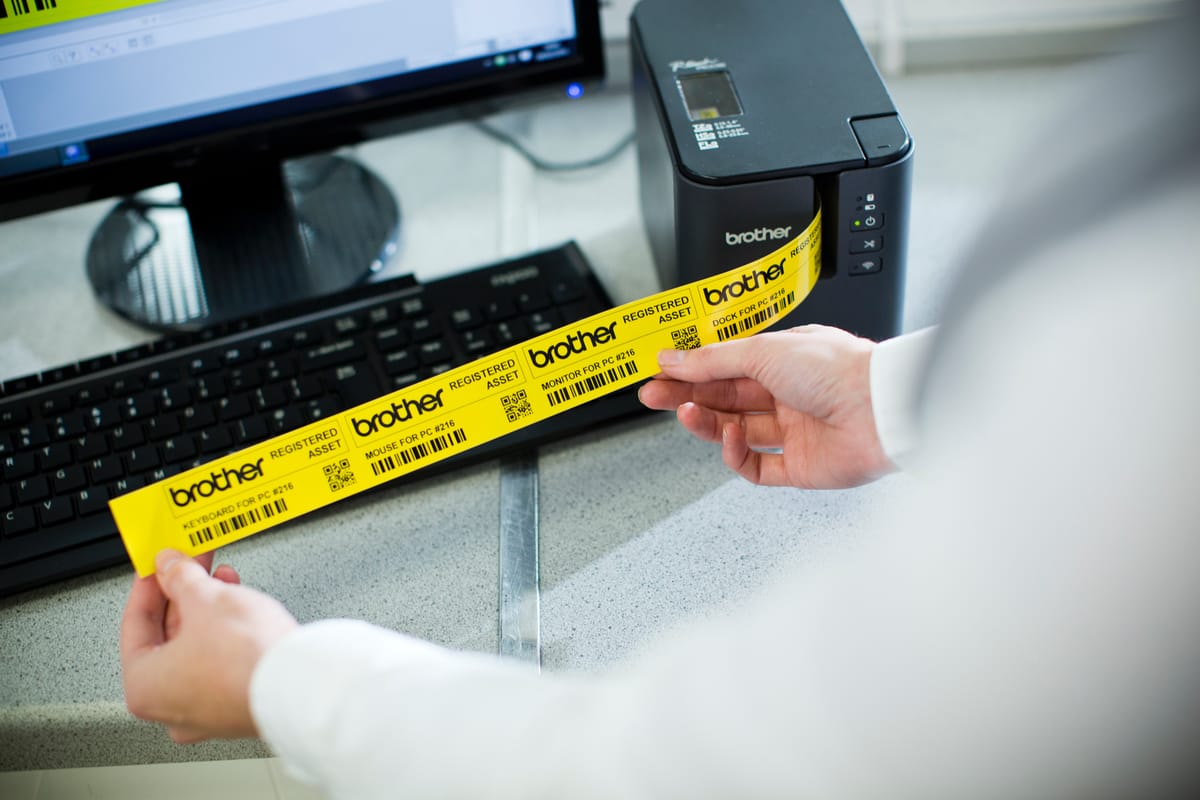 Though asset tracking may have previously been the preserve of industrial corporations with large inventories, since the introduction of hybrid working, organisations of all sizes are facing the challenge of identifying and tracking assets in dispersed working environments. Added to this, changes to the office itself – increased hotdesking, new telephony and conferencing facilities etc. – are increasing the need for asset tags. The ability to track these with effective asset management will empower IT departments to troubleshoot problems more quickly and manage office inventory more efficiently.
What are the benefits of asset tracking?
Asset tracking has a number of benefits to organisations, aside from the top-level gains of greater efficiency in inventory management processes. Additional benefits of asset tracking include:
Loss Prevention – lost assets are no small issue for organisations. The cost of replacing lost or stolen equipment can run into the millions each year. However, the use of asset tags is both a deterrent to theft and a solution for recovering misplaced or lost items.
Extend item lifecycle/optimise resource allocation – by having improved visibility of the condition of an asset, organisations can ensure the safe and correct use and maintenance of it, intervening if it is being overused, scheduling in timely services/updates or redeploying an asset to a location with a more appropriate duty cycle for its age or condition.
Improved reporting – as with so many other elements of business, the more information you have, the better decisions you can make. Whether assets are few and incredibly high value or in high volume and less pricy, having a holistic view of where these are, what condition they are in – and in some cases how they are performing – gives organisations the opportunity to better forecast future requirements.
Proof of compliance – further to the benefit of improved reporting, a comprehensive asset tagging policy can help to effortlessly evidence legal and regulatory compliance.
Service scheduling – by accurately identifying equipment, essential servicing can be scheduled and carried out as required on the correct devices. This avoids the wrong asset being serviced or an important service date being missed.
Asset tag printers and how to print asset tags
Printing asset tags is a simple process but differs depending on the type of asset label you're printing. Variables such as the application for asset tagging as well as the environment the asset will be stored, transported or used in will also have an impact on both the asset label and asset tag label maker you need.
When choosing between asset label printers, understanding your requirements is vital. Are there any specialist label requirements like security tape, stencil etching, laminated or RFID? – you should consider these at the outset.
Likewise, if your asset tagging process needs to take place on the move, or away from a desk/bench, then you should consider how a portable asset tag printer will benefit your users. Or, if you have a requirement for a high volume of more robust asset labels, heavy duty asset tag printers, or industrial asset tag printers, might be best suited to your needs.
A further consideration is the complexity of what needs to be printed on your asset labels. If you plan to use QR or barcode scanners to read your asset labels, then evidently, you'll need an asset tag printer capable of printing barcodes. Similarly, you will need to define the size of label you require – think about where this is being placed. A wider label can be useful for making the tag simple to find and the information it holds easy to comprehend, whereas a thin label may be more appropriate for instances where space is at a premium.
You should also consider the frequency of your label printing. Will you need to print, and reprint, labels with regularity? – and in what volumes? A label printer gives you the flexibility to print only what you need, when you need it, meaning you can avoid buying pre-printed labels in bulk that may become redundant or lose accuracy and relevance over time.
Keeping organisational assets under control
Whether you have a clear asset tracking strategy in place or have just identified the need for asset tagging in your organisation, there are a lot of areas to consider. Hopefully this guide has been able to provide you with the information you need to make a well-informed decision on the approaches your business can take to keeping your organisational assets under control. For more information on how Brother can help you with asset tagging, and any other labelling, printing and identification challenges, get in touch with one of our experts here.