The simple tech solutions that could stop 120 million online orders going undelivered
The impact of COVID-19 has created a boom in online shopping. Add the effect of regular annual sales peaks and transportation & logistics companies will be under pressure to manage even greater volumes of parcels.
With 70% of customers opting for the cheapest delivery option1, you can see how providers are looking to innovation in technology to remove costly inefficiencies. However, while technology is on hand to streamline processes, some firms remain reluctant to embrace it - with only 28% of transportation & logistics companies describing themselves as 'digitally advanced'.2
But how can adopting printing technology in one small, but essential, area deliver the vital incremental gains in efficiency and productivity to help businesses avoid the risk of being left behind?
Online shopping drives up parcel numbers
In an ordinary year, European parcel carriers and their logistics solutions teams can expect to deliver 9.3 billion items.3 But 2020 was no ordinary year. Industry experts suggest that COVID-19 has accelerated the growth of e-commerce by five years.4 Research supports this showing a 74% growth in online shopping since the pandemic began, with 45% of adults receiving more parcel deliveries during Coronavirus lockdown than previously.5
But every year, 3% of parcels go undelivered6 – with the most common reason being a lost, damaged or unreadable label. As four billion items are ordered online every year across the EU7, that could mean anywhere up 120 million online orders going undelivered every year due to poor labelling.
Three ways labelling solutions can help transportation & logistics companies deliver
It's a simple fact of parcel life: nothing moves without a clear, accurate label – but what constitutes poor labelling? It could be something as simple as a missing label or a barcode damaged in transit. Or the data on the label could be incorrect or printed in a non-compliant format.
Whatever the issue, parcels with non-readable labels will not be sorted correctly and will have to be removed from the automated sorting process and relabelled manually – so labelling solutions that minimise the time involved in correcting errors ensure parcels get delivered quickly and efficiently.
The logistics behind distribution centre solutions and eventual parcel delivery are complex, but because at every touchpoint of a parcel's journey a label needs to be either printed, scanned or processed, accurate label printing can make a big impact on your delivery process.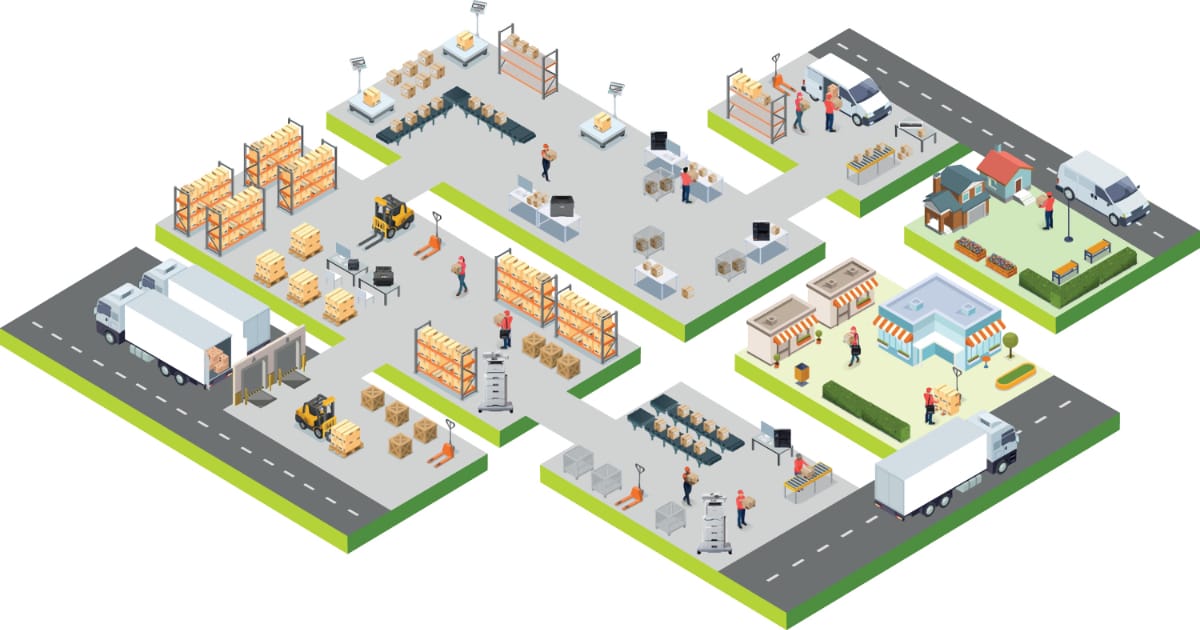 1. Mobile label printers for printing on the move in the warehouse
In a busy environment, the ability to act quickly and accurately is a small, but critical, part of creating a flexible, frictionless distribution process. Providing your staff with portable printers that they can carry with them wherever they go gives them the ability to print labels on the spot. This saves time by improving the flow of labelling, helping the user to rectify errors on the spot, making it quicker and more accurate, overall ensuring that things keep moving during busy periods.
2. Industrial label printing technology for the warehouse floor
The fast pace of a busy fulfilment centre and sortation centre demands industrial high speed, high volume printers that not only allow you to keep pace with spikes in volume, but also meet your need for efficiency and traceability. Deploying label printers at key locations across the warehouse enables the creation and printing of durable shipping labels, pallet labels, caution labels and product IDs whenever the need arises.
For distribution centre solutions and warehouse management, the speed of stock movement and rotation is the key, and to achieve this, robust and accurate documentation is critical. This can be achieved through location labelling and durable, high-quality, packing and delivery labels.
3. Portable labelling solutions for printing on the road and delivery vehicles
Last mile delivery is the critical part of all logistics solutions. Regardless of what comes before, this is the element on which your whole operation is judged by customers. Providing your delivery team with wearable or vehicle mounted printers gives them the ability to print high-quality labels and other documents, such as schedules, driver logs and delivery confirmations, while they're out on the road. This improves traceability and helps streamline your delivery operations, makes drops smooth and hassle-free - and helps you deliver customer satisfaction.
Selling via online marketplaces
Big retailers have distribution processes embedded in their business logistic solutions – but there are also options for retailers that do not have the capacity or time to dedicate to this critical business function.
For example, retailers selling via online marketplaces or fulfilment centres like Amazon can use Fulfilment by Amazon (FBA) to make their delivery processes simpler and more efficient. All FBA consignments must follow its six-step Shipment Creation Workflow - and labelling is a major part of ensuring compliance with standards.
Online marketplaces that use barcodes to track deliveries require every box shipped to be properly identified with a unique ID label – and using a specialist label printer can make batch labelling quicker and easier.
Choosing one with a crop and print barcode feature, allows you to automatically extract the relevant barcode from the system and print them onto individual labels, instead of printing multiple labels on A4 sheets through your standard printer.
It's vital that labels remain scannable and readable throughout their journey - so you need robust, high quality labels that will withstand the rigours of the distribution process. Choosing a thermal label printer with a resolution of 300 dpi or more will ensure clarity of your barcodes.
And don't forget: some online marketplaces charge a fee for unidentified orders, so proper labelling is essential to avoid unnecessary extra charges.
To find out how Brother can help you deliver more effectively via a range of printing technology services, check out our specialist labelling solutions for the transportation & logistics industry.
---
References
1. McKinsey: 'Parcel delivery - The future of last mile' - 2016 (PDF)
2. PWC: 'Shifting patterns - The future of the logistics industry' (PDF)
3. Ecommerce News: 'Europe: 9.3 billion parcels in 2018'
4. P3: 'Is COVID-19 ecommerce's tipping point?'
5. Modern Retail: 'Black Friday 2020: How to successfully prepare for peak in the face of uncertainty' - July 2020
6. CourierPoint: 'Lost in transit'
7. PostEurop: 'Facts & Figures'