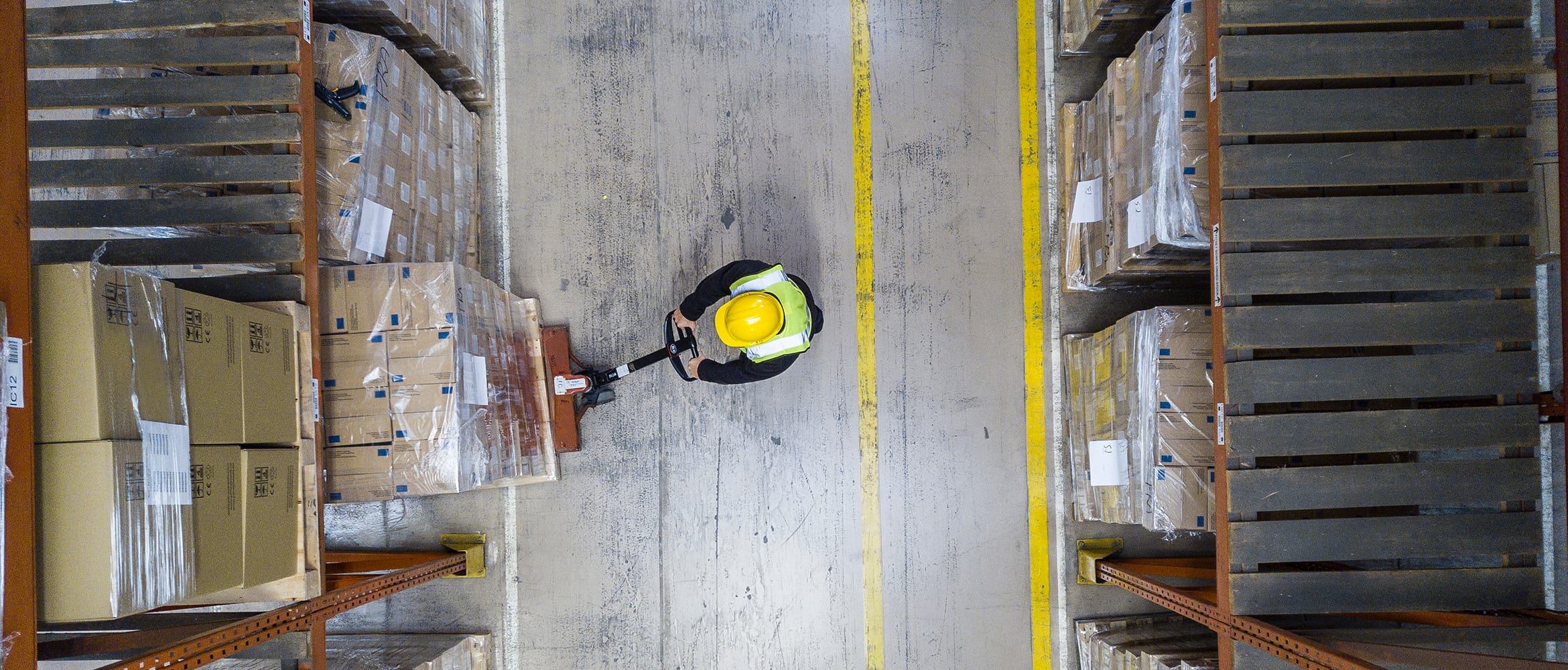 How to label shelves in your warehouse for improved efficiency
The pandemic has proven a catalyst for many industries, not least the e-commerce sector. Buoyed by a sharp increase in online orders, many e-tailers, as well as more traditional bricks-and-mortar businesses, have seen huge growth over the last year.
And while the pre-pandemic battleground saw retailers competing over the lowest prices, the new landscape is driven by demand for timely delivery – with those businesses who are able to commit to next-day, or even same-day, delivery set to win out.
With greater customer and retailer expectations of efficient delivery processes, supply chains, transportation and logistics companies, and warehouse storage facilities are inevitably feeling the pressure to meet demand. As such, it's vitally important for success that all systems and processes are connected and working efficiently.
There are many factors which can impact the efficiency of an organisation's logistical processes, and the sector has clearly been proactive in stepping up to meet the unprecedented demand.
In this article, we will look at key considerations - including the best way to label warehouse racking - to ensure your warehouse racking system is facilitating efficiency and productivity along the logistical process.
Selecting the best warehouse racking systems is key
Choosing the right storage solution in your warehouse sets the foundation for efficiency and productivity throughout your entire logistical process. Considering fundamental technical aspects such as, safety and load-bearing capacity, is vital, as well as ensuring your racking system can be seamlessly integrated into your digital and non-digital processes, and also easily adapt to changes.
Something as simple as distance walked can add up to huge inefficiencies over time. For example, if you're storing products in a 6000m2 warehouse, the order pickers have a very large area to walk across multiple times a day to pick products for orders. To optimise this space, a racking system with 16 levels, can reduce the storage area down to just 170m².
This new storage solution could massively reduce the warehouse footprint, increase efficiency significantly and lead to major savings – highlighting how important it is to choose the right system for your business.
When thinking about racking systems, there are lots to choose from and the type of goods to be warehoused and whether the racking system should be dynamic or static needs to be considered.
Static racking systems for pallets and bulk items
Static warehousing means that every article, whether palleted or stored in bulk, has its own fixed place in the warehouse. Fixed racks are most often used where load units are placed on these individually or several deep, and only moved again when taken out of the warehouse.
Pallet racks consist of posts which are connected together by a support system. can either place several pallets in between two posts (multi-space racks) or for heavy goods, only place one unit between two posts (single-space systems).
When storing goods on pallet racks, push-in or push-through systems are often operated by fork-lift trucks. With a push-in rack, the forklift can only enter from the front whereas with a push-through rack, it can enter from both sides.
Shelving racks are used for storing bulk amounts of medium-volume goods, such as cardboard boxes and canisters, or small parts in tote boxes are stored. Goods are normally placed in and taken out of storage by hand.
Cantilever racking is found mainly in the iron and wood processing industry. These racks have no floors and the goods are instead stored on lateral cantilevers. You can either push the goods onto the cantilever arm (e.g. rolls of paper) or lay them on top the cantilever arm (e.g. long goods).
Cantilever racks are used for bulky or heavy goods and have to be operated by forklift trucks.
Container racking adapts to accommodate the dimensions of the storage item. It mostly consists of metal racks with removable shelves, but can also be designed as a closed system in order to protect sensitive goods in the containers from damage, dirt or theft.
Container racks function on the "goods to man" principle and are operated by small parts warehouse equipment or an autonomous shuttle. The electric drive system runs on rails and can reach speeds of around 7 m/s, enabling faster order-picking.
Dynamic racks for pallets and bulk items
Warehouse technology is described as "dynamic" when the goods are moved after being placed in storage. The goods could be moved both inside a fixed rack, together with the rack or on some form of conveyor. The benefit of dynamic racking is that it saves on transit time, and therefore speeds up order-picking.
Push-through and push-in racking
Push-through racks move goods from the input side to the output side, typically on a sloping roller conveyor or a chute. This works either by gravity or by a mechanical drive system for the goods. As only one kind of item can be stored per racking aisle, this design is suitable for fast-moving products.
A push-in racking system puts the goods in and takes them out from the same side. With every new pallet placed on the racks, the previous pallets are pushed one space further in. As the track is on a gradient, the pallets already in the push-in racking move up automatically when goods are taken out. As it is not possible to operate the FIFO (First in, First out) with push-in racking, its use is limited to goods with no use-by date.
Mobile racks can be built as simple shelving racks, pallets racks or cantilever racks. Individual rows of racks are on electrically driven trolleys that can be moved sideways. These can be placed tightly together, so spatial requirements are minimal but this does make individual storage spaces difficult to access.
Carousel-type racking systems work on the "goods to man" principle. The goods are transported to the picking point either in a horizontal movement (horizontal carousel) or a vertical movement (paternoster).
Horizontal carousels look like shelving racks. The load units, however, are placed on a movable support and are transported to the picking station. Order-picking time is reduced, as staff movement is minimised, and the system also saves space because aisles between racks can be avoided.
The paternoster system also transports the required goods directly to the removal opening. A further benefit is that this can be installed at a height which is ergonomically suitable for staff.
How to label shelves in warehouses
Organisation and identification are key to the successful operation of a warehouse. Overlooking these fundamental principles can lead to significant issues further down the line. By the simple addition of a clear, logical and integrated labelling system you can improve supply chain efficiency, product visibility, increase productivity and decrease the frequency of manual picking errors.
The three steps to labelling warehouse racking for improved efficiency are:
Define your warehouse racking identification method
Label warehouse racking from bottom to top
Identify the best warehouse racking labels
Clearly identify your warehouse racking or shelves
Starting out by identifying where your storage units or sections begin and end might seem like a basic first step, but clear identification of warehouse racking will pay dividends in the long term. And it's worth noting that not all warehouses follow the same system, so having this information visible can serve as a helpful indicator to teams on the ground.
The size of your units and sections will likely be defined by the type of inventory being stored, so take this into account when considering your shelving identification plans. If you opt for many small sections, remember to assign unique identification attributes to each of these rather than to the whole rack itself. Having a good system to label warehouse racking in place from the start also paves the way for successful scalability, allowing you to add or remove labels as you expand.
Label warehouse racking from bottom to top
When you're starting to label your racks, do so from the bottom up using double digits. Not only is this a logical process, but it allows for your operation to scale without having to redesign your whole identification system. This consistency (including where on the rack is labelled) and logical numbering will help workers in finding what they are looking for in the most efficient way possible. Put simply, the bottom row of your warehouse racking should be labelled as '01' and the second as '02' and so forth.
Identify the best warehouse racking labels
So now you have decided on your system, the next decision to make is to decide which labels you will need to use. When considering how to label warehouse racking, selecting the right labels will have a big impact on efficiency. Legibility is a key factor in this decision to ensure that your labels work with existing picking scanners – this likely means barcode readability up to 300dpi and labels up to 4 inches in width. Choosing labels that don't meet your requirements in relation to durability, permanence and surface type, as well as potential exposure to temperatures, sunlight and chemicals could bring your operation to a grinding halt. Magnetic metal labels are often considered the most durable option for warehouse racking labelling requirements, but there are a number of highly durable alternatives including thermal labels and laminated labels that are available at a much lower cost.
Driving efficiency in your warehouse
The benefits of improved efficiency in the warehouse are clear, and forward-thinking organisations have used the increased demand generated by the pandemic to significantly grow their operations. Those organisations which continue to strive for greater efficiency, seeking out improvements across their processes, will be best placed to deliver profitably in the bid to serve demand quickest.
The best warehouse racking systems combined with clear, logical labelling can be the first step towards automating your processes for optimal efficiency. Having the correct labelling information easily accessible, including barcodes, that could link up to your warehouse management system, puts you in a position to rapidly increase efficiency in your operation.
We have developed a free label editor software which is helping warehouse operations teams to design and print customised labels suited to the exact requirements of their system and processes.
Creating and printing barcodes using Brother software is quick and simple, as well as offering seamless integration into existing systems, meaning your standard shipping label printer – when paired with the correct label media – can be used for creating the exact labels you need. Discover our mobile print and label solutions here.
For more information on how Brother solutions can help improve efficiency in your warehouse, visit our transportation and logistics hub here.