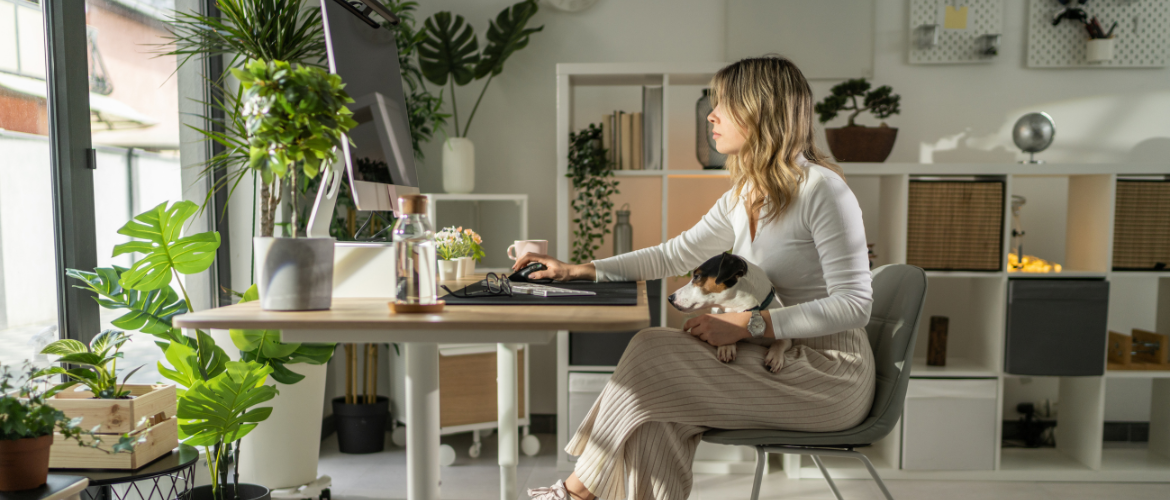 Office decentralisation: the global challenge facing IT leaders
Business dynamics have changed. More people than ever work remotely, offices are smaller, meetings are online, and investment in cyber security is on the rise as technology helps facilitate new ways of working. The challenge for IT leaders now is how to adapt, and thrive, in this new decentralised world.
Decentralisation is a global business trend accelerated by the rapid uptake of hybrid working structures in organisations of all shapes and sizes. It means technology, and the support and services that keeps it running optimally, is no longer reserved for centralised locations, office-based colleagues and on-premise infrastructure. Instead, IT professionals must now focus on ensuring that their organisations have fit for purpose systems and processes for a 'borderless office'.

Whether colleagues physically visit the office on a set number of days each week or have the flexibility to choose their own location-independent working spaces, migration to cloud services, improved office technology and providing structures to allow effective but separate working from colleagues have rocketed up the IT leaders' to-do lists.

And this is no flash in the pan or short-term trend. Analysis of societal changes after major pandemics going back over 400 years suggests that fundamental changes to the way we live and work are here to stay.

So, understanding the impact of these changes in detail is vital for good IT decision making.

Security: the biggest challenge for decentralised organisations
IT leaders can be found at the forefront of decentralisation initiatives. It's their responsibility to ensure productivity remains high and cost effective whether staff work from the main office or remotely – which can be a daunting task.

And as more and more staff work remotely, the security risks associated with decentralisation increase as well. As a result, businesses are prioritising online security more than ever before, especially improving network and device security for remote workers.

According to Red Hat's 2023 Tech Outlook4 report, IT leaders will invest more in cyber security than innovation in 2023.

The survey of 1,703 IT leaders found that security was 'by far' the overall funding priority in this year, with 44% placing it in their top three priorities, alongside cloud infrastructure (36%) and IT/cloud management (35%).

Measures being taken to improve network security include using a Virtual Private Network (VPN), introducing two-factor authentication (2FA) or Media Access Control (MAC) address filtering.

While device security is now being bolstered through single sign-on (SSO), biometric verification, such as facial recognition, and intuitively locking down device capability in line with requirements, roles and permissions.
In fact, by 2024, 30% of global organisations5 will select devices with fewer features, as they become more selective about the specifications that matter.
How can decentralisation benefit my business?
While there are clearly some challenges posed by decentralisation, the benefits are manifold.

Improving technology means more cost efficient and secure processes, enhanced sustainability accountability and happier colleagues.

For example, introducing Intelligent Automation, Cloud-based software and Robotic Process Automation (RPA) into IT operations can support the continuous optimisation of processes, reduce the amount of time employees spend on repetitive, manual data tasks, and also lead to large cost savings.

Steve Perkins, global leader for technology at Grant Thornton6, explains: "Post-financial crisis and COVID-19, firms continue to strive for greater efficiency and better productivity. In this digital age, businesses increasingly look to technology for the answers."

By changing the relationship users have we devices, systems and process, IT leaders can ensure that technology serves to add value rather than causes a hindrance to busy working schedules.

Decentralising technology: changing the relationship
One way of changing this relationship is to adopt a needs-based methodology of technology procurement. One-size-fits-all models have given IT teams the ability to maintain and support tech systems at scale, limiting inconsistencies across devices and interfaces. However, this approach can come at the cost of user satisfaction and efficiency.

Whenever I speak to IT professionals about improving efficiency and optimising their tech investments, I always come back to a balanced deployment of technology as the greatest enabler of gains across the board.

It's all about providing the right technology in the right location to meet the needs of users and the business. Whether procuring devices for users working from home or re-evaluating requirements for changing office workplaces, the approach delivers the same positive outcomes.

Take printers for example. Many businesses are moving away from large, floor-standing A3 copier machines – though they have traditionally provided plenty of water-cooler moments of the years, they're expensive to maintain, create print backlogs when shared by too many users and have excessive specifications going largely unused through day-to-day printing behaviour.

Instead of this centralised workhorse, businesses are seeing the benefits of deploying decentralised workgroup printers capable of delivering against the needs (and technical requirements) of defined groups of users, rather than the entire office. A greater number of smaller multifunction devices, including devices that can print A3 from an A4 footprint, can help businesses meet all of their printing requirements even where space is at a premium, improving productivity, cost efficiency and building resilience against print downtime.

This methodology also extends to users working from home. Deploying specification aligned printers to individuals working remotely, ensures the greatest return on investment, while empowering colleagues to work effectively when not in the office.

Further to this, through managed print services, IT leaders can provide reportable data on printer usage at home, illustrating the effectiveness and performance of the print fleet across multiple locations.

Is decentralisation right for my business?
Some form of decentralisation is likely unavoidable for the majority of businesses. So, embracing the challenge and identifying your priority areas is the order of the day. Systems and processes will need to be fully evaluated for the fitness in any new decentralised structure, and a key part of that will be the technology that your people rely on to make these work.

When it comes to hardware, the best approach is to evaluate whether your businesses needs large, centralised equipment and undertake an infrastructure audit.

At Brother, we have seen businesses identify huge cost and security opportunities through some robust self-reflection or through inviting our experts to support with specialist consultation, to re-assess the new needs of their users.

If done correctly, decentralisation can be a positive opportunity for all businesses. By embracing decentralisation, you can realise benefits across cost efficiency, security, and even sustainability, as well as prioritising staff wellbeing by investing in the right technology and adapting to the working practices which are right for them.

The workplace has changed, see what Workplace x Brother means for your business here.

---
References
1. Forbes: 'Why Business Leaders Should Prepare For The Shift To Decentralization'
2. Eurostat: 'Rise in EU population working from home'
3. Square talk: 'Remote Work Statistics in 2023 and How they Influence the Workplace'
4. Red Hat's 2023 Tech Outlook: 'When it comes to tech spending in 2023, there's one top priority'
5. IDC: 'Worldwide Imaging, Printing, and Document Solutions 2023 Predictions'
6. Grant Thornton: 'International Business Report H1 2022'