How to solve field worker technology challenges
As businesses strive to deliver products and services faster than ever before, mobile workforces are on the rise.
As a result, businesses across many sectors are seeking ways to drive efficiencies as their in-the-field workforces grow.
Against this backdrop, Brother has partnered with Incisive and Computing to produce a new report looking at potential solutions to the tech challenges that come with mobile working.
We pulled together a panel of experts to discuss the findings of the report, which shows that more than half (51%) of UK IT decision makers with significant numbers of field workers in their business expect the number to grow over the next five years.
Reflecting on the trend, Ged Cairns, head of mobile solutions at Brother, said: "Smartphone technology is changing our lives and this has been felt in a changing demographic in the workplace at large. In many ways, the growth of the mobile workforce is a natural evolution of the smartphone coming to market. This will put tremendous demands on businesses and their structures."
Our panel discussed the strategies and tools that will allow this growing mobile workforce to deliver services quickly, securely and to high quality standards, against a backdrop of intense competition.
Read on for highlights from the discussion, plus steps you can take to improve the effectiveness of your business' field workforce – starting today.
Common barriers to growing an efficient field workforce
Computing's report showed that technical challenges with equipment were the greatest obstacle to companies maximising the effectiveness of a field workforce (Fig. 2.).
According to John Leonard, research director at Computing: "Given that they are away from general support networks, it is vital that the equipment used by fieldworkers is rugged and easy to use.
"In terms of organisational strategy, communication is a key issue. Organisations turn to mobile working as a way of completing tasks more swiftly, but this requires an efficient data management network set up for rapid response, or any potential efficiency gains will be eaten away by delay."
Clive Fearn, global sales director at mobile software applications provider TAAP, emphasised the importance of providing field workers with the right technical solution: "What's important is that the mobile fieldworker has access to the right device, the right applications, the right support and that they are engaged with the technology.
"Who does the field worker call if there is an issue? Who is providing first-line support? What is the fail-safe to ensure there is speedy supply of a replacement solution with the right encryption, the right security protocols, perhaps the right mobile device management tool?
"It's about the solution being fit for purpose, and that encompasses so many different areas. But, in my experience, if you get the solution right, you don't look back."
High efficiency shouldn't mean compromised security
As the Computing report shows, data security is top of mind for many companies with a field workforce. Ged Cairns explained how the latest technology is allowing safeguards to be built into a super-efficient workflows: "I think security is about more than just data. There is data, but there are also people and assets to protect.
"When protecting the asset, you have biometric log-on and scanning tools now which you can use to lock the device down. In regards to people, you have executive accountability, you can tag where people are with GPS communication and track when they have arrived at certain locations.
"On data security, there are some simple things you can put in place. There is no one-size-fits all, but the technology includes cloud computing, in terms of keeping things in the cloud rather than on the device itself. There is encrypting data and implementing logon systems that are protected and difficult to hack."
Clive Fearn added: "There are so many products that you can use to encrypt and protect your data. So, for every time this has come up as a topic throughout my career, it has never stopped a single mobile workforce from rolling out."
Mobile printing and scanning: Are companies missing a trick?
According to the report, "One in ten IT decision makers believe that travelling to and from the office to print and scan is the biggest bugbear for field workers" (Fig. 3.).
However, only about a quarter of the businesses (24%) surveyed said they were using mobile printers and scanners.
These businesses are missing a trick. The report goes on: "Nearly all the businesses surveyed that are using mobile printing or scanning believe that it saves field workers a significant amount of time. The highest proportion (20%) said that it saved two hours per field worker per week."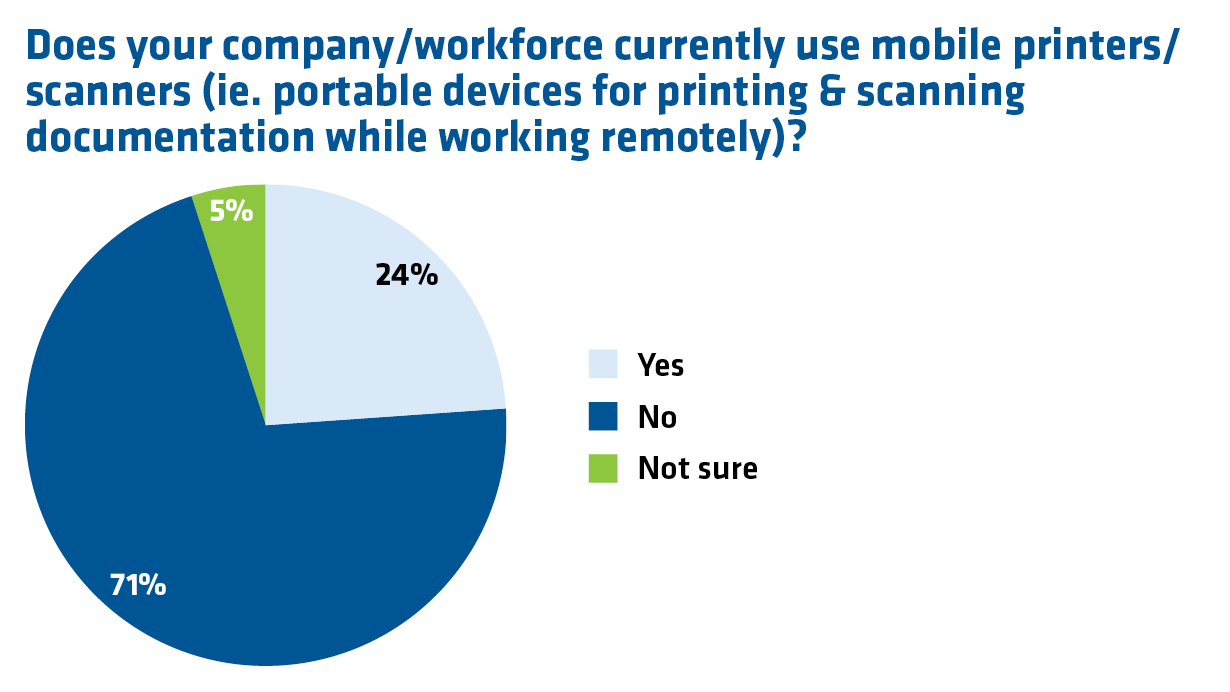 The report found the most common bugbears felt by field workers, with the top five including connectivity (21 per cent) and traffic (16 per cent), while lack of information to hand, having to liaise with admin staff rather than being able to do a job themselves and poor communication all ranked equally at 12 per cent each.
Ged Cairns continued: "A reliable mobile print and scan solution can help address or at least alleviate almost all of these common complaints. Reliable, user-friendly mobile printers and scanners are designed to overcome connectivity issues and avoid reliance on office-based admin staff to provide support.
"There is still a large demand for paper in our world from consumers and customers, as a proof of a service, a function, a sale, an invoice, a quotation, a care note, a label.
"By providing field workers with mobile printing and scanning solutions, you are saving them a trip back to a certain location to print a document – which means less time sitting in traffic – and you're also removing the need to have it sealed up in an envelope and posted out to the customer.
"We have plenty of total-cost-of-ownership and ROI tools that demonstrate the cost benefits of delivering a service there and then with mobile printing and scanning technology."
Report download: Fast forward to improve field worker productivity
Improve the efficiency of your field workforce with scanning solutions and mobile print solutions from Brother.
To read more, visit our mobility hub.