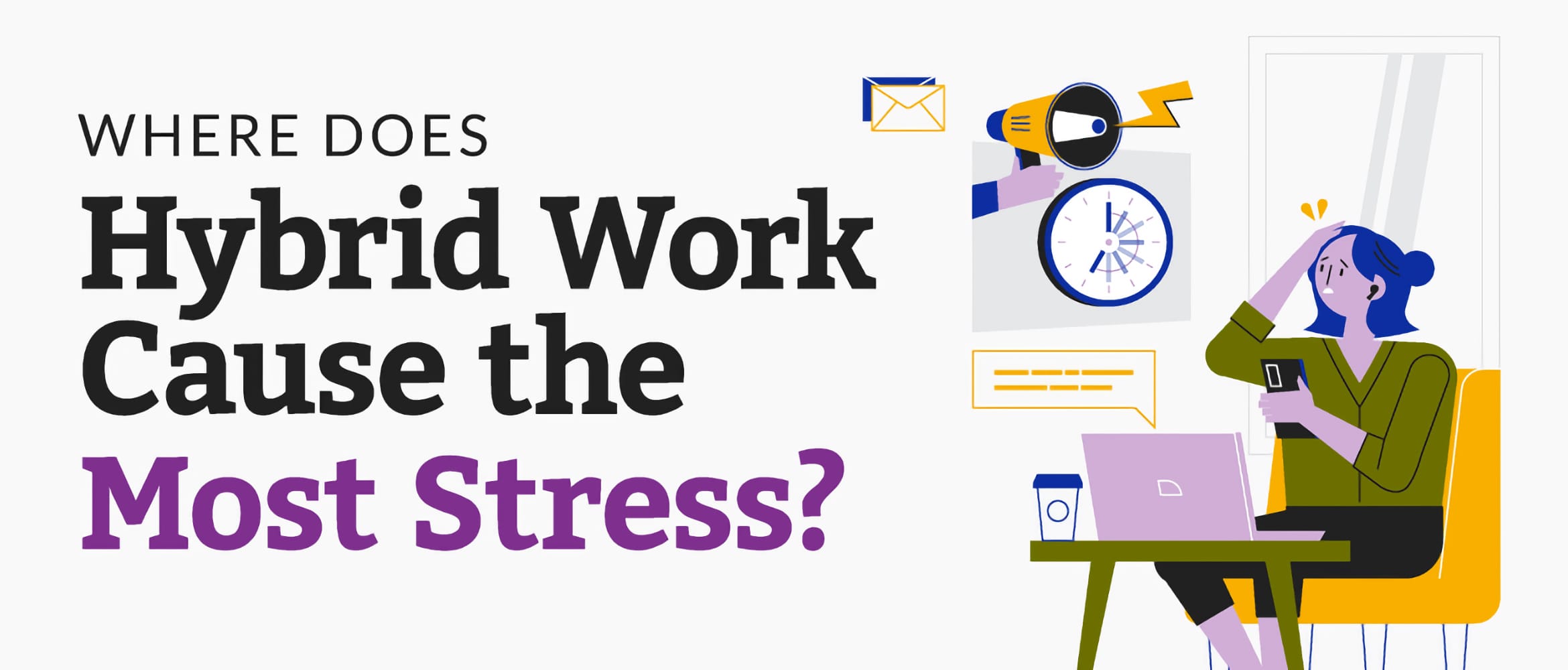 Where does hybrid work cause the most stress?
The boom in hybrid working conditions is a result of extraordinary circumstances.
Some companies pivoted to hybrid during lockdown to reduce social proximity without closing down altogether, and have elected to keep it going; others went fully remote and have scaled back up to hybrid as the 'best of both worlds.'
In the best cases, hybrid is a popular solution that energises employees in their work and facilitates a healthier work-life balance.
But with little preparation or track history to go on, many businesses are struggling to incorporate the best of either world. Nobody's sure who or what to expect at the office. Changing daily from office to WFH and back again deprives workers of rhythm and consistency. And flexibility can create confusion and even guilt feelings. In one survey, 80% of HR departments said that hybrid work is exhausting workers.
Still, the office/WFH hybrid is working for many. With conditions varying between homes, offices, and regions, Brother UK decided to find out which areas of the UK and the U.S. are reporting the highest stress levels due to hybrid work, and which are taking it in their stride – and what you can do to make hybrid work the winning formula we know it can be.
Please feel free to jump straight to whichever section is of interest to you using the links below.
What we did
Our data analysts collected over 200,000 geotagged tweets mentioning hybrid work and analysed them for signs of stress using an academic tool called TensiStrength. We grouped the tweets by area to find the UK towns, London boroughs, and U.S. states and cities with the highest percentage of stressed tweets about hybrid work. You can read a thorough methodology at the foot of the page.
Finally, we gathered expert research on best practices for hybrid teams and created an infographic to help you decide if hybrid work is right for you – and if so, how to do it.
Key findings
Bolton is the UK city that's most stressed about hybrid work, with 35.5% of relevant tweets exhibiting stress.
The London borough most stressed with hybrid work is Lambeth, with a 42.9% stress rate.
Alaska has a 31.3% stress rate for hybrid work, higher than any other U.S. state.
Oakland, CA, is the most-stressed U.S. city for hybrid work (31.0%).
UK workers stressed by loss of work-life boundaries
A massive 84% of UK employees who worked from home during lockdown plan to continue working in hybrid mode in the future, according to government figures. During 2022, working exclusively from home has become less common, but the number of hybrid workers continues to rise. While only 21% of those earning £20-30k ($24-36k) are now hybrid, that figure rises to 38% for those earning over £40k ($48k).
Bolton's hybrid workers are significantly more stressed about hybrid work than those in other large UK cities, according to our findings. A regional survey found that some employees in the North West are "missing the everyday social interactions of a shared workspace and experiencing an increased blurring of work-life boundaries."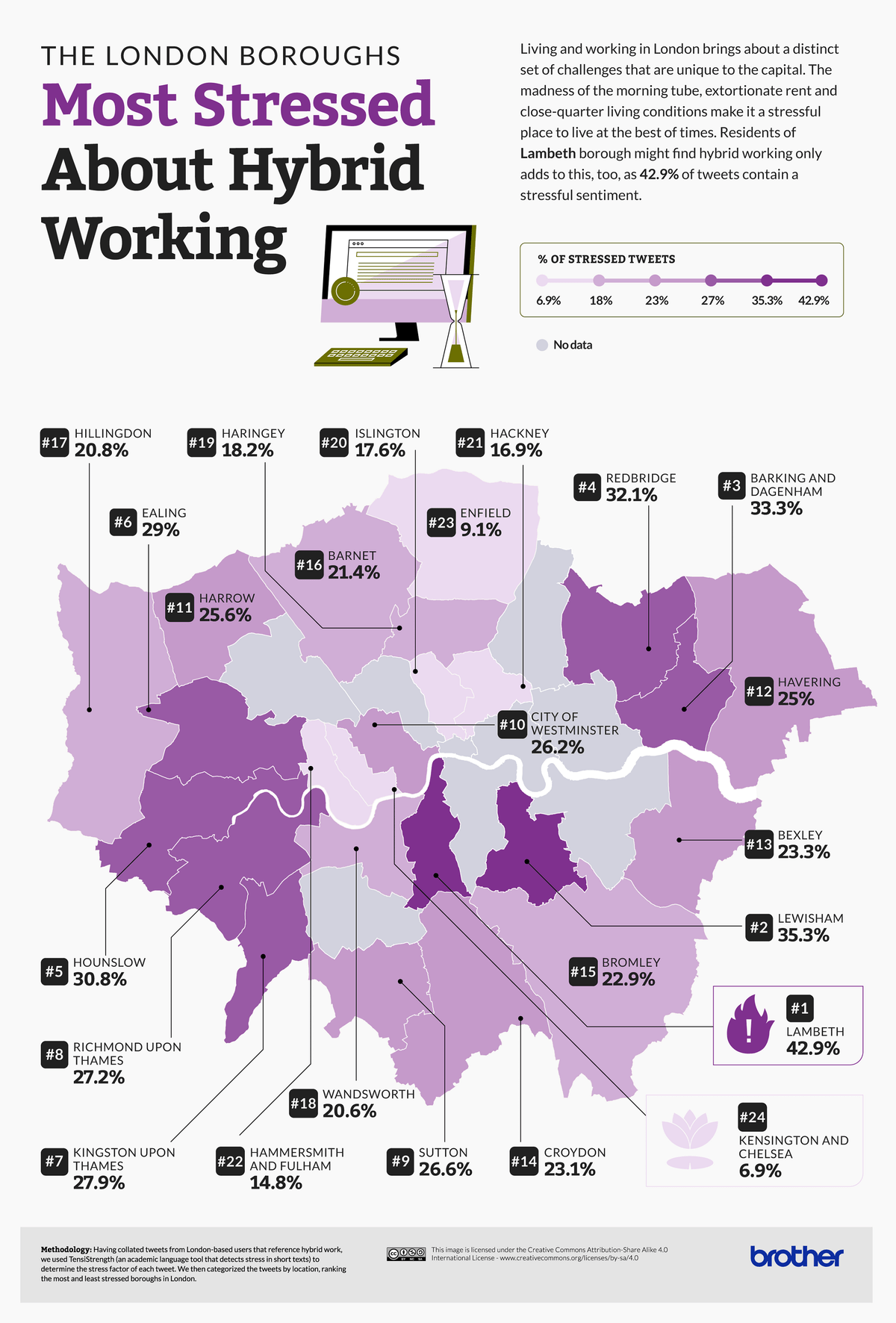 On a borough scale, the most stressed areas are those south of the river or on the periphery, which could indicate that the continued need to commute into town is an extra stress on 'office days.' London's wealthiest borough, Kensington and Chelsea, has the lowest stress rate regarding hybrid work. Stress levels in Lambeth, where you'll find the commuter transport hubs of Waterloo and Clapham, are five times higher than in Kensington and Chelsea.
Northern U.S. regions feel the strain of hybrid work
A strained U.S. labour market lends workers the power to suggest favourable working terms. And indeed, the most stressed U.S. cities for hybrid work are more chilled than their UK counterparts. But teams will benefit from working things out together if the experiment is to proceed beyond the teething period. "We have to bring more balance into the discussion that this is good for you, but it also has to be good for us too," says Johnny C. Taylor, Society for Human Resource Management. "It is important for employers to be honest about the fact that we don't really know how this is all going to work out."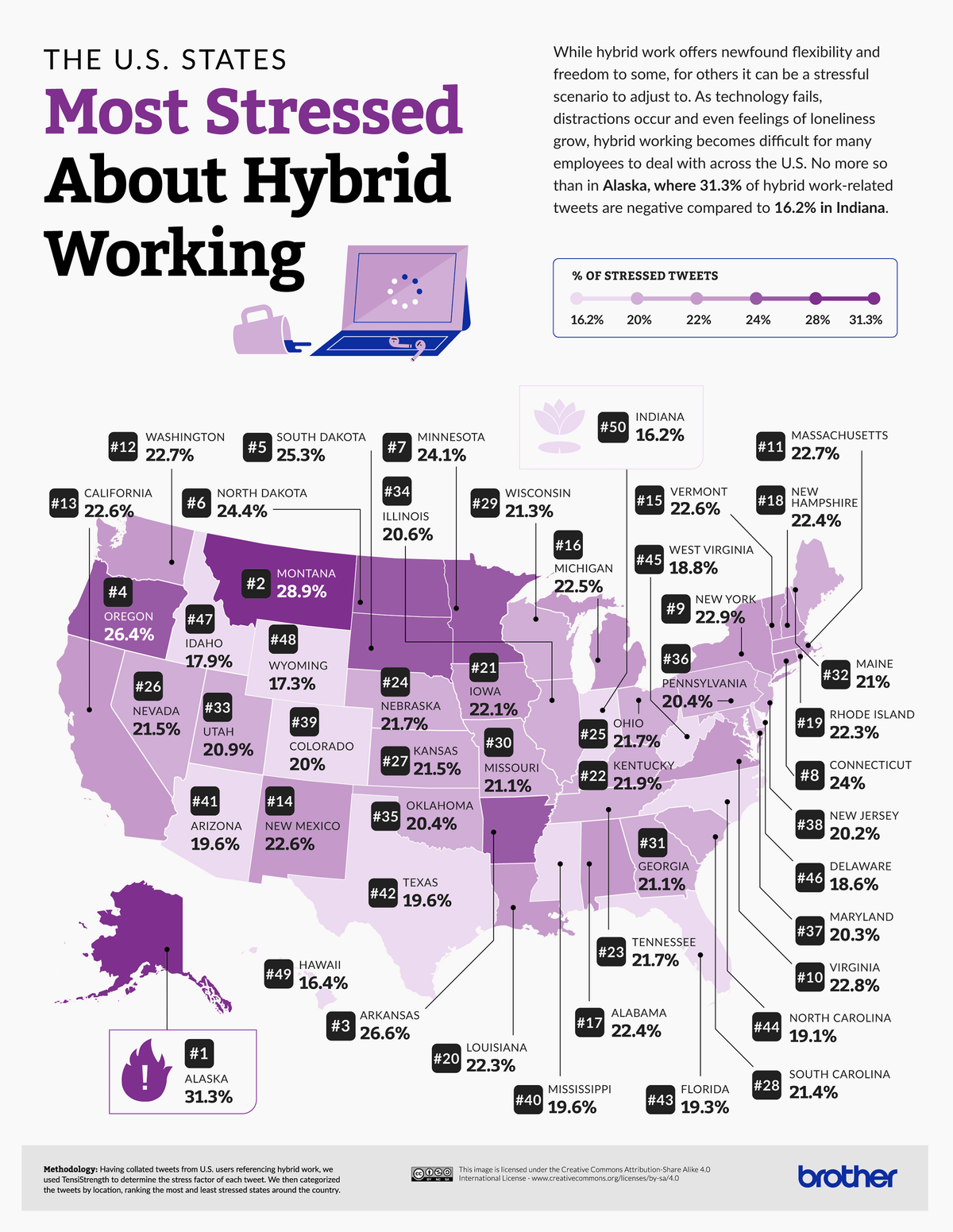 Broadly, northern states are more stressed about hybrid work than those in the south. First-placed Alaska is a full 2.3% more stressed than second-placed Montana and has nearly twice the stress levels of second-from-chillest Hawaii (because… Hawaii). Complaints and concerns about hybrid work include the extra strain put on local wifi networks and the worry of whether you're supposed to be in the office from one day to the next.
There's quite a variety of cities at the top of America's hybrid work stress league, while the least stressed cities are connected by their warm climate. But Oakland, CA, is most stressed of all, with nearly one-third of hybrid work-themed tweets showing signs of stress. Some are concerned that the WFH part of the deal may stand in the way of impressing employers and creating new opportunities.
When and how to do hybrid
Hybrid working can improve professional and home life, reducing stressful commute times and encouraging healthy physical activity. But blurred lines are a cause of anxiety, with WFH employees tempted to work all hours or check messages and assignments beyond what they might have done when clocking off at the office.
Where possible, each worker should negotiate with the boss and consider how far this trade-off suits them: can you keep focus through unrelated interruptions at home? Can you adapt quickly to the workplace on office days? Questions like these form the basis of our infographic guide to the benefits and stresses of hybrid work.
In conclusion, hybrid work is still a young and confused creature. Many workers and workplaces have segued straight from the instant lockdown fix of remote work into improvised hybrid strategies and work environments. Working from the kitchen counter without the necessary IT infrastructure is not a permanent solution, even if working from home can be.
But the monumental shift towards flexible working conditions has come at an opportune moment when society has already been looking towards more equitable relationships with employers and a healthier work-life balance. With thought, communication, and carefully managed stress levels, businesses and employees could finally establish a truly 21st-century work culture.
Methodology and sources
To discover where hybrid work causes the most and least stress in the UK and USA, we pulled geotagged tweets containing hybrid work-related words and phrases. After filtering for balance, we ended up with a dataset of 205,908 tweets.
With data in hand, we used a digital algorithm to estimate the stress level of each tweet. Finally, we grouped tweets by regions and ranked the locations inside each group. Results apply to the 50 most populous cities and towns in the United Kingdom and the United States, alongside the 50 U.S states and each of the London boroughs with at least 20 qualifying tweets.
The data was collected in June 2022.