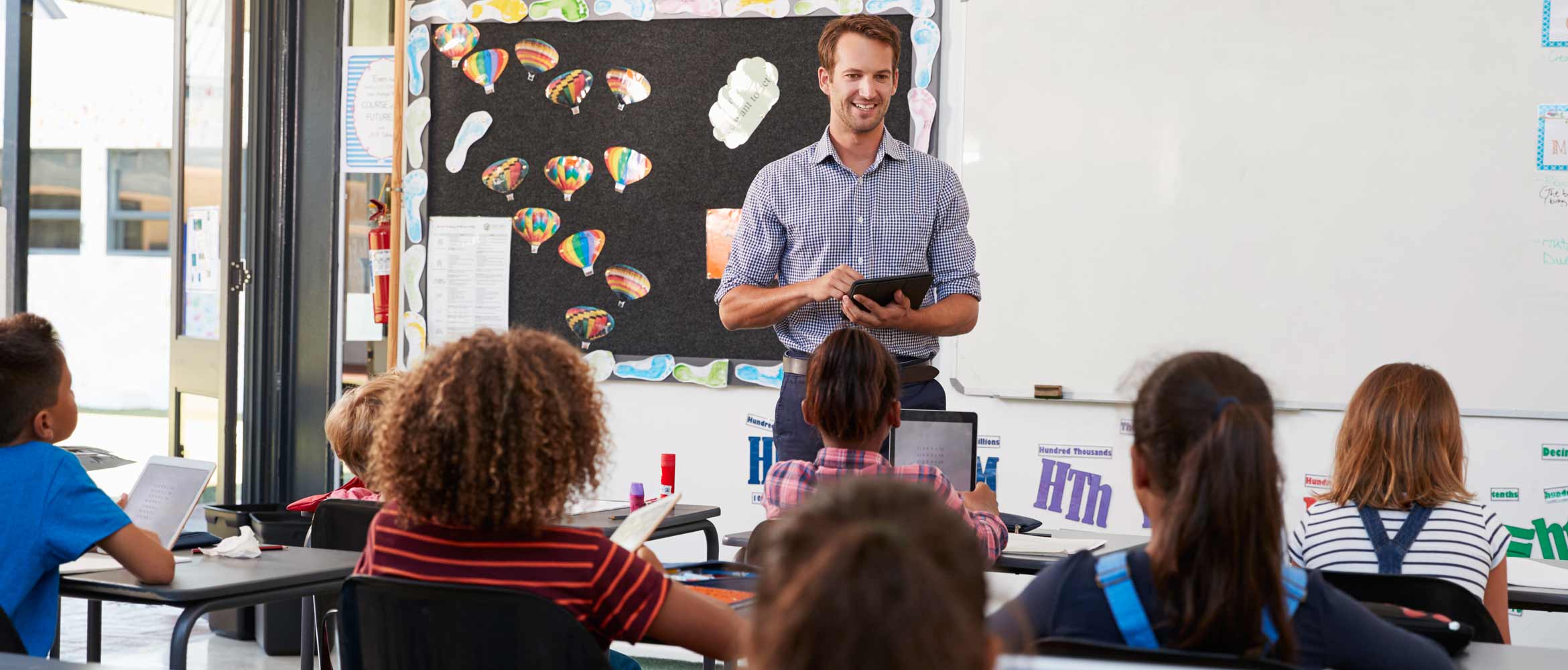 How IT managers can ease the admin burden on teachers
Teachers want to teach. It's more than just a
job, it's their vocation. But it's clear that the growing burden of administrative and clerical tasks is weighing heavily on many of them.
Class sizes are getting bigger , which means tasks like preparing lesson plans, marking, data management and general admin are taking up more of teachers' time, affecting their morale and wellbeing, as well as staff recruitment and retention.
Teachers feel that the weight of admin they face is distracting them from delivering the quality of education they would like, and many believe it is an increasingly unsustainable situation.
In fact, research from the Department for Education found teachers work an average of 54.4 hours a week , while a survey by the National Education Union found 80 per cent of teachers have seriously considered resigning because of their workload.
This is an issue that is now being addressed at the highest level.
An opportunity to improve outcomes
Education secretary Damian Hinds says that reducing teacher's workloads is a priority and he wants schools, colleges and universities to use technology to reduce the burden of 'non-teaching' tasks, particularly around planning and data management.
This gives IT managers the opportunity to create more efficient ways of working for teachers and support staff.
A good start is to explore systems to communicate with and engage pupils and parents, which can successfully reduce the many admin hours spent drafting countless reports and letters – which are reliant upon being delivered by pupils to their parents or carer.
There are numerous options, including Edulink one, Groupcall Xpressions, SIMS InTouch, Schoolcomms and Tasc Insight, which have varying features, but they are all designed to support more effective and efficient communication within school communities.
Communicating with the community
Essentially, they provide a platform that schools can use to securely store documents, and share them using texts, emails or push notifications.
You pay an annual or monthly subscription to license the software and the platform can either be hosted in the cloud or within the school's infrastructure.
They often require parents to download a free smartphone app where they can either choose to accept push notifications about any new information that has been uploaded, or opt to receive text messages or emails instead.
Documents like end-of-term reports, assessments, exam timetables and details of after school clubs can be uploaded to the platform, where they can be accessed by parents, who can then confirm they have received and read documents and send feedback.
They also include letter templates that can be quickly customised to share information about events like school trips or parents' evenings, and parents can use the app to confirm their attendance and book a specific time slot.
Simplifying processes
Support staff can use the platform to send out reminders about overdue library books, for example, and more sophisticated systems can even process payments.
They can be used by parents to take payments for things like after-school clubs and school trips, and even book and pay for tickets for school plays.
It's easy to see how such systems can simplify a diverse range of labour and time-intensive administrative processes, while also increasing engagement with parents and pupils.
Another big benefit is that school staff can access these systems outside school, wherever they have an internet connection, supporting more flexible ways of working.
Supporting collaboration
Another particularly time-consuming burden for teachers is lesson planning.
The Department of Education has recently issued new guidance that teachers no longer need to spend time filling out templates for every individual lesson plan.
This had previously seen teachers preparing SMART presentations for use on interactive whiteboards, then writing up lesson plans that contain the same information to be checked by senior members of staff and Ofsted inspectors.
Lesson planning can now be completed solely using SMART presentations, which can then be stored on a central server so they can be amended and re-used.
It also means that a series of lessons can be saved and easily revisited with classes to recap on learning.
This opens the door to increased collaboration between teachers using platforms like Microsoft Planner and Sharepoint.
Teachers can upload lesson plans to share with colleagues, creating a library of lessons, materials and resources that can be shared, amended and reused as required.
IT and education, working together
Schools are also using project management apps like Microsoft Teams and Trello for information sharing and discussion.
They support collaboration by providing a place for posting questions and comments about ongoing issues, removing the need to trawl through lengthy email threads.
For example, it can be used to share exam grading criteria with a particular department, and teachers can then respond if they have any questions about marking, with the responses visible for all to see.
Again, these kind of apps can be securely accessed remotely by teachers who may be working at home after school hours or during school holidays.
Supporting this kind of flexible working is crucial for maintaining teachers' workflow and removing potential obstructions to efficiency.
This can also be an issue with printing classroom materials like tests, reference texts and worksheets, which are a fundamental part of most lessons, but having a small number of printers housed in a central hub can create backlogs that tie up teachers unnecessarily.
In a school or academy with hundreds of pupils, if even one machine is out of action for just a short time it can create even more inconvenience.
Instead, a far more efficient and controllable solution for teachers is to have printers in classrooms.
Convenience and creativity
Schools commonly use print management systems like PaperCut or PrintSmart, which means teachers can remotely send print jobs to their printer at a time and location that is convenient for them.
Then they can simply tap their work pass on their dedicated printer when they get to the classroom to release the job.
It means no queues, less potential for logjams and that teachers can be more spontaneous and creative in their teaching, as they can print materials during a lesson, without having to collect materials from another location.
Networks of printers can be leased, typically for three years, so there's no big initial investment in hardware and the cost can be spread out, reducing the impact on school budgets.
And it removes the need to suffer with legacy systems of printers of different makes and ages, which means buying many different types of print cartridges, generating inefficiencies, elevated costs and storage issues.
Along with a Managed Print Service, schools also get maintenance support, helping the provider to deliver an uninterrupted service, and printers can automatically order new cartridges themselves as and when they are needed.
The school can retain full control over print volumes and costs, limiting access and setting restrictions on the amount that can be printed.
Printers can also be locked down so they can't be accessed and misused by a pupil with AirPrint on their iPhone, for example.
It's clear that modern technology in schools presents numerous opportunities for IT managers to help teachers save time, improve their work-life balance and boost their job satisfaction.
Ultimately, we're all working for the benefit of the pupils, so if it means better outcomes for them, then it's a job well done.
Read more Brother Spark insight and opinion for IT managers in the education sector.