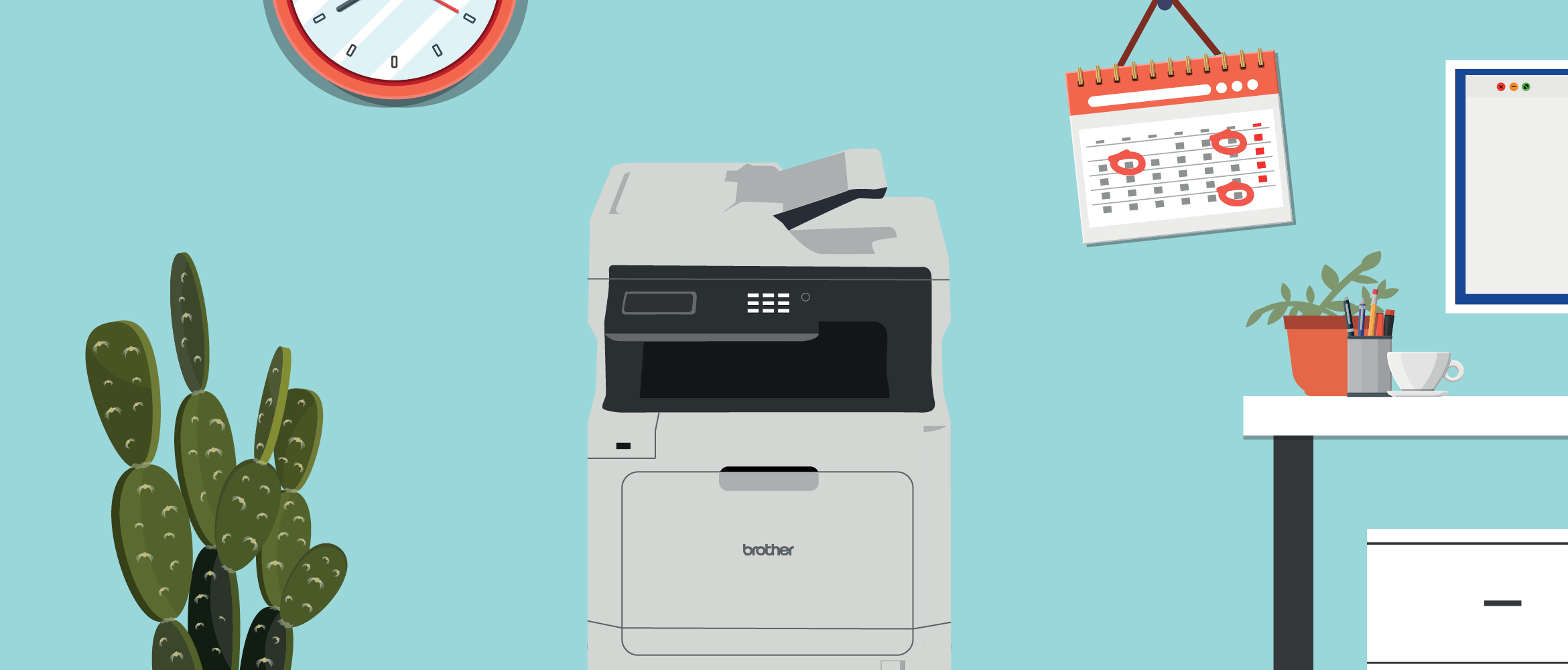 Why Brother Genuine Supplies are better for business
They say that you get what you pay for, and with print supplies that's certainly true. The advantages of buying Brother Genuine Supplies instead of unbranded compatibles have been proven time and again in independent tests.
Let's look at some of the business benefits Brother Genuine Supplies can bring to your organisation.
Productivity: Effective and efficient print
Unreliable print supplies can be a real barrier to efficiency.
Independent testing proves that, time and again, non-genuine supplies fail to perform properly.
Every non-genuine brand tested failed at least once, which could mean toners leaking, not being recognised by the printer, or continuing to print even when one or more colour had run out, a problem that's overcome by Brother's empty cartridge recognition system.*
Print yield was unpredictable too, with some cartridges printing half as many pages than others.
Non-genuine toners were also shown to cause more productivity-sapping printer breakdowns.
These issues create costly downtime, with staff having to spend their valuable time replacing cartridges, reprinting documents and cleaning printer parts.
That's not just an inconvenience. If ink or toner leaks on your hands and clothes it doesn't just leave stubborn stains, there are potential health risks too because toner is a toxic chemical.
Quality and consistency
In contrast, you can rely on Brother Genuine Supplies to deliver quality prints, page after page, so that printing doesn't interfere with your productivity.
The same independent testing gave them a flawless reliability rating, with not one single failure.
Yields were more consistent, producing as many as 42,171 more pages than a non-genuine product, and print quality was far superior too, removing the need for time-wasting reprints.
By using higher-yield cartridges, the benefits of choosing Brother Genuine Supplies are magnified even further.
While high-yield, super-high yield and ultra-high yield cartridges cost more to buy than standard cartridges, they print more pages so are a cheaper option over the long term, with a lower cost per page printed.
And they need replacing less often, meaning even less printer downtime.
However you source printer ink and toner supplies, when it comes to productivity, the solution is to use Brother Genuine Supplies.
*Buyers Laboratory independent testing 2018
---
Reliability: Page after page
Clearly, your business can't afford unreliable technology, but Brother Genuine Supplies can deliver certainty.
They are developed by the same engineers who make our printers, and a huge amount of time and effort goes into ensuring Brother Genuine Supplies deliver the reliability businesses need.
Independent testers put them through a punishing series of tests to make sure they meet and exceed our high standards.
They are tested against non-genuine brands too, and the results prove that our ink and toner cartridges offer far superior performance and dependability.
Indeed, Brother Genuine Supplies recorded a faultless 100% reliability rating*, without a single failed toner.
Tellingly, 100% of the non-genuine brands that were tested had at least one failure, with issues including everything from messy toner leaks to cartridges not even being recognised by the printer*.
And, when printing in full colour, some non-genuine toners continued to print substandard copies after one colour was completely used up, wasting time, paper and toner.
That's an issue that you won't get with Brother Genuine Supplies, thanks to Brother's empty cartridge recognition system.
Overcoming inefficiencies
It's clear that toner failures can create big problems for businesses.
Unreliable cartridges with low page yields need changing more often, leading to costly downtime and takes people away from the job they should be doing, slowing productivity.
Low quality cartridges are also more likely to leak, which can cause lasting, expensive damage to printers and could even void the warranty, leaving you without a working printer and facing a potentially hefty bill.
If important printed documents look unprofessional, customers and suppliers can lose confidence in your capabilities.
You can also be reassured that all the materials that go into making Brother Genuine Supplies are carefully sourced to ensure they are as safe and sustainable as possible.
Everything we make comes with Control of Substances Hazardous to Health (COSHH) guidance, whereas there's often no knowing what the chemicals in non-genuine toners are.
So, choosing Brother Genuine Supplies guarantees that your printer will continue to perform at its very best, avoiding the reliability problems that non-genuine alternatives bring and delivering exceptional print quality, page after page.
Find your Brother Genuine Supplies
*Buyers Laboratory independent testing 2018
---
Cost Efficiency: Getting more for your money
Cost-efficient businesses are more successful businesses.
It means using fewer resources (including cash) to achieve the same or better results, which can present a temptation to source cheaper supplies, like ink and toner cartridges.
But that's a false economy that can actually lead to greater inefficiency and higher costs.
In fact, Brother Genuine Supplies deliver a lower total cost of ownership and protect you from the pitfalls of buying non-genuine alternatives.
We've all seen non-genuine supplies online or in the shops.
Their lower upfront price can be appealing, presenting an apparently easy opportunity to save money on printing.
But, in reality, these products are proven to be far less reliable than Brother Genuine Supplies, don't last as long and produce lower quality printouts.
It all acts as a drag on efficiency, interrupting or slowing down processes and adding costs for things like repairs and maintenance.
While the initial cost of Brother's Genuine Supplies may be a little higher, over the lifetime of the product, they present much better value.
Predictable performance
Cartridges come in high yield, super-high yield and ultra-high yield options, printing as many as 20,000 pages. Independent tests* have found this is on average 57% more output than a typical non-genuine cartridge*.
The same tests also found that 68% of non-genuine toners had to be replaced before they were empty because of poor image quality*.
Because non-genuine cartridges don't last as long, they need replacing more often.
That's inconvenient, can be messy and it means taking someone away from their core function to buy supplies, or keeping a stash of bulky cartridges in the office, which takes up valuable space.
The tests also found that 70% of printers using non-genuine supplies needed to have the drum replaced early.*
The drum unit transfers the toner to the paper, and when the drum needs replacing it will produce printouts with blank spaces or that are faded, blurred and smudged.
But Brother Genuine Supplies delivered 100% of the stated drum yield, so not only is the total cost of ownership cheaper with Brother, performance is more predictable too.
Many non-genuine supplies are also prone to leak, which can cause lasting damage to printer components.
In some cases, it can even mean having to buy a new printer.
And don't forget that Brother will recycle all its cartridges for free, so there are no waste disposal costs.
* Buyers Laboratory independent testing 2018
---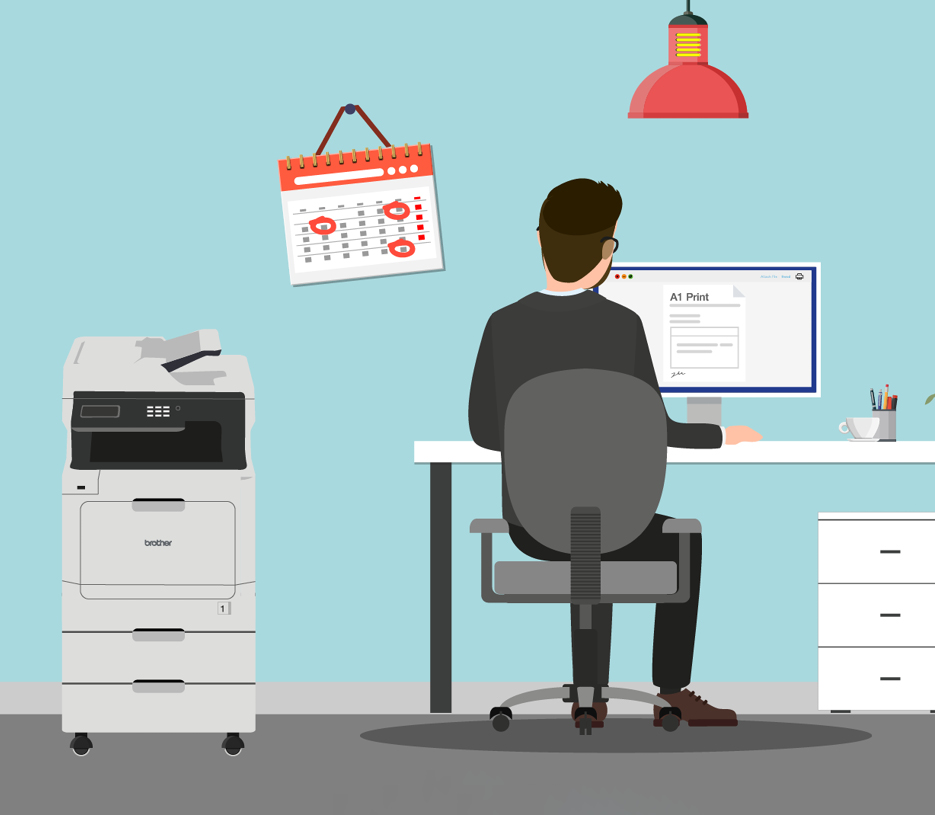 Did you know that documents that aren't printed using genuine supplies are vulnerable to being doctored?
It can be surprisingly easy too, with no special skills or equipment needed.
We won't give the game away and explain how it's done, but to give you an idea of the scale of the problem, independent tests found that four in five non-genuine toner brands had problems with toner not sticking to the paper properly.
That means that text or numbers from confidential documents can be altered without your knowledge, putting your business at risk of serious fraud.
But choosing Brother Genuine Supplies is an easy way to protect your business from document tampering.
Documents printed with Brother Genuine Supplies are tested against exposure to water, light, handling and storage.
All our SMB laser supplies are accredited by Smithers PIRA, the worldwide independent authority on print quality, which carries out specialist testing based on known methods used by criminals.
Smithers PIRA's seal of approval means Brother Genuine Supplies have passed demanding tests of their permanence and durability.
Don't run the risk
Excellent toner adhesion plays a key role in the data protection and security of printed documents.
That includes resistance to general wear and tear as well as deliberate tampering.
In contrast, 80% of non-genuine brands suffered severe toner adhesion issues*, making them a risky proposition for businesses.*
These cheaper alternatives could even cause information from previous documents to be transferred onto new printouts.
That sort of toner transfer can have serious security implications, especially around GDPR.
But using PIRA accredited toner, like Brother Genuine Supplies, helps organisations protect themselves and their information.
Brother's Genuine Supplies prevent tampering and toner transfer, so your printed documents are always protected.
Characters and images last longer on the page, so you can have total confidence in the contents of printed documents.
* Buyers Laboratory independent testing 2018
---
Sustainability: Print needn't cost the earth
Brother Genuine Supplies aren't just about high-quality, reliable printing, they also help organisations minimise their impact on the environment.
Brother has pledged to keep reducing the environmental impact of all its products, and has made particular progress with its Genuine Supplies.
Every new product in the range goes through an exhaustive life-cycle analysis to make sure that it has a lower impact on the environment than the product it is replacing.
And Brother has developed an eco-friendly manufacturing process for Brother Genuine Supplies that doesn't use any hazardous materials.
Because Brother is always working to minimise its CO2 emissions, it's also supporting its customers' efforts to reduce the size of their carbon footprint.
We're using simpler and smaller packaging, for example, and combining different supplies in our deliveries to maximise loads and eliminate unnecessary trips.
Every action counts
One of the most impactful initiatives Brother has introduced is free recycling of all toners, which we have done since 2004, dramatically cutting the amount of waste that goes to landfill.
In fact, Brother UK is a zero waste to landfill company and has been for 10 years.
And because its genuine ink and toner cartridges are more reliable and last longer than non-genuine alternatives, wastage is reduced even further.
By sending your used toner cartridges back to Brother for recycling, you're also helping to protect the rainforests.
Brother has a longstanding partnership with the Cool Earth charity, which works to stop deforestation in the Amazon and protect indigenous species that are under threat.
And we have been awarded The Queen's Awards for Enterprise: Sustainable Development, in recognition of the work we have done to promote and develop sustainable business practices.
At a time when every organisation is looking to operate more sustainably, every action counts – even the simple act of choosing the right print supplies.