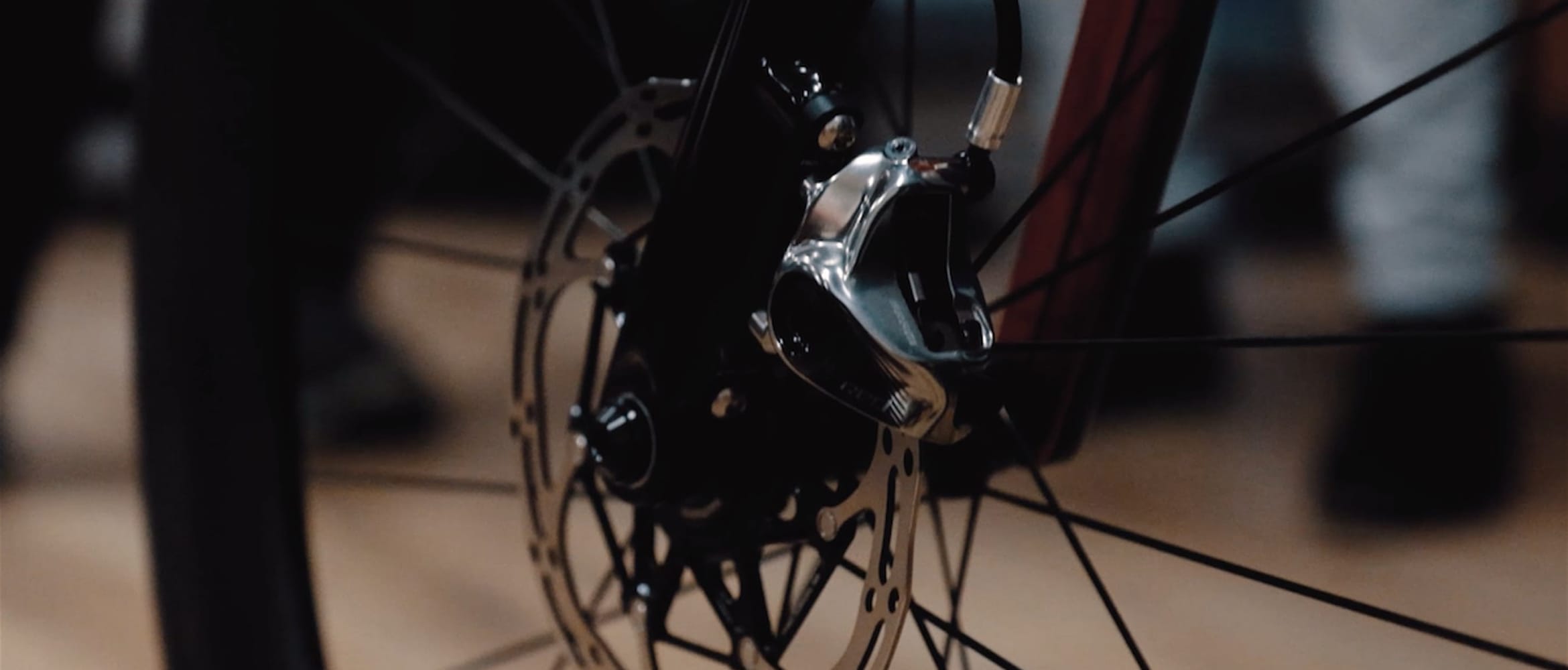 Voyage of Disc-overy: Managing the Disc Brake Challenge
Managing Director Phil Jones MBE is clear. If Neutral Service powered by Brother UK does not embrace the introduction of disc brakes to elite UK cycle sport this year, the brand's relevance will dilute with the technical offering of the service.
The stakes are high, but so is the level of expertise. Leading a multi-million pound business demands a detailed understanding of risk management. The Managing Director's measured, evidence-based approach is likely to serve Neutral Service powered by Brother UK well in the months ahead, but it is worth considering the scale of the challenge. Jones, for one, does not underestimate it.
"Neutral Service powered by Brother UK is the perfect metaphor for the ability of the wider business to respond to customer needs in a rapidly changing market place, and our brand is now synonymous with the highest level of UK cycle sport. The reputation of our crews for immediate, independent and effective support must be maintained. Neutral service must remain relevant to the scene it supports, in the same way that we must remain relevant to our customers," Jones says.
Neutral service is an important component of elite cycle racing, with Brother UK responsible for a revolution in the standards of support for the UK scene. It is an independent resource for technical support, neutral to any specific team or rider, providing in-race support in the event of technical failure, such as a puncture or mechanical failure. In 2019, a major technical change is set to hit the sport, which will increase the complexity of the support provided, and of the duties of the technicians who's job is to deliver it.
The situation is fast moving, but one senses that Jones relishes the challenge. Under his direction, Brother UK's support for British cycle sport has been determinedly different from other corporates who have 'wallpapered' the sport for a season or two. Brother UK has been sincere in its approach to the UK racing scene, and its reward has been to become part of the fabric of the domestic sport over many years of targeted investment.
The company's raison d'etre has always been to add value to the sport by providing tangible support, whether financial, in the case of the teams it supports and events, or - the defining example - the revolution in the standard of neutral service support for British races, now in its seventh year.
Jones has approached cycle sport's disc brake dilemma – an increase to the number of variables already presented by different proprietary standards for pedals and gears - as if it were another business scenario.
"What we're doing is mitigating risk," he explains. "Something is changing in the market, and the market happens to be called the sport of cycling. As business people, we say: 'What's the problem? Let's collect evidence which supports the problem will exist [from the teams], and then focus our effort on that part of the problem and how we can provide solutions in the most effective manner. We do this with our customers every day.'
"Another opportunity would be to do nothing this season, and just see what happens. But our pre-mortem thinking has been about what's happening in the sector in 2019 and trying to run through a number of scenarios to determine what's going to be relevant for the year ahead. That approach has been completely transferable from business to cycling."
Plotting the variables
An increase in the number of variables presented by the introduction of disc brakes lies at the heart of the challenge. Already, Neutral Service powered by Brother UK manages a host of variations presented by differing standards for cassettes (sprockets) and pedals, as well as carrying spare bikes in different sizes.
Disc brakes, however, will introduce a new level of complexity. Rotors come in four different sizes (140mm, 160mm, 180mm, 203mm), while two axle-mounted attachment systems exist: the traditional, cam-actuated 'quick release' mechanism, and the more recent 'bolt-thru' solution, derived from mountain bikes (which contains at least two, competing proprietary standards).
"The key issue for Neutral Service powered by Brother UK is the number of permutations," Jones says. "It will require a rethink as to what they are going to carry on the vehicles. We already have the cassette permutation of Shimano/SRAM or Campagnolo, and the pedal specification, whether LOOK, Shimano or other. Now we'll have to support a peloton with disc brakes of varying types."
The bicycle industry is not known for its willingness to embrace an agreed standard for components. The plethora of bottom bracket types, for example, offers a window on the often-infuriating lack of commonality, as manufacturers seek to promote their own solutions. Jones does not underestimate the scale of the challenge.
"The lack of standards has the potential to create a number of issues in 2019. What we've worked through will get us on the front foot, but it's highly unlikely that neutral service vehicles will be able to provide a 100 per cent solution to all riders in real time," he explains.
"If we look five years down the line, disc brakes may be the preferred braking system for all elite teams, but we're in a transitional period, and while we're in that period, and while the industry resolves any outstanding issues, we need to think about how we cover the various permutations as a neutral service provider, given that the vehicles can only carry so much equipment, much like our own field-based service engineers."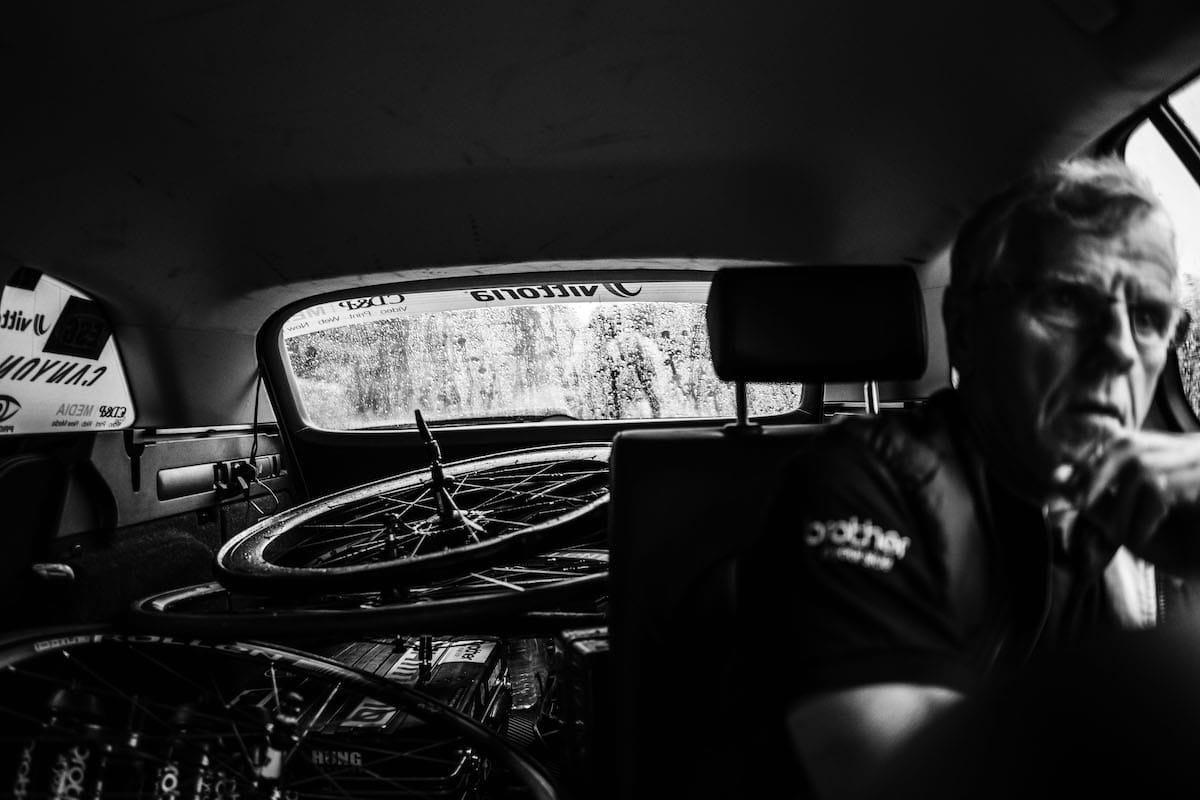 Embracing change
The importance of maintaining the high standard with which Neutral Service powered by Brother UK has become synonymous cannot be overstated.
The reputation of Brother UK is now closely aligned with the smartly painted cars emblazoned with the company's 'At Your Side' strap line; vehicles which act as a metaphor for the service standards the company offers to commercial businesses deploying their print technology.
Jones is also keenly aware of the significance of the disc brake question for UK cycle sport's leading squads for men and women. For a professional cycling team, sporting and commercial success are also closely aligned.
"Our primary responsibility is to the UCI Continental teams in the men's peloton and to the Elite teams in the women's peloton. There's a lot at stake for those teams individually, with results often linked to sponsorship contracts. The stakes are high and our ability to provide mission critical service is paramount," he explains.
"Additionally, the men's teams will also fight for Tour of Britain qualification. Last year, points won and lost in races throughout the season proved critical, with so many closely-matched UCI teams. That might not be the case this year, but points will still be of vital importance, so every technical intervention matters - seconds matter."
Technical support will be an issue on the mind of each team's sports director, even if the fight for points might not be so severe in 2019 as it was last year.
"None of the directors would welcome the prospect of a stranded rider, and each team may be asked to provide its own equipment to Neutral Service powered by Brother UK, subject to space in the vehicles, if that equipment falls outside of the specification supported by our crews."
A selection of wheelsets, including those fitted with bolt-thru axles and a 140mm/160mm rotor configuration, will be held on board to service those squads and individuals competing without the same commercial pressure as the better-funded teams, Jones continues. In all other cases, the Brother UK neutral service crews could offer a spare bike.
Two wheels good
It's a measure of how broadly Jones is thinking that this season may see the introduction to the race convoy of a Brother UK neutral service motorbike.
The concept was inspired by the huge volume of service demanded last year at the Rutland-Melton CiCLE Classic, a UCI 2.1 race, famous for its gravel sections. Punctures are inevitable and the speed of the response from Neutral Service powered by Brother UK can have a critical effect on the outcome of the race.
The narrow lanes that are the CiCLE Classic's signature are not easy for cars to navigate. Once a neutral service crew has serviced a stricken rider, the driver's next task is to overtake the scores of team cars who passed during the wheel change, before resuming his place in the convoy. This can be difficult and dangerous.
"The very narrow roads at the CiCLE Classic mean that a team can be stuck at the back of the convoy, with a rider who has punctured stranded far up the road. At this year's race, we serviced 30 punctures," Jones says. "It's probably only once a year that we reach that figure, but it got us thinking about the potential of a motorbike."
A moto, as two-wheeled vehicles are known in the peloton, is an infrequent sight at European races, but not unprecedented.
"We may also consider introducing a motorbike to our neutral service offering for 2019, which will give our crews added capability and also allow us to shuttle up and down the convoy, liaising with team cars and commissaires, or going directly to the riders," Jones reveals.
Jones has worked with Tony Barry, the owner of Neutral Service powered by Brother UK to create a statement of service for 2019, which will be distributed to teams, spelling out the level of support they can expect in the season ahead.
Known knowns
Neutral Service powered by Brother UK has asked the most established UCI Continental teams for their intended braking set-ups in 2019 and invested in disc-specific wheelsets with quick-release mechanisms and bolt-thru axles.
Jones confirms that some teams have been asked to provide their own spare wheels for the neutral service crews to hold as their equipment specification is non-standard, subject to the availability of space on the racks or inside the vehicles.
"We will issue a technical list of equipment carried by Neutral Service powered by Brother UK before the opening race of the season, and our commitment to teams whose equipment falls outside of that will be to service their riders with a spare bike, in the event of technical failure," he says.
Jones acknowledges that the cycle industry will always seek to use the peloton as a technical showcase, but maintains that Neutral Service powered by Brother UK must also account for smaller teams competing without the support of a major bicycle brand.
"When I think of the peloton in 2019, if brands want to showcase their latest technology, it will likely be a model with disc brakes. Ed Clancy OBE was racing on discs with JLT-Condor towards the end of this season and will race on them again in 2019 with Vitus Pro Cycling Team, powered by Brother UK."
He is clear however that many of the smaller, independent teams, who compete in British Cycling's biggest races against the teams, but without "the luxury of a bike sponsor" are also entitled to effective neutral support.
The requirement to balance the needs of funded teams using disc technology with other squads competing with traditional caliper brakes lies at the heart of Brother UK's closed season planning.
"We've taken a systemised approach to what in business is called 'a known known' and applied our normal process of change making," Jones says.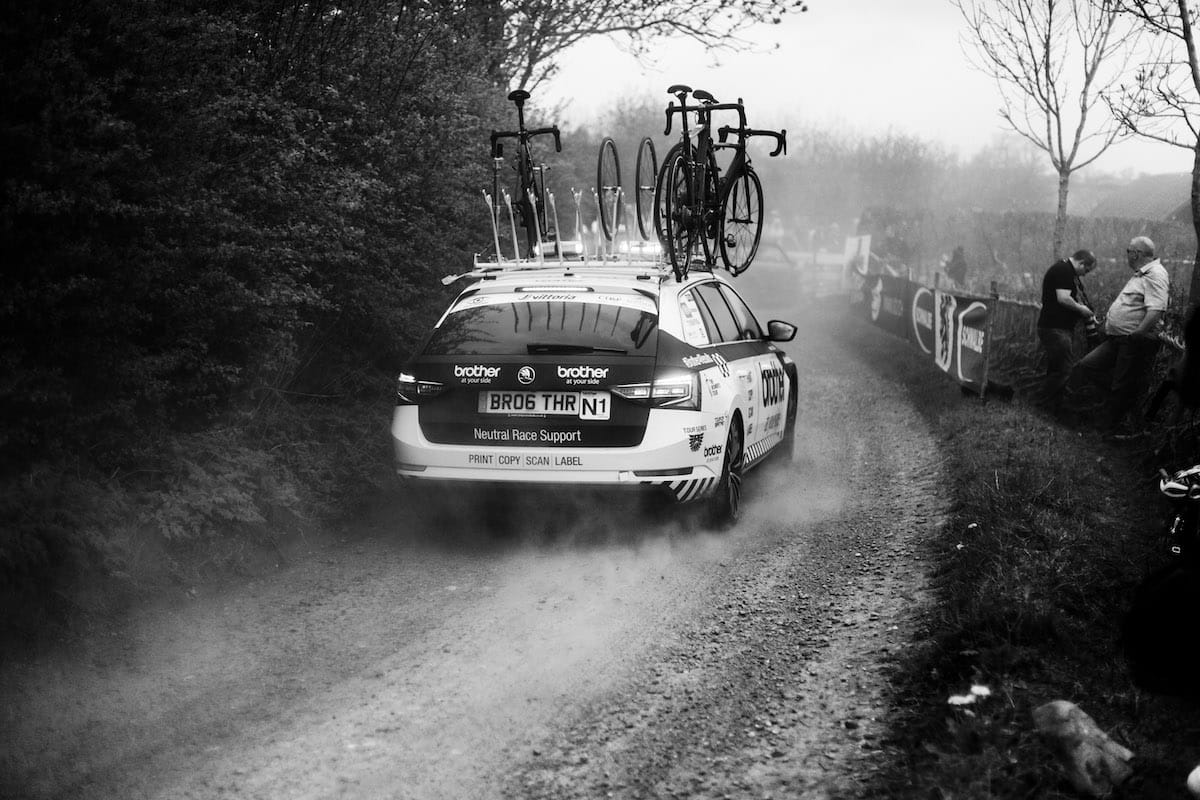 The matrix
Brother UK is not unused to mapping out risk. A considered approach to the challenges inherent in any business scenario ensures the company remains in control of events, rather than reacting.
Jones has applied the same foresight to the disc brake challenge. While Brother UK has no direct control over equipment choices among the various teams, it has assessed the likelihood that certain common standards will be adopted over time.
"If you consider the challenge in terms of a risk matrix, I think the likelihood of Neutral Service powered by Brother UK running out of spare bikes is low, but the impact would be high," Jones explains.
"That might only happen at races like the CiCLE Classic, where the variables increase significantly, and we say, this is not going to be an easy day at the office. In all other cases, the likelihood is low."
Such clear-sighted analysis should allow Brother UK to plan and deploy its resources effectively. The challenge is great, but neither Jones, nor neutral service owner Tony Barry underestimates its scale or complexity.
The willingness of both men to have used the off-season to engage the challenge gives further grounds for optimism, as the new season dawns. Jones, in particular, has been determined that the values contained in the strap line 'At Your Side' will be upheld.
"In an elite bicycle race, conditions change quickly. Neutral service has to adapt on the fly to rapidly changing circumstances providing technical services in an extremely pressurised environment where seconds count. It acts as a great metaphor for our own business, responding to customer needs in a rapidly changing marketplace. We call this At Your Side."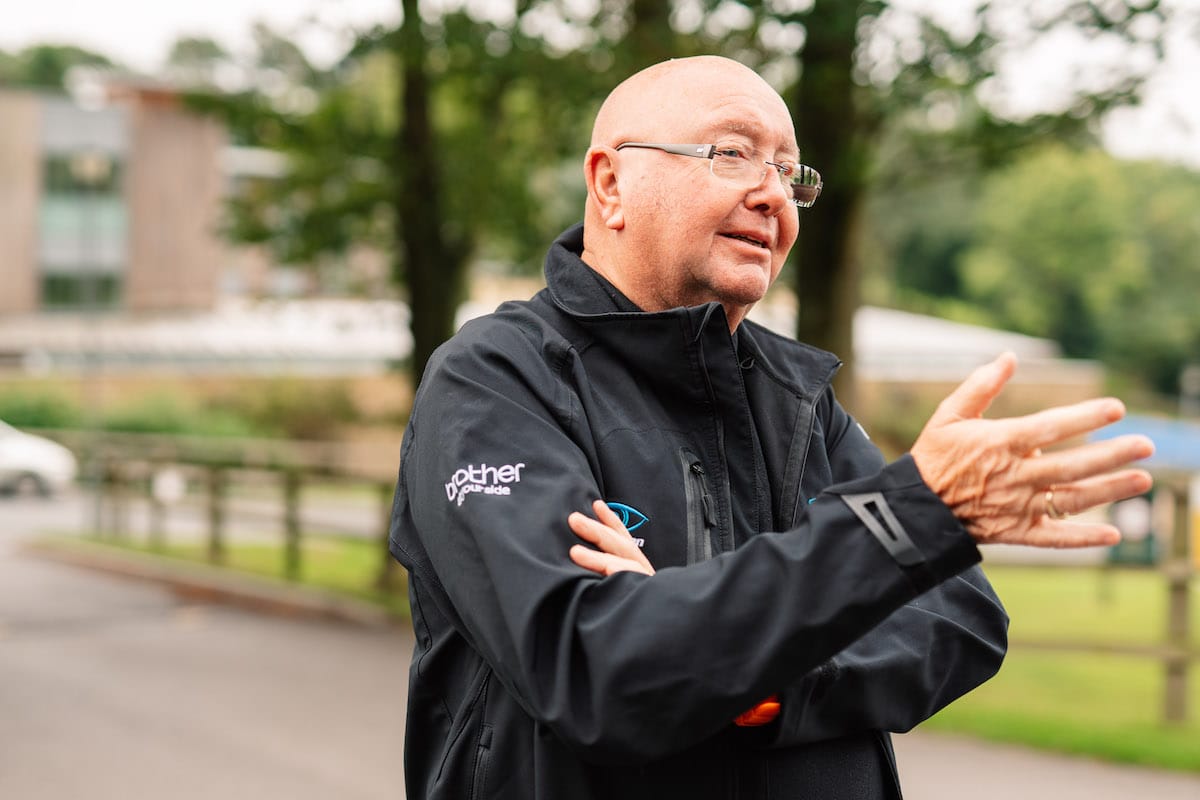 Despatches from the front line
Tony Barry is the man on the front line of Brother UK's neutral support service. Formerly a director of British Cycling, there is little in the sport that he has not seen or done.
Despite his vast experience, he believes that the introduction of disc brakes will be one of the biggest technical changes within the domestic peloton of his long and distinguished career. Like Jones, he does not underestimate the scale of the challenge.
Barry has already lived through two significant technical developments - the move from 10 to 11-speed drivetrains, and electronic shifting - but says that neither development posed the same practical challenge as disc brakes.
"The biggest problem is that there are so many different variables," he says. "Disc rotors come in four different sizes, from 140mm to 203mm, and there are three different methods of attaching the wheel to the bike: quick-release, thru-axle, and various proprietary systems, like Rapid Axle Technology (RAT)," he explains.
"This is one of the biggest technical changes we've faced, as a neutral service provider. Electronic drivetrains didn't cause us any issues when they were introduced, or even the shift from 10-speed to 11-speed. Marcin Bialoblocki won the Girvan race in 2009, despite puncturing twice. We gave him spare wheels with 10-speed cassettes, which ruined his 11-speed chain, but that was all we had then."
Barry says he has contacted individual teams in the absence of any hard and fast regulation dictating a definitive standard for disc brakes. Some teams, like Vitus Pro Cycling Team, powered by Brother UK, made an early declaration of their commitment to disc brakes throughout the squad in 2019. Others, including two of the leading women's teams, assured him they will continue with caliper brakes.
Barry's concern however lies with those who through necessity or inducement might move to discs before the Klondike GP next April, the opening race of the season for Brother UK's neutral service crews.
An intervening period
There is no easy solution for Neutral Service powered by Brother UK to the challenges posed by the introduction of disc brakes, but Barry describes the four spare bikes carried on the roof of each vehicle - eight in total - as a "get out of jail" card. He does not underestimate the limitations - once the spare bikes are gone, they are gone (until the end of the race, at least) - but believes they represent the best solution.
Barry has already faced the impracticality of carrying spare wheels for individuals. Last year, he was asked by a man to carry his daughter's race wheels and had to explain that to do the same for each of her 80 competitors would require him "to tow a low-loader behind me."
It is not merely a matter of space in the car, either. Only one car per team is permitted in the convoy of any domestic race, he explains, up to and including the Tour of Britain. While this stipulation is doubled in the case of neutral service vehicles, their provision is, to use Jones' phrase, "a sticking plaster until the surgeon arrives."
Neutral service simply isn't intended to cater for bespoke requirements. Barry makes an interesting point: if a rider punctures from the leading group, while his or her spare wheels are in the neutral service vehicle stationed in the convoy, the purpose is defeated.
There is no guarantee that the Brother car carrying an individual's spare wheels will be the one called by commissaires to support the breakaway. Jones' idea of a moto to increase capacity, shuttling spare wheels from UCI Continental team cars, would be an essential adjunct.
Barry remains optimistic that the use of disc brakes is evolutionary and that a common standard will swiftly emerge. He is confident too that his mechanics, most of whom have spent a lifetime in the sport, will face no significant technical challenge in supporting the teams who adopt them having practiced F1 style wheel changes in the off season.
"I think less than half the teams in the peloton will use disc brakes this year. The situation will come right, eventually, there's no doubt about it. It's just an intervening period that we need to get through."
"It's been a great exercise to apply some of our commercial thinking to" Jones explains. "We're used to consistently working in fast changing circumstances to remain relevant to our customers and as the Neutral Service vehicles carry our logos, we want to ensure that their service offering remains on-point in the season ahead."
If you represent a team registered to compete next season in British Cycling's top-tier races for men or women, please contact Tony Barry at tonybarry.26@gmail.com for a copy of the Neutral Service equipment specification support by Neutral Service.