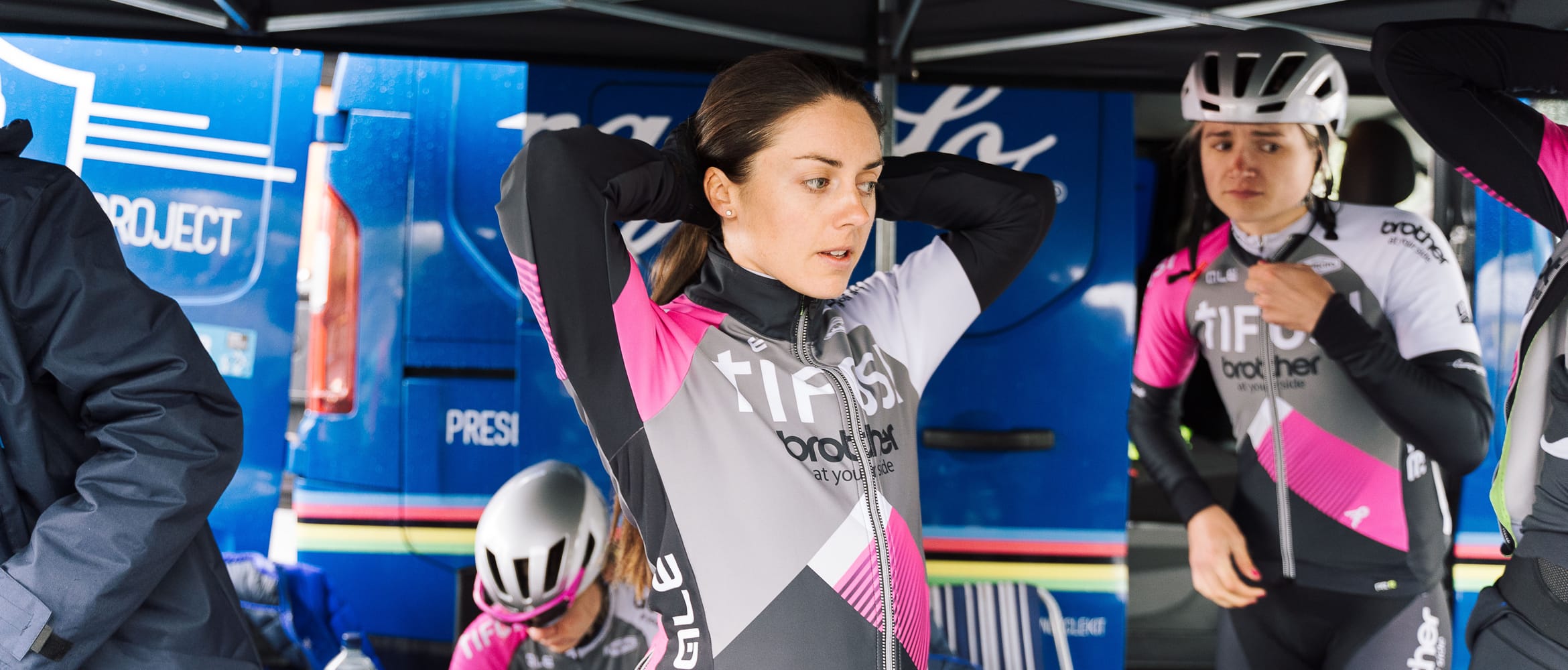 Rebecca Durrell: Completing the jigsaw
Rebecca Durrell is enjoying the season of her life. The dominant rider in British women's racing, she has led the Brother UK-Tifosi p/b OnForm squad to the top of the HSBC National Road Series standings, and to overall victory in the Tour Series.
Along the way, she has won the British circuit race title, recorded a second consecutive victory in the most prestigious road race on the domestic calendar, and impressed on the European stage, most recently in the colours of Team GB.
Durrell's success is especially satisfying for believers in hard graft. Her dominant 2019 campaign is arguably one that has been years in the making; the culmination of sustained effort, determination, willpower and a constant search for improvement. Her training sessions are now pitched at an intensity designed to test her psychological resolve, as well as physical.
"This is my fifth year of racing. Until this season, you could liken it to building a jigsaw. For the past few years, I've just been getting the pieces out of the box and randomly creating little areas, but the big picture never quite formed," she says.
"I've felt that this season, it's all started to assemble and the separate areas have started to combine. It's very much down to process. Lots of minute details have come together to create the performances I've been able to deliver on the day. Many years of focus are coming together now."
Her ambition to join the UCI Women's WorldTour grows in intensity. Judged by the requirements of performance, skill, and dedication, she is already the consummate pro. The absence of a salary however is no small thing. An athlete's life is hard enough, without having to combine its unrelenting demands with employment. A professional contract, and the opportunity to earn from her sacrifices, is surely the least she deserves.
Durrell, now 30, does not regard her age as a disadvantage. The top tier of women's cycling contains several riders older than her, including its two top performers, Marianne Vos and Annemiek van Vleuten. This growing trend is one that offers hope that her talent will receive its just rewards. Friendly, pleasant and thoughtful, those who have met her would cheer her ascension to the professional ranks.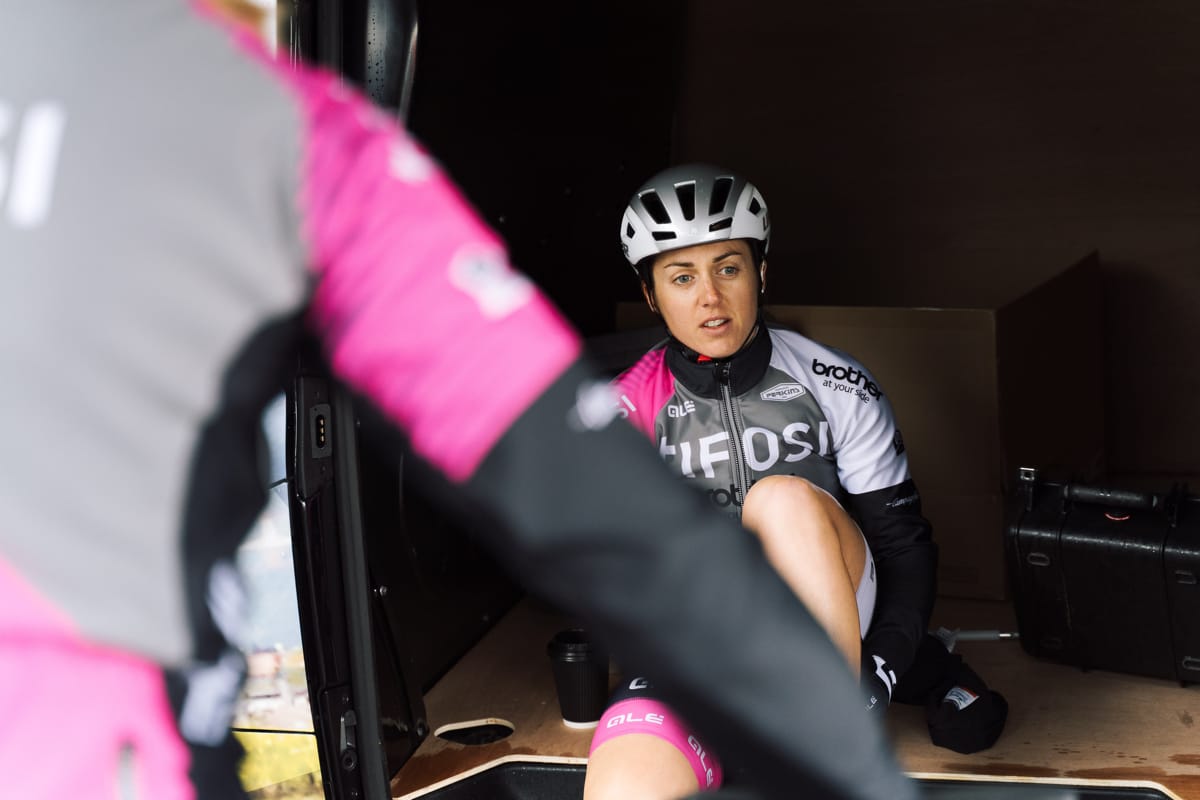 Vision and instinct
Durrell's membership of Brother UK-Tifosi p/b OnForm has delivered such mutual success that it might have resulted from some planetary alignment, and while the reality is more mundane, she admits that coincidence played a part.
Storey Racing, her former team, had made clear that it would not be seeking UCI status in 2019, closing the door to races that Durrell regards as crucial to her continued development. Around this time, team manager Simon Howes contracted her with news of his ambition to start an elite women's team. While UCI status was not on his agenda, any more than on Barney and Sarah Storey's, the comprehensive race programme he described perfectly aligned with Durrell's goals for the season ahead.
"It was ultimately Simon's vision that made me buy into the team. He's like an excited kid at Christmas most of the time, and when he told me about his plans for the team, I could hear that excitement in his voice. I could tell how much he wanted to make this work, and that says so much about whether you believe the team will be successful," she says.
"He was very honest. At that point, they hadn't sorted some of the finer details, like sourcing the bikes and equipment, which you might think would be a game changer, but when you have a guy on the phone so passionate about his vision, and that lines up with where you want to be, joining the team becomes a no-brainer. When you have such a strong gut feeling, it's best to go with it."
Instinct is valuable, but the ambition to pursue a comprehensive programme of international racing accorded perfectly with Durrell's ambitions. She lists the hierarchy of UCI race categories with practised ease, and considers each a step on the ladder to the destinations she craves.
"The reason I'm so keen to succeed in UCI races is that I'm always trying to progress, always thinking, 'What's next?' and trying to push further. UCI race classifications begin with 1.2 and 2.2, and Simon's plans included those. Ultimately, I want to progress to UCI Women's WorldTour races and international championships like World Championships and Olympic Games."
A team endeavour
It's significant that Durrell describes the progress towards her personal goals within the wider context of the team. The sense of momentum that surrounds Brother UK-Tifosi p/b OnForm is palpable. The reasons for its sustained progress are several, related in part to its mix of youth and experience, but underpinned by a shared belief that makes every new goal attainable.
This is especially valuable to Durrell, and evident in a consistency of performance that has made her the top-ranked female rider in domestic cycling. We return to Howes' international programme and its importance to her ultimate goal of turning professional. Her performances this season in Europe can be viewed in part as the culmination of lessons learned by the team in home races.
"When I broke down my pathways and thought, 'How do I get to where I want to be,' which is the top of the sport, it was clear that racing in Belgium and Northern France would be the perfect ground to apply what we had done in the UK. I think it's fair to say that we've got to a point where we can control races and have learned how to win," she says.
"We've made huge progress in applying those tactics to the international scene. Recently, we rode very tactically in a UCI 2.2 race in Brittany, against some very good teams. We knew it would place us on our limit, but that if we had luck, it would pay off, and it did. Each time you do that, you build confidence and trust."
If a sense of momentum around Brother UK-Tifosi p/b OnForm is obvious, then so too is team spirit. The sense of a group of riders prepared to sacrifice everything for each other is readily apparent. Those learning their trade recognise the benefit of supporting experienced leaders, while senior riders like Durrell repay their efforts with results.
"Belief within the team is a huge aspect," Durrell says. "So many of our results have come from brilliant teamwork and selfless riding from team-mates."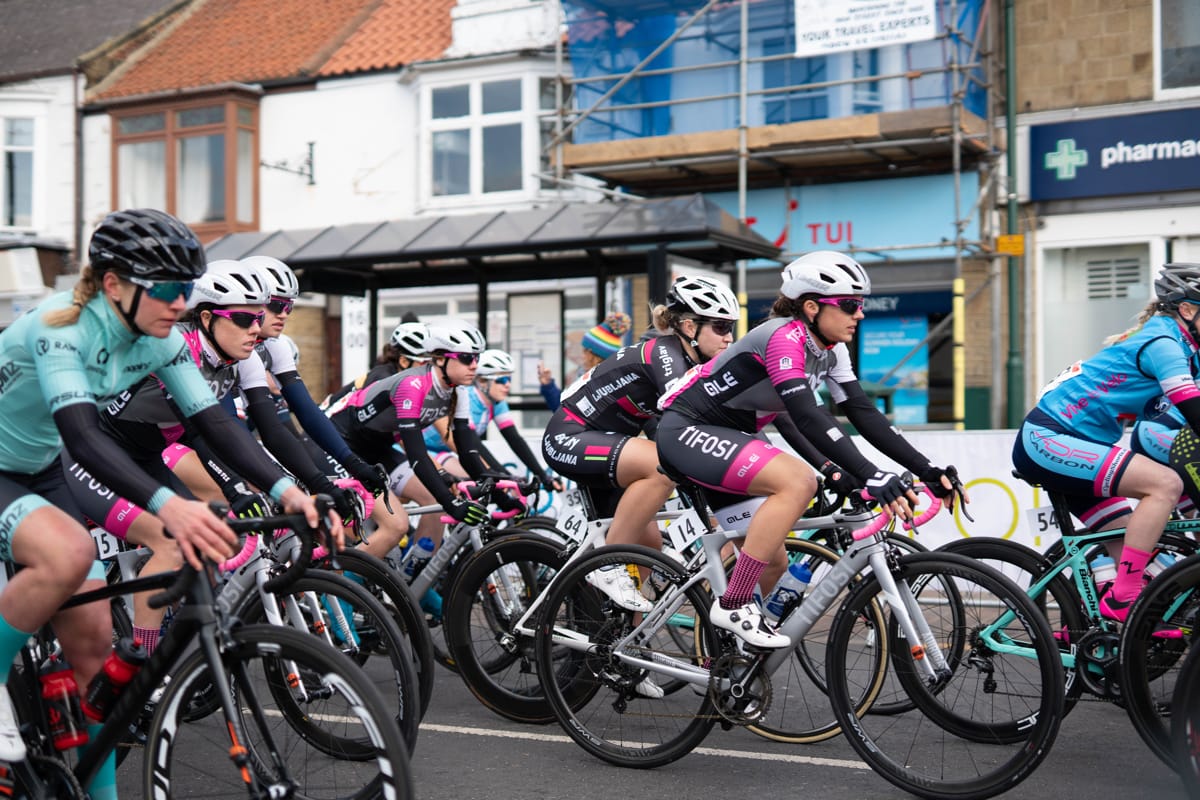 Road warrior
The domestic calendar is comprised of road and circuit races, and while Durrell has been a force in both, as we shall learn, it is her success in road events that offers a more defined pathway to a professional career. A second consecutive victory at the Lincoln GP, the best and hardest of any on the domestic calendar in the opinion of many, is a significant achievement.
While Durrell has an enduring relationship with her home race, victories at the Stockton GP and the Tour of the Reservoir, as well as a second place at the CiCLE Classic and fourth at the Klondike GP, offer further evidence of a dominant campaign and the achievement of clearly defined goals.
"I started with a new coach last winter. As part of the introduction process, I had to fill out a form and list the goals I wanted to achieve. I'd written down a few: one was to win the National Road Series overall. That was quite a big aim. If you look at past riders who have done that, lots have gone on to join the professional ranks, which is my aim. It was a natural goal."
The pathway followed by Sophie Wright is a recent precedent. The dominant competitor in last year's national road series, she has since graduated from a Brother UK-supported team to the UCI Women's WorldTour, joining the Bigla team to compete in the sport's biggest races.
Durrell has also enjoyed success in Europe. We speak soon after a hugely successful visit to Belgium and Northern France, professional cycling's ultimate proving ground, where she recorded fourth place on the opening engagement of Kreiz Breizh Elites Dames, and fourth overall after two stages. Two days later, she finished fourth in the 25th edition of Erondegemse Pijl, another UCI sanctioned race, contested by the sport's top teams.
"Another goal I'd written down for my coach was to achieve a top five finish in a UCI race. This past week has been absolutely nuts, with three fourth places, technically, and took me back to the goals I'd set at the beginning of the year. You think they're just about achievable - that they might or might not happen – and you write them down, purely for the process, but it's been a phenomenal season."
A successful circuit
Durrell's success in the simpler, but equally demanding world of circuit racing offers another window on her talent. Logic does not dictate that a rider able to hold off her rivals on the brutal cobbled ramp of Michaelgate after racing for more than two-and-a-half hours should be equally impressive in a 40-minute tear-up on a flat circuit, but she has trained to exceed the limits of convention.
Durrell is the reigning British circuit race champion, having won the title in July in a shoot-out with team-mate Anna Henderson, the defending champion (this by itself is notable; few emerge victorious from duels with the hugely gifted 20-year-old). While it's tempting to conclude that Durrell's mastery of circuit racing is the result of years of practice, a five-year acclimatisation to terrifying cornering speeds and strength-sapping sprints from dead turns, the truth is that Durrell was individual winner of the Tour Series two years ago."To be completely honest, I still don't know what type of rider I am. It's not a great answer, but I'm still finding out. I don't like to pigeon hole myself. It's still very much a learning process, and while I'm still learning, it's a case of taking whatever opportunity is there. It's important to keep an open mind, and to go into any race thinking, 'I can do well', rather than, say, a sprinter going into a hilly race and thinking, 'This isn't for me.'"
Her victories in Birkenhead and Salisbury helped to turn what had seemed an unstoppable tide in this year's Tour Series, after Jess Roberts had won the opening three rounds for Team Breeze. Durrell's back-to-back triumphs were sandwiched by victories for Henderson in Durham and on the Brooklands motor racing circuit; a case of leaders dropping into a high-performing team to devastating effect.
"We started slightly on back foot, but once we'd built momentum, I think it became a case of success breeding success," Durrell reveals. "You win one round and think: 'We can do this. We can win all of them.' We needed to be smart, to believe and to ride really, really hard, but when you have a strong and ambitious team, you push each other. Each of you thinks: 'I need to step up."
Assembling the jigsaw
Brother UK-Tifosi p/b OnForm is not the first team with which Durrell has won the Tour Series, or even the first dominant team she has represented. In 2016, she was among the first cohort of riders for Drops, a British women's team with international ambitions. After two years of performing almost entirely on the domestic stage, Durrell found herself competing in the sport's most prestigious races, including the women's Ronde van Vlaanderen, Tour of California and Aviva Women's Tour.
"Drops was a perfect learning ground. For me, it didn't transfer at the time into results, but I'm starting to get the benefits from that season, three or four years later. When I describe my development as a jigsaw puzzle, that's where it comes from. In terms of professionalism, the influence of that team has definitely trickled down. When we rode domestic races, we raced tactically, which you didn't always get," she reveals.
"Domestic racing can be dog-eat-dog. Everyone wants to move up, and so everybody wants results. But when a team rides tactically and in a professional manner, in terms of how they control the race, it benefits everybody. It helped me, and has become a founding principle of Brother UK-Tifosi p/b OnForm, that we ride professionally, and we have the strength as a team to do that."
Jigsaw puzzles contain many pieces. While Durrell is reaping the rewards of formative experiences with previous teams, she is also seeing the results of more recent decisions. A new focus in training attempts to prepare her for the mental exhaustion of racing, as well as the physical.
Resilience is a key component of endurance sport. Who is prepared to dig deepest? Often, the outcome is a matter of psychology. The knowledge of having already withstood efforts of soul searching intensity in training can be a valuable weapon on race day.
"We've worked on increasing fatigue resistance at the end of races," she reveals. "That's where it counts. It doesn't matter about watts. What it boils down to is, when you're tired and everyone else is tired, what can you do then? I've done training sessions which are absolutely horrible, where the main focus is not even the physical aspect, but how your brain deals with the effort, psychologically and emotionally."
Maturity
Now in her fifth season, Durrell finds herself almost in a unique position. She is older than the bright young things who regularly explode onto the domestic scene, but aims for a place in the Women's WorldTour, a tier filled with riders in their 30s and sometimes older.
Durrell, now 30, points to physiological and sociological factors that support her ambition for promotion to the professional ranks: the later attainment of peak prowess in female endurance athletes than male, and a societal shift that is rapidly making racing mothers like Lizzie Deignan and Sarah Storey the norm. Then there is the value of maturity to team dynamics.
"Opportunities for riders like me still exist, although it is harder. Because there's greater depth in women's racing than ever, team mangers are now looking for balance. The team dynamic is so important that you need riders with a bit more life experience, a bit more of a level head and a more balanced outlook."
In any hypothetical trial to test the veracity of her argument, Durrell might present Brother UK-Tifosi p/b OnForm as Exhibit A. While team-mates like Henderson represent a brilliant future for British women's cycling, Durrell and the vastly experienced Gabriella Shaw offer a formidable present and further evidence that, unlike the WTA for example, cycling is not a sport solely for young guns.
"We all have different characteristics and different perspectives, not just on bike racing but life in general. The younger riders like Emily Wadsworth and Anna Henderson bring this burning fire that young people just have. They've got huge amounts of ambition and energy, which is really positive," she says.
"To balance that out, you have older riders, like Gaby and myself, still very ambitious, but with a different perspective - that there is a bigger picture, and more to life than bike racing, even though bike racing is very important for us all - which brings a calming effect. Additionally, I'm still learning quite a lot from the younger girls. It's amazing how much they know at such a young age."
Yorkshire calling?
Durrell is that rarest of athletes: one whose resolve and determination grows stronger with each passing year, rather than diminishes. Now aged 30, and with five seasons in the top-tier of domestic cycling on her palmares, her ambition to become a professional is stronger than ever. So too are her legs, lungs, heart and mind. For evidence, one need only consider her results this season.
While others rely on the thrill of competition or the roar of the crowd to inspire performance, Durrell seeks sessions in training that force her to go as deep within herself as she does in a race, and so acclimatise to pain levels she hopes her rivals will not sustain. Few this season have.
"It's at the point where, before the session, I'm getting nervous, like I'm going to do a race, because I know how horrible it's going to be," she reveals.
"Because I've learned to cope with those sessions, I know that in a race, when I ask myself, 'Can I sustain this?' well, yes, I can. I know I've done it in training. I know that in a race I'll get something out of it, rather than going home and having my tea, as I do after a training session."
Then there is the small matter of a home World Championships to consider. Durrell has long regarded racing for her country as the highest honour, and pulled on Team GB kit in August for a series of professional races in Belgium. That she was the team's top performer can only have helped her cause. That said, British Cycling has tended to select riders from its academy programmes or those already in the professional ranks. Durrell is not counting chickens.
"It's one of those things you daren't dream about. To be able to line up as a Team GB rider at a home World Championships in Yorkshire would be a career-defining moment, almost akin to lining up at an Olympic Games," she confides.
"It would be an absolute honour. If the opportunity arose, I'd snatch it, of course, but I'm well aware that there is currently a strong collection of British riders capable of bringing a lot to the squad. It's one of those thoughts at the back of my mind: 'How awesome would it be!'"
A qualified teacher, Durrell has taken work in a bike shop to facilitate the huge training load demanded of an elite rider. Fuelled by desire to reach the top of her sport, and with results that justify her talent and endeavour, a place in the Great Britain squad for Yorkshire 2019 would be a fitting reward for her graft and commitment, both off the bike and on.