Ed Clancy: The pursuit of excellence
The Tour Series, Salisbury, May 2019. Crowds gather early outside the striking red motorhome of Vitus Pro Cycling Team, powered by Brother UK. Triple Olympic champion Ed Clancy OBE is among the riders inside and, as ever, is a man in demand.
Those who have arrived early in the hope of conversation with him include a party of young athletes from Wiltshire. They are funded by the local authority and their contact inside the organization has remembered Clancy's generosity with his time at the same fixture, 12 months earlier.
He emerges in his red and black skinsuit, muscled and impossibly lean. Blessed with the rare ability to take control of a situation, without being overbearing, he is soon shaking hands with each member of this new audience, addressing them by name, and organising an impromptu photo call.
Their luck is in. The superhuman being who emerged from the motorhome has turned out to be a thoroughly decent bloke, more interested in discussing their careers and achievements than his own. Nervous smiles give way to broad grins. Their expressions are priceless.
It is all in a day's work for Clancy, the people's champion. Later, he will ride, seemingly without effort, to second place, acting as tail-gunner to victorious team-mate Freddie Scheske, before sweeping to second place and sealing a one-two finish for Cherie Pridham's team.
If this all seems too simple, then conversation with Clancy reveals a deeper, more rounded character than the comic book hero depiction above. The lean physique is the result of a lifetime's training. The effortless second place (how easily might he have repeated his victory of the previous year?) is the faultless execution of a planned approach, delivered with total clarity; the result of mental coaching.
Clancy holds fascinating opinions on a range of topics, inside cycling and beyond. He has long been an advocate of behavourial coaching and sees a parallel through training between better physical and mental health. He surrounds himself with positive people, believing that success derives from happiness, rather than the other way around.
Clancy is friendly and welcoming, excellent company, but an approachable aspect should not obscure his desire for knowledge and his total commitment to excellence. It is not possible to win Olympic titles - three of them – by any other method.
The complete athlete
Engage Ed Clancy in conversation and it becomes immediately apparent that he has intellectual gifts to match the physical. He is a thinker, a status his down-to-earth demeanour can sometimes obscure. His insights on the privilege of being an athlete, the importance of happiness to performance, and psychological strategies that can be mastered for deployment in scenarios of unimaginable pressure (Olympic finals, for instance) are fascinating.
Note that he is no chin-stroking philosopher, but rather the complete athlete; a consummate professional willing to engage his mind in the task of improving his physical performance. He operates in a world of impossibly fine margins, and if he is very much a people's champion, the Barnsley boy done good, this should not obscure his intellectual curiosity and desire for greater knowledge.
Clancy, we should not forget, grew up in British Cycling's school of marginal gains. His enlightenment beneath the guidance of Dr Steve Peters triggered a commitment to human performance coaching that now sees him work closely with specialists Pro-Noctis; a fruitful relationship that he intends will last into the foreseeable future.
"In his book, Geraint Thomas wrote about the challenge of winning the Tour de France and the pressure of the big days, but said that compared to managing the pressure of an Olympic final, it was easy!" Clancy says, laughing. He pauses for a beat, then deadpans: "That was interesting."
He describes in detail the psychological approach to managing the intense pressure of "a four-minute effort at the end of a four-year cycle", even describing activation of the frontal lobe to approach such an unimaginable task with calmness and clarity and a rational mindset that banishes "illogical chatter".
Clancy has first-hand experience of the benefits of positivity in his life and work. He surrounds himself with happy people, understanding that happiness has brought them success, rather than the other way around. While the wider world wakes up to the importance of better mental health, Clancy has been an advocate for years.
"I buy into that," he says. "In terms of mental health, it's important not only for cyclists, but for everyone. It's like training. You've got to work at it, in the same way that some people will naturally be overweight, if they don't exercise two or three times a week. It's worth working on. It's worth buying in."
Happiness equals success
Further evidence for Clancy's holistic view on the art of bicycle racing can be found in a genuine appreciation of his gifts and the experiences they have brought him. When asked last October at the launch of Vitus Pro Cycling Team, powered by Brother UK, if he had considered his future, he replied that he has a present worth living.
This perspective is refreshing, to say the least. The sporting media feeds on stories of distressed athletes, battling to cope with the demands of training and competition. The reality for most top-level professionals is something approaching a charmed life. Clancy is candid enough to admit this.
"The famous quote that says, 'Success without happiness is the worst kind of failure' is pretty much spot on," he says. "People who make a living from the sport they love and perform at a level above 99 per cent of the population, if they can go through life and not be happy, you'd have to question that."
For Clancy, life is a matter of perspective. Happiness derives largely from a willingness to be happy, he believes, and to adopt a positive mindset is a choice. This is not to dismiss those with serious psychological conditions, but Clancy's earlier assertion that better mental health can be worked upon and acquired in the same way as physical health - trained, in a word - has the ring of truth.
"You can have two different people in the exact same scenario, to whom the exact same things have happened, and ask them on their death bed what they'd made of it. One might say, 'I had a wonderful time,' while the other might say, 'It was terrible.' Life is all about perception and perspective; very little is about what actually happens."
As a world-class athlete, Clancy has cultivated a keen understanding of the parameters that affect physical well-being, and now finds no challenge in correlating them with mental health. That a coherent approach to fundamentals like sleep and diet would deliver mental as well as physical benefits is obvious, even to the layman. Clancy however is able to talk in greater detail, even describing the effect of happiness on cortisol levels, and so upon recovery.
Resets and reincarnations
To ride in the man one position of the men's team pursuit demands a combination of speed, power and endurance that few other disciplines require. Clancy must deliver an explosive start before maintaining a tempo dictated by Tour de France winners.
So unique are Clancy's physical gifts that he was able to win a silver medal in the men's team sprint at the Glasgow round of the UCI Track World Cup, alongside two men who had been recently crowned Olympic champions in the discipline.
Clancy in the red of Vitus Pro Cycling Team, powered by Brother UK, is a "unit", but stand him next to Jason Kenny or Philip Hindes and it would not be difficult to identify the endurance rider temping as a sprinter.
"It was Shane [Sutton's] idea, after London 2012," Clancy says of his brief reincarnation as a track sprinter. "At a home Olympics, we'd been at the top in the team pursuit, and I'd won a bronze medal in the Omnium. It was as good as it was going to get. We knew that whatever we went on to achieve, that would be hard to top," he says.
"Sprinting was a bit of a reset. Sir Chris Hoy had made it clear he wasn't going to go as far as Rio. I kind of thought it would be possible to double up in the team pursuit and the team pursuit there. We decided to give it a go. After winning a silver medal at a first World Cup, it looked good."
Muscle mass is a fundamental component of power, and power is a fundamental component of the team sprint, even at man three. The tree trunk legs of the man he was set to replace can only be developed in one place.
"If you're a fast team pursuiter and want to go the extra step and become one of the best in the world in the team sprint, it's in the gym where you get better," Clancy reflects. "After a couple of months it hit home that if I was going to be really good, I'd have to sacrifice road and crit racing, and perhaps even the team pursuit. I'd have to spend a long time in the gym to get that extra 200w."
Crit factor
Crit racing is a discipline to which Clancy's unique physical gifts are perfectly suited. They have made him the most valued performer in a ferociously competitive scene that now forms a distinctive part of the British racing calendar.
For two weeks each year, the best teams of the domestic peloton go wheel-to-wheel in a series of city centre circuit races known collectively as the Tour Series. Racing twice or even three times in a week, travelling the length and breadth of the country to perform, the series is almost a season within a season.
Clancy, as an established master of the art and the face of the series, now chooses his events carefully. In the season just ended, he delivered the consummate team performance to protect the advantage of victorious team-mate Freddie Scheske, before sweeping past his rivals at the finish to claim second place and seal a one-two finish for Vitus Pro Cycling Team, powered by Brother UK.
"It's not ruthless or cut throat, but is punchy," Clancy says of the second discipline he has made his own. "While it will never have the tradition of road racing or stage racing, that's ok. Road racing is a beautiful sport, I don't think you can ever replace it, but there's something about a crit."
In America, road racing is crit racing. The Red Hook crit offers a variation on the theme: circuit racing, but on single-speed, fixed wheel bikes with no brakes. Clancy was part of the advance party for the short-lived international expansion of the London Nocturne, and while the series faltered, he remains optimistic.
"I don't know if crit racing will grow into something different, or if someone will put together a successful international scene. I've even thought that one day the UCI might consider it as a world championship event. It's not going to happen any time soon, but it would be great," he says.
"Can you imagine the world's best lining up for crit race? Imagine the biggest teams in the world or Sagan whipping round a one-hour crit. Putting it on at night under flood lights would add another level of spectacle. I think road racing's great, but there's a lot to be said for crit racing."
Reflections on Calpe
We first meet Clancy at a training camp for Vitus Pro Cycling Team, powered by Brother UK in the Spanish cycling mecca of Calpe, a resort on the Costa Blanca with easy access to the mountainous hinterland of Valenciana. Remarkably, it is Clancy's first visit to a resort where his grandfather now lives, and which must be on the bucket list of every amateur cyclist.
When we arrive at the Hotel Diamante in March, the heavyweight squads of the UCI WorldTour have already moved on, creating a sense of intimacy for Clancy and his new colleagues, despite the vastness of the foyer in which their nightly meetings are held.
"My grandad had always told me about how many teams come out in Calpe and how important it was for cycling, and as it happens, he was right!" Clancy laughs.
"It was nice to meet the team. It was very new for me. I'd been with [former team manager] John Herety for a long time. At the initial team launch, everything felt quite alien, but at camp, it was great to meet the staff and the mechanics. I spoke to Chez and to Eddie [White] a little more, and to the other riders as well. We spend a lot of time riding our bikes and that's where we feel most comfortable."
Clancy finds himself at the head of a squad compromised in equal measure of established performers (Graham Briggs, Chris Latham, Adam Kenway, Scott Thwaites) young guns (Liam Davies, Joe Holt, Tim Torrie, Red Walters) and those on the cusp of fulfilling their potential (Dylan Kerfoot-Robson, Mikey Mottram, Freddie Scheske, Ali Slater).
Some, like Briggs and Slater, were former team-mates. Others, he had merely raced against. An overseas training camp, even one lasting seven days, offers a unique opportunity for bonding.
"Cycling is a pretty small world. Even if you don't know the other riders personally, you know of them. In an ideal world, would you spend more time at camp? I guess you would, but at end of the day, we're professionals and we live out of suitcases. If camp lasted for three weeks, we'd be sick of the sight of each other. As the year goes on, you get to know each other a little better."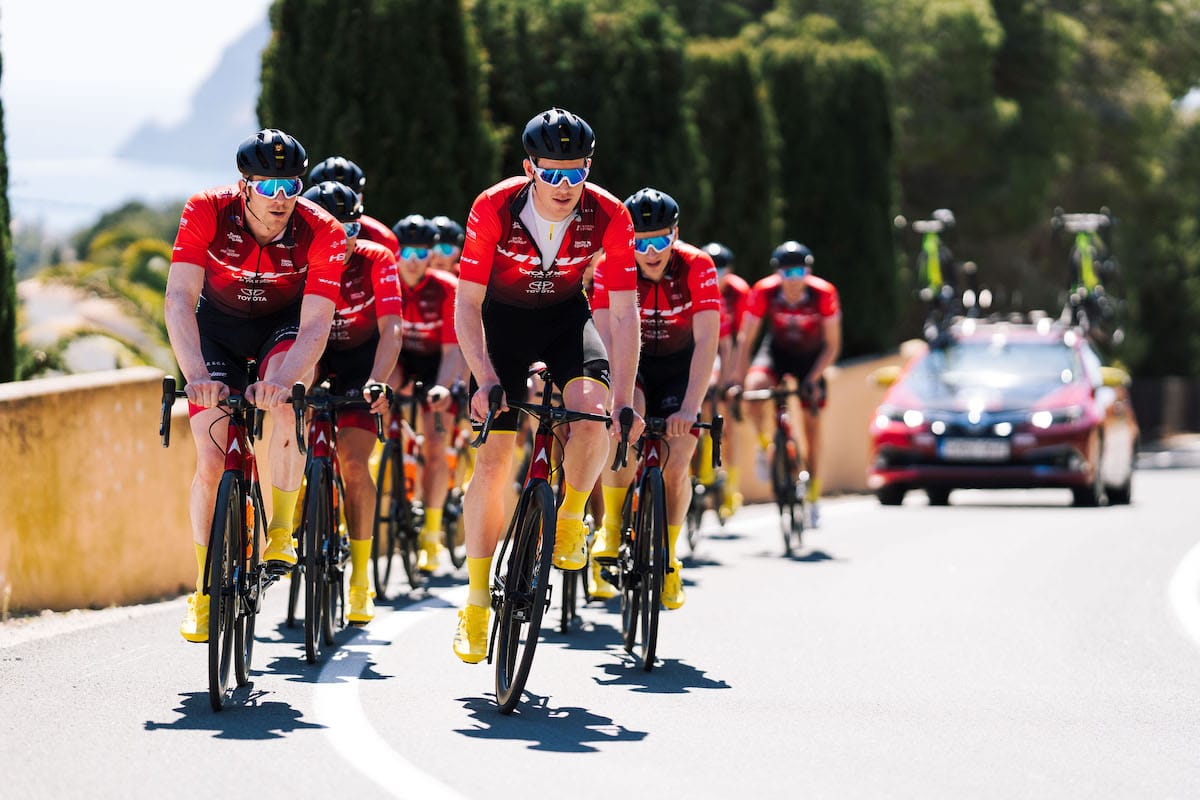 Leadership by example
It is not hard to identify Clancy as the team leader, but his influence is subtle, rather than overbearing, and rooted in the genuine respect of his team-mates, rather than fear. A combination of a genuine good nature and three Olympic titles is an irresistible combination. The more established riders recognise his pedigree, while the young guns look upon him with awe. To attain a fraction of his success is beyond the dreams of most of them.
Those among his new team-mates whose only prior experience of Clancy is as a competitor might easily have attested to his strength, but their exposure in Calpe to his holistic approach to the sport, his commitment to excellence, might have surprised even his biggest admirers. He joins the banter at the dinner table, but on the bike he is all business, suffering for hour-upon-hour in the mountainous terrain that must seem like another universe entirely to a world-class track rider.
"Do I feel like a leader and play that part? In Team GB, I'd never thought, I'm the oldest and most senior rider, I'll behave like I'm the team leader. You take it upon yourself. The truth is, if you're 18 or 19-years-old and there's a senior rider on the team in his 30s doing something you don't like, would you pipe up? You probably wouldn't. It's good that I'm in a team where they can," he says.
It is when Clancy is called upon to share his thoughts on the value of behavioural coaching, however, that his team-mates gain their first real sense of what it means to be a triple Olympic champion. He now works with specialists Pro-Noctis, and is asked during their presentation for his own perspective on the value of their coaching. He does so in a room brought to total silence, where even the most experienced professionals are determined not to miss a word.
"Dr Steve Peters was the one who brought to life the importance of being positive and happy - that it could benefit you physically, on the bike; that happiness helps you recover faster, sleep better, gives you a better appetite and can make you a better cyclist. It makes a lot of sense, from a performance point of view," he says.
Tokyo dreams
There is a final, significant assignment on Clancy's 'to do' list - the small matter of a fourth Olympic Games and an opportunity to win a fourth gold medal.
When we speak, Tokyo 2020 is only 14 months away. Clancy, however, is adamant that victory and further gold medal success is not a foregone conclusion.
As ever, he is entirely rational in his approach to an event of such magnitude, both in terms of his own career and the wider sporting universe, that it could easily become overwhelming.
"First things first, it's not black and white, the whole Tokyo thing. It depends on which part of my brain I use to think about it. I could take an irrational, ego-driven perspective. I could think: 'I've won three Olympic titles, so when I go to my last Games, it will be a disappointment to win anything less than gold.' But you've got to identify that as a dream. It depends upon whether I'm ill, injured, how my team-mates are going, how the opposition is going."
Months of hard graft lie between now and the 32nd Olympiad. Clancy must fight, even for selection. Reputation holds little currency at British Cycling, an organisation notoriously lacking in sentiment. Clancy, a prominent member of its first golden generation in 2008, and a mainstay ever since, knows the score, better than any.
Set among such an uncompromising culture, Clancy must look to himself. He is happy to do so, and determinedly not for reasons of ego. He is adamant that his best will be enough. To approach the task with any other mindset would be self-defeating.
"I'm not saying it's not possible [to win a fourth gold medal], because it is. We're going well. But it's about showing character, getting up every day, so when you're stood on the podium, on whatever step, you can look your mate in the eye and say, 'We gave it everything,'" he says.
"As long as we go there and do our best, that's what success looks like. The last three Olympic Games have been an outrageous success. I don't expect to win an Olympic gold medal. I don't expect to win any bike race. I expect to do my best and that will be good enough."
A commitment to excellence
There is a mythology that surrounds sporting champions which holds that they are gifted with superhuman skill and strength…and little else. It holds that nature has placed them on a gilded pathway denied to mere mortals; that they are the privileged beneficiaries of genetic chance.
Ed Clancy, by his words and actions, is a living, breathing rebuke to a hundred lazy stereotypes in which those with less dedication find comfort. Graft, humility, focus, generosity, a positive mindset and an inclusive spirit...all are fundamental components of his astonishing success, but none can be so easily attributed to a winning ticket in some imaginary physiological lottery.
While he is of course possessed of an outrageous physical talent - one that has redefined the archetype for the men's team pursuit, the discipline in which he has won three Olympic gold medals - Clancy has maximised his natural gifts by subjecting himself to torturous training regimes for the greater part of his life. Suffering - years of it - is the investment required for such golden dividends.
He has made the most of his other talents, too: perfect balance, and an almost supernatural sense of space and time that allows him to navigate his way among scores of fast-moving competitors as if it were no more challenging than pushing a trolley through a crowded supermarket aisle. Split-second timing - an ability to process information so rapidly that the pace at which real life events unfold seems somehow slower to him – might also be something he has worked upon. He relaxes by riding high-performance motorcycles.
Defining Clancy purely by his physical gifts and sporting accomplishments is to miss the point, however. To understand the man, you must listen to him describe the physiological advantages that result from a positive mental attitude, or watch him enrol his team-mates in the task of overcoming some technical challenge to provide the most valuable feedback to a sponsor. You must witness him engaging with young athletes inspired by his success, or, more specifically, witness their reactions.
Clancy embodies excellence. Little wonder that senior leaders at Brother UK, the supporting headline sponsor of his Vitus Pro Cycling Team, see his attitude and achievements as the perfect metaphor for a high-performing business. Clancy has attained the gold standard to which so many aspire.