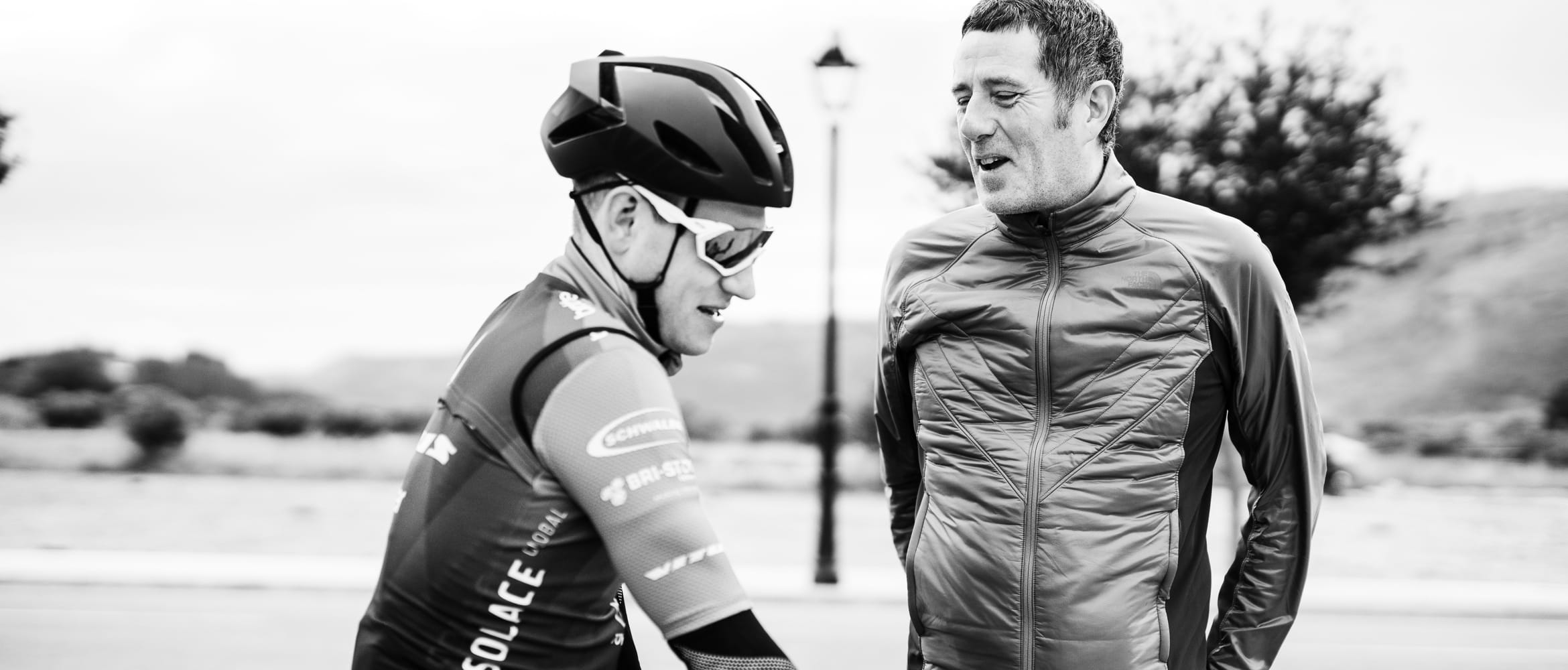 Vitus Pro Cycling Team, Powered by Brother UK: A day with the team
Professional cyclists in the striking red of Vitus Pro Cycling Team, powered by Brother UK gather like excited children at the foot of the Coll de Rates, the signature climb of the mountainous Valencian interior, 30km inland from the Spanish Costa Blanca.
This timed ascent of a climb instantly recognisable to cycling's cognoscenti, and a prominent fixture on Strava, the GPS-powered ride tracking app, is being staged by the team's management to further integrate the sponsors and riders.
One of the team's most identifiable partners is not riding, however. Phil Jones MBE, the Managing Director of Brother UK, the team's supporting headline sponsor, has an afternoon flight to catch. Instead of remaining at the hotel, or making an early departure for the airport, he has chosen to encourage the riders, and support the management and other sponsors.
It is the first two parties who benefit most from Brother UK's interest in the team. Not only will the technology giant provide vital monetary support until at least 2021, but Jones will offer advice and guidance as the management navigates a commercial landscape as challenging to a team in professional cycling's third tier as any mountain climb.
Cherie Pridham, the owner and manager of Vitus Pro Cycling Team, powered by Brother UK has made little secret of her gratitude for the company's support, and for Jones'. Last year, when he rode 1,130km in eight days to raise money for the Dave Rayner Fund, a charity supporting young British riders, Pridham followed him for every metre in the team car, acting as sporting director.
If Jones was reliant during an arduous week on Pridham's comprehensive knowledge, gained from a lifetime in the sport begun as a world class rider in a pioneering era for women's professional cycling, then today represents a role reversal of sorts. While she is busy with the logistics of organising an ad-hoc time-trial, it is Jones who takes the lead in encouraging the riders.
There will be more important moments in the months and years ahead for Pridham to have Brother UK at her side, but this small window in a busy training camp feels significant; the pledge of partnership made real, and an opportunity beyond the boardroom to prove, once again, that Brother UK's commitment to cycle sport is genuine. Being powered by Brother UK, Vitus Pro Cycling Team enjoys a benefit that extends even further than financial support.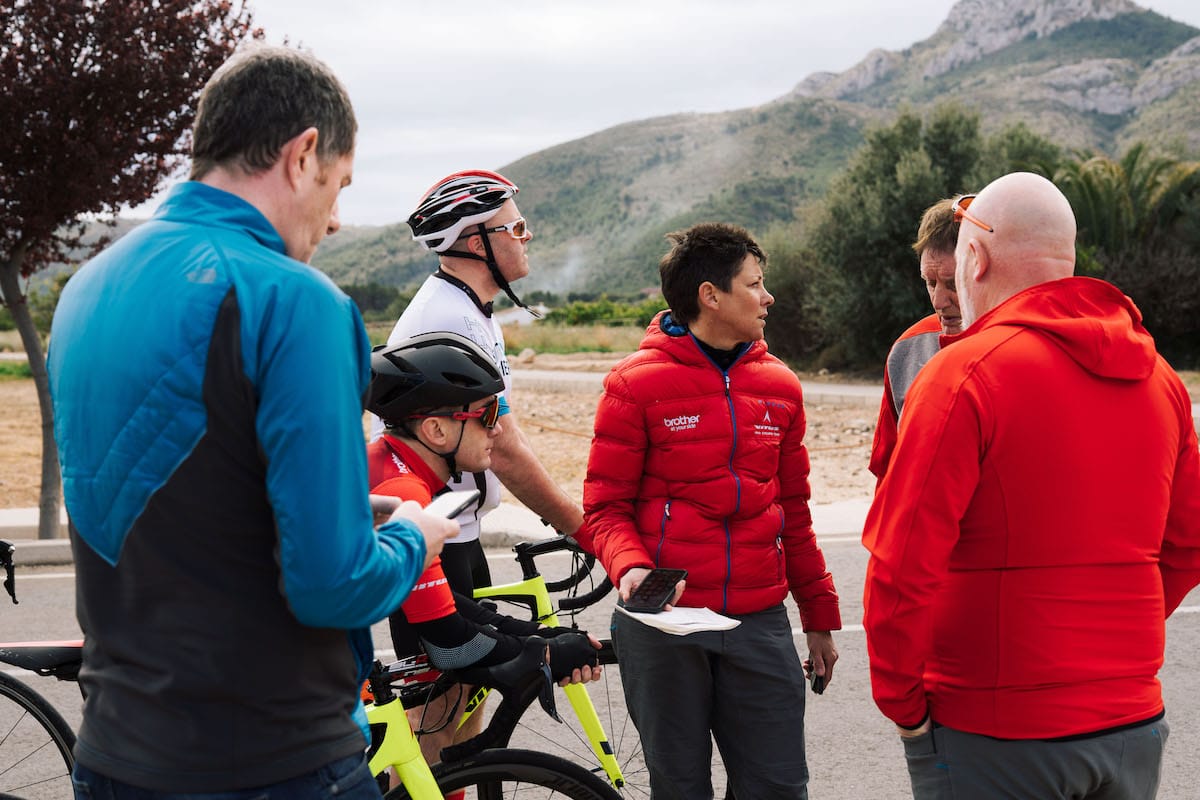 Standard Bearer
An early-season, overseas training camp could not hold greater importance for a cycling team in professional cycling's third tier, nor demand more from its small staff and volunteers. To the outsider, it can seem little more than a jolly; a week in the sun to raise morale and build fitness by pedalling beneath a Spanish sun, rather than a grey, British sky. The reality could not be further from the truth.
Cycling teams are itinerant by nature. They exist on the road, in every sense. A week in which the entire unit - management, staff, sponsors and riders - convenes under one roof comes but once a year. Tactical briefings, sponsor meetings and presentations, the issue and fitting of new bikes and kit, content generation…the goals of a training camp are many and varied, and each is too important to miss.
Check-in represents an achievement by itself; the culmination of months of planning, innumerable emails, and, for Pridham's staff, a drive of 2,000km from Derby with a mechanics' truck laden with bikes, wheels and tools, and a two, brightly-liveried team support cars. The riders have flown as a group from East Midlands Airport; another small victory, given the savings rendered by low-cost airfares and the day's head start on team bonding.
While Pridham's meticulous planning means the training camp is cost effective, nothing about it feels cheap. She has chosen Calpe's Hotel Diamante to locate the team; a large, modern, four-star hotel, close to the beach, that in peak season must be filled with sun-worshipping holiday makers. In winter, it serves a clientele comprised almost exclusively of cyclists, from the heavyweight squads of the UCI WorldTour to small clubs mainly from Britain, France, Germany and The Netherlands.
It is the first of this group that offers the most revealing context for Pridham and her team. Arrive at the Dimante at any time between October and February, and you will find the car park opposite filled with giant team buses and mechanics' trucks, and a scene resembling a Formula One paddock. Inside, more of the small army of staff employed by each team works with its 30-strong roster of world class athletes.
When we arrive in March, the solitary Mercedes Sprinter parked by Vitus Pro Cycling Team, powered by Brother UK seems lonely by comparison. Like the new Toyota team cars parked in the hotel's underground car park, however, it is immaculately clean and wrapped in a striking livery bearing the logos of the team's blue chip sponsors. They communicate a silent message: only in financial terms is Pridham's team inferior to its WorldTour rivals. Her standards and ambition are a match for even the best-funded squads.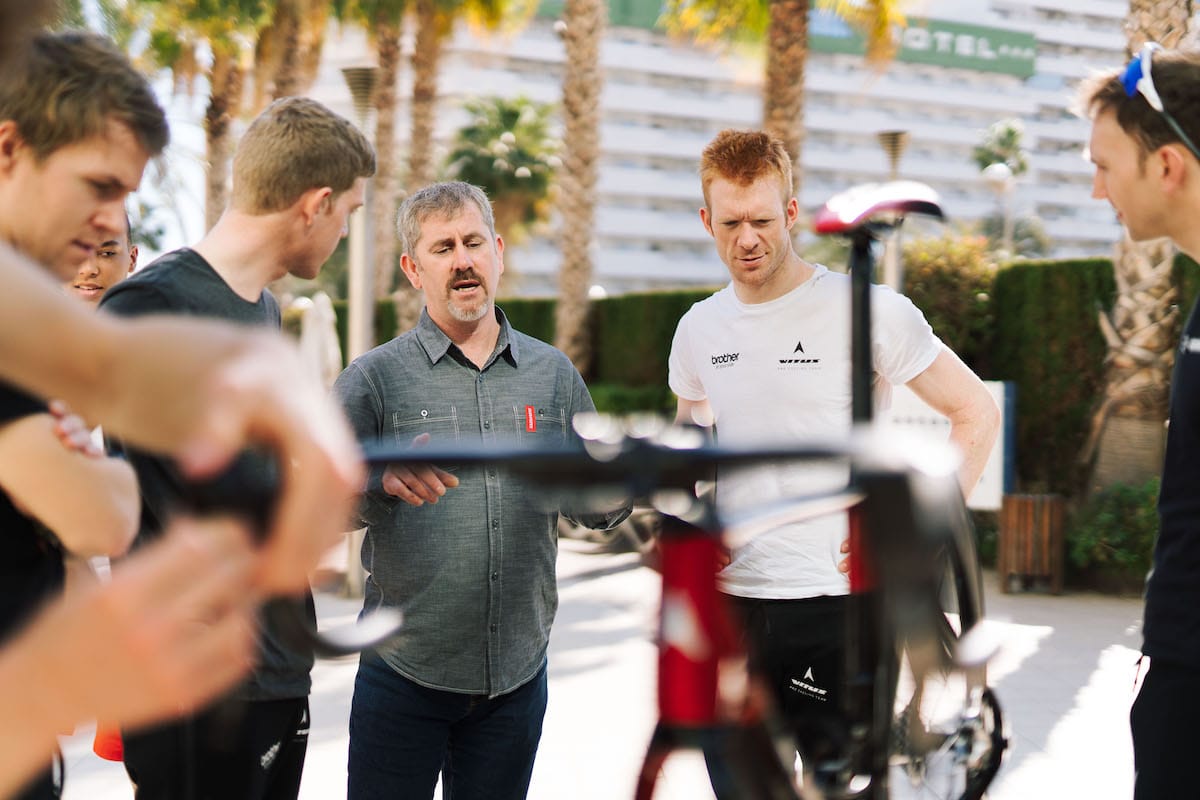 Gold Star
Ed Clancy has nothing left to prove in cycling. At 34, his continued submission to the demands of training and racing is justified by the magnitude of his goal: the chance to compete for a fourth gold medal at a fourth Olympic Games, next year in Tokyo. Nothing less, one suspects, would be worth the effort for a rider already so accomplished. His role with Vitus Pro Cycling Team, powered by Brother UK – team leader and its most bankable competitor in the crit races that account for such a large part of the domestic calendar - dovetails neatly with this overarching ambition.
Clancy's sporting achievements have made him a household name, but he is, if anything, the anti-celebrity: the triple Olympic champion with time for everyone. Delayed, but seemingly never detained by requests for autographs and selfies, he is frequently the last to leave a race.
If Clancy is in many ways a throwback to a more genuine age, he is simultaneously a poster boy for modern cycling. Raised in British Cycling's school of marginal gains, Clancy's work with human performances coaches Pro-Noctis has been instrumental in bringing them to the table of Vitus Pro Cycling Team, powered by Brother UK. At their presentation to his new team-mates, Clancy speaks eloquently of the performance advantages of a focussed mindset, even describing the effects of happiness on cortisol levels.
His interjection offers a window on the depth of his understanding. Clancy's man of the people persona can obscure a detailed knowledge of his profession. Even the briefest conversation reveals an intellect that, combined with his more obvious physical talent, has made him the complete athlete. At the team launch in Derby, he had spoken of the privilege of being a professional cyclist, a theme he returns to in Calpe. His ability to lead the team remains obvious, long after the bikes have been returned to the garage.
Wright Stuff
Every team needs a personality like Mick Wright's. A blend of good humour, plain speaking, vast experience and professional skill as a sports masseur has made him an invaluable member of every team he has worked with. Last year, he joined up with Pridham for the first time. This year, despite family commitments, he is back for more.
Bonding, one of the primary goals of any training camp, is vastly accelerated by Wright's presence. He has a natural bonhomie; a masters degree in banter gained from the University of Life. Most of the riders already know Mick. Among those who don't, one detects a relaxation almost visible; a dropping of the guard that will benefit the entire team.
Those who mistake Wright for team jester are in for a rude awakening, however. His hefty stature, of use in a former occupation as nightclub doorman, should by itself command respect, but he does not shy away from issuing discipline when required. One morning, with the riders finally gathered outside the hotel and ready to ride, sun and spirits high and even music playing, he steps to the centre of the group and issues a warning about time-keeping. Lateness, he assures them, in the bluntest terms, will not be tolerated.
What happens next is still more revealing. Having delivered this advice, received by the riders without a word of protest, he resumes his position by the team car and resumes his conversation, as if nothing had happened. By doing so, he conveys as much as by anything said. Business can continue as usual. The matter is closed.
Only on the massage table are matters of greater consequence than punctuality discussed, and these remain strictly confidential. The relationship between rider and soigneur is sacrosanct. It is not only tired legs that Wright relaxes by his skill, but tired minds, too. Bike racing - speed, crashes, hour-upon-hour of exhausting effort - is a stressful business. Wright, by his skill as a masseur, and a facet of his personality as far removed from joker or disciplinarian as might be imagined, eases the pressure. Little wonder that he is so valued.
Wise head, young shoulders
Liam Davies is a young man who, arguably, has grown ten years in one year. Rewind twelve months, and he arrived at his first training camp for Vitus Pro Cycling Team, powered by Brother UK armed with little more than self-confidence and a handful of impressive results from the junior ranks that hinted at a greater potential.
Such was his desire to impress, however, that his confidence was interpreted as arrogance. He was reminded of the responsibilities of a professional athlete by the team's management, sparking a year of total transformation that placed him among the squad's most valuable - and most valued - performers.
The ultimate evidence for his changed approach came in the renewal of his contract. When he arrives in Calpe in 2019, he does so no longer as the new boy, but as a rider whose determination can be measured by a winter spent a little further along the coast, racking up daily training rides of up to six hours. His commitment is beyond question. In just twelve months, he has become the model professional.
A further, subtle indicator of Pridham's confidence in the 19-year-old is revealed by the fact that she has made him room-mate to new recruit Red Walters. Another young man with vast ambition and obvious talent, Walters has arrived in Calpe with as little experience of the training camp environment as Davies had brought the previous year. He will need someone to show him the ropes. Davies, implicitly, has been trusted with the task.
Not yet in his twenties, Davies will face a new challenge in 2019. Last year, as the youngest rider in a very young team, he gained opportunities beyond his experience. That he made the most of each, notably at the Tour de Yorkshire, speaks volumes. Suddenly finding himself a member of a vastly strengthened squad, led this year by triple Olympic champion Ed Clancy OBE, he must continue to do so, now competition for selection will be fierce. His readiness to do is beyond doubt.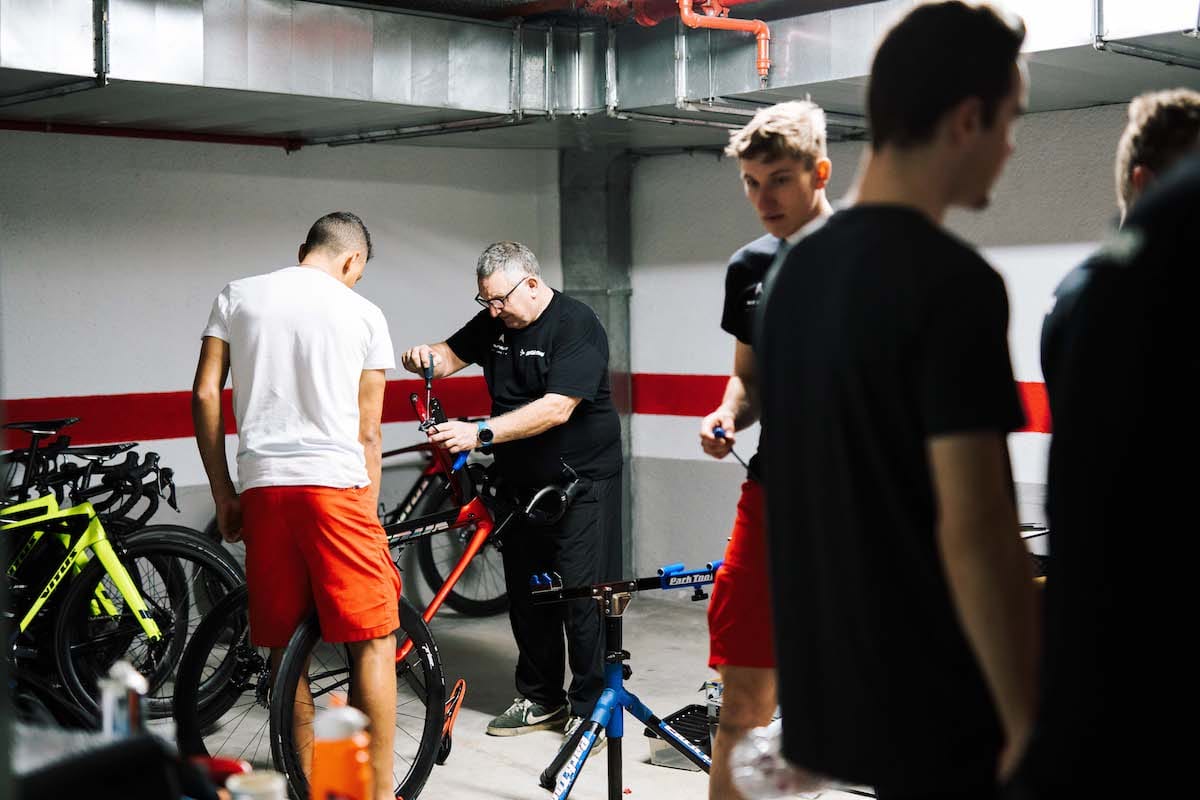 The Buttler did it
Mechanic Alan Buttler has been there, seen it, done it, and bought the t-shirt, many times over. Indeed, he has stayed in the Hotel Diamante so many times that he is on first-name terms with many of the staff. He has been coming to Calpe for decades, often with the biggest teams in the sport in a career that has taken him to Grand Tours and Olympic Games.
A burly stature and no-nonsense demeanour conceals a warm and thoughtful personality. It takes time to win Buttler's trust and respect, but those who do discover someone helpful and considerate. For the cycling fan, he is a limitless source of stories. There is seemingly no professional rider of the last 30 years he hasn't worked with, up to and including Lance Armstrong. Anecdotes about the star names only scratch the surface of his knowledge, however.
More casual conversations offer a wider window on the depth of his experience: the retired pro who fought back from injury and now lives in apartment close to the hotel, for example; former world cyclo-cross champion Hennie Stamsnijder and his son Tom, who retired last October after ten years in professional cycling's top tier.
To watch Buttler in the final hours of the camp is to see a man in his element. In the brightly lit, but sunless netherworld of the hotel's underground car park, he works with calm efficiency, washing bikes with young assistant Ed Nicholson and packing them, somehow, with the entire mechanical apparatus of a professional cycling team, into the back of the Sprinter van.
The following morning, he begins the 2,000km drive through France and back to Derby. Over the course of the week, he has come to know better those among this latest crop of riders whom he hadn't known before; to discover their personalities and learn the idiosyncrasies of their bike set-up. Over the course of a long season, knowledge of both will be vital. The new recruits might do well to draw upon the experience he has gained from a lifetime in the sport, as well as his mechanical skill.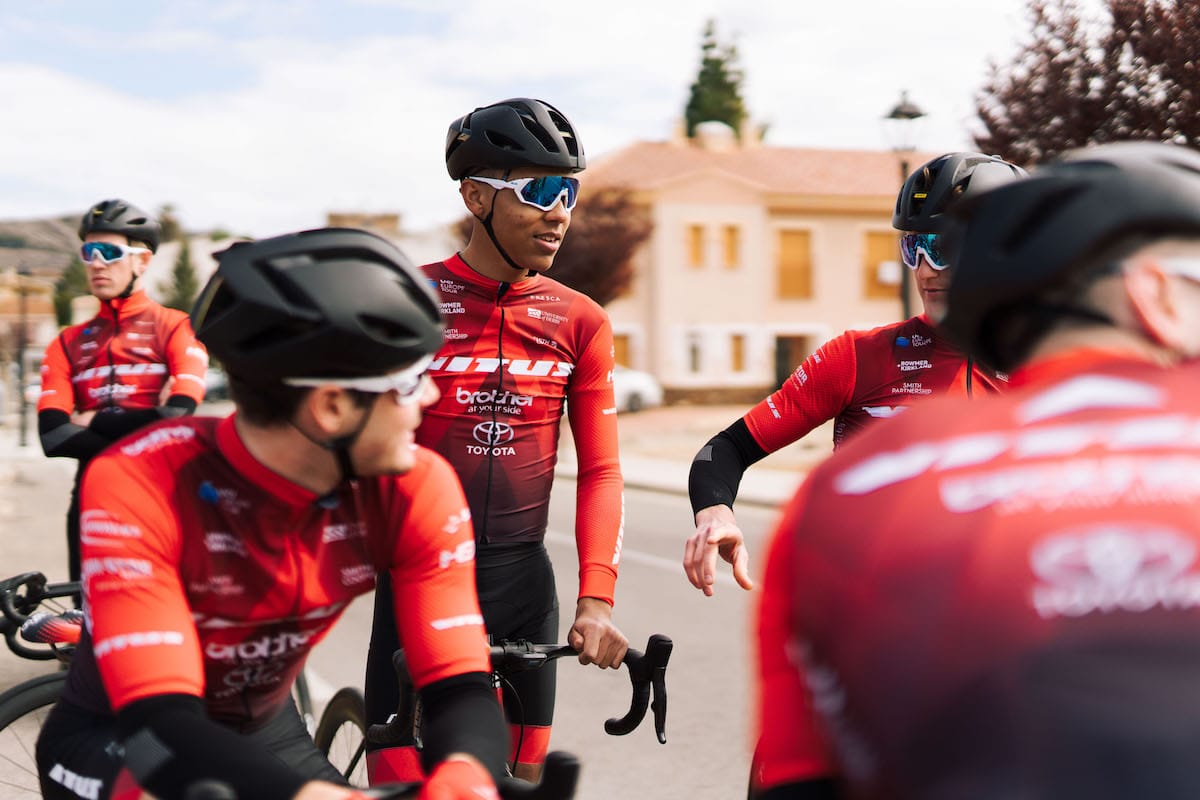 Red Star
Red Walters is a young man in a hurry. His Twitter bio contains the telling phrase "Determination is infinite". Any hard-headedness seems confined to the bike, however. Around the hotel and out on the road with his team-mates, he is polite, personable and popular. His excellent videos are a hit with his new colleagues, even if they only reveal one aspect of his personality.
Unsurprisingly, meeting Walters reveals a more rounded character than his YouTube persona. The good humour that makes many of his vlogs genuinely amusing is present, but conversation reveals him to be a thoughtful and intelligent young man, fully aware of the value of the opportunity he has been granted by Pridham, and determined to make the most of it.
Walters is sufficiently grounded to acknowledge the reality of his position: that he is a young rider at the very start of his career. By his own admission a latecomer to the sport, his rise has been rapid, but unlike many promising riders, he is not in awe of his own talent. Walters identifies his primary goal for the camp as continuing to gel with his new team-mates, and, like the most diligent students, is able to show his workings.
If he is to give everything for his colleagues this season, he reasons, and to draw as deeply on his reserves for others as if he was riding for himself, then it will be necessary to know them well. He quotes Pridham's assessment of a training camp as a one-off event in which the entire team is together, proving that he has absorbed her advice. An athlete, he is also keenly aware of the training effect of an uninterrupted week of training.
Over the course of the week, he makes many of the mistakes familiar to any training camp debutant, bonking on the road back into Calpe on the first day, and suffering minor crashes; classic behaviour for a young rider away with new team-mates for the first time, and adjusting to the rhythms of a training camp. By the time he leaves with his team-mates for Alicante airport, however, he is up to speed, in every sense.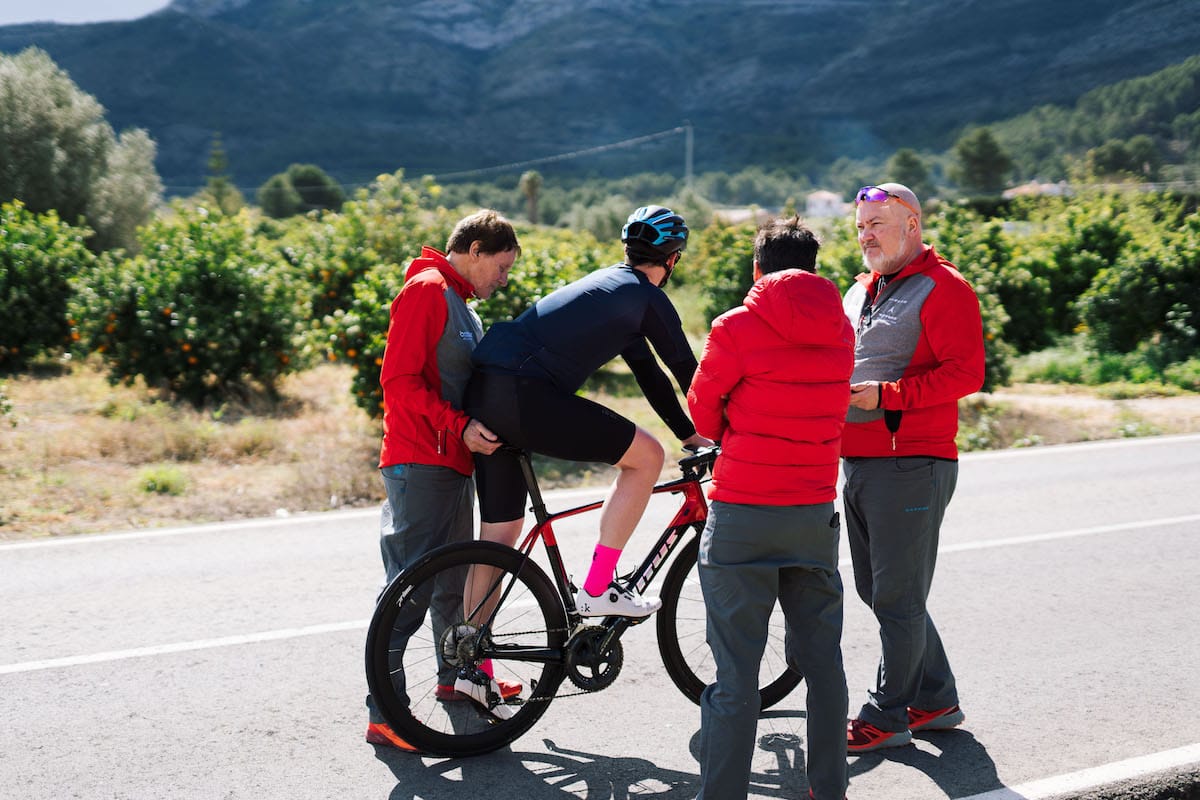 Medicine Man
Gary Darling-Parkes is a newcomer to Vitus Pro Cycling Team, powered by Brother UK, but not new to cycling and certainly not new to providing medical support. His GWAS business works in a host of different environments, from film sets to polo matches, dispensing care as routine as headache tablets to actors and, more seriously, patching-up players who have fallen from horses among flying mallets.
His previous work in cycling was for a rival squad to Pridham's. When it folded at the end of last season, he joined Vitus Pro Cycling Team, powered by Brother UK. Cycling is a small world. While most of Pridham's riders have not previously worked with 'Gaz', it's likely that all will have met him or know of him. Pre-season medical checks before the new squad's first ride out, a freezing five-hour grind through the Peak District in December, accelerated the getting-to-know-you process.
There, Darling-Parkes conducted tests with sophisticated, portable medical equipment, measuring cardiac fitness and hematocrit levels, among other things. At camp, the majority of his time is occupied with traditional 'swanny' duties: shadowing the riders in a team car, and dispensing food, drink and clothing at scheduled stops, whether at a café or mountain top (when Red Walters is blown from his bike at the latter, Darling-Parkes is quickly on scene to plaster the wounds to his hand).
Later, Tim Torrie is dropped from the group on one of the countless ascents made that day. His power is sapped by his body's response to what Darling-Parkes suspects might be water-borne invaders, and he is forced to climb into the car. The medic helps Torrie with his bike and transfers it to the roof, while the drained and disappointed rider takes up a position on the back seat, a visitor from another world, clad in logo-ed lycra and still wearing his helmet.
The season ahead will be long and the riders will come to know Darling-Parkes well. They must trust him implicitly, if the stress of illness suffered and injury sustained in racing conditions is to be borne. The new medic arrives with long experience, but one suspects that his greatest value to the team lies in a calm disposition and down-to-earth persona that does as much to reassure as his copious qualifications.
Flying Start
Four weeks and three races later, as Scott Thwaites stands on the podium of the East Cleveland Klondike GP, the Calpe training camp is already a distant memory. Crowds have gathered in their thousands at the roadside in Guisborough, Stockton and Saltburn to watch a commanding performance from Vitus Pro Cycling Team, powered by Brother UK, capped by an exhilarating finish in which Thwaites is denied victory by the narrowest of margins.
The team has learned quickly. The drills practised on the deserted roads of Valencia have been activated in the most public environment, and with success. Adam Kenway, for example, so effective in Calpe on the Col de Rates, makes light work of the bergs around Saltburn, infiltrating the early breakaway to take up a watching brief.
Behind him, the men in red mass at the head of the peloton in a scene familiar to any who watched them ride in the same formation, for hour after hour, in Spain. When the time comes, the combined horsepower of Mikey Mottram, Fred Scheske and Ali Slater, beneath whose calm authority Pridham's strategy is executed, is deployed to reel in the breakaway and establish a platform for Thwaites as the race reaches its climax.
Two days later, the team travels to France to begin a limited but ambitious international programme at the Tour du Loir et Cher E Provost. The assignment is the first of three sanctioned by the UCI, cycling's world governing body; a high-quality triptych that also includes the Rutland Melton CiCLE Classic, with its savage gravel sectors, and the Tour de Yorkshire, a race that last year attracted 2.6m spectators to the roadside over four days.
The road racing season for a British-registered, UCI Continental team is comparatively short, but intense. The first fixture in the HBSC National Road Series does not arrive until April, and the Tour of Britain, for which the NRS serves as qualifier, brings the domestic road season to a close in September. Pridham's team must stay on point throughout a relentless six months of racing that will encompass everything from week-long stage races to hour-long crits. The experiences of Calpe, and the support of Brother UK, will be critical.