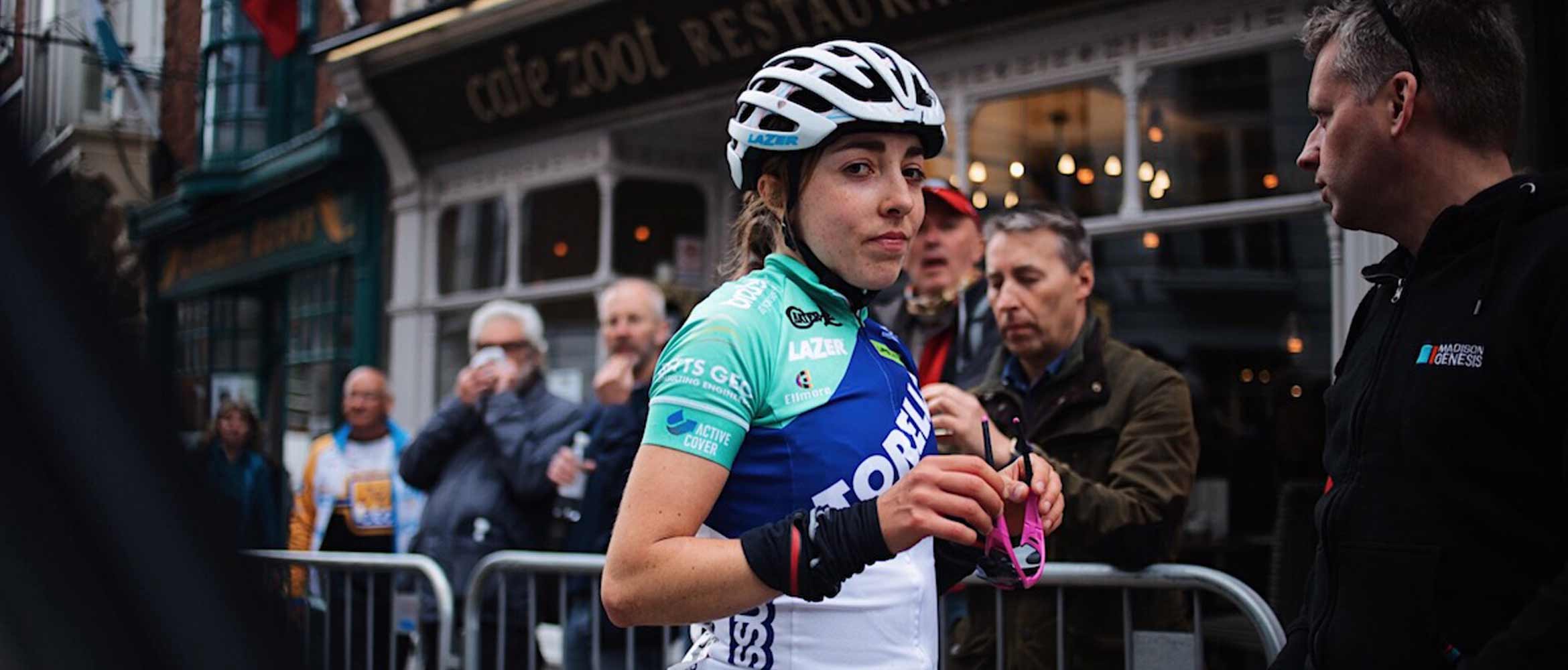 Sophie Wright: Torelli-Brother's Shooting Star
Sophie Wright's unmistakable talent has propelled her to cycling's highest echelon, while still a teenager. The most successful period of her career to date has come in the colours of Torelli-Brother.

Destiny Calling
Sophie Wright's talent is so broad, her potential so great, that any who have followed her career might have expected the performance by which she announced herself to a live television audience of millions at the European Championships in Glasgow.
By riding ahead of the peloton for 80km of a 130km race, and for 60km alone, buoyed by the support of thousands of spectators screaming her name from the roadside, Wright confirmed what those inside the Torelli-Brother team already knew: that she is a rider so naturally gifted that her future in road cycling's highest echelon seemed almost predestined.
That destiny is now set to be fulfilled. Soon after the most emphatic performance of a career already filled with emphatic performances, Cervélo Bigla confirmed her ascension to the UCI Women's WorldTour.
Tomorrow, at the GP de Plouay, she will begin the next phase in an accelerated education under the tutelage of team manager Thomas Campana, and with the mentoring of world class talents like Ashleigh Moolman-Pasio and Lotta Lepistö.
"It will be very exciting to focus purely on the road," Wright had confided to us, in a telephone call made in the days immediately after agreeing terms with Cervélo Bigla.
"This was the final decision. I'd crashed on my mountain bike at the Val di Sole round of the UCI World Cup and was thinking, 'I'm going to do road,' and now I've signed with Cervélo Bigla, it's definite. I won't even do cyclo-cross."
She mentions 'cross almost as an afterthought, even if it is another discipline in which she has already been the British junior champion. There is seemingly nothing within the sphere of cycling of which Wright is not capable.
"I'll be riding time-trials with Cervélo Bigla," she volunteers, and here at last we stumble across a discipline in which she has yet to win a major title. By joining a team that has finished on the podium in the team time-trial world championships twice in the last two years, even this small oversight might soon be corrected.
Brother UK has been at Wright's side during a critical phase in her career, through its backing of Torelli-Brother. To have played even a small part in her success is a justifiable source of pride.
High Definition
"I was out the front for 80km, and riding solo for 60km," Wright says, reliving her extraordinary performance at the European Championships. "The crowd and the support, with people cheering my name, was just unbelievable."
It's 48 hours since Wright delivered the defining performance of her career to date. To understand the full significance of this statement, one must appreciate how frequently she has produced performances by which others would happily define their careers. The crowd in Glasgow was not the first to be left open-mouthed.
The defining aspect of her latest showing, however, is that it has led to a professional contract, and with one of the most respected teams in the sport. The stage on which she made such an emphatic showing also counts towards its significance. The European Championships is no small beer.
"It was an elite European Championships, and I'm only a first year under-23." she explains. "I was delighted even to be selected. The Team GB coach said I exceeded expectations. They wanted to animate the race from the start, and my job was to attack and get something going, but I attacked twice and was solo for 60km."
Wright knew she was on a good day as soon as the race began and wasted little time in launching her first assault, attacking on the second lap, and on the steepest ascent. Driving a five-strong breakaway to a lead of one minute, she might have considered her work done, but with little or no assistance from her confederates, resolved simply to move on.
Undeterred by the sudden realisation that she had six solo laps ahead, Wright calmly set about building a lead over a world class field that grew to three minutes. As is often the case, the scale of her advantage only stirred the chasing pack. Still she pressed on, even when faced with a rapidly diminishing lead.
"With 50km left, I still thought I could do it. I believed in it, but with two laps to go and with a lead of only 30 seconds, I knew they would catch me. I thought: 'I've done well. I've put myself out there and I've helped Team GB.'"
The Brother Connection
Wright has been the mistress of her own destiny - her exceptional talent had already carried her to British and European mountain bike titles, as we shall learn - but her focus on the road has come in the colours of Brother UK-supported Torelli-Brother.
After leaving British Cycling's Olympic Academy, where she had trained and competed as a mountain biker, Wright sought a road team. Such is her strength, she did not require a squad prepared to build a team around her, or to place domestiques at her service, but rather an outfit with the influence to open the door for her to the most prestigious races on the women's calendar.
Tony Orrell, owner and manager of the Torrelli-Brother team, is just such a man. Backed by financial support from Brother UK - funding that he describes as a "lifeline" and "game-changing" - Orrell has run a regular programme of European races for his team, and entered them too in the biggest domestic events. He is reaping the rewards of a network of contacts, built from a lifetime in the sport.
"I enjoy lots of different racing," Wright explains. "Because I'm young, I can experiment with different disciplines. I have won most of my titles in mountain biking – a European championship and two national championships - but leaving the BC programme for mountain biking has given me a lot of freedom.
"I thought that if I wanted to be on a pro team, I needed to decide between road and the mountain bike. It would be very difficult to combine the two. That was why I joined Torelli-Brother so late. I left the BC programme in March and immediately thought: 'I need to find a road team.' It's been really good. I've had lots of freedom choosing which races I do and when."
She cites entry to the GP de Plumelec-Morbihan and the Women's Tour de Yorkshire as opportunities she would not have gained under her own auspices, but is equally honest in her assessment of what she might have achieved as a lone competitor. She has wrapped up overall victory in the women's road series with a round to spare, after all.
Yorkshire Calling
The Women's Tour de Yorkshire is growing apace. This year's third edition doubled in scale from one day's racing to two, and attracted a world class field to Britain's largest county at the beginning of May.
The race, broadcast live in its entirety on national television, had been on Wright's radar. Indeed, her decision to join Torelli-Brother had been strongly influenced by the team's invitation to the race. Few others on the start line in Beverley, however, would have chosen a UCI 2.1 race as an event in which to begin a road campaign.
"One of the main things I was looking for was a team that would race the Tour de Yorkshire and Torelli-Brother were," she confides. "I wasn't really focussed on the road before. I won a bronze medal at the European road championship in 2016, but people think I'm a mountain biker. I phoned Tony and he was happy to have me."
Wright took her place in a squad boasting a mix of youth and experience, epitomised by the selection of former Drops and Storey Racing rider Jen George on the one hand, and local teenager Sophie Thackray on the other. George had returned from career-threatening injury, while Thackray raced in the midst of studies for her A-level exams.
Wright reminds us that this is the first year she has competed in every race in the women's national road series. It's well that she does. Nothing about her performances would indicate such comparative inexperience.
It speaks volumes for her ambition that she reflects upon the Women's Tour de Yorkshire - an event in which she lined up as a teenager against some of the most successful riders in the UCI Women's WorldTour - almost as a missed opportunity.
"It was a definitely a good event and significant because of the amount of support and the live coverage, but it was my first [road] race and came quite early in the season. I finished 43rd overall, but if I was in the form I'm in now, I could have been in the top ten."
Heart-Felt Issue
Wright's almost unbroken run of success since her days as a junior might have been derailed entirely by a major health issue. Two heart operations have done nothing to stint her performances, however. She is as strong now as before her heart rate started to rise, unaccountably, from rest to levels that doctors considered dangerously high.
In 2016, at her first European Championships on the road, she won the bronze medal in the junior race. Astonishingly, this performance came amid a series of incidents in which her heart rate would jump without warning to as much as 256bpm.
"I didn't feel faint," she says, in a matter-of-fact tone. "I could just feel it. My arms went a bit weak. To be honest, I went about a year riding with it. I'd stop riding and my heart rate would suddenly drop to normal, and I would continue with my ride. But it was in the European road race champs in 2016, where I came third, that it occurred again, and it averaged 225bpm for 23 minutes or so. We knew then that we had to take it further."
After a consultation, she had a five-hour operation in January 2017. This however proved unsuccessful; the anomaly causing the condition was located in a more complicated area than first suspected.
Wright does not mince her words when describing her disappointment, but after a 12-week wait, the surgeons at Papworth Hospital performed a successful procedure that restored what must be one of the most powerful engines in women's cycling to full working order.
"I was in there for five hours and then was completely devastated when they said that they couldn't do it that day," she says, recalling the first procedure. "It meant I had to wait another three months.
"I had my second heart operation at Papworth Hospital. After about six hours in the operating theatre, with keyhole surgery, they performed an ablation, working within millimetres. I'm just so grateful that it worked, because I could have ended up with a pacemaker, and that would have meant the end of my cycling career."
Loving the Work
Cycling has been a part of Wright's life since she was seven-years-old, following a family holiday to Scotland and a chance encounter with a mountain bike. On returning home, she invested her savings in the purchase of her own machine.
Riding soon became racing. Wright was even winning road races on her mountain bike, but could sense the disadvantage of fat tyres on tarmac roads. Aged 11, she received her first road bike, beginning a two-year deviation to triathlon. When it became apparent that cycling was her strongest discipline, she focussed on two-wheeled sport, despite her love of cross country running.
Cyclo-cross came next. As with the mountain bike, Wright swiftly took possession of a British title. It is not enough to say that she became British junior champion, because she also won her first 'elite' or senior race aboard a 'cross bike in the same season. This year, even with her focus elsewhere, she still performed strongly in the National Trophy Series.
More than any other discipline, perhaps, 'cross has become the area of expertise for a new generation of British talent. While track was the crucible for British Cycling's first generation of all-conquering athletes, more recently the success of Tom Pidcock, Ben Tulett and Evie Richards - junior and under-23 world champions respectively – has placed 'cross in the vanguard of the new elite.
"I think success breeds success," Wright concludes. "British riders winning and Team GB athletes doing well probably inspires younger riders to want to be like them."
There is a unifying factor, too. All cycling disciplines involve a healthy dose of suffering, and XC mountain biking perhaps more than most. Wright speaks with real enthusiasm when the topic turns to training and the need, as someone once said, to love the work.
"If you don't like training, you're just not going to get to the best level," she says. "I've just loved being away in Mallorca, up in the mountains every day. When I tell people that I've been doing hill reps of Sa Calobra, they're just like: 'What?!' They just want to go and die. But to be honest, I love the hills as well."
At Her Side
Wright's performance at the European Games and subsequent signing of a contract with Cervélo Bigla bookends a short but remarkable period begun with her first road race of the season at the Women's Tour de Yorkshire. During that time, she has won the Tour of the Reservoir, finished second at the Women's CiCLE Classic, and claimed overall victory in the elite women's national road series.
Her progress is no less startling when measured by larger timeframes. To recap: it is only two years since her first outing on the road for Team GB ended with a podium at the European Championships, and less than six months since she left British Cycling's Olympic Academy, deciding that confining her talent to XC mountain biking would be a mistake.
"I think next year, I'll want to get onto a professional team," she had told me in May, while we chatted in the unassuming surroundings of a car park in Doncaster. "It has always been my dream to be a professional cyclist. It's realistic and hopefully it will happen."
From a less talented rider, such a bold prediction might have carried the taint of ego. Time, and possession a precocious talent, has made it merely a statement of fact.
In Yorkshire, Wright was determined that she would not be intimidated by a peloton of gifted riders that even included Boels-Dolman's Chantal Blaak. The Dutchwoman returned to British soil earlier this month for the European Championships, this time competing as part of the mighty Netherlands team. Far from being intimidated, however, Wright merely rode away from the World Champion and her decorated team-mates.
The future is bright indeed for this most talented teenager. Already a British champion in two disciplines (and European champion as well, competing as an XC mountain biker) she will now focus solely on the road. Having joined Cervélo Bigla, the self-described "small team with big hearts", she can hope for no better environment to pursue such a demanding specialism.
The short period of Wright's career in which Phil Jones and his team in Manchester have placed their support behind her unquestioned ability, via the auspices of Torelli-Brother, has also been the most successful. Brother UK can feel justifiably proud to have occupied a position at her side.