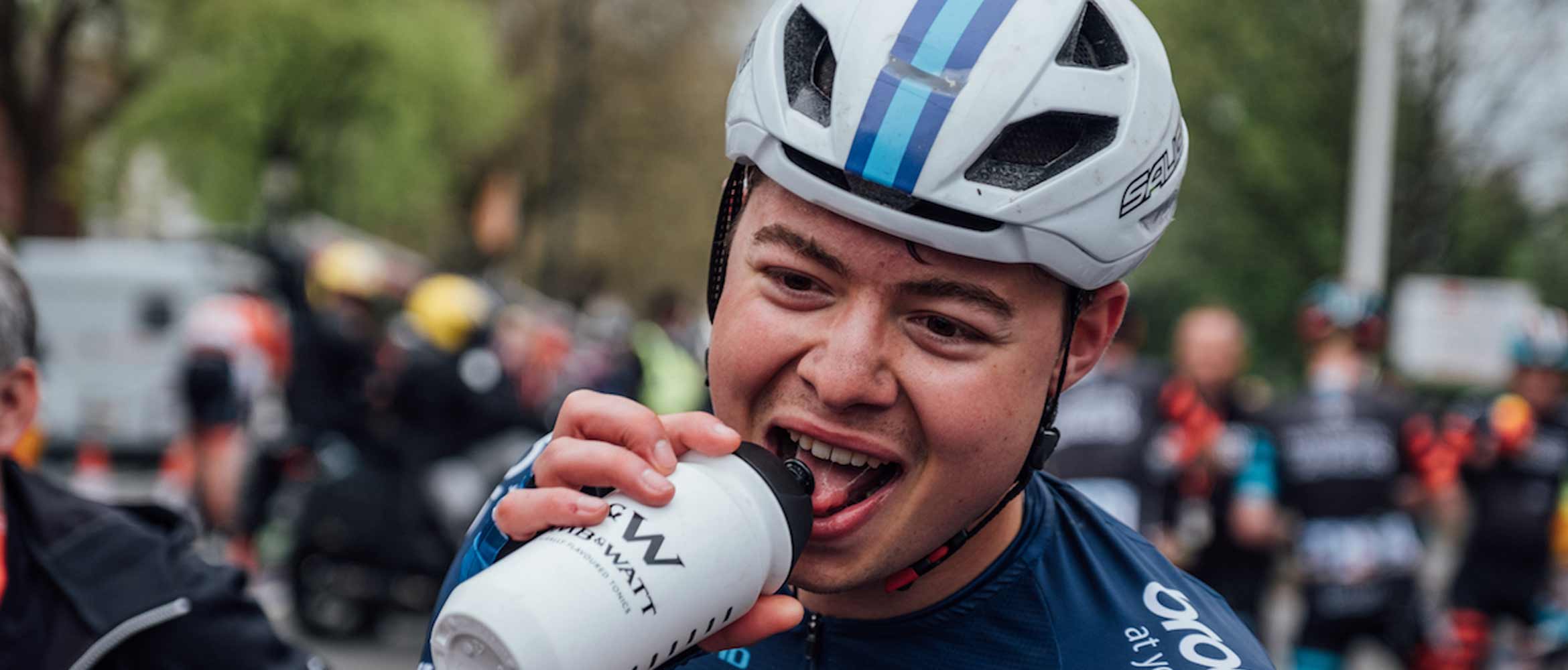 Harry Tanfield Joins Team Katusha-Alpecin
For Brother UK, Harry Tanfield's rise to the professional ranks with Team Katusha-Alpecin has been a privilege to share. Aside from his formidable talent, Tanfield is also a very likeable character.

Privileged Information
There are moments in the life of a young rider it is a privilege to share. Harry Tanfield's ascension to the professional ranks with Team Katusha-Alpecin has not been publicly disclosed when we speak on the phone for an hour in the days following the European games in Glasgow. News of the biggest step in his young career is given to us in confidence.
The eldest of the increasingly successful Tanfield siblings, Harry has a natural charm that acts as counterbalance to his formidable talent. A rider of his ability - and now career progression - might be indulged, if he chose to play the rock star, but happily there is no trace of the prima donna about him.
Our first conversation took place in the back of Canyon Eisberg's humble van, in the minutes ahead of the second stage of the Tour de Yorkshire, while he sat in the comparative gloom and prepared to put on the blue leader's jersey, a turn of events few would have predicted 24 hours earlier. Victory, and against UCI WorldTour opposition, had not changed him then.
Fast forward five months, and with a silver medal from the British time-trial championships to add to one of the same colour from the Commonwealth Games, not to mention a contract with Team Katusha-Alpecin, and he is still the same good natured, endearingly honest, self-effacing character that we met in a car park in Barnsley.
"I don't know," he replies, when I ask what preparations he will make before joining his new WorldTour team-mates at a late-season training camp. "Sort my life out, I suppose. I've always got stuff to do. I never just go out for a bike ride, and then think: 'Now I'll sit around for four hours.'"
Tanfield's decidedly down-to-earth persona is engagingly at odds with his ability. The rider who finished within 40 seconds of Team Sky's Geraint Thomas at the British time-trial championships (in his very next engagement, the Welshman won the Tour de France), or who dragged some of the best riders in Britain around a circuit in Salisbury like tin cans on a string, is the most likeable of characters.
The Canyon Connection
Tanfield's UCI WorldTour suitor was for a short period the topic of some speculation. Which outfit would benefit most from an 80kg powerhouse, able to sprint, drive a breakaway and, most importantly, produce a fine time-trial? When Team Katusha-Alpecin confirmed the signing, the cogs fell into place, not least because of what might be described as The Canyon Connection.
Tanfield's current employer, the Canyon-Eisberg squad, is far from the German heavyweight's only sporting client. It has two teams in the WorldTour, and, yes, Katusha-Alpecin is one of them. The striking red machine he rode to second place at the British time-trial championships in June might have offered an early clue, for those with eyes to see; not quite Katusha-Alpecin livery, but close enough.
The young man had powerful advocates within the Canyon hierarchy, up to and including the brand's founder and owner, and one of the best sprinters of the last 30 years; a former rider intimately acquainted with Team Katusha-Alpecin.
"I'd been in talks," Tanfield confirms. "We're a Canyon sponsored team. We're not a development team as such, but the guys who speak to [Canyon Eisberg manager] Tim Elverson - Erik Zabel and Roman [Arnold] - also speak to Movistar Team and Katusha-Alpecin. They'd seen me racing early season and I'd been on their radar; winning at the Tour de Yorkshire and stuff.
"We were just keeping them in the loop with what was going on in the team. I got to the middle of the year and José Acevado, the DS of Katusha-Alpecin, had a good chat with Tim to get his thoughts on me. It had been pretty positive."
The Swiss-registered WorldTour squad, founded as Russia's de facto national team within the UCI WorldTour, but which in recent years has undergone a significant shift in persona as well as personnel, was not Tanfield's only suitor. He had tested with Pro Continental teams in France, and reports that Romain Bardet's Ag2r-La Mondiale squad was "very keen and interested."
Team Katusha-Alpecin, however, was the outfit he wanted to join. Dreams do come true. Next season, Tanfield will follow the most gifted of his contemporaries into professional cycling's top tier.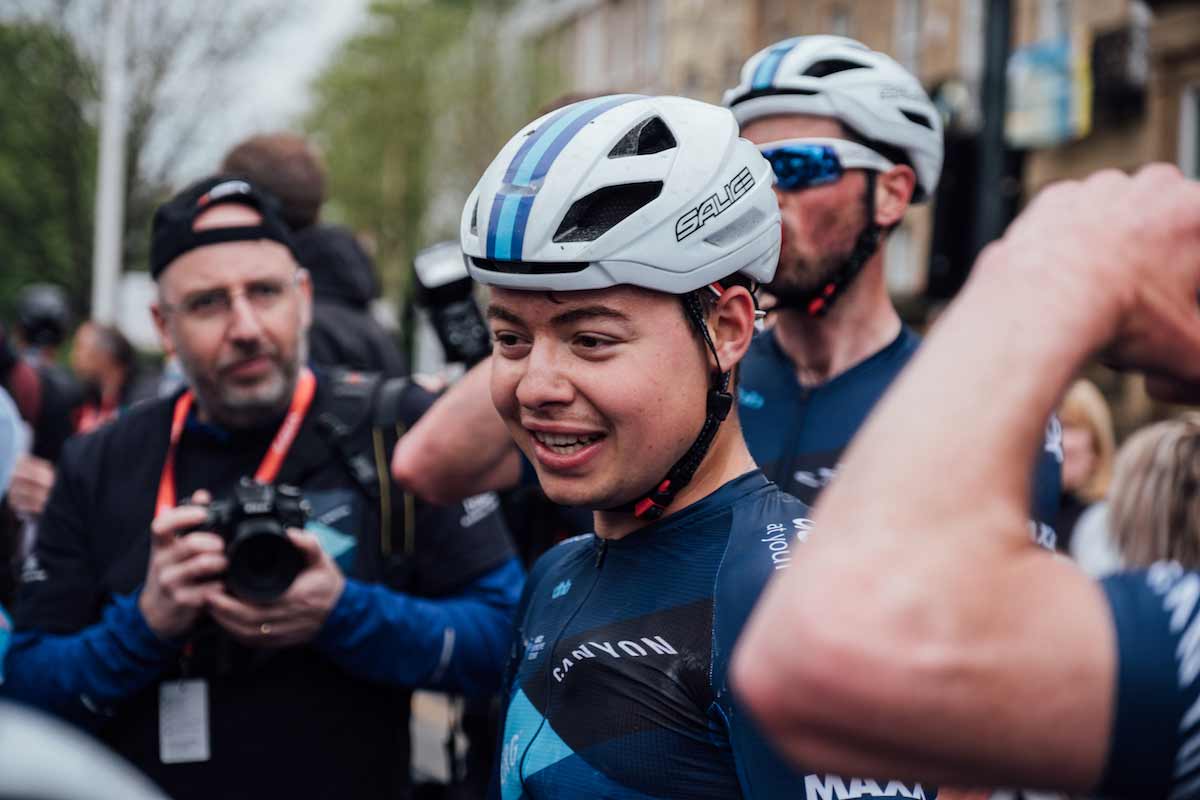 New frontier
Tanfield's debut season in the UCI WorldTour will present a host of new opportunities. Will he be recruited to Marcel Kittel's lead out train? Will he be given the chance to express himself in the semi-Classics? With one British time-trial specialist already on board in the shape of Alex Dowsett, will Team Katusha-Alpecin seek to develop another?
When I ask if he is daunted or excited by the challenges ahead, Tanfield admits to the former, but only "a bit". He is likely soon to find his feet. His pedigree is not in question. Team Katusha-Alpecin must know that they have signed a thoroughbred: a rider of huge aerobic capacity and efficient technique.
"I've shown what I can do in some races and what I can't do in others," he says, modestly. "It's a new challenge. It's something that you've got to commit to fully. I'm looking forwards to meeting the team at the end of the year and being involved before the beginning of the season."
A rider of nearly 80kg, with a powerful engine, he seems tailor made for the Northern Classics; the flatter races, at the very least. He admits that Paris-Roubaix is an ambition, but seems equally keen to begin his education in the brutal cobbled races of Spring in shorter races like Nokere Koerse and Le Samyn.
"I'm looking forward to getting a proper race calendar and experiencing different races," he says. "I think the race programme will help me to develop."
Having completed both of the most demanding stage races in Britain, he knows how to dig in and finish the job. This year's Tour de Yorkshire, especially, was a brutal affair, but at the end of a four-day rollercoaster ride (more of which later), it was old fashioned guts that got him across the line in Leeds. In the races that followed, he felt all the better for it.
"I know that riding the Tour of Britain and the Tour de Yorkshire helps you to progress and helps you to handle and mange a greater workload. Your tolerance for what you perceive as normal is changed massively, once you've ridden a four-day race. This year, I was going really well or two or three weeks after Yorkshire."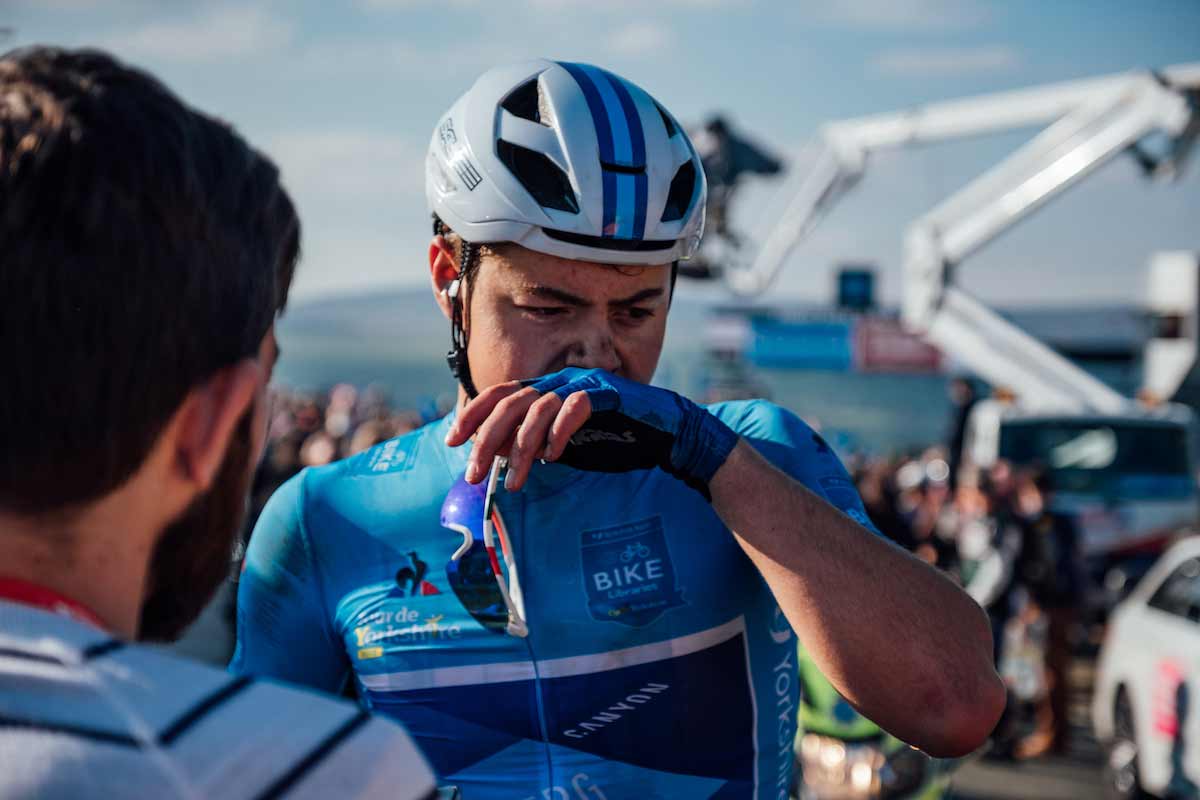 Burning Ambition
Such has been the sustained success of Tanfield's season, it is hard to pick a highlight. Harder still has been the burden borne by the rider. He has raced without a decent break since last November.
He rested briefly in the immediate aftermath of his silver medal-winning performance in the national time-trial championships, but this was at his body's insistence.
The British racing calendar has a relentless aspect. From March to September, and especially from May onwards, Tanfield and his peers receive little respite.
"I had to break in the week after the nationals, because I was a bit burned. It's about having that drive. I lost that after the nationals," he confides.
"I'd had it since last November, with the the track, then the start of the road season, then preparing for the Commies, and then after preparing for the Tour Series and national TT championships and, after that, the European Games.
"I was burned, just physically and mentally. I had to have a few days off, followed by quite a few broken weeks. I started training again properly on July 18 or 19, and had a good two weeks of training before the European Games. It felt good to be back to a decent level, even though I wasn't at the level I was for the nationals."
This is revealing. There have been plenty of times this season when Tanfield has seemed an unstoppable force. Those who watched him string out and drag along a line of elite riders at the final round of the Tour Series in Salisbury will not easily forget the spectacle, even if he admits that this was an especially good day: one that sealed overall victory for Canyon Eisberg.
"I was going pretty well," he says. "I was just ragging it silly on the front. When you've got the legs, you can do that, but when you haven't, it isn't much fun. When you're doing proper races, you don't ride like that. You have breaks built in. You don't just ride all year until your crack. The UK is just go full gas until your crack."
Go pro
Tanfield is ready to join the professional ranks, in every sense. The style of racing in the European peloton, the structure of the calendar, the sheer, well, professionalism of the UCI WorldTour makes it a world he has been eager to reach.
While many of his performances have been dazzling, and some of his results exceptional, at no stage did Tanfield regard his graduation to the UCI WorldTour as a certainty. It is often the most talented who take nothing for granted, while those of lesser ability imagine that opportunity will reach them by express delivery.
"I thought: 'If I don't go pro this year, I don't go pro,'" Tanfield says, emphatically. "I had [no contract offers] last year and this year I thought: 'Oh, I don't know.' I didn't have the results and Yorkshire was random, but I went well in the time-trials and went well off the back of the track."
"The track" was the fairytale ascendancy of Team KGF. Despite his self-effacing assessment of a remarkable stage victory in Barnsley, Tanfield recognises the value of the Tour de Yorkshire. Along with the Tour of Britain and the national championships, he considers ASO's legacy from the 2014 Grand Départ to be the only UK race of significance to prospective UCI WorldTour employers.
"Unless you're showing yourself in the nationals, the Tour de Yorkshire or the Tour of Britain, no team outside of England wants to know you. I did well in Yorkshire this year, at this year's national championships, and last year's Tour of Britain. That's probably why I'm on Katusha-Alpecin."
We return to the unremitting domestic calendar and, in particular, its relentless focus on crit racing. Circuit races no longer fire Tanfield's imagination. He notes that while last season he finished on the podium in almost every round of the Elite Circuit Series, this year his results featured in the lower reaches of the top ten.
"I thought: 'I've got the European TT championships in three weeks time, and I can't press the pedals. I need a break.' The Elite Circuit Series doesn't really interest me. It doesn't mean anything. It doesn't get me a place on Katusha-Alpecin. That's the thing with the UK season: it's just full on from March to October. It's crazy."
Time traveller
It's hard to pick a stand out performance from Tanfield's most recent campaign, but second place to soon-to-be-crowned Tour de France champion Geraint Thomas at the British time-trial championships in June must surely count among the very best.
Tanfield finished within just 37 seconds of the Team Sky man and ahead of future Katusha-Alpecin team-mate Alex Dowsett, five times a winner of the coveted striped jersey. Tanfield had every right to celebrate his performance alongside the two UCI WorldTour stars at the podium ceremony in Northumberland, but having come so close to Thomas, might he even have felt a slight sense of disappointment? No, is his emphatic response.
"Losing by 37 seconds isn't nothing," Tanfield says. "Even if I'd been pushing a bit harder, I wouldn't have found 37 seconds. Silver was like winning for me. G is one of the best in the world. You don't line him up as a target. I line up the WorldTour guys who are my age, those I've grown up racing. Tao [Geoghan-Hart, Team Sky] beat me last year and I put two minutes into him."
For those in the business of recruiting talent, the time-trial has long been the ultimate barometer. Not for nothing is it known as the race of truth. Tanfield enjoys its brutal certainties.
"Everything is in your control. It's not like a road race, where anything can happen. There's no real outside influence. There's an element of responsibility or accountability that people either like or don't like."
It seems safe to assume that he enjoys being master of his own destiny, even if the price for doing so is unrelenting pain, from the first pedal stroke to the last. So why make it a specialism?
"There's no point in being average across the board," Tanfield reasons. "It's better to have a strength to work with. I've shown that I can compete with the best in the world in time-trialing. I enjoy Classics racing and would like to pursue it, but I don't yet know were I'd end up with it. At the moment, I'm a better time-trialist, so it makes sense to keep going in that direction."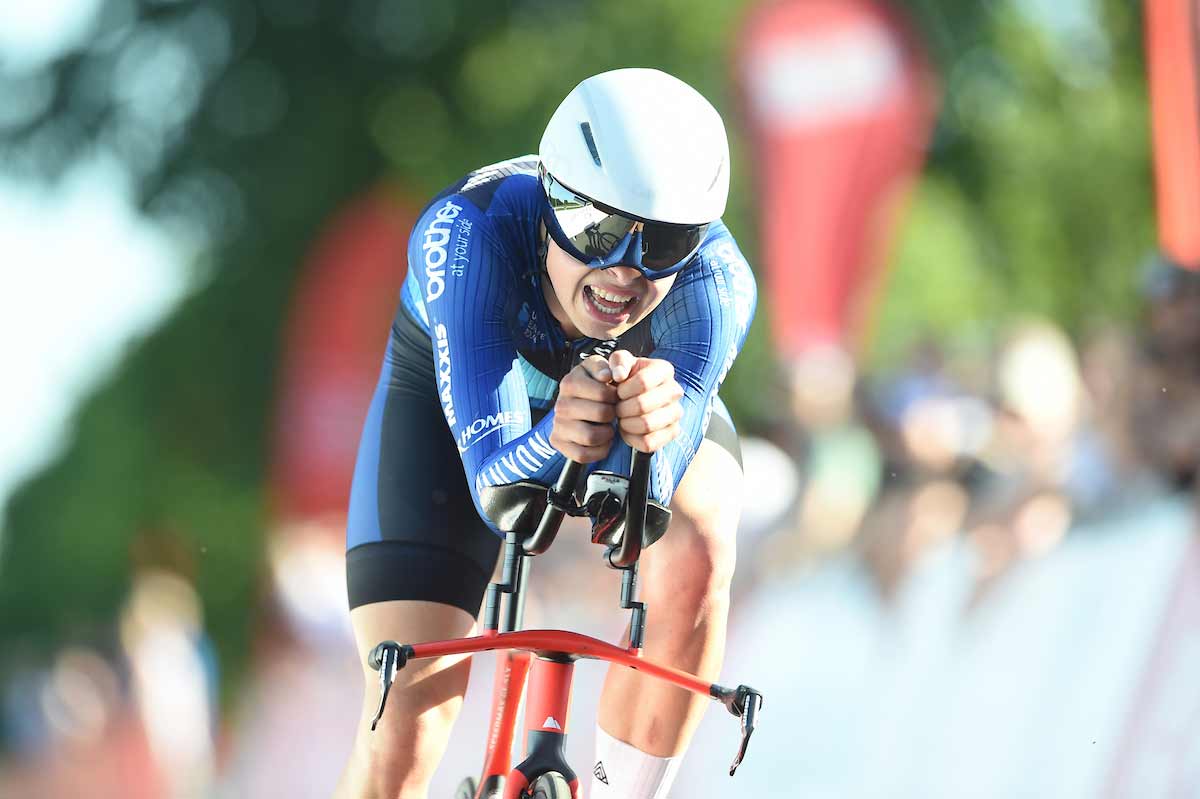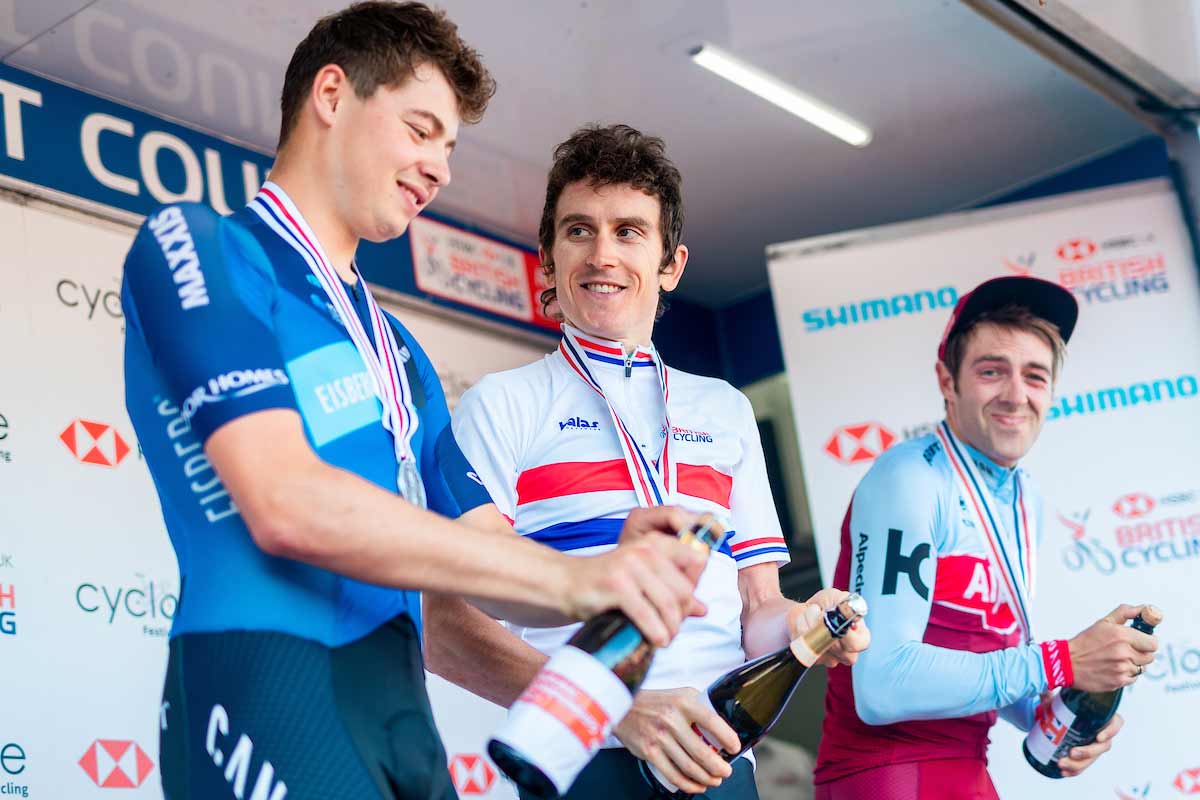 Race of truth
Tanfield's silver medal in the British time-trial championships made his selection for Team GB at the European games almost a foregone conclusion. The outcome however was very different, if still respectable. Far from securing a place on the podium, Tanfield finished sixteenth.
The mitigating factors were significant and valid, assuming a 23-year-old on the threshold of the UCI WorldTour needs to justify a top-20 finish against some of the strongest riders in Europe. Firstly, the course in Glasgow contained around twice as much climbing as the one in Northumberland. Secondly, Tanfield contested the British title in peak condition, while for the European Games, his preparation was less then perfect, as we have learned.
All things considered, his experience in Glasgow might prove equally valuable to his education as the podium success at the nationals. Dowsett, his room-mate in Glasgow and the rival he had vanquished in Northumberland, finished in the top five. Tanfield salutes the performance.
"Alex is a nice guy and had a really good Euros, which was good for Team GB. I'd never really spoken to him that much, but we roomed together for three days in Glasgow, and were helping each other. He asked if I was joining Katusha-Alpecin, and I said: 'Hopefully.'"
A Grand Tour stage winner and former Commonwealth champion (not to mention also a former holder of the UCI Hour Record), Dowsett has maximised the returns from his innate talent as a time-trialist. Tanfield might hope for similar results, if he can apply Dowsett's attention to detail.
The TT specialists in Glasgow (Campanaerts, Van Emden, Castroviejo) seemed almost to be participating in a different sport to the generalists making up the numbers for their respective nations. How does Tanfield quantify the difference?
"I don't know really. Everyone's trying just as hard; it's just that some are going faster than others. Anyone who has a decent aerobic capacity is going to be pretty good. You have to think through where you're applying your power, and trying to be as small as possible is key. There are a number of different aero adjustments you can make, but there's not really a lot to it."
Open world
The world is about to open up before Harry Tanfield. At 23, he has left it late to ascend to the professional ranks, even by his own admission. No one is guaranteed a place in the UCI WorldTour, however, and he has worked as hard as any to earn his place in cycling's top tier.
He will soon bid goodbye to the UK calendar's relentless schedule of crit racing, even if this winter he will continue to race on the track with his brother Charlie for Team KGF. In the last 18 months, Tanfield has excelled in almost every discipline he has tried, notably the time-trial, and should be of immediate value to his new employer.
When we speak at the beginning of August, with his appointment to Team Katusha-Alpecin still not officially announced, he has more mundane matters to address. He has yet had time even to consider where he will live, once riding for a UCI WorldTour squad becomes a full-time occupation.
"I haven't really thought, to be honest," he admits. "Alex [Dowsett] said live where you want to ride. If I'm doing track until the end of October, and then started [on the road] in November, I don't mind staying to ride here a little bit."
Tanfield's relaxed outlook is perhaps not uncommon in a man of 23. He is separated from his peers only by talent and determination. It is not hard to catch a flight to Spain and rent an apartment in Denia, he reasons, and Christmas will certainly be spent at home. February will come soon enough, bringing the new season and a defined race programme; only then might he decide where best to base himself.
Much of Tanfield's charm lies in his relaxed outlook. His results testify to his hard work on the bike, but elsewhere he is a refreshingly down-to-earth character. Life in the UCI WorldTour will offer a sterner test than anything he has faced previously, but with team-mates like Dowsett on his side, he is unlikely to be overawed.
Likeable and talented, Tanfield should face few difficulties in settling into the small world of elite professional cycling. Those who have shared even the smallest part of his journey to the top, Brother UK among them, will wish him well.