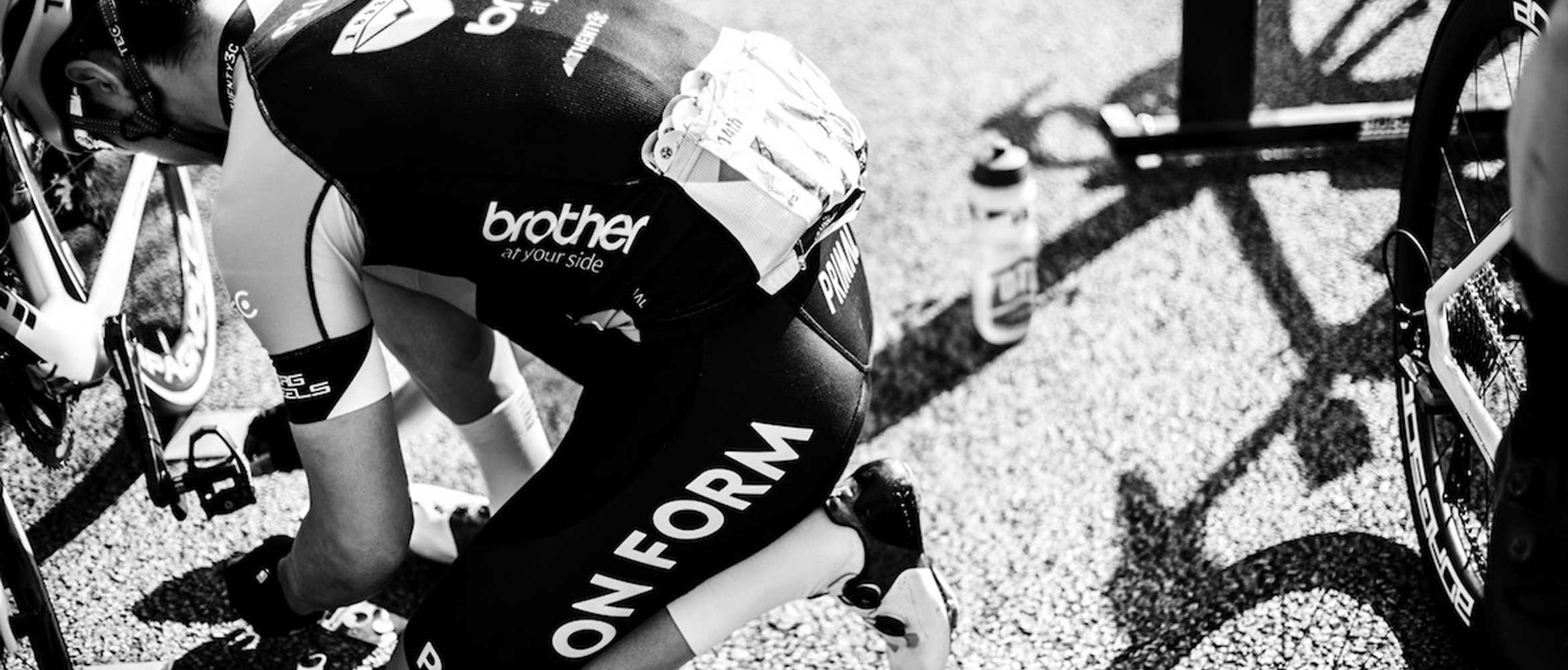 Cycle Team OnForm: The New Professionals 
Cycle Team OnForm is an amateur team with professional standards and a rider roster that embraces a runway model, a female soldier on a programme for elite athletes within the armed forces, and a former British downhill skiing champion.

Simon Howes, the team's owner and manager, brings a wealth of experience to this most intriguing project: an attempt to bridge the gap between a traditional club and a professional team.
Despite the continued international successes of the last decade, in which British riders have even made victory at the Tour de France a matter of routine (Geraint Thomas' recent triumph is Team Sky's sixth in seven years), there remains a dearth of teams able to provide young, up-and-coming riders with a comprehensive race programme.
Howes' squad are regular visitors to the Continent, with its women's team in particular competing in some of the most prestigious races on the European calendar. Anna Henderson, the team's brightest star, has made the very most of her accelerated education, but she is far from alone among her team-mates in benefiting from such a challenging curriculum.
Selection for the Great Britain squad recruited for the European Championships in Glasgow marks the high-point thus far of Henderson's sensational second season with Howes' squad, but her coming of age as an elite racer is matched by success in the junior ranks for Sophie Lewis and Emma Finucane, the recently-crowned British Madison champions, and by medals in the Masters nationals for Alicia Speake and Mel Brand.
The achievements of the male riders, competing in a more established sector, must be measured with a finer gauge, but the continued development of riders like Ollie Jones and Tom Ellwood, both able to pursue alternative careers, should they choose (the first as a catwalk model; the latter as a surveyor) speaks volumes for their commitment to the team and to the sport.
Brother UK's support provides a critical weapon in the team's financial armoury. Travelling to races across Britain, and even into France and Belgium, is not cheap, especially with Howes' desire to provide his riders with the "full support" of team cars, personnel and a motorhome. Given the scale of his commitment, Howes makes no secret of his gratitude for having Brother UK at his side.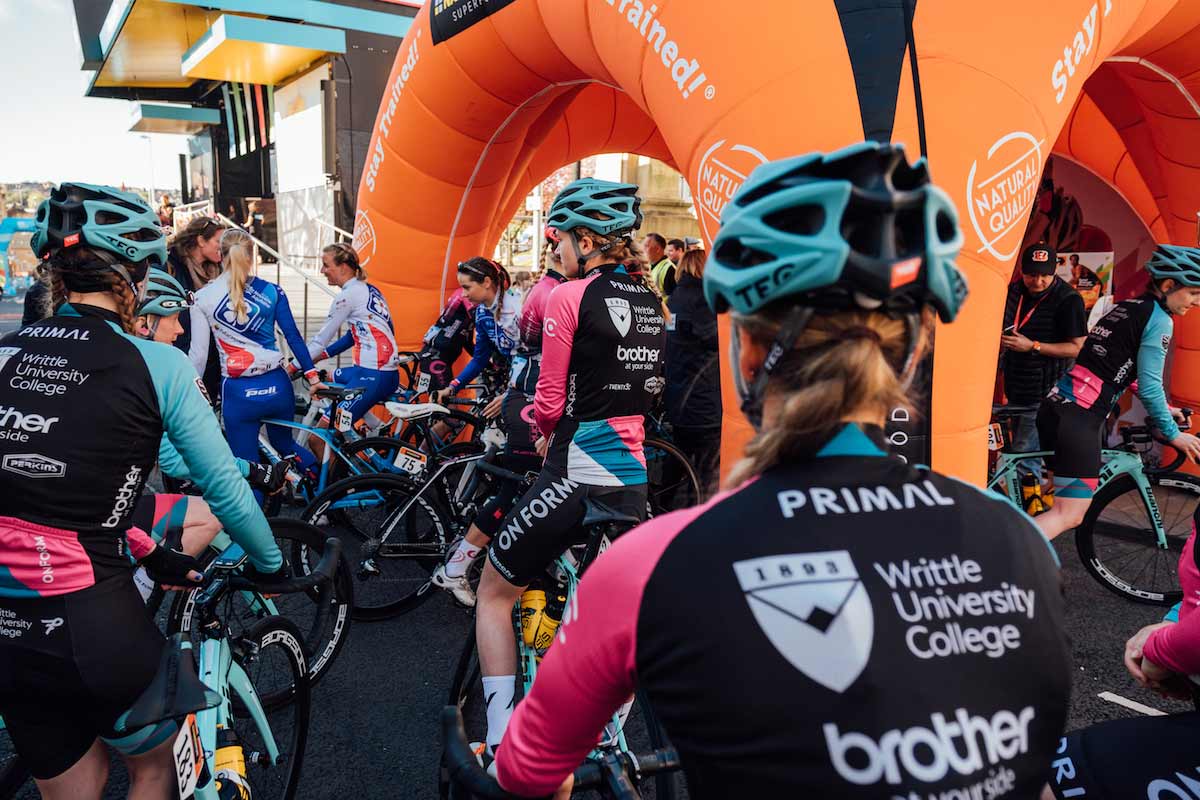 By Invitation Only
Cycle Team OnForm is, as the name suggests, a racing team and not a club. Its riders have been recruited, rather than enrolled, and membership can only be gained by invitation. But while the gleaming machinery and distinctive kit suggests a professional team, Team OnForm is strictly an amateur affair. None of the staff or riders are paid.
The team, Howes insists, was born from necessity. Cycling's shift from the margins to the mainstream, in the ten years since Wiggins, Hoy, Pendleton et al topped the medal table at the 2008 Olympic Games in Beijing, has been well documented. There remains however a shortage of teams at grassroots level able to offer such a comprehensive race programme as that constructed by Howes and sports director Neil O'Brien.
Team OnForm has 45 riders in total, spread across four squads: senior men, senior women, junior boys and junior girls. Potential is the quality that unites them. None are yet the finished article, but all have talent, drive and commitment.
Riders like Ollie Jones, formerly a runway model for Burberry, and Charmaine Porter, a soldier placed on a scholarship scheme for elite athletes, embody a group for whom cycling represents the best, rather than their only opportunity.
Aspiring sports directors, mechanics and soigneurs are also given their chance, and the team in turn benefits from those with experience, but who have lacked a vehicle for the talents. Rarely has an outfit at the grassroots of the sport conducted itself with such professionalism. Team OnForm's appeal to those in any role seeking to build a career in the sport is obvious.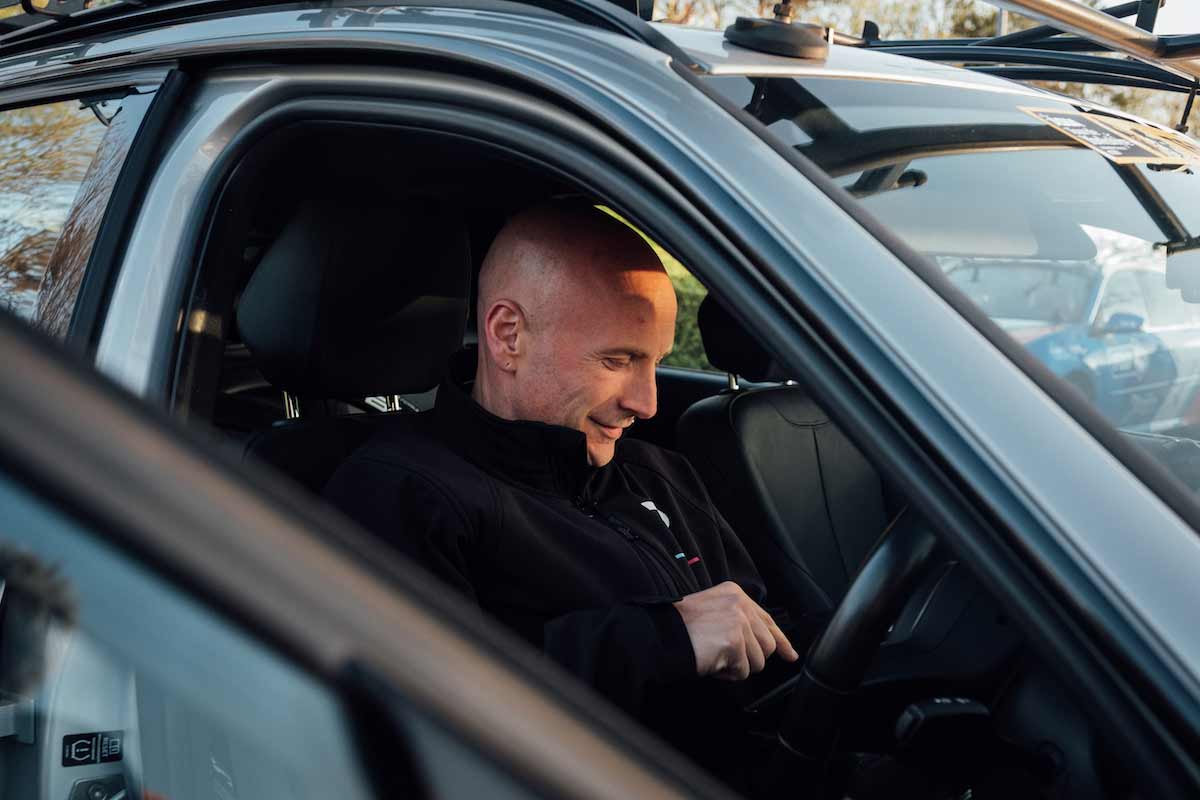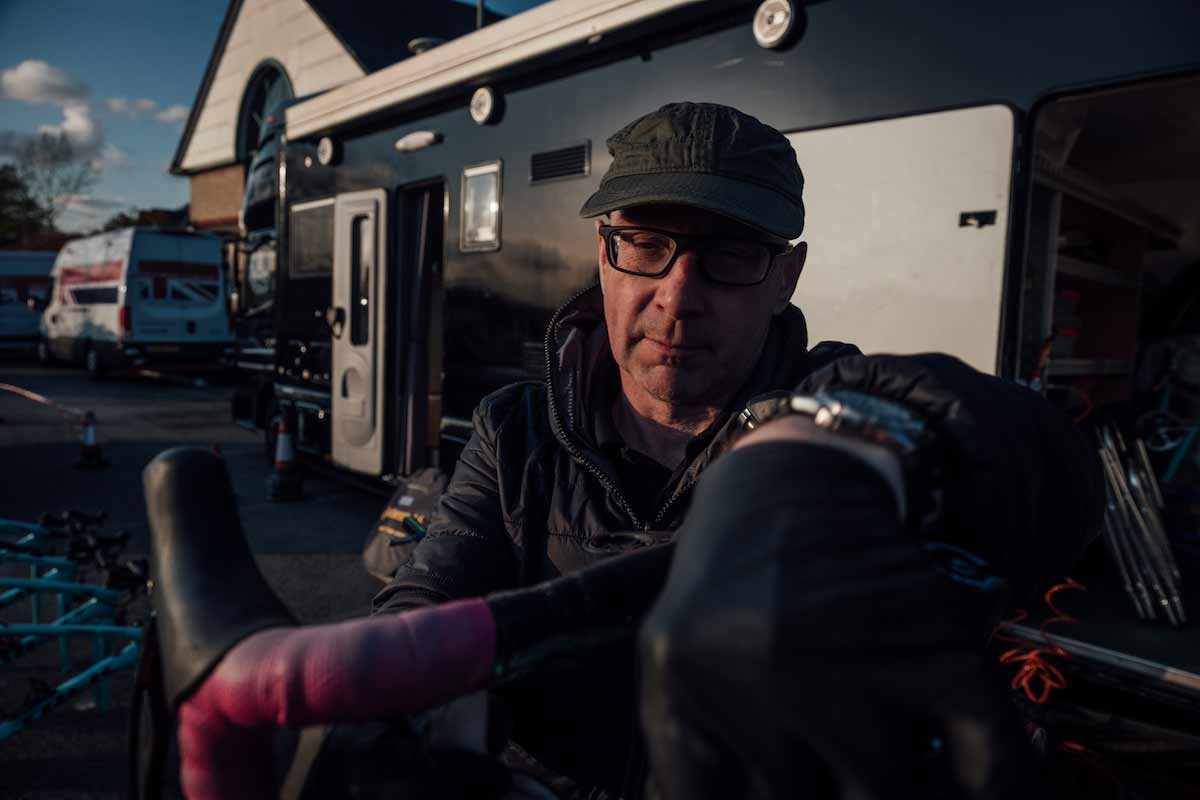 Human Resources
After a lifetime in the sport, finding riders of the required quality is not difficult for Howes, but he is seeking something more in his athletes than a given power output. Personality is also an important factor. Howes is honest enough to admit to flaws in his own character, which means the riders must enjoy working with him, as much he enjoys working with them.
His insistence on maintaining an element of fun in a results-driven business is another of Team OnForm's unique selling points. Enjoyment is arguably the most important quality among a host of intangible factors that inspire performance
"There's a long list," Howes explains. "I gave a presentation recently with ten points. Results came about eighth or ninth. I'm looking for personality, drive, determination, motivation, development - the word development I feel is used as an excuse for not achieving success, so I don't use it often – but, ultimately, 'nice' people.
"That's not always easy. We have rider interviews, introduction days…there's a whole process to go through. Not only do I have to like the riders, but they have to like me. I'm far from perfect, so they have to enjoy our set up."
Balancing a necessary structure with an open environment in which everyone feels empowered to pursue their own development is not easy. Good humour provides the 'glue'. Riders and staff must be challenged if they are to develop, but in the absence of salary, Howes is not in a position to insist.
It is almost a given that the riders will be competitive, but Howes is able to identify leaders, even within a group of A-type personalities. Their shared spirit has tangible benefits. Team OnForm has no need for a road captain, for example.
"We tried having a road captain, but ultimately everyone is responsible for themselves," Howes explains. "They know what I expect of them. Some riders are more inclined to leadership than others. It can happen naturally. I have a rider who will come back to the car if any of the riders needs a bag, for example. She doesn't have to be nominated."
Anger Management
Howes very definitely does not lack leadership qualities. Good natured and armed with a ready smile, there is nevertheless a bristling energy about him. If he is one for whom life's glass is perpetually half-full, rather than half-empty, he is also unlikely to be slow in calling out riders unwilling to give everything.
Howes began his racing career at ten-years-old. His riding talent was quickly identified, and by Peter Keen, among others, the architect of the performance revolution at British Cycling, who was then working in Chichester with assistant Louis Passfield. Both subjected Howes to various physiological tests, though the former rider makes clear that neither was his coach.
"I'm not proud to say that I was pretty much un-coachable! I'm a person who can take advice, suggestion. That's a polite way of putting it!". Laughter ensues.
"I was very good at time-trials. I was very light, very small, very aggressive. When I say aggressive, I don't mean that I went around punching people, but I have a passion to do my best, and that's what I instil in my riders. They don't have to win, but if they do their best, I'll be over the moon."
He soon found himself taking the lead on every team he joined; up to and including a squad headed by Simon Bray, then the British road race champion. Howes' youth and diminutive stature did not harm his ability to lead. He seems almost to have been predestined for management, and while he acknowledges the complement, a grin shows that he does not take himself too seriously.
"I've always believed in leading by example," he says. "If you tell someone to do something, you have to be able to do it yourself, and on the road particularly. I was always the road captain, in any team, so management was a natural progression, really. The only difference is that I can't release the passion, the anger, that I could on two wheels - I have to grip the steering wheel instead! As a rider, it was easier, to be honest."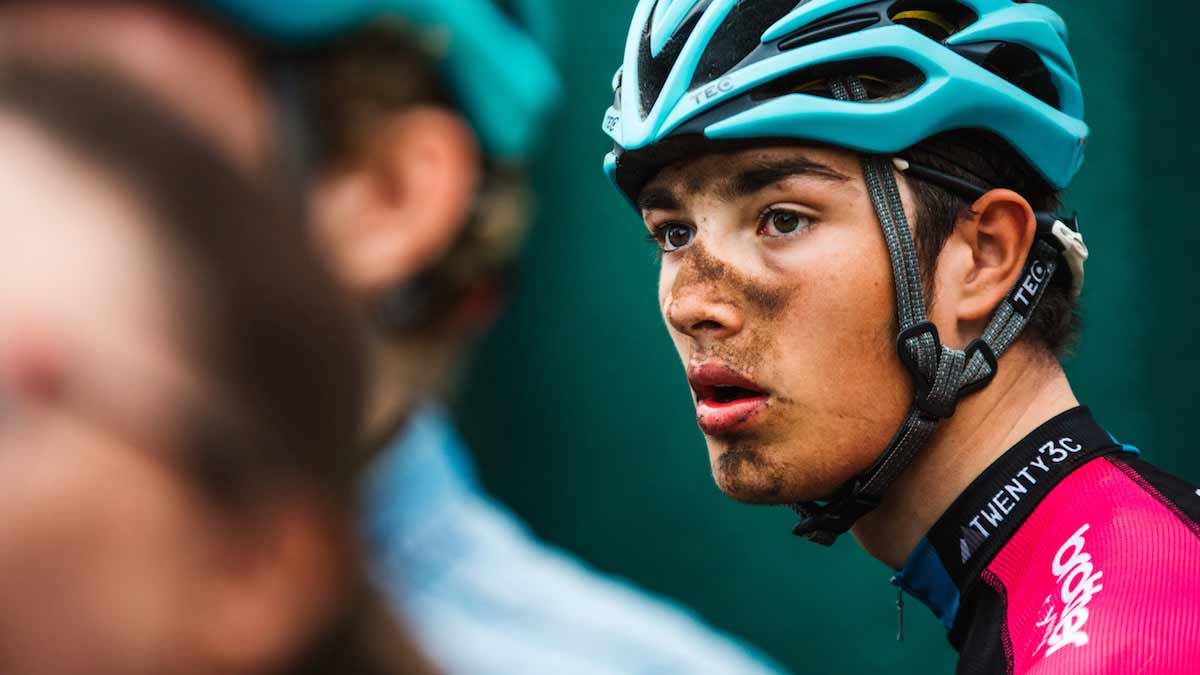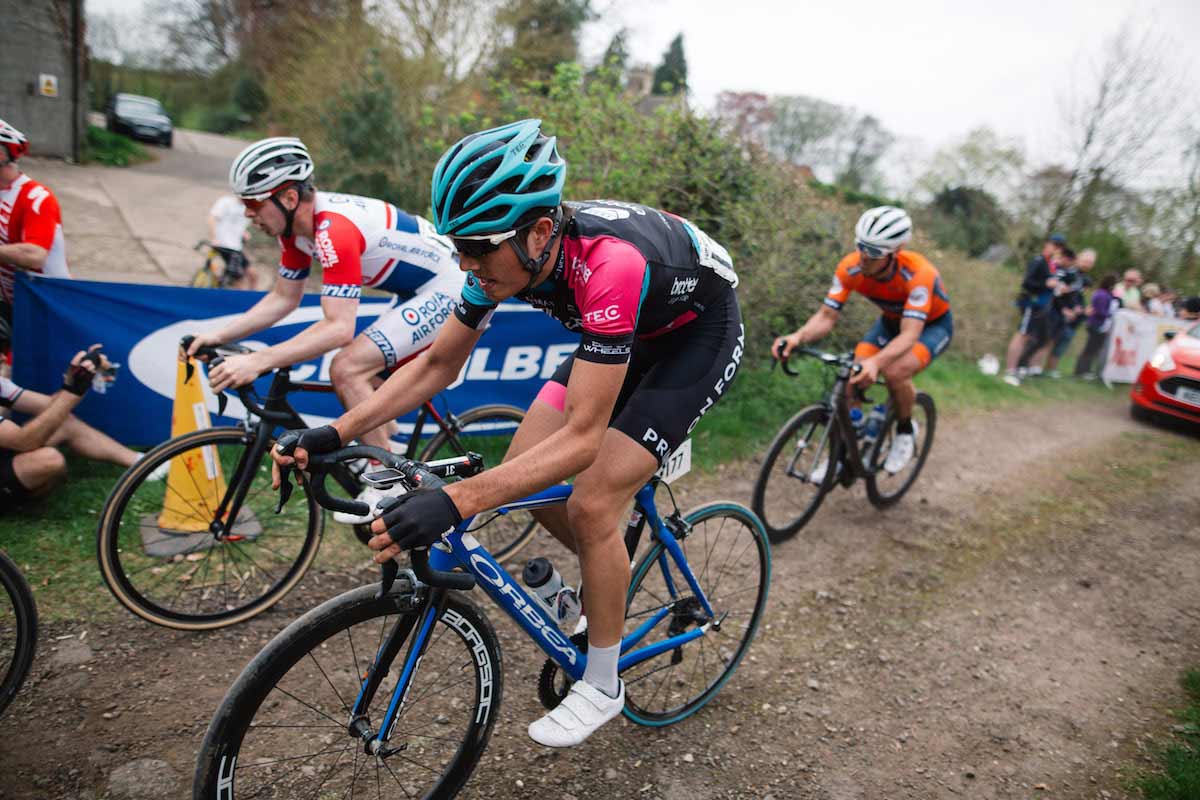 Model Pupil
We reach a significant turning point; not only for Howes' riding career, but for his managerial career too. When, in 1990, he moved to Belgium to begin what would become a seven-year sojourn beneath the roof of former professional Jean Marc Vandenbergh, a move to one of mainland Europe's cycling heartlands represented the only path for development open to a talented British espoir.
In the modern era, the scene has changed dramatically, with British Cycling's Olympic Academy and six UCI Continental squads available to the very best as a means of progression. Howes remains convinced however of the wider benefits to a young British rider of living abroad.
"I'd recommend it to anybody and everybody," he says. "I was very fortunate. When I was in Europe, you would hear stories of people sleeping in barns, but I had an amazing experience. I was taken in by a family who lived in West Flanders, just outside Ypres, and treated as a son."
Team OnForm rider Ollie Jones has just embarked on a similar voyage of discovery, only in France, rather than Belgium. Howes approves, and wonders if he might even have suggested the move to Jones, a strong time-trialist, who, with Team OnForm's continued encouragement, had begun to win from bunch kicks, as well as against the clock.
Jones' willingness to sail his ship in foreign waters, rather than remain within the safe harbour of the domestic scene, is even more impressive when one considers that he could return to a modelling career tomorrow, should he choose. Howes believes that the young man has the inner strength required to succeed abroad. He has remained in contact with Jones through the early days of his French adventure and believes he has the tenacity required to succeed.
"Those who are most talented often don't have that determination, and for me, it's all about determination; that want and need and desire. It's passion. I get goosebumps when I think about bike racing. If you don't get goosebumps, then go modelling. Cycling is the hardest sport in the world. There are far easier sports to participate in. To be a bike racer demands a certain strength of character. I think Ollie has it."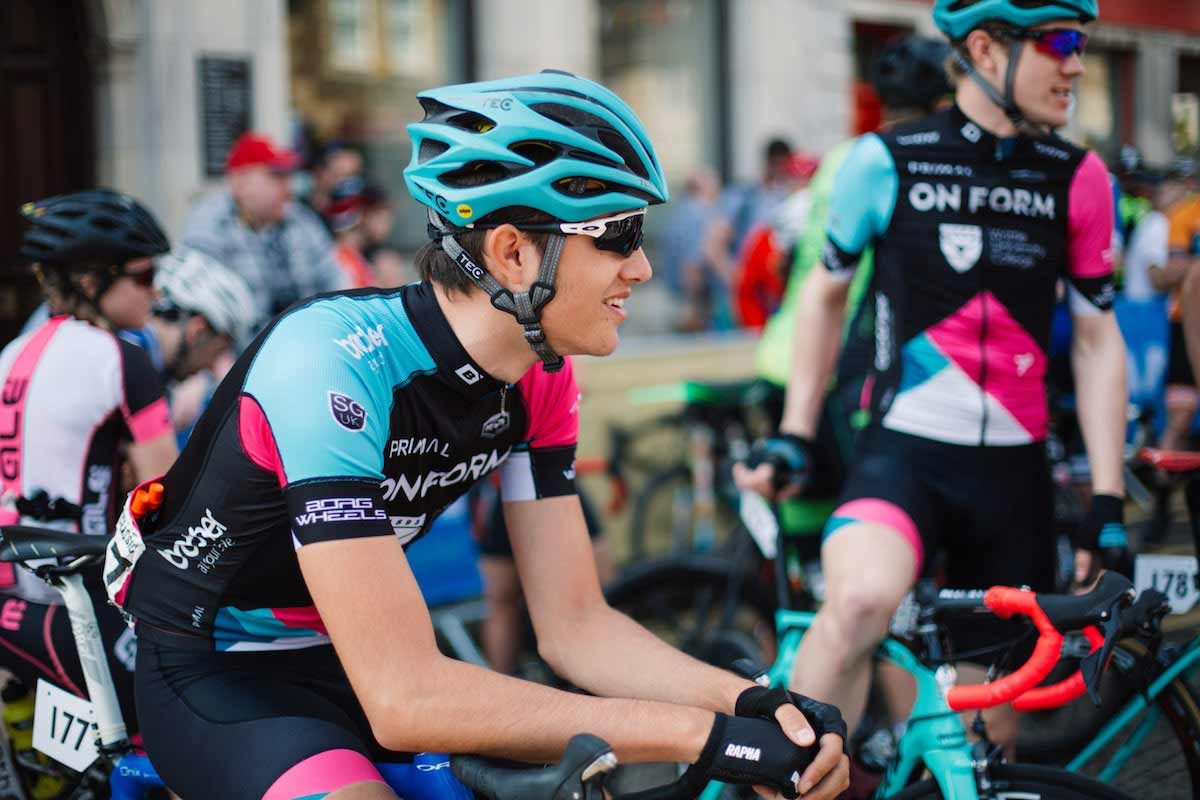 French Connection
Ollie Jones is a young man in a hurry. Team OnForm helped prepare him for his early-season move to France and gained him a place in this year's Rutland-Melton CiCLE Classic, his first UCI race.
A former runway model at the London and Paris fashion weeks, a career many might regard as a dream job, it's hard to do justice to the depth of Jones' ambition to become a professional cyclist, and the level-headedness with which he has approached the task.
His connection to Team OnForm came two seasons ago, through his coach Mark Walker, a sports scientist at Writtle College, one of the team's primary sponsors. Walker introduced Jones to Howes, whom, the rider says, continues to help him.
"Simon helped me to take the step up from club rider to racer; from First Cat to Elite," Jones explains, on a phone line from France. "He's very open. If I ever need anything, or just to chat, I can ping him a message, and he'll pick up the phone."
Howes granted Jones a longed-for place in this year's CiCLE Classic; one of only two UCI-certified one-day races in the UK. Demanding gravel sectors make its billing as Britain's Paris-Roubaix seem not too far fetched.
"I'd always been on at Simon to ride the CiCLE Classic. It's always been the type of race I wanted to do and the type of rider I'd like to be. He messaged me back in April to say that we were in. It was a big thing for me."
Jones admires Howes' ability to select complementary personalities and to build an almost instant camaraderie among his recruits. A sense of fun helps the riders to bear the hardships of racing on a limited budget, he says.
"When the team comes together as a whole, there is no division. Everyone gets along immediately; even riders you have raced against for years, but had never spoken to. When you're together with the team, everyone gets on really well, which makes things so much easier, especially when you're travelling for five hours or sharing a hotel room, for example. You can just be mates."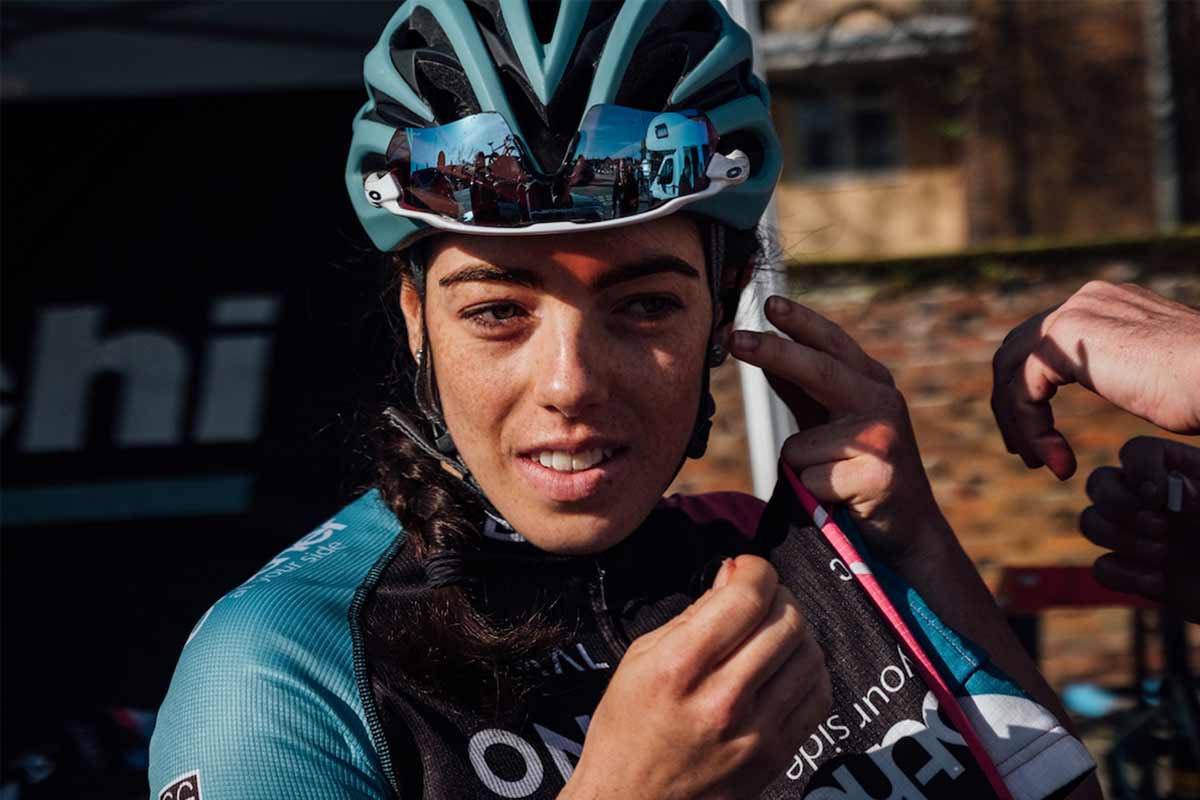 Upward Trajectory
"It's like ' that' at the moment."
Anna Henderson raises a hand at an angle of nearly 90 degrees to her wrist and describes her learning curve as vertical. We chat in the lobby of her team's hotel on the eve of the Women's Tour de Yorkshire. She seems barely able to contain her excitement.
Teenagers aren't supposed to line-up alongside the heavyweights of the UCI Women's WorldTour in only their second season of racing, but Henderson has made it a habit. A week earlier, she had ridden in the breakaway at Brabanste Pijl with the legendary Marianne Vos.
"On the cobbled climbs, wheels were exploding and chains were dropping off, but I'd weave through and see how far I could get. You choose a big gear, grit your teeth, get on with it and try to have a bit of fun, because there's no point doing it, if you can't enjoy it."
While Henderson is new to cycling, she is an experienced athlete, despite her youth. When she speaks of the importance of enjoyment, she does not do so lightly.
After years as a member of Team GB's skiing squad, a "dramatic" crash that broke her right tibia finally ended her love affair with the sport. The joy she gains from cycling, begun initially as a means of recovery from her injuries, is unfeigned.
In so many regards, Henderson is the archetypal Team OnForm rider: a talent so broad that she has already excelled in a different discipline entirely, counterbalanced by a sunny disposition that lays to rest at once any apprehension that her gifts might have inspired a diva-ish streak.
"From the guys behind the scenes to the riders, we all just have fun," she says. "There's no point in taking yourself too seriously, is there? It would be boring. We all get on really well. It's just a great environment to be in."
She says that Howes has transformed her tactical awareness, and on the following day's opening stage, she is in the thick of the action in a bunch kick won by Kirsten Wild. Henderson might hope for a similar career to the hugely accomplished Dutchwoman, but for now, she is simply having fun.
Administrator-in-Chief
Neil O'Brien is the sports director of Team OnForm's senior women's squad, but his duties in the team car form only a small part of his service to the riders.
Helping to plan the race programme, selecting the squad and negotiating entry to races including Brabanste Pijl and the Women's Tour de Yorkshire are only the most significant acts of an all-encompassing role that has made cycling a way of life, even if his is an existence that also includes the responsibilities of parenthood and a full-time job.
"I put in a hell of a lot more work in getting us to the race," he laughs, neatly summarising his efforts before the flag falls. "A lot of people think I just turn up to a race and drive the car!".
He describes a living room in which it isn't unusual to find 14 bikes or 12 sets of wheels. The strain such commitment might place on family life is obvious, even if he remains on such good terms with his ex-wife that together they arrange childcare responsibilities around his race calendar. O'Brien has an understanding employer too, who allows him to use his company car and fuel card for race travel.
If such commitment to an amateur team is rare, then so too are the rewards. O'Brien finds the greatest satisfaction in the achievements of the riders, especially those who have overcome personal challenges to succeed. This might include a victory as prestigious as Julie Erskine's win at last season's Curlew Cup, or a rider new to the sport simply finishing a race.
"Some are new to bike racing, and for many of the women it is new, but a lot of them have talent and they're all fully committed to what they do. It's very fulfilling for me, whether they cross the line first, or just finish the race. It's very satisfying and can be emotional - put it this way, the sunglasses go on at the end of a good race!".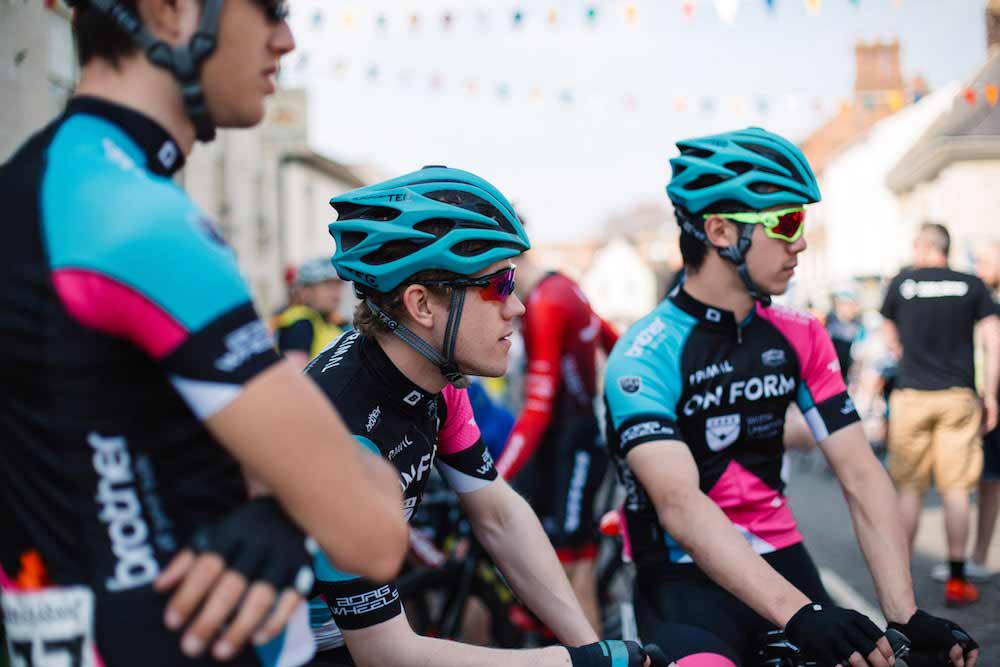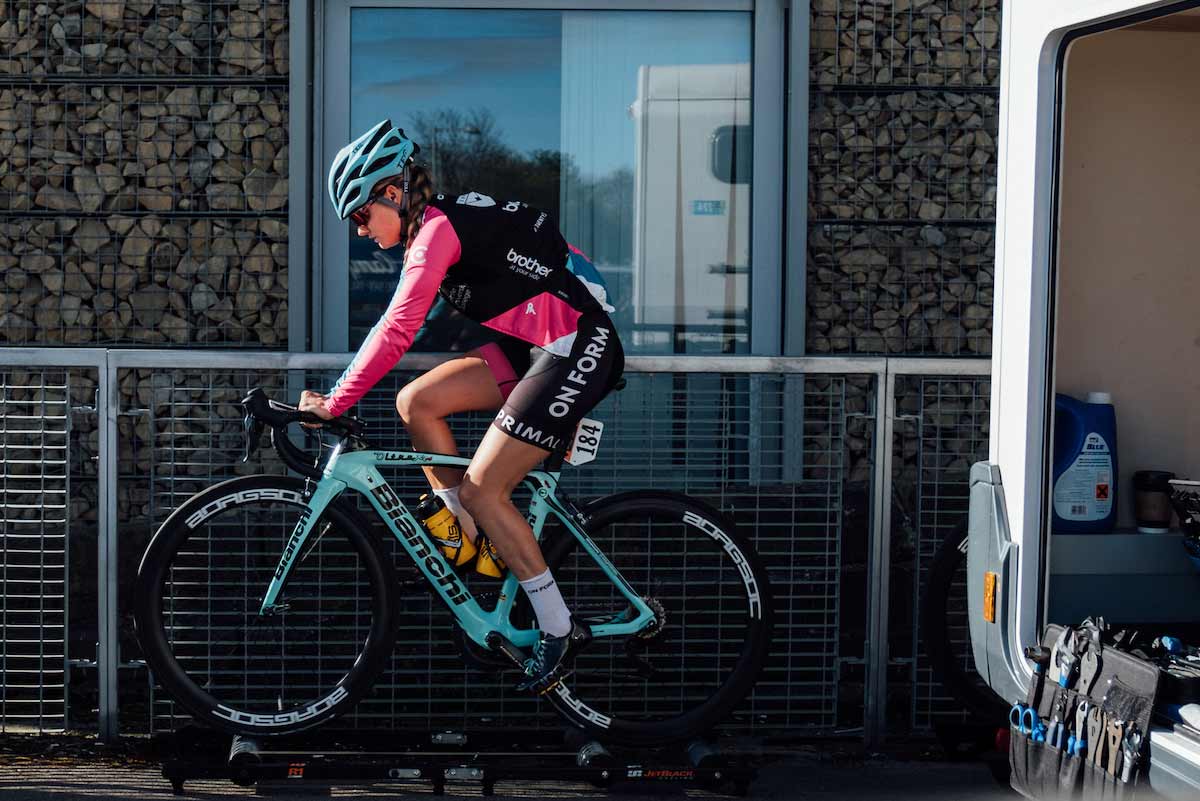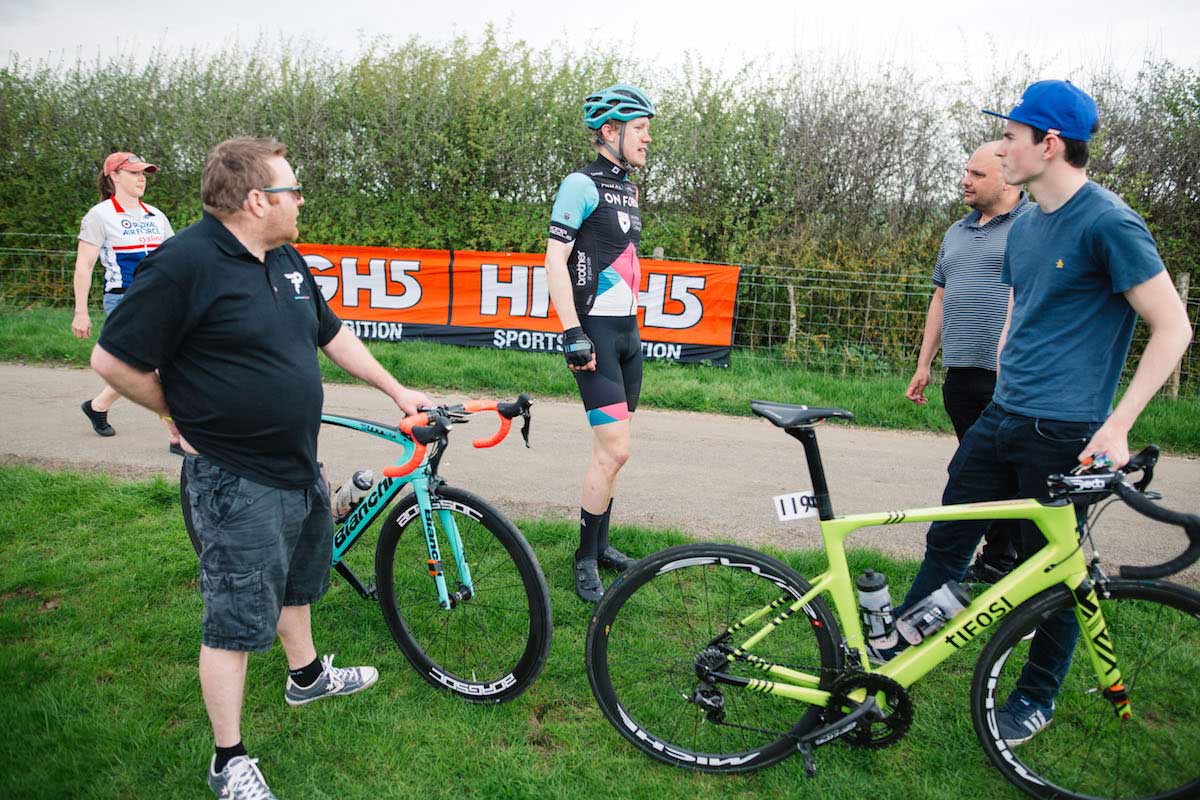 Soldier, Surveyor, Rider...
Charmaine Porter and Tom Elwood are both riders with careers outside of cycling, and, as such, embody a unique aspect of Team OnForm's appeal.
Porter is a soldier serving with 29 Regiment, the Royal Logistics Corps, and a member of the TASS scholarship scheme for elite athletes with full-time jobs. Elwood is a trainee surveyor and 1st Cat bike racer. Each has a background in running.
Porter was 'volunteered' for her first bike race, while stationed in Germany. When we speak, she is still savouring the satisfaction of a top-10 finish in the Aberystwyth round of the Tour Series, little more than a fortnight after crashing out of the opening round in Redditch with cuts that required stitches and a suspected broken leg.
Last season, she raced for the now defunct Team Ford Ecoboost, but is relishing life at Team OnForm. She embodies the connection between enjoyment and performance that Howes has striven to achieve.
"Ford is a big sponsor and last year there was quite a lot of pressure and tension. This year is a lot more fun, which helps performance. You're not going to a race thinking about who you have to please, you're only thinking about your team."
Elwood discovered road racing after a stint as a cross country mountain biker, a career change inspired by two concussions in short succession riding downhill mountain bikes. Cross country racing played to his strength as an endurance athlete and his coach soon introduced him to the road.
Team-mate Alicia Speake, like Elwood a former member of CC London, put him in contact with Howes, who knew of the rider through his coach. Elwood praises Team OnForm's willingness to grant opportunities, typified by his participation in the UCI 1.2 Rutland-Melton CiCLE Classic, in only his third season.
"I knew that to keep progressing, it was important to get onto a team that would present me with opportunities, particularly with Catford CC and Metaltek-Kuota folding last year. It was very good of Simon to reach out and have me in the team, because I know that at 24, I'm a little bit different, and not a junior rider. Getting onto teams is incredibly competitive."
Raising the Bar
Cycle Team OnForm is one of seven domestic squads who enjoy Brother UK's support. It is well placed to fill the gap that exists between clubs and professional teams. While British Cycling's Olympic Academy routinely produces riders for the elite UCI WorldTour, grassroots teams require support to do the same.
For young men like Ollie Jones, Team OnForm has been instrumental in helping to make the jump from First Cat to Elite. Tom Elwood, while embarked on a different career path, might be another who, with the help of Howes, O'Brien and the team, does the same.
The emerging landscape of women's racing is another in which Team OnForm might provide a bridgehead from the amateur ranks to the professional. It is not alone in this regard - Team Torelli-Brother and Fusion RT have similar programmes, to name only the female squads in Brother UK's portfolio - but with the experienced Mel Brand, developing talents like Charmaine Porter, and the obviously gifted Anna Henderson, Howes' squad is making significant steps.
He is effusive when I ask what Brother UK has contributed to the Team OnForm project, identifying not only the fundamental requirement of financial support, but also the benefits of publicity to a team that travels to each race with the "full support" of team cars and motorhome, and with an infrastructure that he estimates is larger than most of the professional teams at the Women's Tour de Yorkshire.
Brother UK's contribution to his own team does not adequately describe its benefit to the wider sport, he continues. With a diverse sponsorship portfolio that spreads the company's budget for cycling among a host of teams, managing director Phil Jones has succeeded in raising standards across the peloton, Howes believes.
"It's made such a big difference," he says. "What Brother UK and Phil are doing by supporting all these teams is making the competition better. They're helping to create more teams, which makes us improve, it makes our competitors improve and it makes the whole scene far more professional and far better equipped to compete at races like the Tour de Yorkshire."