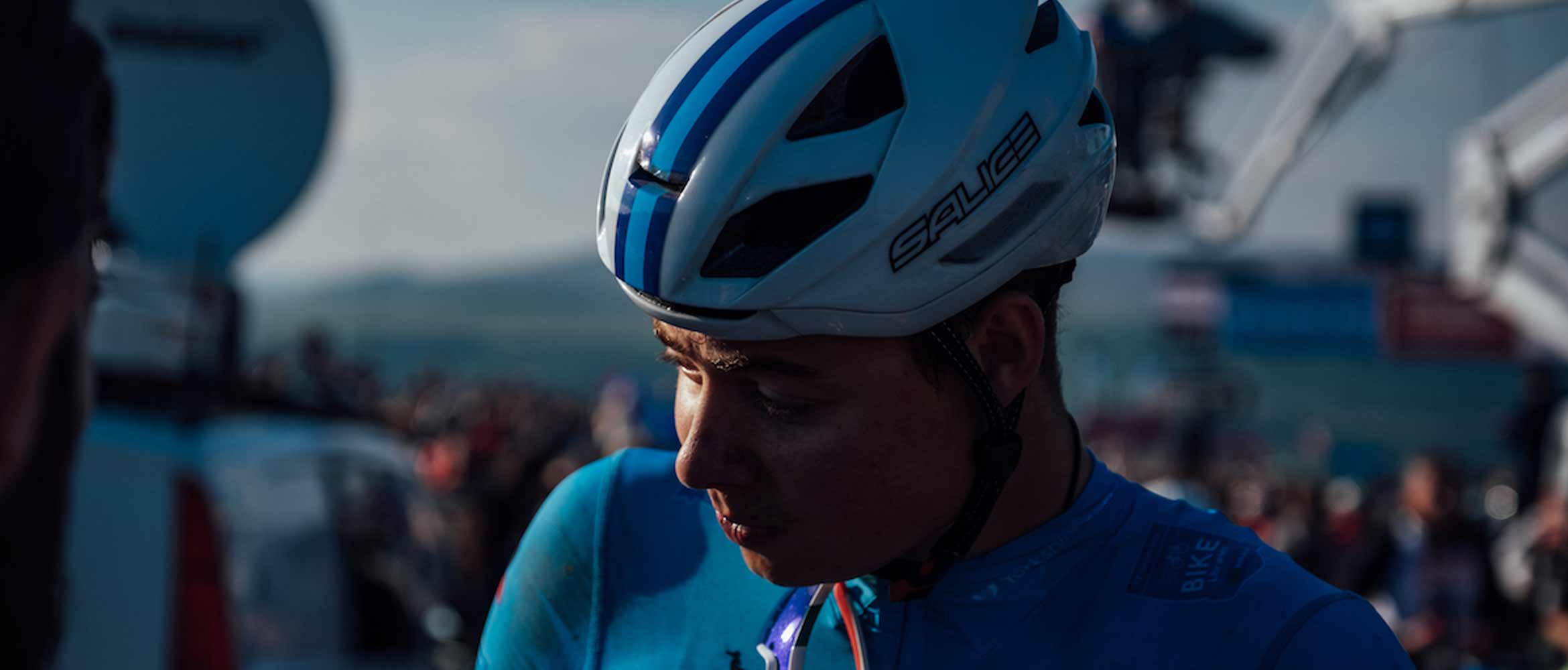 Canyon Eisberg: A day with the team
For Canyon Eisberg, the Tour de Yorkshire provided a rollercoaster ride of triumphs and setbacks. We joined Tanfield, Stedman, Tennant et al for a compelling battle with the biggest teams in cycling.

Keep Stepping
A blue van pulls into a car park on a back street in Barnsley. Inside, amid the comparative gloom of the rear seats, and with a distinctive blue jersey among the miscellany familiar to any professional cycling team, sits the leader of the Tour de Yorkshire. No scene encapsulates Harry Tanfield's rapid elevation, or that of his Canyon Eisberg team, more completely.
The race leader is expected to come from the glittering ranks of the UCI WorldTour, and to arrive in the town's central square in a large and luxurious coach, liveried in the colours of whichever global corporation is providing the lion's share of his team's multi-million Euro budget.
Tanfield's privacy is (momentarily, at least) preserved against the prying lenses of the press photographers and hangers on, but it is a sliding door that obscures his presence, rather than tinted glass and a position lofted high above the gathered hordes.
Canyon Eisberg is a young team; eager, in the words of its manager Tim Elverson, to "keep stepping". Refreshingly, it is an outfit content to punch above its weight, while others do the talking. Twelve months earlier, sprinter Chris Opie had announced his team's presence at the Tour de Yorkshire by finishing third in the opening stage bunch kick. By winning the first stage of the fourth edition, Tanfield has raised the bar. Keep stepping.
The team will experience almost every conceivable high and low by the time five of its seven-man roster finishes the race in Leeds three days later. Alex Paton will be knocked off his bike by a motorist. Max Stedman will ride brilliantly to finish among the leaders on the summit finish of stage two, lose any of the advantage gained there to a mechanical issue on stage three, before spending much of stage four clear of the bunch in a two-man breakaway.
A domestic team able to carry the fight to those on the international stage, Canyon Eisberg is an impressive outfit, rooted in talent, graft and determination. The riders are young and hungry, and its manager is a shrewd judge of character.
Harry's Game
"When I won the combativity award, I thought: 'Right. Job done. That's a day on the podium ticked off. Mega. Now finish the stage.' And then suddenly, 5km after that, I was crossing the line with my hands in the air. I thought: 'This is crazy.'"
They do not come more grounded than Harry Tanfield. His mix of humility and dry humour offers an endearing counterbalance to his formidable physical talent. The van driver is unable to complete his parking manoeuvre while the side door is open, so Tanfield good-naturedly invites me to join him inside.
Our conversation continues, momentarily, behind closed doors, but the rider is unconcerned and continues to sort through his race clothing. Prominent among the pile is the blue leader's jersey of the Tour de Yorkshire. He is entitled to have with him too the green jersey of points leader, but this will be worn by JLT Condor's Alistair Slater, the man Tanfield forced to accept second place at the stage one finish in Doncaster.
"It's been great to get out there," Tanfield says, unable to keep the smile off his face as he reflects on what might be the most significant day of his 23 years. "To get all the jerseys is almost taking the piss, really! It's been incredible. I never, ever dreamt of a day like that."
Tanfield could almost have grown accustomed to "days like that", after winning a silver medal at the Commonwealth Games a month before rolling out in Yorkshire.
When we next see Tanfield, it is in another car park; this time in the greener surroundings of Ilkley's rural fringe. Such is the rollercoaster of professional cycling that his hoped for beginning to stage two – a dream of riding unmolested at the head of the bunch in his native county, at least for a short while - disintegrated with a puncture and a traumatic chase back to the bunch.
Fairytales are rare in cycling, and short-lived. Tanfield's talent is such, however, that he may again find himself living a dream.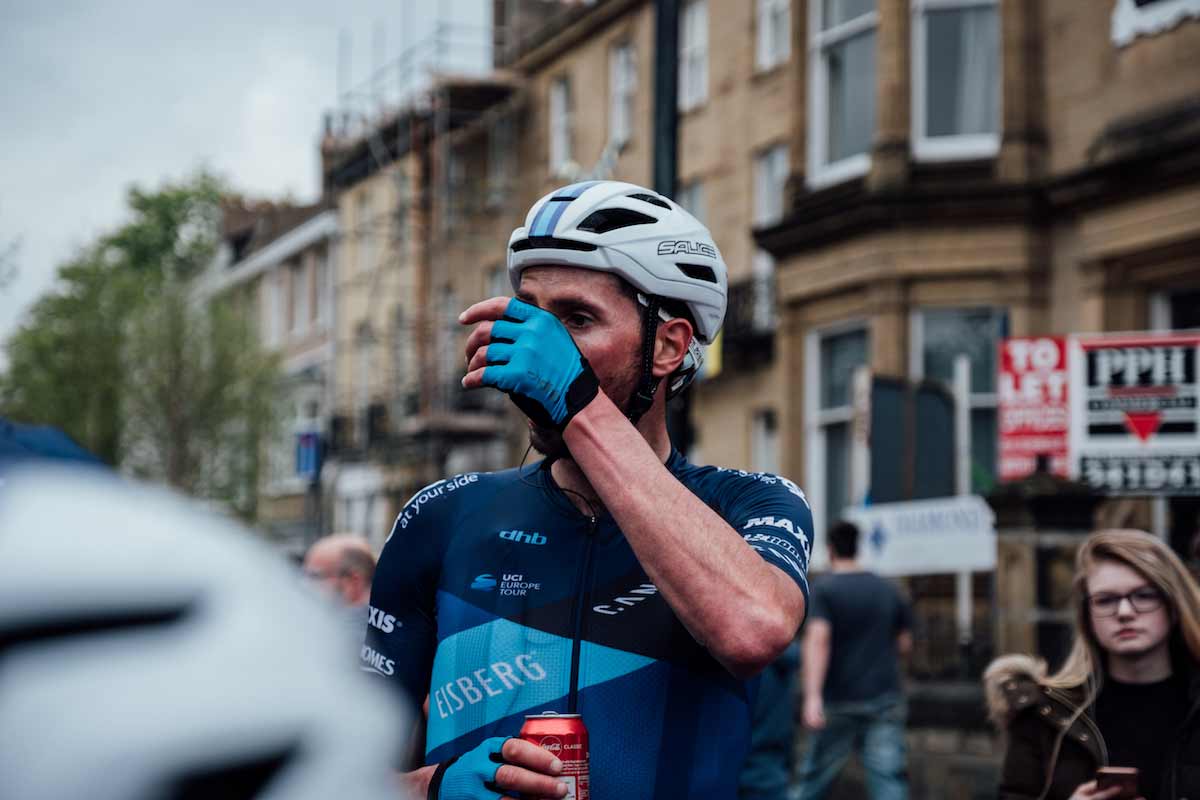 Bloodied, but Unbowed
Alex Paton is philosophical. To expect him to be upbeat after being hit by a car in circumstances where he had every right to feel protected from traffic would be unreasonable. He is cut, bruised and sore, but - thankfully - not seriously injured. It says much that he has remained in Yorkshire, despite his exit from the race.
Instead of returning home, Paton has chosen to stay with the team, washing bikes and handing out drinks, and, before the final stage, riding from the team hotel into Leeds to greet his returning team-mates. Camaraderie is built on such gestures.
Paton's physique offers an obvious clue to his value within the Canyon Eisberg set-up. A 'diesel' in the mould of Team Sky's Ian Stannard, perhaps, his service to the diminutive team leader Max Stedman, a role shared variously by the similarly powerful Harry Tanfield and the shorter but stocky James Lowsley Williams, must be invaluable. Happily, Paton's imposing stature belies an affable nature
"It was an awful experience, to be honest," he says of the collision. "Not only is it rubbish to crash into an oncoming car, but it's even worse when the whole thing is completely avoidable. It was totally out of my control and it should be controllable, which really is quite frustrating. It's done now. What's done can't be changed. I've got a trashed bike and a bit of a ruined body, but considering the crash, I've been lucky."
Paton's insistence on remaining with the team, despite his departure from the race, exemplifies the spirit within Canyon Eisberg. Riders will seize the opportunity of injury to avoid team-mates they dislike. Conversely, no one leaves a happy camp unless they must.
"Everyone genuinely wants to help each other," Paton says. "Ultimately, this is everyone at work with work colleagues, but there's a good friendship between everybody. The team has been put together by Tim's choice of the right type of person, as much as performance. The guys here are not here solely because they can ride a bike; it's because they are the right fit for the team."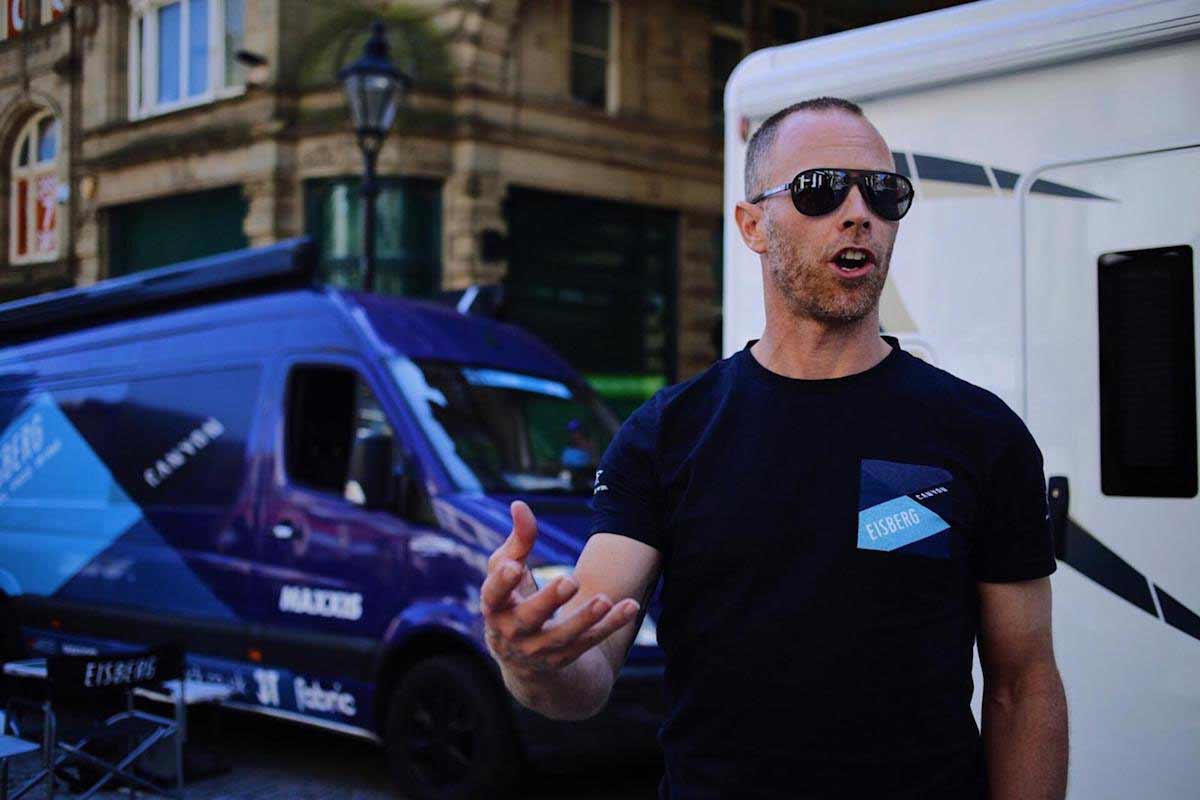 Man Manager
Team manager Tim Elverson naturally commands a place at the centre of Canyon Eisberg's operations. Speak to anyone associated with the team, and you will receive the same glowing assessment of his ability to recruit distinct, but complementary personalities, and then to inspire and motivate them; to manage, in short.
"Tim is very good at managing people and getting the best performance from them," Paton says. "I like how he works, and how he works is best for me; I think that's true for most people on the team. Tim will always get the best out of you, and he will do that with limited resources, compared to many teams."
Elverson is so clearly in his element that he seems to gain enjoyment even from confronting adversity. When we get our first opportunity to talk at the Tour de Yorkshire, it is at the end of a tumultuous second stage in which his team has lost two riders and the lead of the race, but witnessed a stand out performance from its young GC contender and retained, by a technicality, ownership of the green jersey.
Elverson calmly and rationally notes all of the developments, surveys the disintegrated remains of Paton's bike, and considers the impact of the day's finishing order among the British teams upon Canyon Eisberg's qualification for the Tour of Britain in September.
The ever-present sunglasses do much to conceal his emotions, but his rational mind has calculated a host of factors. By any analysis, the 2018 Tour de Yorkshire has been a success for Canyon Eisberg, and a significant advance even from the team's impressive debut 12 months earlier.
"It's satisfying to be able to look at the race in a different way," Elverson reflects. "Last year, realistically we could only look at getting in the break and fighting for the combativity award, but once you achieve a bit more, you have to move the goal posts. I always look for the next step. I prefer steps to ramps, and I like our goals to be achievable, but I like to keep stepping, rather than standing still."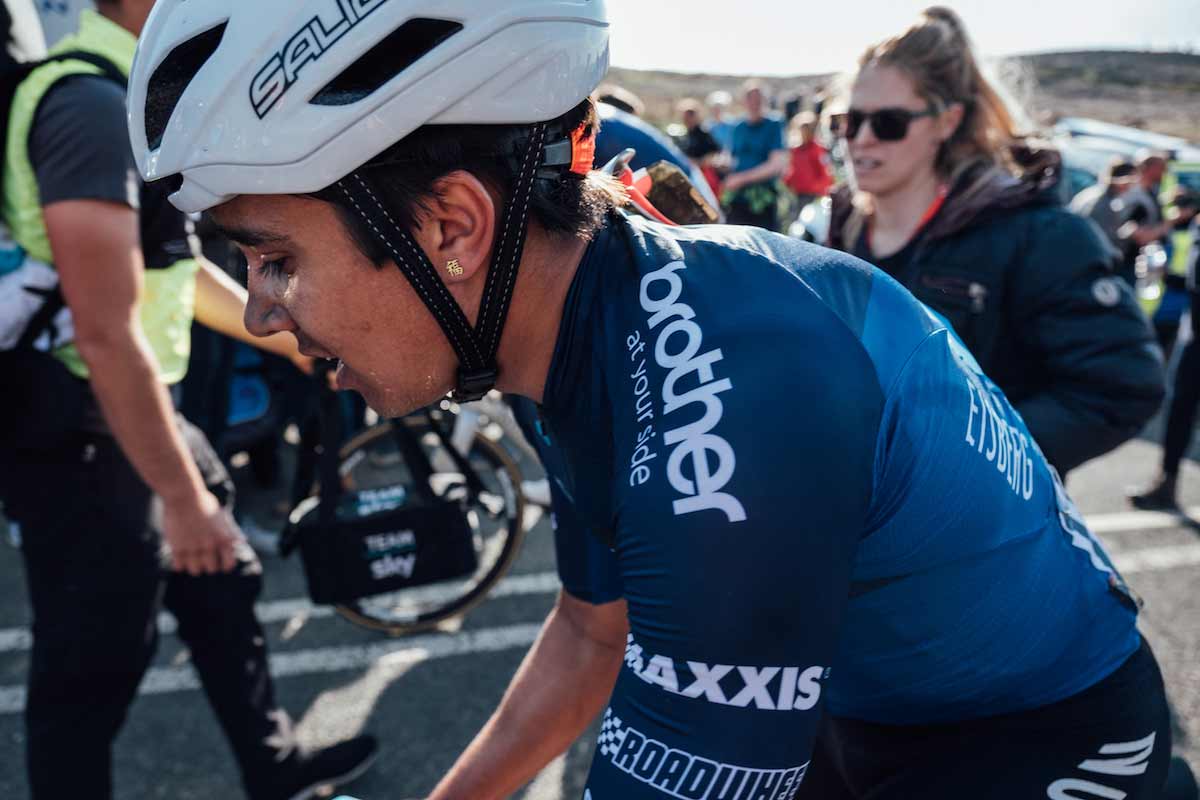 Leadership Goals
Max Stedman gulps in oxygen as he crosses a finish line drawn at the top of Ilkley's brutal Cow and Calf climb; a vicious ramp with double digit gradients. He has ridden into a scene resembling an open-air rock concert, where spectators, team cars, motorbikes, staff, and gasping riders are all part of the melee.
Stedman's suffering is shared by some of the most decorated riders in the sport, for he has finished only 19 seconds behind stage winner Magnus Cort Nielson (Astana Pro Team) and BMC Racing's Greg Van Avermaet, the reigning Olympic champion and a Paris-Roubaix winner.
"I felt that that I was 'creeping', and when I looked down at my power meter, it said 400 watts," Stedman confides, between gasps and gulps of the recovery drink thrust into his hand by soigneur Nick Wolfenden. His expression is a mixture of awe and satisfaction. The numbers testify to the quality of the opposition, as much as the gradient.
"Hank [James Lowsley Willams] dropped me off on Team Sky's wheel and I just tried to surf as much as I could. With 40 guys fighting, it was hard, so I gassed it a little bit at the bottom of the climb to try and move myself up to a better position, and then it became a free-for-all. You can only go so hard before you explode."
Four hundred watts for even the comparatively brief effort required to scale the Cow and Calf might represent the point of combustion for many elite riders. Stedman has shown something more than an impressive output for a rider who weighs around 50kg, however. With the team's strategy centred entirely on his chances, he has delivered, and not for the first time.
"Yeah, I'm getting used to it," he grins, already, it seems, almost fully recovered. "I'm just getting used to taking on leadership. It's a bit weird, because I'm so young; it feels wrong [to shelter], because you want to pay back your team-mates for all their hard work, but you sort of know it's your job to perform at the end. "
A Word from the Sponsor
The endless debate surrounding cycling's dependence on sponsorship is nearly always skewed to the needs of the team. Rarely is the sponsor asked what is in it for them. Nick Allen, UK country manager for Canyon Bikes, seems ideally placed to answer the question.
Canyon Eisberg is a young team, founded only a year earlier under the Bike Channel Canyon banner, but Allen has been involved since its inception. When we speak in Yorkshire, it is less than 24 hours since he stepped from a train into another world, one with hordes of people stood at the roadside, cheering his team.
The direct sales model allows Canyon Bikes to undercut its competitors on price, but offers few opportunities for potential customers to see the bikes in the flesh.
The Canyon Eisberg team goes a long way to squaring this circle. The organisers of the Tour de Yorkshire claimed 2.6m spectators at the roadside, across the four stages; even half that number would more than justify Canyon's investment, one suspects.
"The reason we came into this project in the first place is to try and make a connection to the Canyon consumer; the Canyon public," Allen explains.
"With our direct sales model, we're challenged a lot about where people can see the bikes, so it's really important for us to get out among the public and spread the message. From that perspective, to hit events like this with such a talented and close-knit group of riders to represent us has been unbelievable."
He is not the only member of Canyon Bikes in a state of disbelief. Roman Arnold, the brand's founder and owner, messaged Allen to offer his congratulations following Tanfield's opening stage success; so too had Erik Zabel, four times a winner of Milano-Sanremo. The waves made by Elverson's young squad have reached distant shores.
"This sponsorship ticks every box for us; it really does," Allen continues. "The results are fantastic and, of course, we love to see the team winning races. But it's also about integrating ourselves in the public psyche, and from that perspective, the Tour de Yorkshire has been an incredible success."
Seen it, Done it
Andy Tennant has been there, seen it, done it, and got the t-shirts, including one with rainbow bands. A former world champion on the track, and a stalwart of the domestic road scene, there are few more authoritative voices in the Brit pack than Tennant's.
Stood in the unexpected but beautiful sunshine illuminating Richmond before the start of the Tour de Yorkshire's third stage, he reflects on a career that has coincided with an explosion in the popularity of cycling in the UK.
"I've seen it," he says. "I raced in the first edition of the modern Tour of Britain and thought the crowds were big then. Yesterday was bigger than 70 per cent of Tour de France stages, bar something like Alpe d'Huez or the Champs Élysées."
During a race, Tennant's opportunities to reflect upon the growing status of British cycle sport are rare. Elverson described him as having done the work of two riders to pull Harry Tanfield back into the race, when Tanfield punctured while wearing the leader's jersey on stage two. Tennant, to his credit, shrugs off the complement by joking that he had no choice, after Paton had been hit by a car. Gallows humour is often a refuge for the men of the peloton.
Twenty-four hours later, he has repeated the feat of keeping a team-mate in the race, this time sacrificing his own chances of a placing in the sprint on Scarborough seafront to pace team leader Max Stedman back into the bunch.
Stedman had suffered a mechanical at the worst of times: as BMC Racing rolled the dice to place their UCI WorldTour rivals under pressure. Tennant is not complaining, however. He is riding with the team he had watched with envy 12 months earlier.
"I wasn't in the team last year, but looking from where I was within Team WIGGINS, I could see that Canyon Eisberg were the team at the Tour de Yorkshire. Looking at this year's race, we were thinking, well, how do we better that? And I don't think we could have done much better than winning the opening stage."
Suaveness and Savagery
James Lowsley Williams has the debonair aspect of a Formula One driver from an earlier age, when they were free-spirited mavericks. With his blonde hair swept back and held in place by the expensive eyewear propped above his brow, he exudes a carefree charm.
"Ultimately, this is the best job in the world, isn't it?" he says, gesturing at the surrounding crowds and the blue sky above. "You ride in the sunshine in Yorkshire, in front of thousands of people, with millions more watching on the television. I'm happy to be here."
While he is clearly not weighed down by care, Lowsley Williams is a more thoughtful character than he would have you believe. His performance at the Tour de Yorkshire is multi-faceted, necessitating a shift, on the final stage, from Stedman's wingman and the team's GC back-up, to team leader.
The role of super domestique is his preferred occupation, however. He guided Stedman into position on the approach to the Cow and Calf, fighting through the carnage of the approach to earn a place alongside the heavyweights of the UCI WorldTour at the climax of the stage.
"You get a bit of an adrenaline rush, when there are six UCI WorldTour riders on the front and it's just me in the wind, with Max on my wheel. We're punching above our weight, but we're here with a really strong squad, and it's a case of one for all and all for one."
Such spirit proves necessary when Stedman's hopes of a high GC placing fall apart with a mechanical issue. When we speak again to Lowsley Williams, in the hotel car park ahead of the fourth and final stage, he is no less approachable, but now keenly aware that he will carry the burden of leadership.
Finally, when we speak in Leeds, at the conclusion of the race, he is unable to conceal his disappointment, having blown up on the final categorised climb, after a brave and committed performance. "It was just a savage day to be honest," he concludes, "but it was the same for everyone."
Speed Bump
Chris Opie has had to suffer disappointment in a race where he excelled last year, but rather than return home at the first opportunity, after discovering early into the second stage that he had nothing in his legs, he has stayed in Yorkshire to support his team-mates.
He is experienced and honest enough to admit that his decision was influenced by the cost of returning to Cornwall from Leeds at his own expense, but he has made the best of his enforced absence from the race.
It's hard for someone who isn't a professional bike rider, particularly one with a skillset as specific as Opie's – bullet fast on a flat finish and a skillful reader of changing wind conditions, forced by his physiology simply to hang tough until the final 200m in many races - to understand the frustration of watching the end of a race you started.
"I'm getting older, and I know there'll be fewer and fewer opportunities, because I'm not going to race forever. I know I need to make the most of these opportunities, and to be at a bike race, watching the race I'm supposed to be in, and seeing it turn out to be a sprint finish, is grueling, really."
Watching a bunch kick decide stage three was a bitter pill, but rather than allow himself to be consumed by disappointment, Opie washed bikes and offered words of encouragement to his team-mate Max Stedman. Not that Stedman needed much encouraging, he adds. Like many in the team, Opie was impressed by the young climber's ability to bury the disappointment of stage three and then attack stage four.
"I really feel for Max, but one thing you have to remember is that every successful athlete will have hundreds of setbacks that you never hear about, and for Max stage three was one of them. In ten or 15 years' time, he won't even think about it. It will just be one of those small days in his career, which if he remembers at all, he'll think: 'Oh, that could have worked out a bit better for me.'"
Laying it Down
Canyon Eisberg is one of seven teams who enjoy Brother UK's support. Its core of young talent, exemplified by the Tanfield brothers and Max Stedman, is the common factor uniting them with stablemates in Brother Cycling's diverse portfolio. At the Tour de Yorkshire, for the second year in a row, they proved their ability to punch above their weight, more than justifying the backing.
Stedman, by the common consent of his manager and team-mates, seems destined for the UCI WorldTour, and Harry Tanfield must also be on the radar of the sport's biggest teams ("I'm not interested in moving sideways," he told me in Yorkshire). Should Elverson be forced to recruit again, however, he is unlikely to struggle.
On this specific matter, the view of Canyon's Nick Allen is worth considering. As title sponsor, he is simultaneously at the heart of the team and at one step removed. When he is able to attend races, he enjoys the advantage of informed observer.
"Speak to any of the riders, and the first thing they say is that they wanted to ride for the team, including those who have joined from other teams and have looked from the outside in. It's testament to what we, collectively, have managed to build here: that so many people want to ride for this team.
"Tim has always picked the right characters. It's not just about a rider's palmares. When they connect instantly and support each other, then you're only going to end up with the result that you've seen over the last four days. Today, I've seen that team ethic first hand: guys literally laying it down on the road for each other. You can only do that if you have mutual respect."
Anyone at Brother UK will readily recognise the value of respect and results, to a professional cycling team or a multinational technology business. The Tour de Yorkshire provided a window on how such important values served Elverson and his riders over four brutal days of racing against the biggest teams in the sport. To have been at their side was a pleasure.