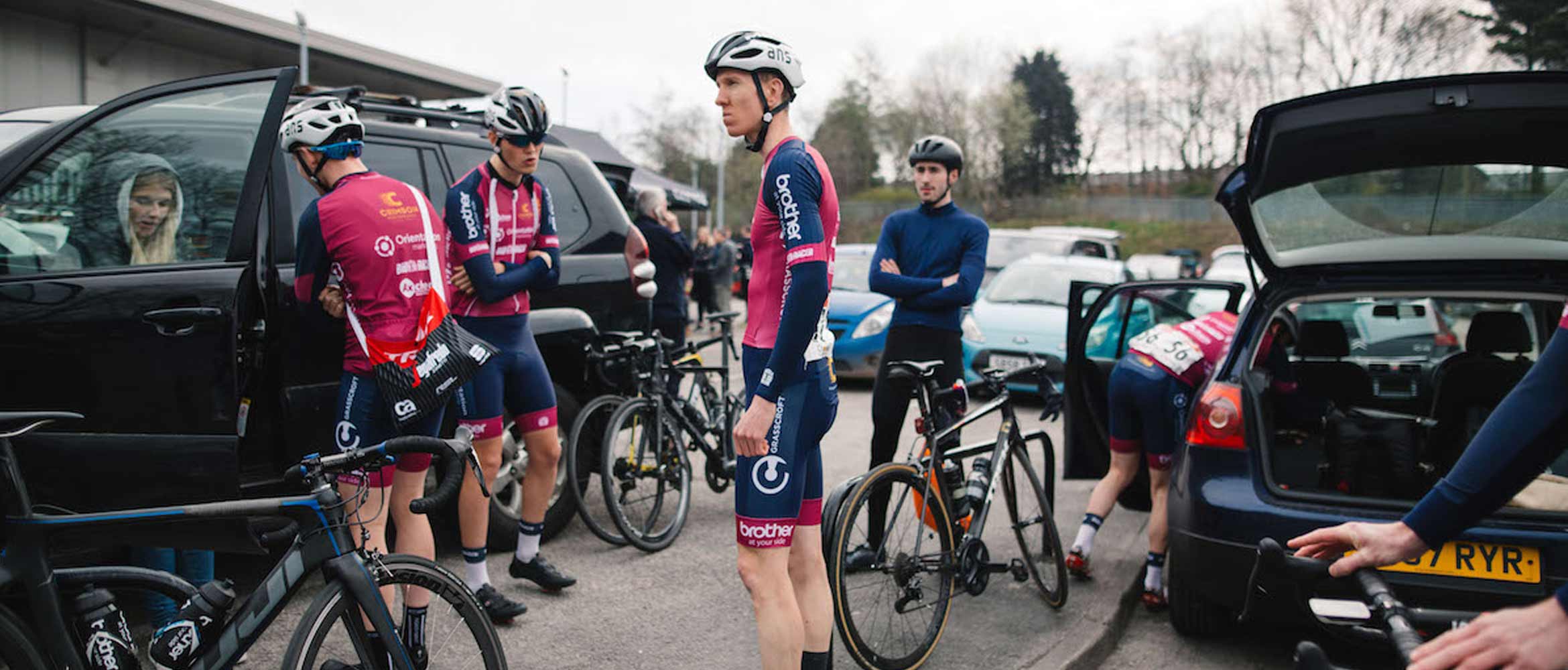 Crimson Performance Racing Team
Matt Hallam's purpose in forming the Crimson Performance Racing Team was to give riders in north west England an opportunity to compete in Britain's biggest races. After only one season, he is already considering the possibility of one day pursuing UCI Continental status for his team.
Crimson Tide
The Brother UK-sponsored Crimson Performance-Orientation Marketing cycling team is a young squad in a hurry. At the end of a valuable first campaign, its riders and management are already preparing for a second campaign with an expanded roster and increased budget. It is an outfit on the rise.
Founded by rider-manager Matt Hallam as a vehicle to grant opportunities to riders in North West England to compete in the UK's more prestigious races, Crimson Performance is rooted in a strong regional identity. The phrase "True Northern Grit" is printed on the collar of the team's jersey.
Hallam is clear that his is a team learning its trade, but with appearances this season in two rounds of The Tour Series, and at the Grands Prix of Chorley, Lincoln, Ryedale and Stockton, it is one unafraid to do so in public.
Significantly, he describes the trade being learned specifically as the business of running a sustainable team. Those who have watched the recent demise of outfits with grand ambitions but no discernible identity will welcome Hallam's vision.
"We had nothing this time a year ago: no images, no results, no marketing collateral to entice sponsors; nothing, in fact, except an idea. But we pulled in my contacts and gained enough support to sustain the team for a year. All of the sponsors who supported us in 2018 have renewed. We've doubled our budget for 2019, and we're welcoming new sponsors. Given our goals for next season, we're extremely grateful for the support."
Hallam's goals are certainly ambitious. Ultimately, he would like Crimson Performance to gain UCI Continental status and so take its place alongside more established squads like Vitus Pro Cycling Team, another outfit that enjoys Brother UK's cash support.
It is refreshing to hear to such positive talk, given the overwhelmingly negative tone of the debate around domestic cycling. Hallam and his Crimson Performance squad, however, are proving that cycling is an attractive prospect for sponsors who can be certain of something tangible in return for their support. Those sponsors include Brother UK.
"It's a privilege to be involved with Brother UK, who are synonymous with the domestic racing scene," Hallam says.
Full circle
Hallam's passion for cycling gained its first expression in triathlon. Having represented Great Britain as a 23-year-old at the World Aquathlon Championships (swimming and running), he later added a third discipline to his sporting resumé.
While Ironman events helped him to develop mental fortitude, as well as physical, Hallam admits that cycling was the weakest of his three disciplines. Much work was required to turn it to a strength.
He is far from alone in this regard, of course. Many former triathletes turn to cycling equipped with a huge 'engine', but lack the bike handling skills on which a competitive rider depends.
"When I started racing a bike five years ago, I think I was almost last in my first crit, which was a fourth cat only race," he admits.
"As a triathlete, I was so used to being on my own on the bike, and not having to think about others, that riding in a group didn't come naturally. Learning the skills to race did, however.
"I went from fourth cat to second cat in a couple of months, and won quite a few crit races. Racing a bike in a bunch quickly started to feel natural, even though it was difficult to begin with.
"It came full circle with The Tour Series this year. I used to watch Tour Series races and think it was crazy to ride that fast and to take corners at such speed. In five years, I've developed a lot as a rider."
Hallam acknowledges the largely unspoken truth that even the best crit riders hate riding crits, but has tasted the elixir that brings the champions back to the cauldron, week after week, race after race.
"It's like being on a rollercoaster for an hour, but the sense of exhilaration is incredible. I can't wait to go again next year. Maybe that's my personality type; I like to put myself in a challenging environment and learn to enjoy it," he reveals.
"The whole experience of The Tour Series was incredible. None of us had ridden a round before, but we raced this year at Redditch and at Aberystwyth. It was a crazy experience, but we learned a huge amount."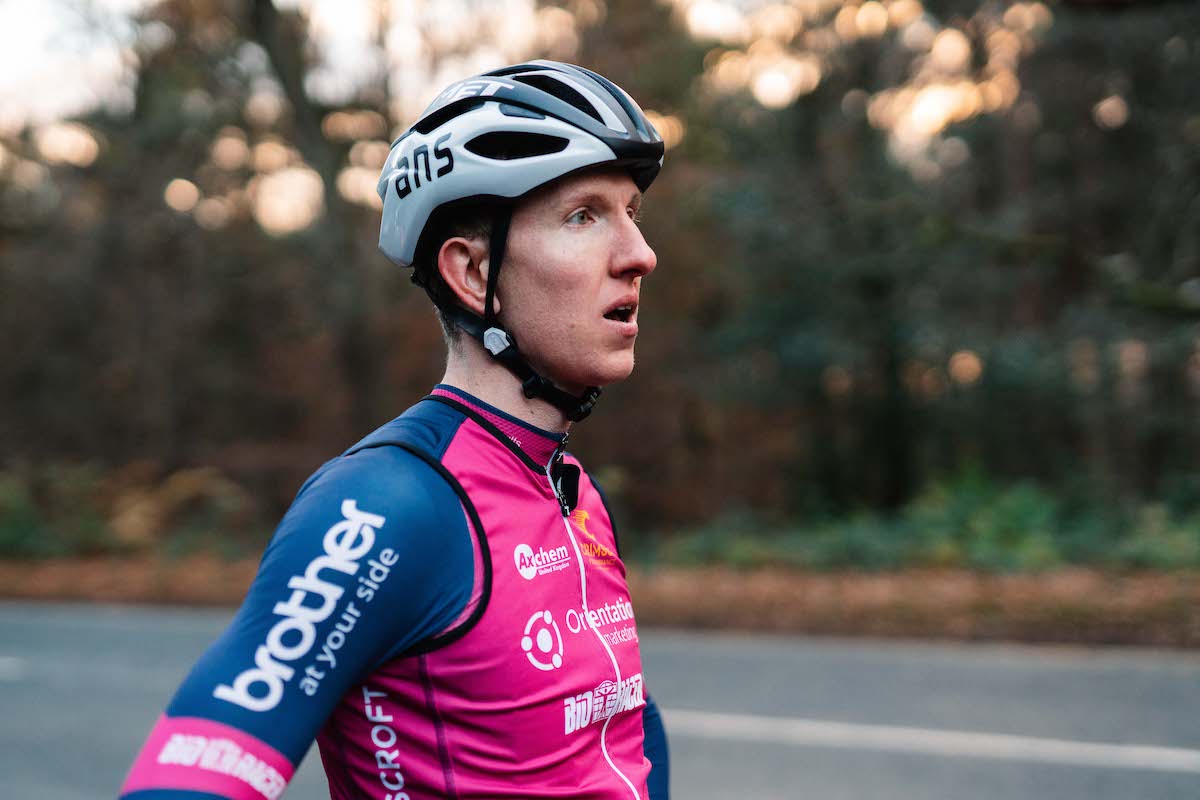 A personal goal
Hallam describes the formation of his Crimson Performance cycling team as a personal goal. The squad made its debut this year, but its manager and team leader had a three-year plan in place before a pedal had been turned.
The team's initial goal was to provide opportunities for riders in the North West to gain entry to more prestigious races. In its first season, Crimson Performance has competed in the aforementioned brace of Tour Series rounds and four races featured in what British Cycling used to call the Premier Calendar.
There is more to the team than merely competing in the biggest races that will have them, however.
"It's not just about results," Hallam confirms. "We want to have riders committed to engaging with sponsors and who want to develop and grow with us. It's important to find riders with the right personality type. We get together regularly, which is important from a team-building perspective."
The recent demise of two of the most well-established squads - JLT Condor and One Pro Cycling - has seen the rider transfer market flooded, and Hallam reports that he is in conversation with a rider from the latter.
All told, he received 62 applications for the 14 places available on his squad for 2019. With eight riders retained from the ten who raced for him this year, Hallam believes he has a strong nucleus to build upon.
"The whole image of the team is one with a social, family environment. Now we're reaping the rewards, with people wanting to join. We've welcomed another six riders for 2019. The team is looking really strong."
In another significant development, Hallam has recruited a full women's team for 2019, having taken on six riders this year after the collapse of a female squad in the north west.
"The mission statement for the women's team is to inspire other women who like the thought of racing, but can't quite commit. It's very much a development team in that sense, and focussed on the north west."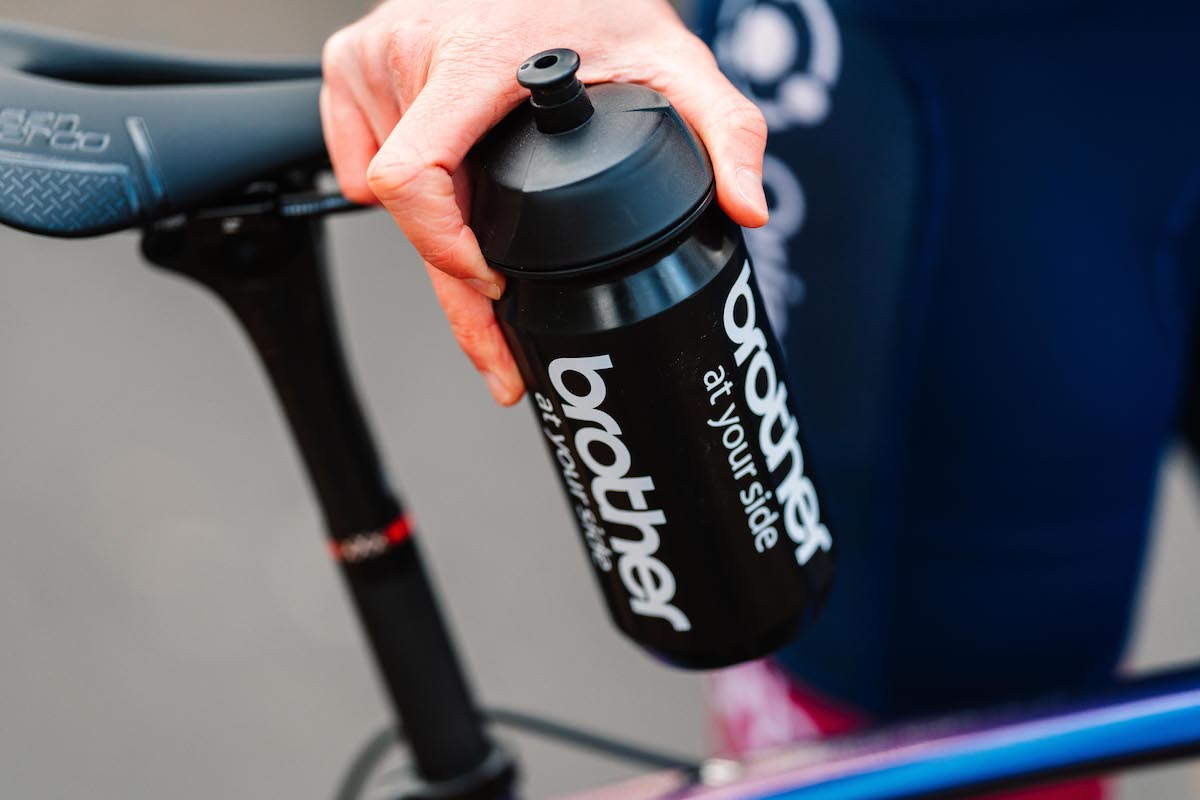 Adam Macrae
When Adam Macrae talks about racing in Belgium, he is unable to keep the excitement from his voice. His tone remains tranquilo, as Vincenzo Nibali might have it, but there is an unmistakable heightening of the emotional pitch.
"Belgium is a mecca for cycling," he says. "That was the highlight of my year - going out there and getting a result in a UCI race."
Macrae speaks of baptism by fire in a kermesse series. His unmistakable passion for a style of racing that some more jaded competitors consider a cruel and unusual punishment is refreshing.
"In my first race, I had a mechanical, and after I'd got going again, I decided to stay in the group. In normal circumstances, I prefer to attack straight away. I'd rather go out all guns blazing and hurting, rather than at the end of the race find myself thinking: 'I wish I'd attacked.'" In my second race, I just went for it and was in the break from the opening lap. That's my sort of race: a flat, 65-mile kermesse. The average speed was 28mph."
Note that while Macrae is evidently a force on the bike, he is no gifted princeling, but a 29-year-old builder and former rugby union centre. It's hard to imagine a greater contrast with some of the young British riders who regard a chaotic chase around the streets of a Flemish town as a harrowing but necessary part of their cycling education.
Macrae first met Hallam in Cambodia, while he was travelling in 2013. When the pair reunited three years later for a ride on Macrae's training routes near Keswick, brutal roads familiar to veterans of the Fred Whitton Challenge, Hallam wasted little time in inviting him for testing.
The rest is history. In March, Macrae finished in the top 20 at the Eddie Soens Classic ("my first big race") and next year hopes to compete in The Tour Series. Standing 188cm tall and weighing 80kg, he seems a natural born crit rider.
He speaks with genuine passion about the camaraderie within the Crimson Performance team. An older rider, content to lead by example in matters off the bike, from helping to find sponsors to post-race packing, Macrae must be a valuable asset to his team, in every sense.
Alistair Thomas
It's a truism, more or less, that even the best crit riders do not enjoy crit racing. Something about the relentless accelerations, desperately late braking and dive-bomb overtaking manoeuvres is enough to curb the enthusiasm of even the strongest rider.
Alistair Thomas is different. While the first to admit that he is still learning his trade, he relished racing this season for Crimson Performance in rounds of The Tour Series at Redditch and Aberystwyth.
"I absolutely love racing on closed circuits and in town centres. I love the technical nature, from a handling point of view. I consider myself far more of a bike rider than an athlete. I love the pure enjoyment of riding a bike. If you throw in corners, that's even better."
While the first instalment of such a demanding double left him shell shocked - "Redditch opened my eyes to just how furious racing in The Tour Series can be" - the second offered exhilaration and hope.
"I wouldn't normally take heart from finishing 30th or 40th, but I was over the moon with my performance in Aberystwyth," he reveals. Thomas finished in 35th place.
"It was a technical course with lots of rough patches and cobbles, loose grates and all sorts, but that played into my hands. I got away in the front group, until Harry Tanfield (Canyon Eisberg) split the field. As a team, we had a fantastic result, finishing ahead of Ribble, Holdsworth and all the guest teams."
Tanfield's solo victory in Aberystwyth provided clear evidence of how competitive The Tour Series has become. Thomas is a rider of real pedigree - a former British Universities Champion in the team sprint, racing in a line-up that included UCI World Cup winner Jacob Tipper - but readily acknowledges the scale of the challenge in competing on the road against riders like Ian Bibby and triple Olympic champion Ed Clancy OBE.
This is not to say he his overawed. Thomas' plan for 2019 is simple: to produce better results and to make his mark against more experienced opposition. He describes himself as a pure sprinter. His successful first career on the track and a 72kg physique attests to a propensity for fast finishes that should stand him in good stead as Crimson Performance prepares for its second season.
Jamie Ridehalgh
Jamie Ridehalgh has found a home with Crimson Performance-Orientation Marketing after a failed attempt to advance his career with a second division outfit in France left him questioning whether he had the talent to fulfil his ambition.
Rejuvenated by his experiences with Matt Hallam's squad, and refreshed by the new challenges of racing in British Cycling's National Road Series and starting a university course, he is rebuilding his confidence with a team that he says balances focus with fun.
"It's a happy medium," he says of the equal emphasis Crimson Performance places on enjoyment and results. "There's so much passion and enthusiasm for the sport within Crimson Performance, as well as an undertone of seriousness. There's a healthy alignment between the team's goals and the riders' goals, which I think is a testament to Matt."
Ridehalgh had not expected his adventure in the Franche-Comté region to end so quickly. A promising talent, who last year had impressed his French soon-to-be employers by finishing in the top ten on the queen stage of Brittany's prestigious Ronde des Valles junior race, he seemed to have both the ability and dedication to succeed abroad.
"I discovered immediately that the level in France was much higher than I'd expected. I'd spent a month training in Tenerife prior to moving, and I'd trained a lot at home with British pros competing on the domestic calendar last season, including Rob Scott, who's now the British U23 champion. I was confident in my form, because I'd trained hard and eaten properly."
He describes his experience in France as humbling and difficult to process, but is now far advanced on the road to recovery. Since returning home, Ridehalgh has won a race, retained his second category licence and found a new team. He says that joining Crimson Performance has been the most significant aspect of his rehabilitation. Now, he can look forwards.
"I'm open to progression. I learned a lot about myself in France, and experienced a lot of different sensations. There was a time when I thought I was going to quit racing, but now I'm really optimistic, and looking forward to fulfilling my aim of riding the National Road Series."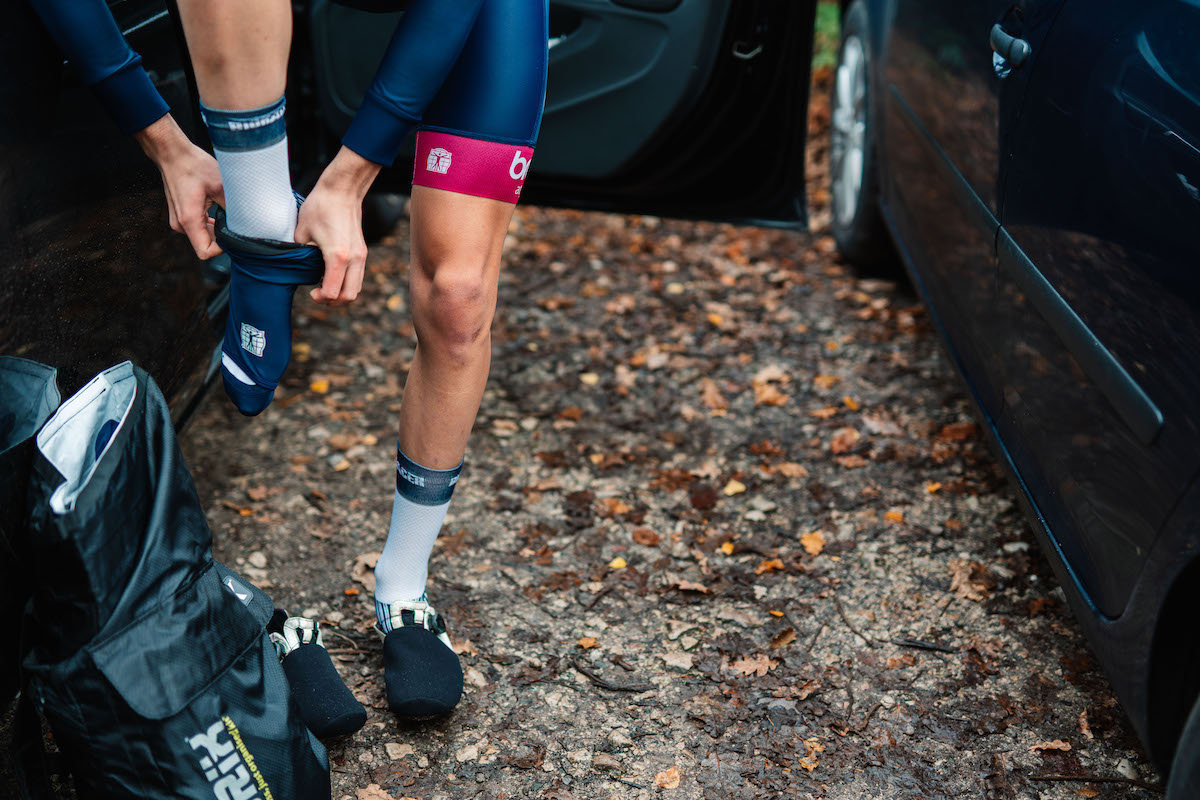 Jonathan Bridge
In June, Jonathan Bridge walked into a shop in Manchester for a bike fit and left with an invitation to join the Crimson Performance cycling team next season.
Bridge is still only 20-years-old, but with experience already of racing in Italy, courtesy of the Zappi Race Team. Hallam wasted little time in recruiting him. Riders of Bridge's age and potential might represent the future of his team.
Bridge is a graduate of Grimsby's Lindsey Roads CC, and later of the Acre Racing Team. He has already gained experience in national junior races in the UK and in more demanding engagements in Italy.
A 62kg climber, with a fast-developing talent for time-trials, Bridge has raced since the age of 12 and is already able to live for most of the year as a full-time rider.
"It's too soon to discuss a specific race programme, but the opportunities for next season with Crimson Performance are very good, and I'm hoping to make 2019 a breakthrough year," he says.
Bridge began 2018 in Spain, living and training in Calpe, the Costa Blanca's cycling mecca. After building pre-season form, he moved on with his Zappi's team-mates to the North East of Italy, where he raced "pretty much every weekend".
He returned home early to the UK, but is confident that home roads will assist his development as well as any. While he has yet to race a National Road Series event, he has competed over equivalent distances in Italy and arguably over more demanding terrain.
"The chemistry in the team is great," Bridge says of his new squad. "The bond between the riders at Crimson Performance made it very appealing for me to sign. You know that everyone is focussed. Everyone knows what they're doing and gets along with each other."
Oliver Huszar
Oliver Huszar had considered moving to Belgium to race as Dave Rayner Fund-ed rider. When he mentioned the programme offered to him by Crimson Performance for next season, however, Tim Harris, a former British champion and the DRF's man in Belgium, advised him to stay put. There can be few higher complements for Matt Hallam's young team.
Huszar is a track endurance rider of national standard, whose Tuesday night track league buddies include Ben Swift (UAE-Team Emirates), and Team Sky's Chris Lawless and Ethan Hayter, but even he admits to a baptism of fire this year at The Tour Series.
He raced in both of the rounds to which Crimson Performance was invited, and while he identifies the Redditch round as the high-point of his season, he waxes lyrical about his experience in Aberystwyth too.
"The atmosphere was phenomenal. It was a weird sensation. I'd raced in crits with only four people watching, and here they were stood in rows four deep, all supporting us. Rubbing shoulders with an Olympic champion like Ed Clancy OBE is quite something. I found myself on the wheel of Charlie Tanfield and the crowd went crazy, so I thought: 'I'd better stay here!'".
Huszar first met Hallam last August and was immediately impressed by his vision for the team. He speaks glowingly of the camaraderie; even riders who have left the team remain in contact, he says. For Huszar, a sense of togetherness is as important as entry to even the most prestigious race.
"There's no other way," he says of the necessity of bonding. "If you don't get on, what would be the point? I love racing, but you have to enjoy the training too. Your team-mates need to be like family, because you train with them for five hours a day. You can't ride for five hours and not speak to them!"
Next season, Huszar will reduce his hours at an accountancy practice to dedicate more time to training. A career in cycling is his ultimate ambition, and he believes that in Crimson Performance he has found a team to help him fulfil it.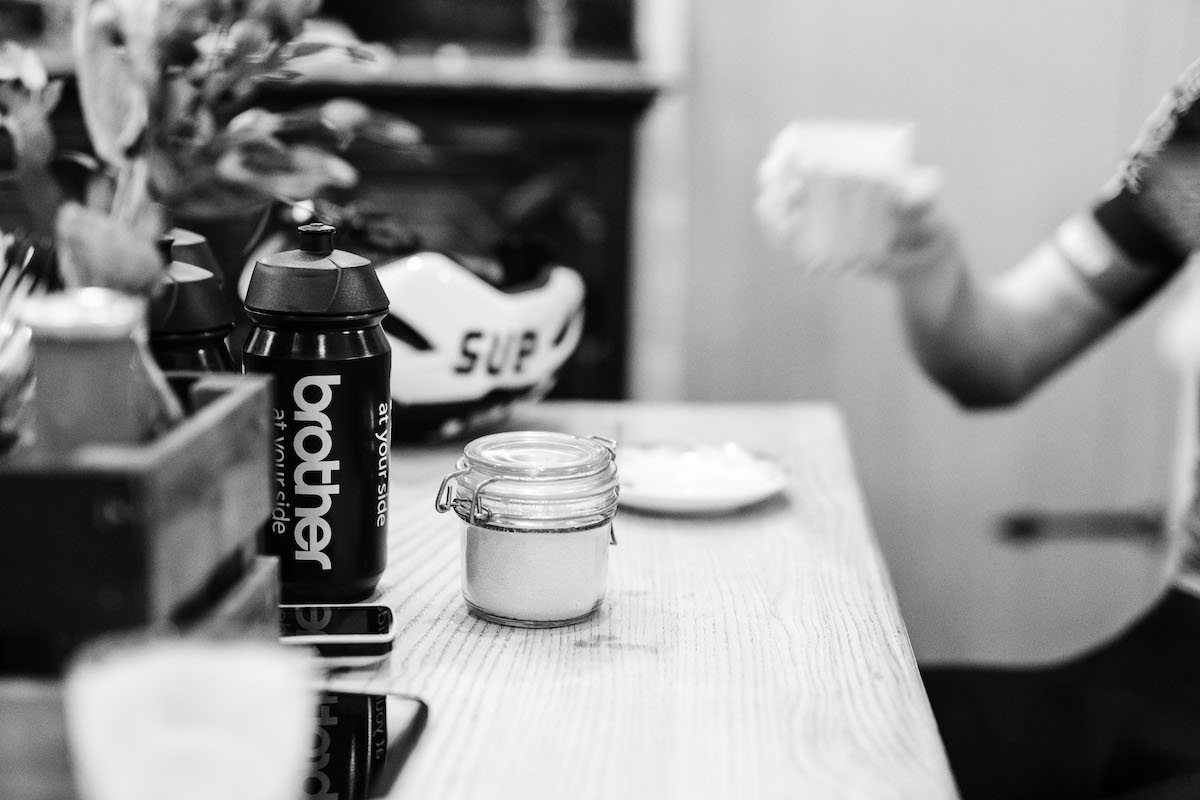 At Your Side
Next year, the Crimson Performance cycling team will again enjoy financial support from Brother UK.
Hallam makes no secret of his gratitude for the technology giant's backing and is clear on the comparative value of cash over equipment.
More importantly, Hallam's team is one of a growing breed that recognises the value to a corporate backer of a clear identity based on recognisable values.
"You need the right pieces of the puzzle in place to bring people to the team," Hallam says. "We're all passionate about cycling and all love racing our bikes.
"We can provide value because we have such a large social outreach and actively engage with our sponsors, whether that's by producing marketing material or making appearances at corporate events."
Hallam's innate understanding of the value of engagement is the engine that drives his team. A year ago, he admits, he had nothing more than a a concept and a list of contacts.
Fast forward 12 months, and the Crimson Performance-Orientation Marketing squad is preparing for a new season with twice the budget. Hallam's existing sponsors have renewed their contracts and new supporters are coming aboard.
Brother UK's financial backing for its supported teams has made it the most valued sponsor in domestic cycling. Speak to any of the squads identified by Managing Director Phil Jones MBE as deserving of Brother UK's support, and they will tell you that cash is a more valuable commodity than equipment.
"There is no substitute for financial support, 100 per cent," Hallam agrees. "You can't sustain a race team with tyres and helmets. The monetary input is crucial."
Industry Insider
The Crimson Performance cycling team occupies an interesting location on the map of domestic racing, both figuratively and literally. Not only is it located in the English scene's North Western heartland, but it is ready to take its place among the more established squads of the domestic peloton.
That the rise of Crimson Performance should coincide with a tumultuous period in which two such squads have met their demise proves only the truth of Tennyson's observation of changing orders. Despite the hysterical reaction in certain sections of the cycling media, the domestic racing scene is not dead. Crimson Performance are living proof.
Much of this encouraging state of affairs lies in Hallam's vision for a team with values: a sociable squad with a family atmosphere, welcoming to sponsors and to the public. While he is the first to admit that the team is learning its trade, in sporting terms at least, his industry knowledge seems already in advance of more established competitors.
A bike fitter of national reputation and co-developer of the online training programme and performance testing software for which his team is named, Hallam has placed himself at the centre of the two biggest consumer trends in cycling: the widespread adoption of bike fitting and the growing embrace of power-based training.
"A professional bike fit can yield huge returns in comfort, performance and injury prevention. A bike fit is now considered the starting point with a new bike purchase, which shows how much the industry is shifting. In my opinion a bike fit is a pre-requisite to enjoying your bike. You can't out-train a poor position," he says.
"With Crimson Performance, we've developed two pieces of software from scratch. We hope that we've been able to innovate by creating digestible information for people who don't want to be baffled by the science behind power numbers."
Determination and camaraderie exist in even quantities within the team. The riders are hungry, but friendly; athletes with a host of different experiences, but united by a shared spirit and fired by Hallam's leadership.
After building successful and continuing relationships with some of the domestic scene's most promising outfits, Brother UK it seems has embraced yet another young team on the rise in Crimson Performance-Orientation Marketing. Hallam's squad is one to watch.