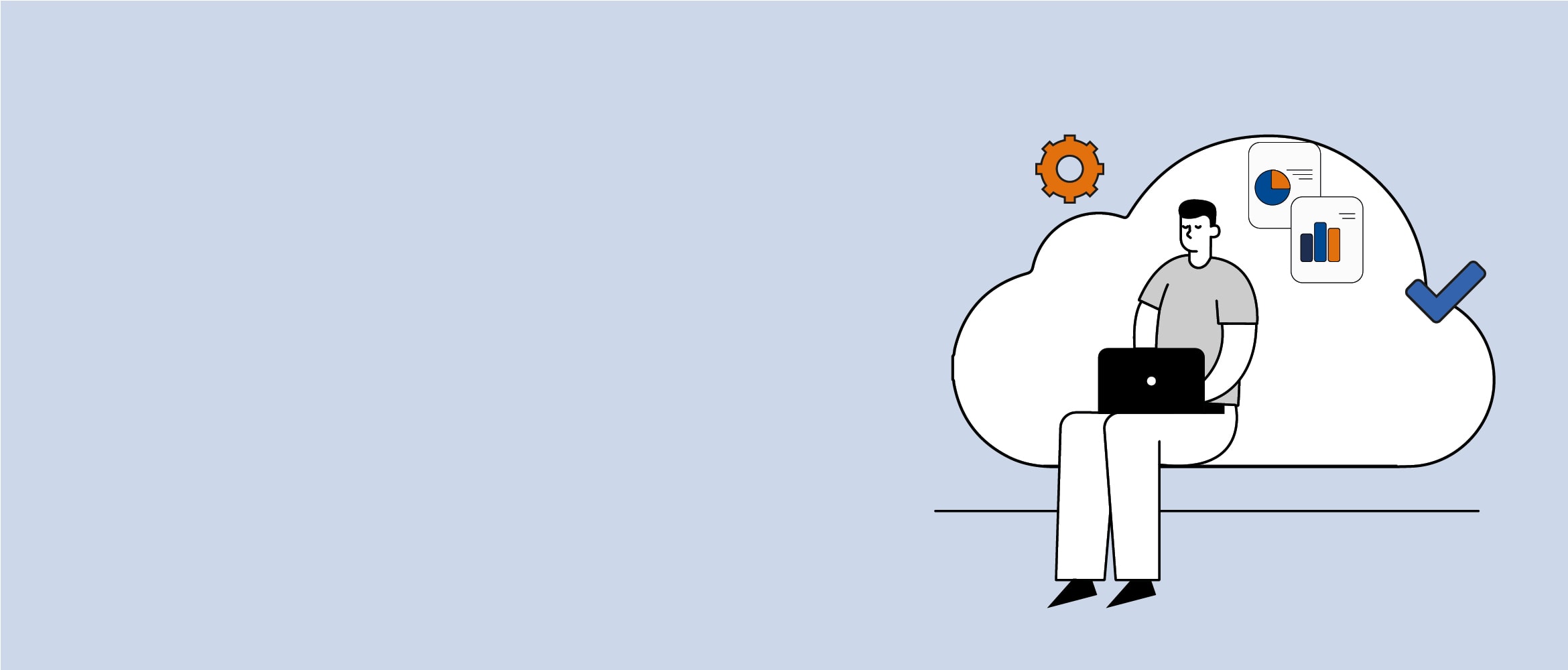 What is cloud storage?
With more and more organisations focused on being 'cloud first' in the new era of hybrid working, it's time everyone got up to speed with this innovative storage solution.
Cloud storage has long been heralded as the future of business, and that future is here. But what is cloud storage? If you've heard colleagues talking about 'the cloud' or 'cloud migration' without fully understanding what these terms mean and how it works, then we're here to help.
Cloud storage definition
Cloud storage allows users to securely store and retrieve information off-site through the internet on servers maintained by a third-party provider. This eliminates the need for organisations to invest in expensive data storage hardware while providing greater scalability, security, and stability. Instead, businesses simply pay for the service of transferring their data to the cloud provider.
The wide-ranging benefits of cloud storage, from cost savings to virtual working, have led many organisations to adopt a cloud-first policy. This essentially means putting a focus on cloud-based technology solutions above all others. It sounds great, but how does it actually work?
How does cloud storage work?
Saving information in 'the cloud' may sound like you're sending it off into the ether. Still, as we've explained above, this simply means having your data hosted off-site by a service provider. Data is saved and backed up across multiple servers, so it's incredibly secure, stable, and available whenever you need it via the internet. Even if one server is down, the most significant cloud storage providers have a network of data centres, so you'll always have instant access to your files. As well as being convenient, this is a big plus for business continuity and resilience.
Access is often through a portal, website, or app. You can connect using almost any device from any location. This gives organisations a considerable amount of flexibility and agility in how they work.
Hybrid working? No problem. Colleagues in the office and those working from home can collaborate on files simultaneously. There are many more benefits, too. Organisations no longer need to commit significant space, capital, and time to physically store and manage data onsite. Instead, the cloud storage provider maintains the necessary hardware and security while you just pay for the service. You can also scale up or scale down the service, so you only pay for the capacity you need. Whereas onsite storage will always have an upper limit, the cloud is practically limitless.
It's not just about storing information either; you can also download, share files, and print directly from the cloud. Brother has a suite of cloud-based apps, which offer exciting new ways to create, edit, and share documents from your machine. You don't even need a computer; these apps can be accessed directly through Brother devices, which connect to the cloud via Brother Web Connect. This allows users to upload files straight to various cloud storage sites such as Dropbox, OneDrive, and social media platforms.
Brother has recently partnered with Kofax, pairing our industry-leading printers and devices with Kofax's ControlSuite software. That means boosting productivity by ensuring documents and information get to the right people at the right time. How? Through automated workflows and processes, wherever they are. This has opened the door to cloud-based printing and print management – another innovation in the future of business.
Cloud storage comes in public, private, and hybrid forms. Public types use the internet to transfer data to your storage provider. Private storage offers a secure network for your business. Hybrid gives users the option to switch between the two, depending on the information they're storing. For instance, while daily emails could be uploaded via a public cloud, sensitive business information would be held privately.
Types of cloud storage
There are three main types of cloud storage – block, file, and object storage. The first type organises data into blocks as if they were hard drives. This is good for large databases because separating data blocks across nodes is said to offer better performance.
On the other hand, file storage follows the pattern of how we usually store data on our computers. This essentially means your information is saved in folders and files, echoing the way paper documents are stored. Finally, object storage categorises information using metadata and a unique identifier. It is often used for unstructured data.
The difference between the three types is primarily to do with the architecture of the storage.
Summary
Suppose you're still physically storing all of your business data on expensive hardware in your workplace, or worse yet, a room full of filing cabinets. In that case, it might be time to turn to cloud storage.
In today's digital work of hybrid working, colleagues may be distributed across multiple locations, including traditional offices or working remotely from home. As a result, it's more important than ever to have access to files in real-time, being able to save, download, share, and print, all from the cloud.
To find out more about the solutions helping businesses to keep their teams working effectively across a borderless office environment, visit our hybrid working hub.