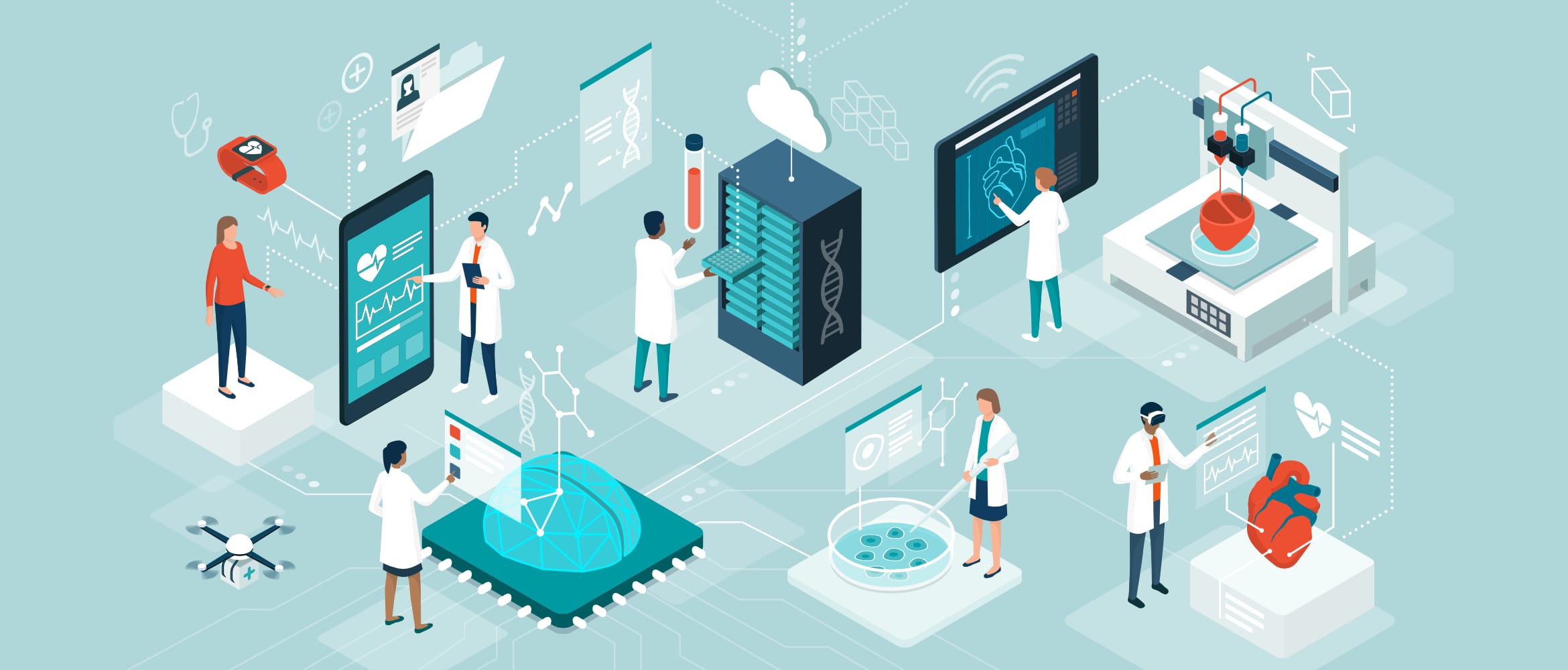 Can technology improve healthcare safety in the NHS?
The lockdowns that hit the UK in 2020 and 2021 were imposed with just one aim: to minimise all unnecessary contact with other people, stopping the transmission of the COVID-19 virus.
Despite widespread vaccinations since 2000, tens of thousands of people still die from the flu every year in the UK, for example. And healthcare settings can be a source of infections like MRSA, C. difficile, E. coli and salmonella.
At the same time, bugs constantly evolve and mutate to build up immunity to many treatments, becoming drug resistant so-called 'superbugs'.
As the lockdowns proved, minimising contact is an effective way of reducing the risk of transmission, and there are numerous ways that technology can support this.
Remote control
Making the NHS safer needn't rely on revolutionary technology. Many of the tech solutions helping to keep the NHS safe for staff and patients already exist, and it is just a case of adopting them at pace and scale. This can be as simple as using the latest label printers to track samples accurately or scanning patient records so they can be shared electronically, saving medical professionals time, enabling them to spend longer with patients – even if that is virtually.
We've seen how, during the pandemic, GP surgeries rapidly pivoted to online appointments to help control the spread of the virus, as have some outpatient services.
Almost three quarters of routine GP consultations were delivered remotely in April 2020, up from a quarter the year before, and many would like this to remain the default option going forward, including the health secretary Matt Hancock.
Patients – and clinicians too – have become accustomed to remote consultations, with GPs able to access patients' medical records electronically, generating further time efficiencies for practices. This will undoubtedly remain a key part of the GPs service offer.
The pandemic is also set to accelerate the growing use of smart wearables and devices to remotely monitor and manage chronic diseases and long-term conditions, such as diabetes, or to support outpatients after they are released from hospital following an operation, for example.
Gadgets like the latest Apple Watch can accurately measure heart rate, temperature, blood oxygen saturation and even take an electrocardiogram.
And there is emerging technology that can even read vital signs including heart rate, oxygen saturation, respiration rate and heart rate variability just by analysing a selfie video.
Smart and sterile
But there will always be times when a face-to-face consultation is a must, and antimicrobic booths are now being rolled out by the NHS to create clean and sterile environments where clinicians and patients can meet.
Theses antiviral, antimicrobial, clean air pods are essentially sealed rooms where the air is filtered to remove up to 99.9% of harmful particles.
And all surfaces have a catalytic coating which is activated by light, creating a reaction that continually disinfects using a chemical-free process that kills microbes.
Other innovations include touchless staff lockers, which work using an access card or smartphone, which further reduces the need for staff to touch surfaces, causing cross contamination.
The allocation and use of lockers can be managed using software and a user can even be blocked from accessing their locker if, for example, a deep clean is needed.
COVID-19 has had a huge impact on the way organisations of all kinds have to operate, and healthcare more than most.
But it's not just wearing masks and washing hands – tech is playing a key role too.
See how Brother's specialist healthcare solutions are helping improve patient and staff experience and increasing the time clinicians can spend at the bedside.
---
Reference
1. Edge Health: 'As many as 1 in 5 people in England have had the Covid-19 disease'