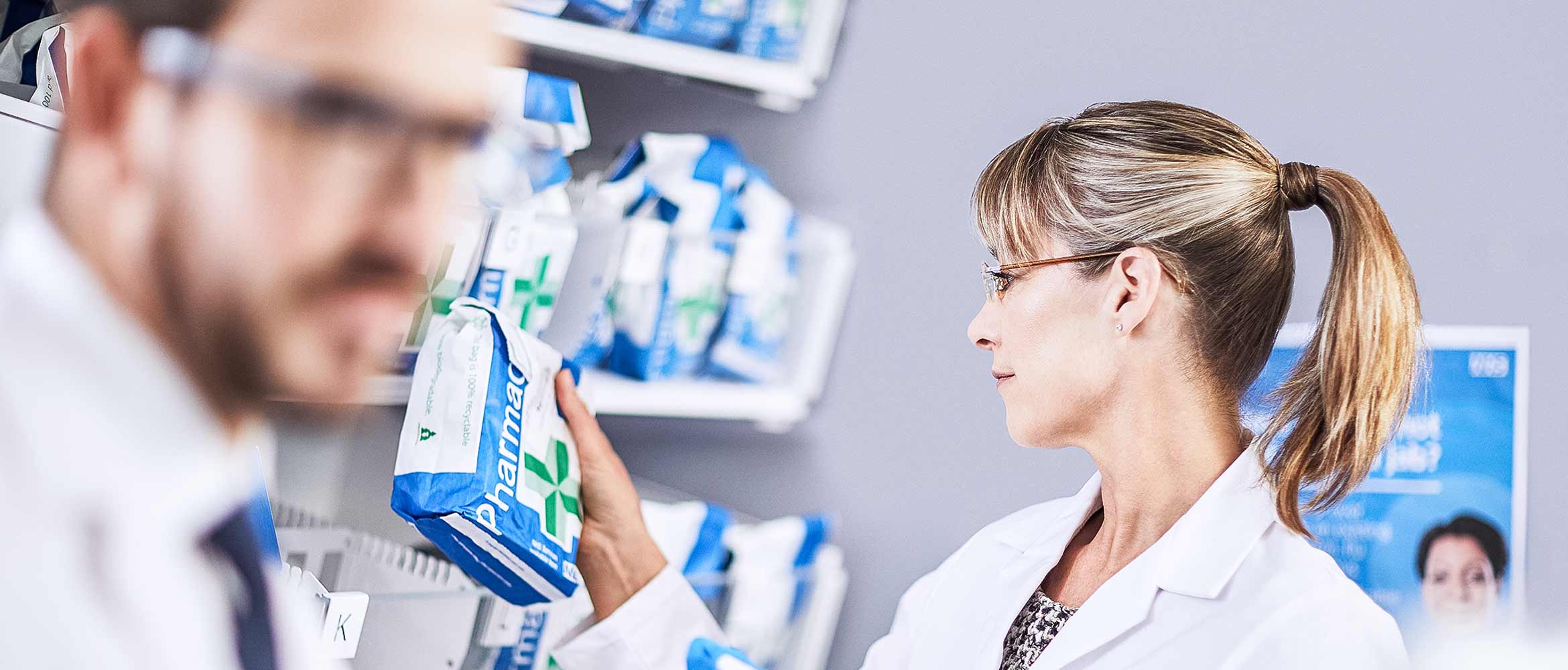 'It's the last line of defence': why medical labelling is more important than you think
Brother printer devices are helping to bring 'design in safety' into the labelling of medications.
"We spend an enormous amount of money on the health service but we don't spend enough on making sure that products are used appropriately, and labelling is essential to that," says Theo Raynor, professor of pharmacy practice at Leeds University.
Raynor has taken a special interest in how medicines are used in primary care, and the type of information people are given about them, such as the labels on their prescriptions.
"If things like labels are poorly produced, then there are two problems," he explains. "The first is that people don't get the right message, so they don't necessarily do the right thing and they might take a medicine that's incorrect.
"But also … if it's tatty and not well-presented, then you feel less positive about it and maybe you are less likely to view it as being of value."
Healthy experience
Brother has more than 20 years' experience helping to improve practices across the healthcare system with new labelling technology. Initially, this revolution in printing meant an end to time-consuming, handwritten requests for samples and tests, which often led to errors, illegible labels, and GPs spending less time talking to patients and more time on administration.
Now labelling devices, as well as the way information is transferred within the NHS, has moved on, with pharmacies at the frontline of this digital revolution.
"We've got electronic prescribing now, so a lot of prescriptions are not pieces of paper any more – they're electronic messages," says Neal Patel, a pharmacist at the Royal Pharmaceutical Society. "The labelling itself is basically the end point of a shift of data around the system."
But how the labels are printed is still important and can have a huge effect on the efficient running of a pharmacy.
"Pharmacies were one of the first places [in the healthcare service] that we saw printers en masse," continues Patel. And printing improved efficiency and safety by reducing transcription errors.
One of Brother's key designs for pharmacies is the TD-2000 range of compact label printers, which allows pharmacists to print virtually anywhere in the workplace. Portability is key to the range, which includes wireless models. Some have an LCD control panel which enables staff to input information without having to connect to a PC.
Positive ID
Good labelling is improving efficiency in hospital wards too, and among those that Brother has worked with is the Croydon University hospital, where it has transformed the process for labelling blood samples. The hospital provides out-patient care for 350,000 people and supports phlebotomy (drawing blood) services for the 64 GP practices in the surrounding area.
Peter Norris, IT test and release manager at the Croydon Health Services NHS trust, explains: "Our challenge was to improve the process of labelling blood pathology request forms and blood tubes. Many of the practices were still handwriting forms and labels – a time-consuming process, open to frequent errors or labels being misread. In some cases, patients had to be retested, delaying the process and possible diagnosis."
The patient database was successfully converted via scanning a linear barcode, allowing it to be printed on to labels using Brother's compact, high-resolution QL-570 labelling machines (a discontinued model, replaced since by the QL-700). This has helped to cut out errors and allowed staff to concentrate on patient care.
Although there has been excellent progress in making hospitals as safe and error-free as possible, each year many patients suffer from the results of preventable mistakes, often because of poor identification practices.
Another Brother device, the TD-2130N, is addressing this area. It prints clear, accurately imaged wristbands and labels using Brother's TrustSense smart technology to automatically detect the type of media required. This helps to streamline printing into one device, improving efficiency on wards, and in clinics and out-patients departments.
Safe and efficient
Earlier this year the World Health Organisation launched its Medication Without Harm initiative, which set a global challenge to reduce avoidable medication-related harm by 50 per cent in five years. Accurate, efficient labelling is set to play a role in the UK government's response to the initiative.
Every day, the NHS generates prescriptions at a rate of 137 a second, from a menu of 30,000 drugs and, while errors around dosage level, course length and medication type are rare, they can cause hospitalisation and even death.
Health secretary Jeremy Hunt has spoken about "designing in safety" especially given the increasing complexity of caring for a population that is ageing and living with many different health conditions.
"We need to address this issue of medications safety and bring it out of the shadows," says Patel. "We must try and make the system as safe as possible, put the checks and balances in, and removing human error where we can, making sure written materials complement the human interaction with pharmacists that we know patients find so valuable. It's all about safety and efficiency, those are the two watchwords in terms of medical supplies."
Raynor agrees, and sees the information printed on a medicine's label as crucial to this. "We don't make enough of the label," he says. "It's the last line of defence."
Find the right label solution for you with Brother's range of label printers.