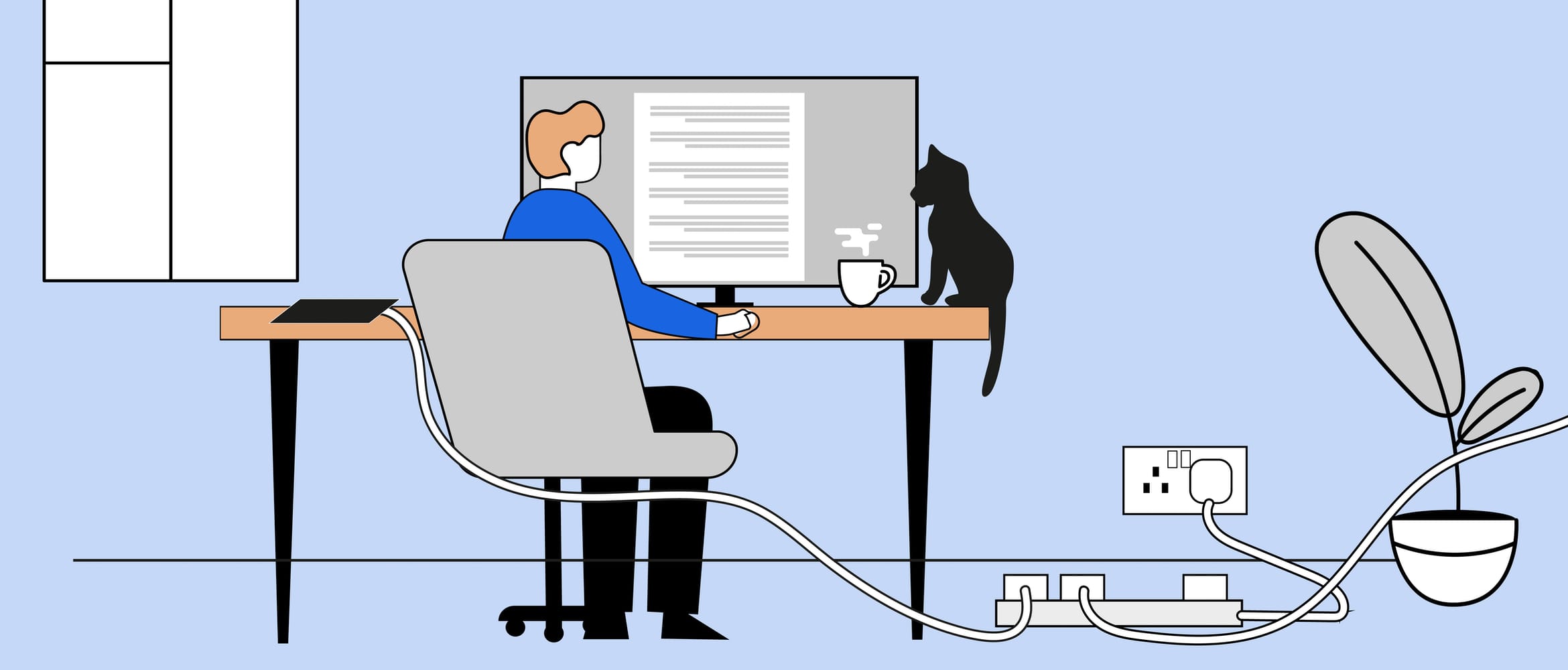 Work from home risk assessments: Employers guide
Employers in the UK are legally required to conduct a suitable and sufficient assessment of their employees' working environment. This includes home work environments, something that's becoming of increased prominence for employers with hybrid and remote working on the rise.
Developing effective work from home risk assessments for your employees can be taxing, so here we outline some of the things a risk assessment should cover. We'll also provide a simple template that can be used to help develop your own work from home risk assessment.
What is a work from home risk assessment?
A workplace risk assessment is a systematic evaluation of the potential risks of a working environment. A good workplace risk assessment should be simple but comprehensive. It should detail all the potential risks of a workplace and encourage actions to be taken to minimise them.
A work from home risk assessment is a workplace risk assessment conducted for an employee's home work environment.
What to include in your work from home risk assessment?
A good work from home risk assessment should cover the following areas:
Physical workspace
Employees working from home should be encouraged to create a devoted workspace, rather than working in ad-hoc places, such as on a sofa.
The workspace should have enough space for the employee to sit comfortably and for all their required work equipment. It should be adequately lit and free from hazards, like cables that could cause trips.
Equipment
Employees must be supplied with all the equipment they need to work safely at home, including an office chair, a display screen, a separate keyboard and mouse if they're using a laptop, and potentially even a desk.
This equipment should be set-up in a manner that allows employees to sit upright in a safe position without hunching over. Their screen should be easy to view and sit at an appropriate level. Ideally, employees should receive training on how to set up an ergonomically suitable home workspace.
Slips, trips and falls
A work from home workspace should be clear of slip, trip and fall hazards. This includes removing hazards from other areas of the house that lead towards the workspace.
Communication
A common downside of remote working is that employees can feel isolated and detached. A work from home risk assessment should recognise this and make sure effective channels of communication are made available. This should include a range of communication and collaboration programs, like video conference software and team collaboration tools like Trello, Slack, and Microsoft Teams.
Mental health and stress
Some employees adapt well to working from home, but others can encounter mental health and stress issues. This can stem from a poor work-life balance, from feelings of isolation, or from the guilt of giving in to distractions and not working effectively, amongst others.
A work from home risk assessment should recognise these issues and encourage employees to take actions to mitigate them, including taking regular breaks from work, developing a set daily routine, and establishing boundaries to protect their work-life balance.
Security
An oft over-looked risk of working from home is security. However, laptops and other work equipment can easily be stolen from the home, and home networks may not be as secure as on-site networks.
A work from home risk assessment should encourage security measures to be taken, including locking away work devices and files when not in use, and adopting network security standards laid out by the employer.
Work from home risk assessment benefits
Hybrid working can introduce new challenges, but it can pose significant benefits in employee satisfaction and productivity. A comprehensive and effective work from home risk assessment can help protect the health and welfare of employees and aid organisations in realising the benefits of hybrid working.
Find out more about how Brother can help your organisation reap the benefits of hybrid working with our range of hybrid working technology solutions. These include our managed print services, secure print range of professional printers, and Kofax ControlSuite.
---
Sources
https://www.acas.org.uk/health-safety-and-wellbeing-when-working-from-home/risk-assessments
https://www.highspeedtraining.co.uk/hub/wp-content/uploads/2020/03/working-from-home-risk-assessment-high-speed-training-1.pdf
https://www.peninsulagrouplimited.com/topic/health-and-safety/risk-assessment/home-working/template/
https://empactis.com/home-working-risk-assessments-guide/