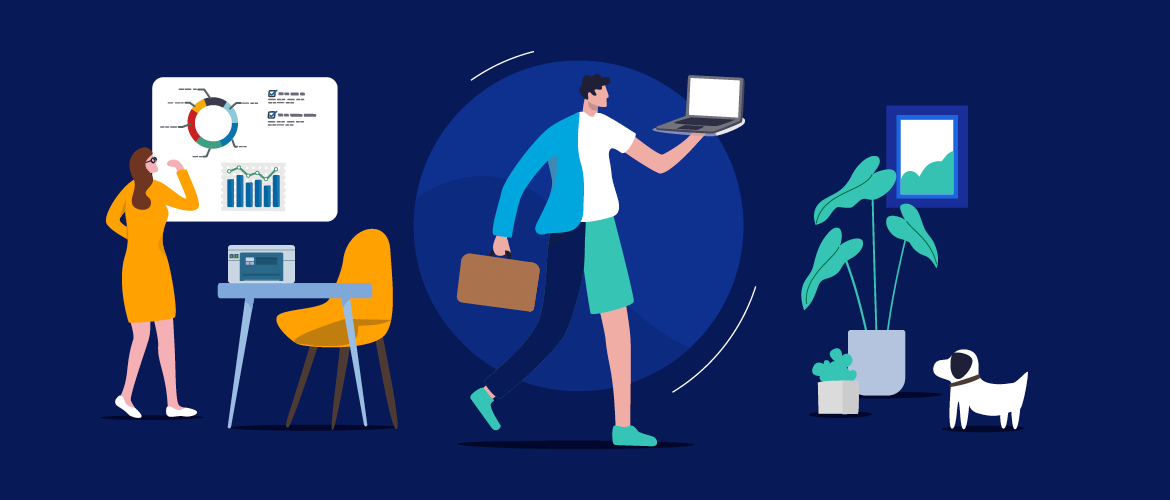 Is remote working a success? How to make the most of working from home
Remote or hybrid working has been firmly adopted by many companies across Europe but is it working for everyone? We explore the data behind Brother's Hybrid Working Survey 2023 and share four questions to consider what works.
The remote working model is here to stay, with part of the week spent at home and part in the office. In fact, it is now the 'normal' for millions of workers across Europe.
Did you know that remote jobs on LinkedIn attract 2.6x more views and almost 3x more applicants compared to on-site roles? This shows that if companies want to be competitive in the job market, they need to embrace remote working, or at least be flexible where possible.
To find out more, Brother conducted the Hybrid Working Survey 2023 to explore some of the positives and negatives of hybrid working. In total, 1,385 participants took part in the survey which provided some interesting outcomes.
For example, 66% of Europeans surveyed are hybrid working or exclusively working remotely from home. This is up 6% from a previous survey we conducted, showing a growing trend.
Also, the most likely sectors to do a mix of home and office work are IT and Communications, Finance, Professional Services and Engineering. In particular, it seems that IT roles have adapted well to flexible working due to the decentralised nature of previous roles among other reasons which is an important learning.
After collating the results of the survey we have four top suggestions for how to improve your organisations' approach to hybrid working:
1. Are you providing the right equipment for remote working?
It's important for workers to have the right equipment when working from home.
This was one of the most common reasons why 58% of respondents rated their business as either 'excellent' or 'good' for the way they have adapted.
Many stated that the time and cost of setting up at home was a negative experience. Some respondents reported an inability to offer the same level of equipment as they use in the office, making their roles harder from home.
The same standard of technical set-up, whether working from home or the office, is key to ensuring that neither location delivers a subpar experience. That's why it's vital to set your teams up with the best home working solutions including home office printers, scanners, labelling solutions, and managed print services.
2. Does your business have a work-from-home or remote-working policy?
According to the survey, 51% said their business has an official flexible working policy. This is an important one for the to-do list if you haven't already.
Having an official policy sets expectations and it's interesting to see that more than half of businesses are taking it seriously.
The survey shows that those in IT and Communications, Finance and Manufacturing are most likely to have an official flexible working policy, especially in Germany. Respondents in France are least likely to say their business has an official flexible working policy.
So, there's more to be done, especially as some survey participants felt there was a blurred line between home and work life.
Here's some further advice on how to create a working-from-home policy.
3. Celebrate the benefits of remote working
There are many positives to come out of remote working and they should be communicated to your team alongside any policy change. In fact, we've found that the positives have stayed the same since our last survey – showing continued benefits.
For example, workers in Spain, France, Italy, and Germany all agreed that less time and money spent on commuting is the biggest positive. This was followed by better work/life balance and flexible working hours.
Other positives include an increase in productivity, less distractions, and more time to spend with family.
You can ensure that these remain positives by helping your team create 'a structured working environment' and avoiding 'project creep' into personal time, as these were flagged as potential pitfalls.
4. Does your office encourage collaboration?
If your team is hybrid, it's important to make office days as collaborative as possible as 'the lack of interaction with colleagues and clients' came out as a negative in the survey. Of course, it is dependent on different schedules and working from home days but having at least one day a week for face-to-face interaction is a good starting point.
Sometimes, it's just not possible to offer remote working. 29% of respondents reported to still working in the office, especially service providers in Public Services, Healthcare and Retail. However, there are always ways to improve the office environment.
For example, Michael Ford, CVP of Global Workplace Services advises: "You must design workplaces with enough flexibility to support every employee. A mix of quiet places, collaboration areas, and touch-down locations helps ensure everyone can be connected, engaged and productive."
Why is IT the best-equipped team for flexible working? Find out here.