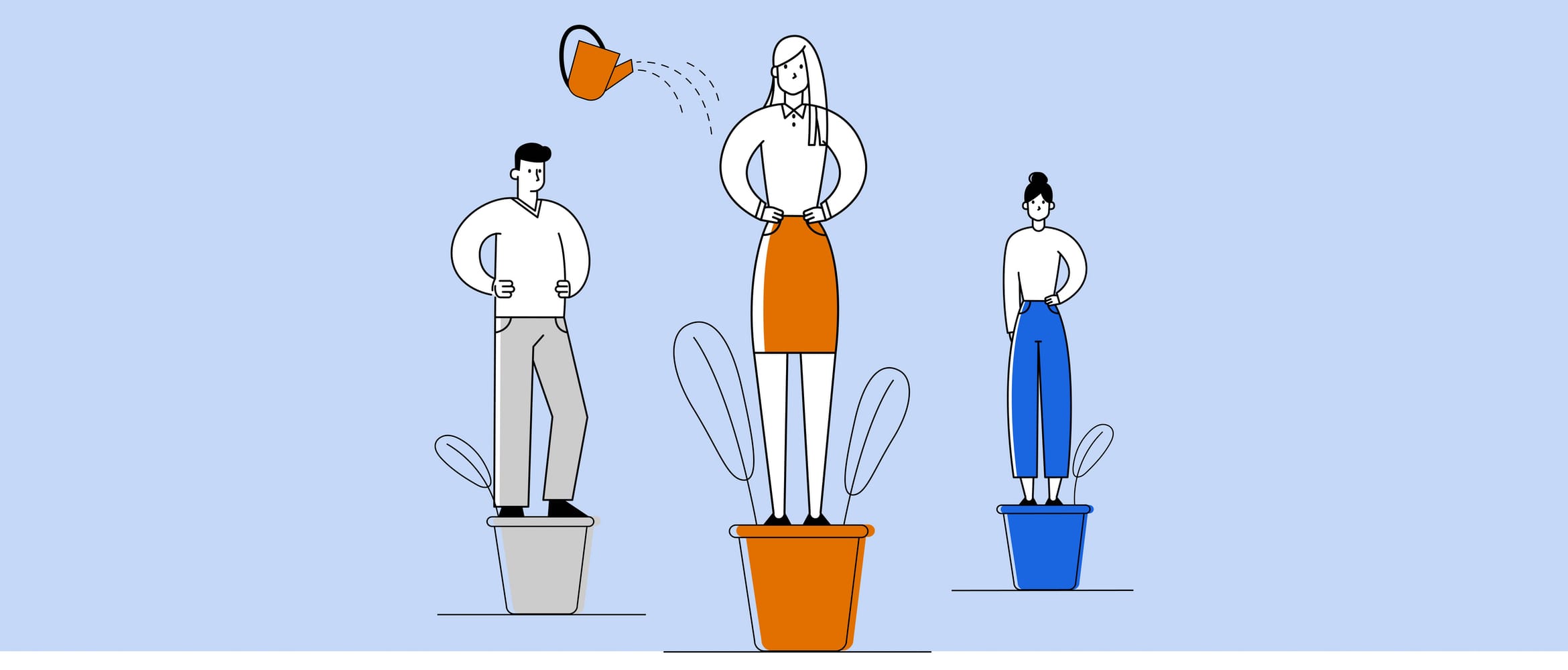 Growing and nurturing employees for success in hybrid working environments
How to create inclusive and effective hybrid working structures.
As employers and employees face up to the new normal, there is a delicate balancing act to get right. With close to a year and a half of remote working behind them, most employees will be unwilling to return to traditional office-based structures full time. In fact, recent McKinsey research puts this figure at 90% of workers, with 30% likely to switch jobs if forced to return to fully on-site work.
A hybrid structure may therefore present the best solution, but it isn't without its challenges.
The right support, tools and equipment are essential to enable people to do their best work and grow in their roles. And for those staff members looking to grow their careers and progress within their organisation, today's working environment is new but no longer normal.
Gone now are the traditional opportunities to be seen, at least in terms of their previous volume. While, even pre-pandemic, many organisations had educated managers to discourage unhealthy work-life balances – coming into work early, working through lunchbreaks and putting in overtime – this still happens and will continue to do so out of sight. Measuring performance on outcomes and productivity alone may be a more desirable position for employers, but it comes with an element of trepidation for those individuals looking for the recognition to underpin promotions and career growth. For hybrid structures to be successful, they must be inclusive and account for the needs of growing employees.
Employees may be questioning how they can show hard work when line managers are relying solely on deliverables and outcomes
With much of the working week now effectively invisible, the definition of business productivity and commitment has shifted. Line managers are now relying on data, deliverables and outcomes to assess productivity and quality of work. But is this enough for individuals determined to grow their careers? If someone can no longer be physically seen to be working hard, they may find other ways to be seen. This may manifest itself in a desire to be 'always on' – responding to out of hours emails, allowing company WhatsApp or Slack messages to creep into personal time, and putting in extra hours at the weekend, which can all lead to burnout.
Support from line managers is therefore crucial from both an employee wellbeing and a professional point of view. Firstly, it is vital for employers to ensure new processes are implemented to help their staff to feel included, heard and valued. This should include frequent one-to-one meetings and virtual check-ins with line managers, for example. Secondly, an increased onus must be placed on effective objective setting. Too often seen as a box-ticking exercise, this now plays a fundamental role in career growth. Objectives must be well considered, achievable and created in agreement with each individual. And if they are achieved and attained, the recognition has to follow. If it does, trust will be created. If it doesn't, this trust will be lost.
Effective hybrid working should be built on a mutual cycle of trust
Since team members and line managers are no longer working side-by-side in the office environment, a higher level of trust needs to be established. Line managers need to be able to trust that the growing employee is working to a high standard and pushing themselves to reach their potential. The employer must also continue to recognise their hard work and achievements, albeit in a virtual capacity.
Communication is critical – it is the foundation of workplace trust when done effectively. This starts with the employee and their line manager. This will need to include tracking day-to-day deliverables, whether through checklists on project management tools or daily check-ins, for example. However, this alone isn't enough. Setting regular fixed time aside to discuss a wider view of ongoing performance, in line with their already agreed career progression objectives, is crucial. There is nothing like receiving recognition directly from your line manager. These meetings should be regular, fixed and unable to be moved – it can be demoralising and demotivating when line managers continually move these sessions for other priorities.
Communication must also be delivered to a wider audience. One of the benefits of hybrid structures is that they offer opportunities to designate how in-office time should be used. Departments and teams can be brought in for a monthly stand-up, for example, to discuss team performance, objectives and direction. Enabling team members to feel part of the direction of the business and to be provided with recognition in a wider peer setting is a vital aspect of inclusive and effective working structures.
Inclusion over isolation is key for productive hybrid structures and smooth workflows
Effective hybrid structures rely on inclusion over isolation. Employers therefore need to work hard to create both an inclusive virtual and in-office environment which provides their employees with an opportunity to perform to the best of their abilities and grow with the organisation.
And this can't be a one-size-fits-all approach. Employers must understand any specific needs of their workers and implement tailored solutions to cater for them. Take video conferencing, for example. It has become a staple of remote working, but it isn't necessarily accessible to all. Video captions may need to be added to video-conferencing systems for the deaf and hearing-impaired or a third-party captioning service embedded. On the other hand, any neurodivergent workers in your workforce may experience problems with an overreliance on email and telephone calls, without the visual clues offered by face-to-face communication. It is down to line managers, with the support from above, to understand and cater for specific needs to ensure effective inclusion.
An inclusive workplace can lead to a high-performing workforce
There is no doubt that hybrid structures are desired by the majority of employees. This also comes with a recognition of a changing working environment that may be more difficult to navigate. But with the right approach from employers, effective hybrid working models can be found that promote inclusivity and create a stable and effective working environment catering to the individual needs of employees. This, in turn, can lead to heightened morale, increased productivity and business success.
Head to the Brother UK Hybrid Working hub to discover more about creating hybrid effective structures for your workplace.