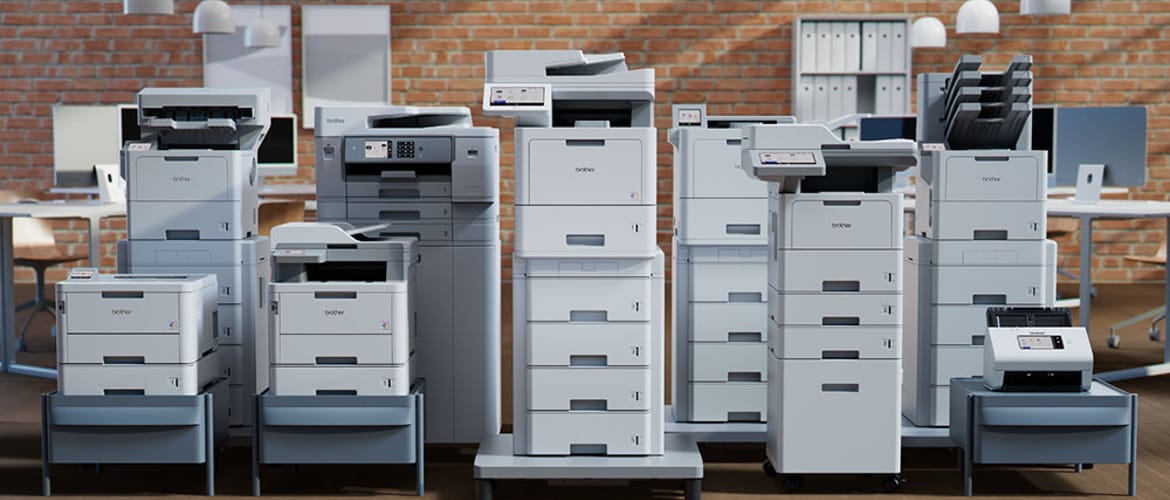 The economy is unpredictable. Your printer costs needn't be.
Cost efficiency will be a key driver in developing an effective workplace.
Businesses are facing an unprecedented period of volatility. World events from pandemics to political unrest have caused widespread disruption and upset supply chains. Surging inflation has upended the assumption that tech products and services rarely go up in price, and deliver more value for money when they do.

Senior business leaders are braced for recession in 2023. Yet in August 2022, research firm IDC predicted that ICT investment in Europe would still grow by four percent this year, though in July it warned an alternative "recession scenario" could result in a "modest contraction". Conversely the skills shortage means many tech leaders are struggling to fill roles, leaving their teams over-stretched.

This all has clear implications for your workplace, including running your printer and scanner estate, and your costs are guaranteed to come under the microscope.

IDC says that SMBs often don't have reserves to see them through tough economic times, so it is "critical for them to apply technology smartly and zero in on efficiency, cost savings, productivity and automation – and – fast – to weather today's economic storms". It also noted that smaller SMBs use fewer cloud technologies and are more reliant on physical IT, including printers, leaving them vulnerable to shortages.

So how can businesses be more cost effective when it comes to printing, copying and scanning?
Time to analyse your print costs
There's no doubt that, despite seismic changes to the workplace, printed documents remain central to the majority of companies, and this is unlikely to change any time soon.

But that doesn't mean you shouldn't question whether your existing printer, scanner or copy devices are working as cost effectively and efficiently as possible for your individual users and the organisation as a whole.

Looking beyond the initial cost of your infrastructure, it's important to grasp the full impact of printing a document in terms of consumables – such as ink or toner. That knowledge can be used to nudge users towards more cost-efficient behaviour such as using double-sided printing or a draft setting.

This prompts the question of whether your hardware is as efficient as it could be. Older devices may not be giving you the information you need to plan and manage effectively and may not be giving your users all the features, while resources – power/ consumables – are squandered for little useful output.

So, it may well make sense to replace inefficient, hard to integrate devices with modern, cost effective, easy to integrate printers and scanners that give users all the functionality they need.
From print data to print strategy
This means you can take a more strategic approach to cost management and efficiency, whether that's relocating devices to ensure more efficient usage, automating supplies ordering, or highlighting wasteful activities such as overuse of colour or high-quality printing.

And, ideally, you'll be able to monitor the condition of your equipment, so that remedial or optimisation work can be predicted and scheduled, heading off more serious problems in the future, and ensuring your print devices are always working optimally.

In fact, it's quite possible that you'll benefit from a managed print service. A specialist partner will be able to hit the ground running when it comes to assessing your current setup and suggesting improvements, both in terms of the most appropriate kit, and better workflows to manage documents within your organisation.

They'll also have the expertise to carry out upgrades, optimisations, and repairs - so your team can focus on more valuable activities. And they will have deeper knowledge around specialist issues such as security or business process automation, and how your print operations can fit into broader digital transformation and productivity efforts.

Ultimately, managed print services open the possibility of your print and scan expenditure becoming a more predictable and visible cost. Transparency is vital when it comes to cost efficiency – only by being able to identify unsustainable print costs can you hope to mitigate them.

Most businesses will be buffeted by economic headwinds over the coming months. But acting on your printer strategy now could ensure more certainty around one part of your world. To find out how to get started, head to our Cost Efficiency by Brother page