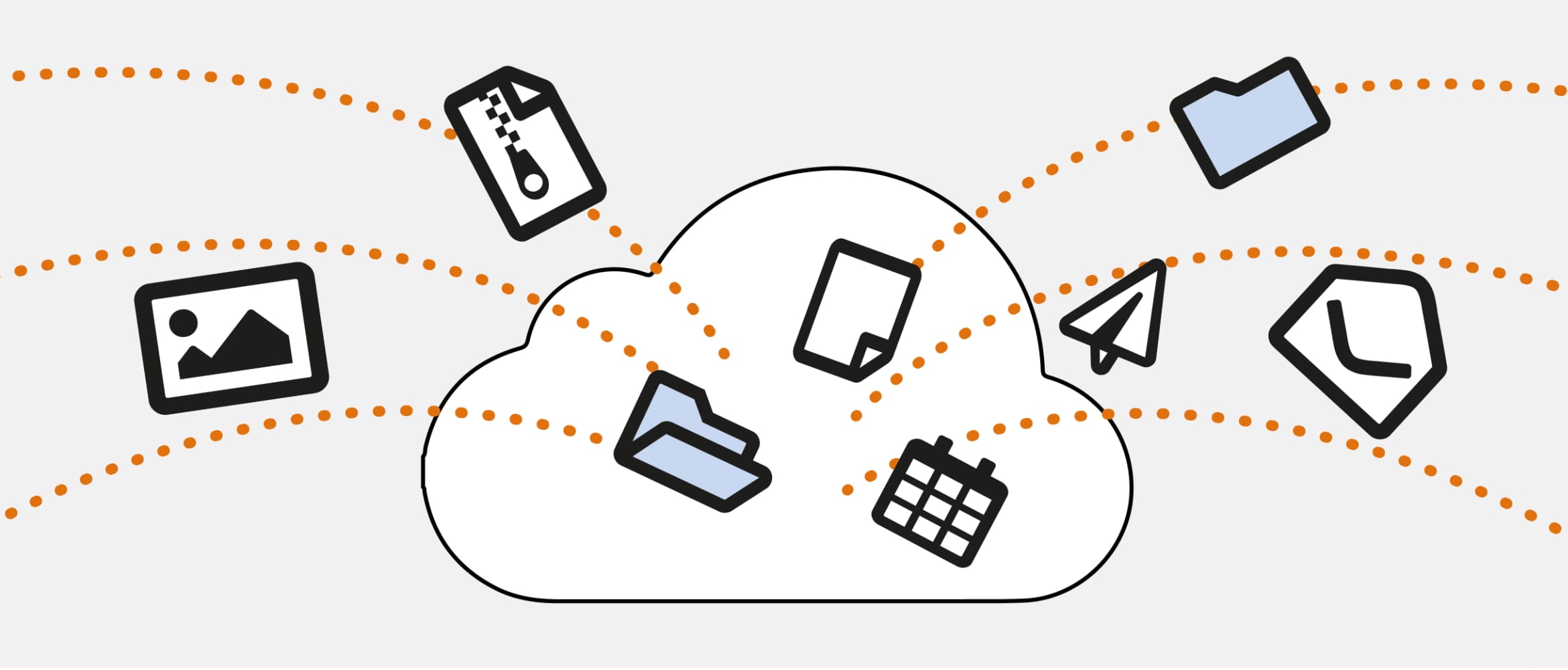 The advantages of cloud storage
With hybrid working comes increased security risks, especially with file sharing which is why cloud storage has become essential. But what is cloud storage?
Cloud storage allows users to securely store and retrieve information off-site via the internet. When people say they have saved data 'in the cloud' this is what they are referring to. Instead of backing up your data on expensive hardware in your own office, your files are saved 'off-site' on servers managed by a third party provider. This can save individuals, businesses, and organisations a huge amount of money while providing greater scalability, security, and stability. The wide-ranging benefits have led many organisations to adopt a cloud first policy.
Thanks to the advent of hybrid working over the last 18 months, cloud storage has taken on even more importance. With hybrid offices and distributed workforces becoming the new normal for organisations going forward, the ability for colleagues to save and share information to a cloud storage solution that's accessible to everyone, from any working location, is incredibly valuable.
Security
Security is naturally a priority for businesses and organisations considering cloud storage, due to the fact that it involves transferring data via the internet and putting your trust in a third party provider. However, cloud storage providers offer robust security measures to put your mind at rest, such as SSL encryption for data in transit, lost and stolen device protection, and two-factor authentication, among other safeguards. While cyber hacking and ransomware attacks remain a clear and present danger, cloud storage providers are arguably better resourced to protect your data than your in-house technology. Data is also saved and backed up across multiple servers, so it's incredibly secure, stable, and available whenever you need it via the internet. Even if one server is down for maintenance, the largest cloud storage providers such as Dropbox, Apple iCloud, Google Drive, and more, have such a vast network of data centres that you'll always have access to your files. This is great for business continuity too in the event of a crisis.
At Brother, our expertly engineered technology and software can further enhance your network, device, and document security. Built-in features include automatic intrusion detection and digitally signed firmware while we also offer cloud secure print as standard on all Brother devices. This stores documents securely in the Brother cloud until authorised to print by the user at the device, for added security and peace of mind.
Convenience
The convenience of being able to access your files from any device and any location has made cloud storage increasingly attractive for businesses, especially in the new age of hybrid working. It's not just about storing information either, you can also download, share files, print and scan directly from the cloud. Brother has a suite of cloud-based apps, which offer exciting new ways to create, edit, and share documents from your machine. You don't even need a computer as these apps can be accessed directly through Brother devices, which connect to the cloud via Brother Web Connect. This allows users to upload files straight to a wide range of popular cloud storage sites such as Dropbox and OneDrive, as well as social media platforms.
Cost
One of the biggest and most obvious benefits of cloud storage is cost. Rather than investing in expensive data storage hardware, users instead pay for a service. This is sometimes referred to as IaaS (Infrastructure as a Service). With cloud storage, organisations no longer need to invest capital and commit time and space to physically storing and managing data on site. Instead, the cloud storage provider maintains the necessary hardware and security. This is good from a future-proofing perspective too as you don't need to worry about upgrading, selling, or recycling your old hardware. You only pay for the amount of storage you need, allowing you to scale up or scale down your commitment in line with budget and business needs. Also, while onsite storage will always have an upper limit, the cloud is practically limitless.
Remote working
Cloud storage is practically tailor-made for remote working. Colleagues in the office and those working from home can literally collaborate on the same files simultaneously. The cloud is essentially a central location where all your data is stored and which all of your workforce can access, wherever they are, using a wide range of different devices. This makes it ideal for the hybrid offices of the future.
Scalable service
As we mentioned, since you are paying for a service rather than a fixed piece of hardware, you can change or amend your plan as you need to. This scalability is a big advantage for businesses as it offers greater flexibility and agility and offers more control over budgets. You can increase your storage capacity to meet demand, or reduce it as needed. It's almost a 'pay as you go' model, and one of the many benefits of cloud storage over traditional hardware.
Usability
Designed to be quick and easy to use, access to cloud storage is often through a portal, website, or app, which you can connect to using almost any device, and from any location, giving organisations a huge amount of flexibility and agility in how they work. The compatibility of a vast range of devices from computers and laptops to smart phones, tablets, and more, makes usability another key benefit of cloud storage solutions.
Multiple user access
As the cloud is everywhere, multiple users can access and edit a saved file simultaneously, from almost any device and in any location with internet access. This massively improves collaboration and is ideal for hybrid working, making it one of the key advantages of cloud storage. You can also give different levels of authorisation to different users as required. For example, payroll information would only be accessible to the finance department while only HR would be authorised to edit personal records.
Synchronization
When your files are located in the cloud, changes are automatically synched and updated on all of your devices, so you and your colleagues are always working from the latest version. This is called synchronization. In practice, this means if you're editing a file from your office, a colleague who is accessing it on their smartphone, and another colleague working from home, can all see the changes happening in real time and everyone has the most up to date document at their disposal. This eliminates duplication and greatly increases efficiency.
Summary
There's a reason so many businesses and organisations have adopted a cloud first policy. Cloud storage is the future, but it's also the present too. Hybrid offices are here to stay and while a distributed workforce brings unique IT challenges, it also creates significant opportunities. With a wealth of impressive benefits, cloud storage almost feels like it was specifically designed to support this new way of working. From our expertly engineered devices to our partnerships with major third-party software vendors, Brother is committed to empowering organisations as they transition to hybrid working with sector-leading public, private and hybrid cloud print and scan solutions.