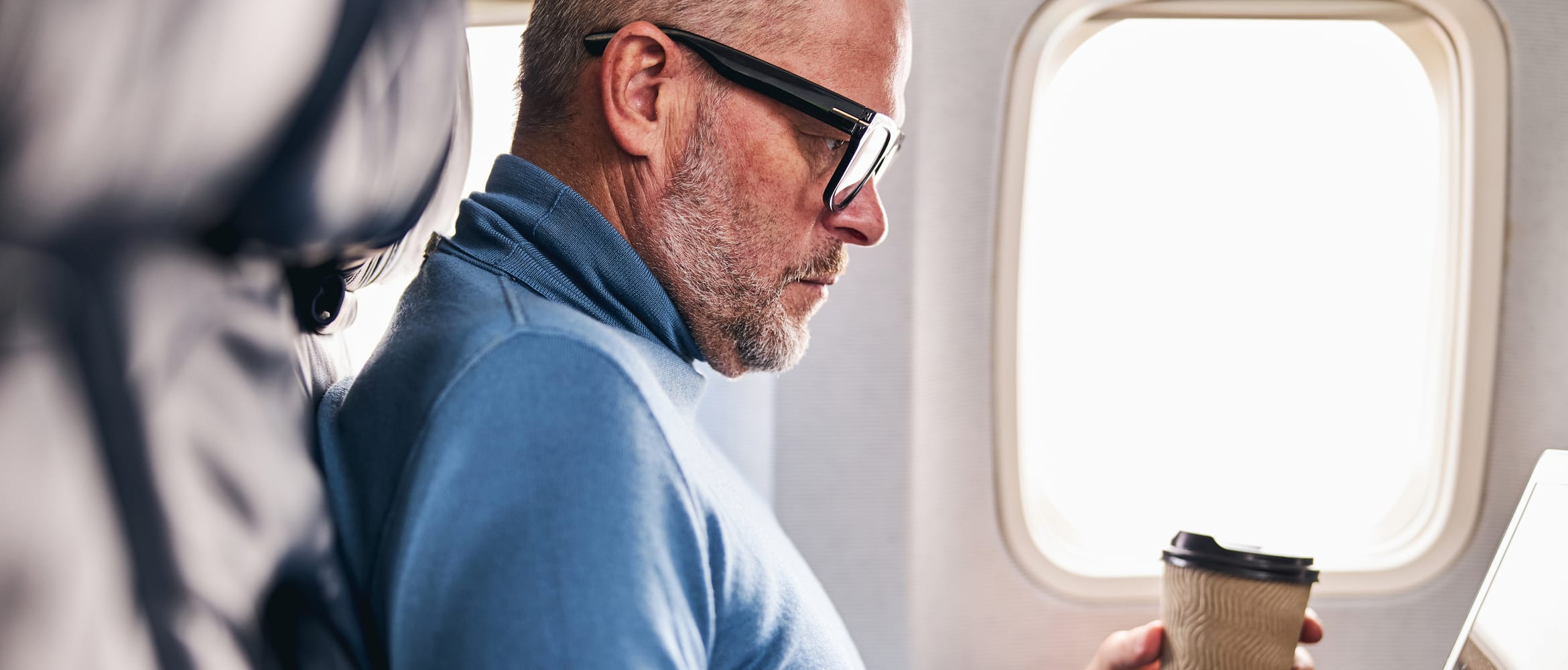 Is this the end for business travel?
5 reasons why long journeys for business may be a thing of the past.
For so many of us, lockdown has meant living life through a lens.
While face-to-face meetings have had to be put on hold, platforms like Zoom, Teams and Skype have really come into their own, connecting people virtually via webcam.
This solely virtual approach will have helped save a lot of money; the average domestic business trip costs £3091, while a trip overseas is likely to be around £1,4002.
That's a significant expense for many businesses, but one that technology seems to have made obsolete.
And many firms will now be looking at the savings they have achieved on travel costs thinking, do we really need to return to the way we used to do things?
As well as the cost of travel, there's also all that unproductive time spent in planes, trains and cars, travelling to meet with customers, suppliers and new business opportunities.
Microsoft co-founder Bill Gates has said that he believes that more than 50% of business travel has disappeared for good and has given its employees the option to work from home permanently.
And Brother managing director Phil Jones says: "With less time lost to travel, many have already achieved productivity gains, as well as driving down costs – now the question is the extent to which this will continue into this year and beyond."
So, are long journeys for business now a thing of the past? Here's five reasons why businesses will look to live without them.
1. Cost and time savings
Around £50bn is spent on business travel in the UK in a normal year, but that was down by 89% during 2020, with just one in 20 bookings going ahead3.
In a year when working capital has been under extreme pressure for many businesses, that will have been a significant relief.
Staff who have no longer been travelling will have been able to use that time far more productively – without being hamstrung by the dodgy Wi-Fi and poor phone reception that plagues many trips.
And few will miss the time spent processing and submitting expenses claims on their return.
Plus, firms will have seen a huge fall in the amount of time spent by admin teams booking travel and accommodation.
2. Technology solutions are in place
Lockdown has seen one particular technology rise to ubiquity.
The number of people holding meetings held on Zoom soared from 10 million a day in December 2019 to more than 300 million by October 2020i.
Video conferencing is now completely indispensable and, despite plenty of 'you're on mute' moments, its widespread adoption has been relatively smooth.
Platforms are easy to install and relatively inexpensive, the monthly subscription model means they are flexible and scalable, and they have a simple interface that's easy for users to interact with.
And the platforms themselves have successfully been able to ramp up capacity while maintaining reliability.
3. People are (fairly) comfortable using them
In less than a year, platforms like Zoom and Microsoft Teams have gone from being relatively niche products to household names.
But, while we can all appreciate the benefits videoconferencing brings, YouGov research has found just 52% have a positive opinion of Zoom – hardly decisive4.
And a word of caution: we are now starting to see reports of 'Zoom anxiety', where some people can find it stressful to be confronted with a close-up image of themselves and a bank of faces scrutinising their every move.
But there are ways to tackle the issue.
Research from Stanford University5 in the US suggests hiding the 'selfie' window that shows you an image of yourself, not watching calls in full screen so other faces don't feel so imposing and even switching some video meetings to phone calls.
4. Sustainability benefits
Ever more consumers, employees and investors are reviewing a company's social and environmental impact when they are deciding who they want to do business with.
Going forward, firms' success will be increasingly driven by their sustainable business practices.
Firms that don't embrace sustainability as part of their long-term business strategy will find themselves at a competitive disadvantage.
And, for non-manufacturing businesses, business travel is typically their biggest single polluter, accounting for around 50% of carbon emissions6.
That presents a real opportunity to reduce their impact on the environment, for the benefit of their business and the planet.
5. Work/life balance
The average commute in the UK is just over half an hour each way7.
So, every day a colleague doesn't commute, the get an extra hour back in their day.
And if they work at home for just one day a week, they would save almost £450 a year8.
That's a win-win situation for everyone: colleagues aren't getting stressed out by their commute, they have more time to spend with their families, improved wellbeing and there's less congestion and pollution being created.
But this kind of hybrid working means colleagues need to be well connected and equipped with the kind of versatile technology that means they can work effectively wherever they are.
Read more about our hybrid working solutions here.
---
References
1. Finder: 'Business travel statistics'
2. Travelex: 'The true cost of international business travel'
3. Statista: 'Business travel spending in the United Kingdom from 2010 to 2017'
4. YouGov: 'YouGov Ratings: Zoom website'
5. Stanford University: 'Stanford researchers identify four causes for 'Zoom fatigue' and their simple fixes'
6. Insider: 'Business matters: How to reduce your company's carbon footprint when travelling on business'
7. O2 Business: 'The flexible future of work: Employee connectivity research rep'
8. O2 Business: 'The flexible future of work: Employee connectivity research rep'
i. TechRepublic: 'Watch out Zoom: Microsoft Teams now has more than 115 million daily users'