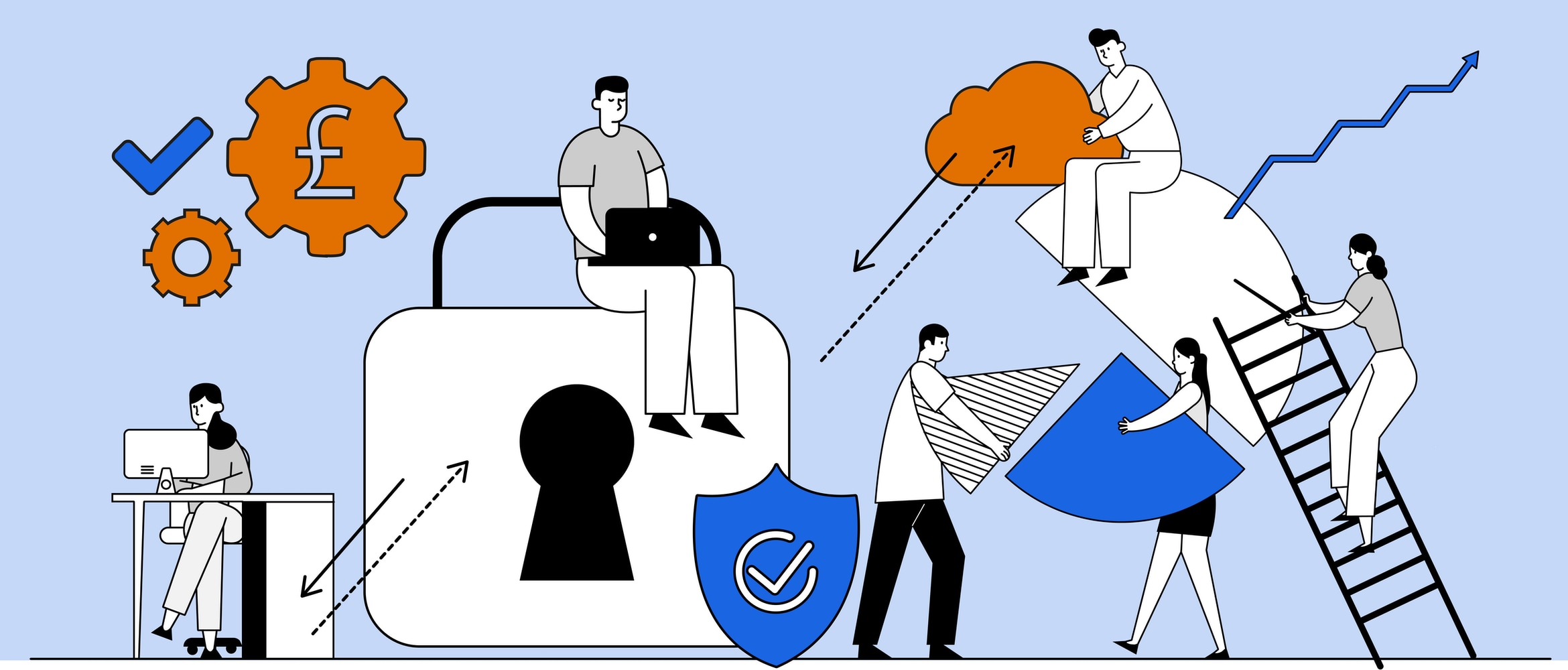 Hybrid working: How is it changing the face of business IT security?
Keeping networks, devices and documents secure has always been a high priority for IT professionals – and an ongoing challenge. Given the serious consequences of a lapse – we consider the IT security challenges facing traditional working from home practices in the hybrid working era.
Hybrid working is set to become the norm, following an increase in working from home due to COVID-19. Pre-pandemic, an average of 39% of the workforce worked remotely, but this is expected to rise to 48% when offices fully reopen1 – with the potential to rise even further once businesses build back with resiliency in mind.
As such, hastily procured workplace equipment is now widely dispersed in the homes of employees. This not only exacerbates the challenges of IT security; it places even greater significance on ensuring compliance and best practice.
The office of the future has arrived and many companies are endeavouring to manage the many issues related to working from home with existing infrastructures, processes and technologies in place. This puts great pressure on an already stretched IT function still playing catch up from the initial overnight switch to remote working. Securing board and key stakeholder buy-in for further investment can be a significant hurdle, given the reactive procurement of short-term tech has come at an unforecasted cost that many businesses are still struggling to gain visibility of.
Challenges for colleagues can range from juggling work with childcare and feeling under more pressure than if they were in the office to employees using work equipment for private use, which can increase the chance of security incidents occurring.
Many will also be using business hardware on domestic internet connections that do not carry the same levels of robust security standards as dedicated business networks. This is where tech solutions that offer independent network and device security features set themselves apart in supporting IT security.
To further mitigate risk, businesses need to consider educating their biggest asset, their staff, on security. Educating employees around the potential consequences of an IT security breach can be incredibly powerful in reducing the risk of human error.
Why does your hybrid workforce need to be alert about IT security threats?
Research by cybersecurity firm Malwarebytes2 found that 20% of companies experienced a data breach caused by remote workers during the pandemic. It had a financial impact too, as 24% had the unexpected expense of addressing a cybersecurity breach or malware attack.
Indeed, the expense of an IT security lapse can be huge. The global average cost of a data breach in 2020 was $3.86million3. Add the cost of downtime if employees are denied access to networks that have been affected – and the harm done to your reputation – and you can begin to imagine the amount of damage a breach can do.
Employees need to ensure that their everyday processes remain compliant in a hybrid working world, whether they are working from home or in the office. For example, if they're printing confidential documents at home, they should dispose of them with the same care as they would in the office and shred them wherever possible.
It's clear that the responsibility for IT security sits across both the business and its people. To help address the ever-increasing need for secure printing, employees can develop their understanding of how to be business secure by reading our jargon busting print security blog.
Five potential cyber attacks to look out for
Cyber criminals know that having more people working at home makes companies more vulnerable. With that in mind, here are five common cyber attacks made on businesses during lockdown that staff need to look out for:
Fake requests to reset virtual private network (VPN) accounts
False sign-in pages for video conferencing accounts
An increase in spoofed emails imitating colleagues, particularly CEOs and MDs
An incoming "chat" request from colleagues on "supposedly" corporate messaging systems
Scams to sign up to specific websites to receive work related benefits
Fortunately, there are positive signs that the issue of IT security is being taken seriously by businesses and, if you have staff working from home, their processes can be made safer by following a few simple tips:
Introduce multi-factor authentication for devices, software and shared files
Use mobile device management that allows IT administrators to control, secure and enforce policies on smartphones, tablets and other endpoints
Ensure regular firmware updates on devices
Ensure that workers change standard passwords on their devices so they are not easily guessed
What is the future of IT security and secure printing
Businesses still view printing as an important resource. This is reflected in the fact that IT security is the top investment priority over the next 12 months for organisations, with 78% of them expecting their print security spend to increase over the next year1.
But printing practices in a post-pandemic world are also a rising concern, as companies admit that home printing carries bigger worries than office printing.
Before COVID-19, 33% of organisations were completely confident that their print infrastructure was entirely protected from security breaches or data loss. This has now fallen to only 21%.1
To keep data safe at network level and increase confidence in the security behaviour of users, businesses should consider print solutions that are designed with robust measures in place. A managed print service (link) is an excellent way to ensure that users have what they need, when they need it – whether that's supplies or support – and that you are able to remotely monitor, manage and keep secure your network, individual devices, as well as the documentation printed.
What is clear is that some working from home will stay for many of us once the pandemic is over and that hybrid working will become a desired working model for the majority of the workforce. Businesses are already adopting new processes to accommodate this shift and are learning from mistakes made during last year's sudden shift to a fully remote working from home model.
Ultimately, there are many steps that businesses will need to take in order to reap the benefits of hybrid working, but a secure printing and scanning infrastructure will provide a solid foundation for helping make the transition from traditional office to hybrid working a success.
Visit our hybrid working page for more information on print security solutions.
---
References
1. Quocirca's The Print Security Landscape Report 2020
2. Malwarebytes: '20 percent of organizations experienced breach due to remote worker, Labs report reveals'
3. IBM Security: 'Cost of a Data Breach Report 2020'
4. Tristar: 'Huge rise in hacking attacks on homeworkers during lockdown'