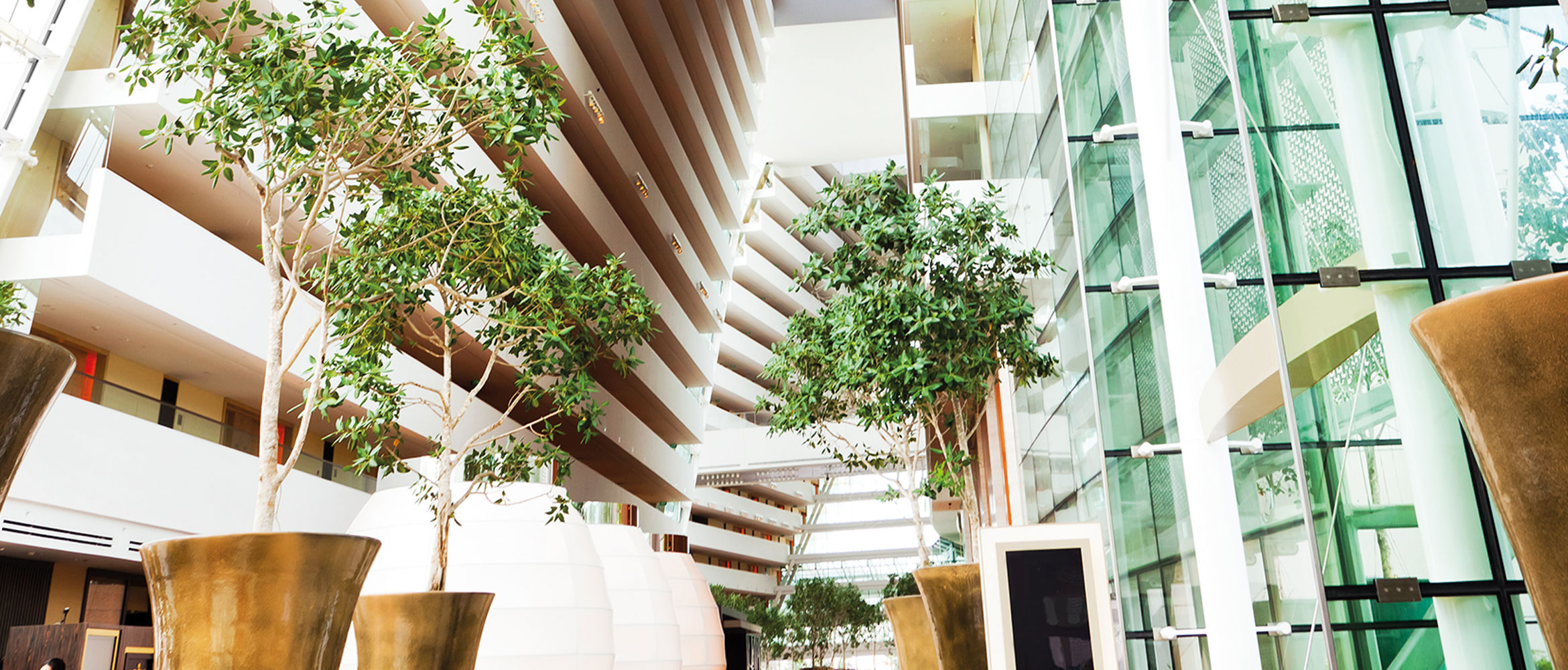 10 look and feel factors of the future workplace
It's not just the people and technology within the workplace that are changing – the entire concept of work is being rethought, bringing design and execution into focus.
The greatest impact will be felt when visionary companies and office space designers unite best technical, eco, wellbeing, lifestyle and design performance aspects within a new breed of super workplace that exactly meets all of our needs.
Let's explore how future destination workplaces will look, feel and flow by sharing 10 essential characteristics.
Live, work and play destination
Whether in a city centre or suburban setting, the workplaces of the future will be communal hubs offering a plethora of entertainment options as well as practical amenities.
Open plan evolves into open work
Modern configuration is changing the entire feel of the workplace thanks to the creation of spaces to think, focus, create and collaborate. Breakout spaces, collaboration areas, quiet corners, mentoring pods, digital blackout zones, cafes and relaxation areas such as roof terraces are set to become more prevalent.
Sentient
Wearable technology will link with sensors to quite literally control the feel-factor of the future workplace. Variables such as temperature, oxygenation, hydration and the individual's preferred IT setup – will be fully customisable and will underpin the whole experience.
Modular and adaptable
With space at a premium and openness remaining the priority, adaptability will be a primary requirement for workspaces. Here customisation options such as retractable walls, sliding screens, modular furniture and desks will allow organisations to adapt and repurpose spaces according to the task.
Productive furniture
Workforce performance can be lifted by opting for both practically advanced and scientifically optimised furniture. While sleep pods and standing desks eradicate the afternoon lag – individual soundproofed booths will enable people to take private calls or dictate in peace.
Collaborative technology
By the late 2020s, VR, AR and 3D holograms will make it possible to hold engaging conferences, or demo products across the continents in settings as diverse as beaches and outer space.
Gesture control
Touchscreen technology and innovations from the gaming industry such as gesture control, will enable us to adjust anything from large and multi-screen setups to lighting, simply by moving our hands.
Restoring the equilibrium
Plants, nature, water, colour and natural light, will increasingly join the office mix in a move that will increase levels of creativity and productivity. We could even use virtual reality to go to the beach during breaks.
High tech stimuli
Expect to see scientifically developed, naturally inspired stimuli such as circadian lighting and sensory deprivation tanks for neuro stimulation, to grow in workplace usage.
Entertainment perks
Future office buildings will be equipped with gym facilities, pool tables, bar games and board game collections that help workers disconnect from all tech and with an antidote of good old fashioned fun. Even if such benefits are seldom used outside of break times, they improve worker engagement and help turn workplaces into social, communal hubs which in turn boosts morale.
---
Future-proof your workplace with the latest printing and scanning solutions from Brother including SMB printers, business printers and professional scanners. We also provide a number of business and hybrid working solutions like MPS to help improve cost efficiency, productivity and more.