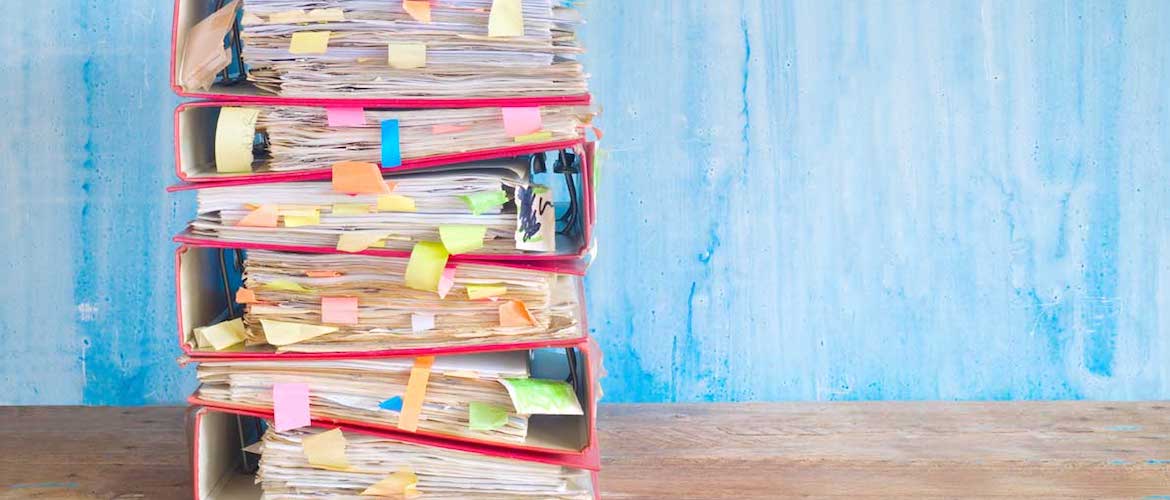 8 ways SMEs can move towards a paperless office
Why looking to go 'less paper' might be the way forward.
According to YouGov, 60% of senior decision makers in UK SMEs that think staff not being able to find documents wastes working hours, believe each employee spends around one working day every month doing so. While it's a staggering statistic in terms of lost productivity, it's also a stark reminder that the concept of the paperless office is far from a reality for many small businesses.
Despite the obvious benefits to cutting down on paper usage (you'll save space, money and time - not to mention the environment) it's clear there's a fundamental flaw in the paperless plan.
Paper, whether we like it or not, still plays an important role in the office. For many office workers, there's still a strong urge to write and store work on paper, and in some sectors like financial services, regulation dictates paper archiving.
My view is that SMEs should simply look to go 'less paper'. By this I mean opting for quick wins with easy-to-implement digital processes, and taking steps to encourage employees to adopt a leaner approach when it comes to printing.
Here's my eight tips on how to make the transition:
1. Know what you're dealing with
Measuring the efficiency of every aspect of your business is standard practice, and monitoring your print volume and costs should be part of that. Undertake a print audit to look at who's printing what and why. This will help you identify where processes can be tightened up, or where technology needs to be introduced to make things easier for employees. It will also help you save money by identifying which pieces of hardware are the most expensive to operate and which are the most cost effective.
2. Print smart
Start small and encourage your employees to think about changing their behaviour and attitude towards printing. Ideally, you want them to think twice before hitting the print button. They should be asking themselves questions such as:
Did I preview the page before printing?
Can I print double-sided, or multiple PowerPoint slides to a page?
Is it necessary to print every page of my document?
Reward smart printing behaviours – it will start to catch on.
3. Collaborate in the cloud
Free apps like Google Docs or Dropbox allow colleagues to work together in the cloud and reduce the need for printing. For example, employees can use Google Docs to collaborate on a word document, spreadsheet, slideshow and so on. Rather than being reliant on printing out and comparing notes, co-workers can see exactly what they're working on, and who else is working on the document at any one time. PDFs can also now be stored and edited in Dropbox, anytime and anywhere.
4. Keep up with changing regulations
Some SMEs will find using less paper easier than others. Tightly regulated sectors like financial services often require hefty paper trails and physical archives, but even these businesses can employ some level of digitisation. Industry bodies like HMRC and the FSA occasionally issue guidance which could mean less reliance on the use of paper. So, keep an eye out for updates.
5. Use electronic signatures
Using e-signatures will save your business money and it's better for the environment.
The average process of creating a document that requires a signature tends to follow this pattern: creation, reading, amends, agreement, and finally, a 'wet' signature. That's a lot of steps and a lot of paper. By making this production cycle fully digital you'll be reducing the need to print – and save money every step of the way.
Just last year the government issued new guidance on the use of electronic signatures, it's worth a read if you're considering implementing them.
6. Start digitising today
Digitising archives is one thing (see tip 7), but starting now, with today's paper, is another. Encourage staff to use a document scanner to digitise paper documents coming into the business. These can then be stored in a document management system and then moved around the organisation electronically.
7. Tackle the archive
For many businesses, the job of digitising archives seems like a mammoth task. This doesn't have to be the case. My advice is to work your way through the backlog as and when it is needed. The key here is to:
Audit your documents and discard or recycle what you don't need (you might be surprised at how much isn't necessary!)
Scan your paperwork and then sort them into categories on your shared drive or secure cloud storage space. This allows the documents to be shared with ease. It also rules out the potential loss of data you might experience if you were to store your documents on a hard drive, should it malfunction
Name your files clearly and consistently – don't replace your paper mess with a digital mess!
Learn more about Brother's document archiving solutions here.
8. Move to mobile
Give employees what they need, when they need it, and you should find that paper use starts to dwindle. The ability to scan, store, view, edit and share on the go should cut the requirement to print, and reduce the volume of paper coming into and moving around your business. For example, if your employees had access to tablets, where they can easily find emails, documents, notes or even sketches, then there would be less need for armfuls of paper at every meeting.
While the paperless office, or the 'less paper' office, might still seem quite a way off for some businesses, a few simple steps in the right direction will put your organisation on the road to improved efficiencies, a reduction in costs and a greener business.
Find out more information about solutions and services from Brother.