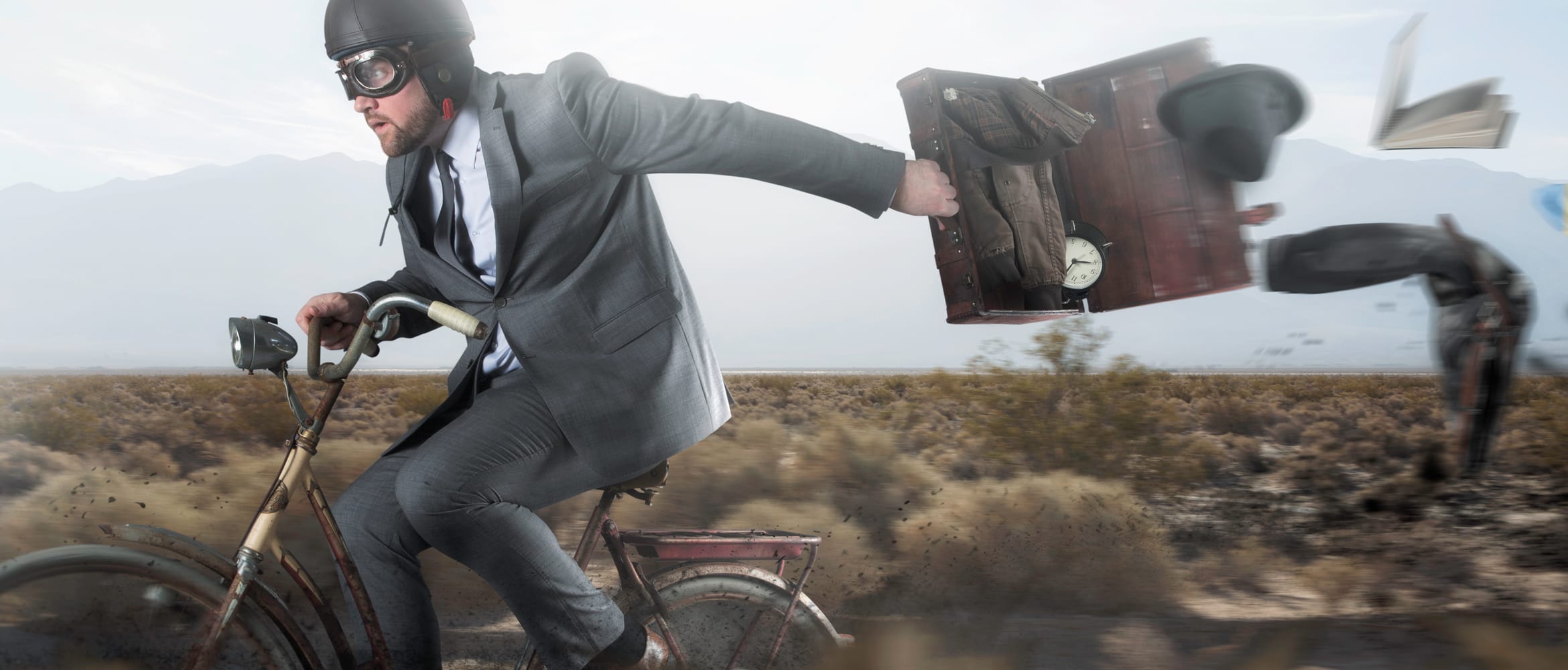 Out Of Office: Equipping the agile field workers of the future
In this digital era, mobile technology is enabling smart businesses to offer a professional service with a personal touch.
Equipping workers in the field with technology that delivers all the functionality available from an office or base, such as instant access to invoices and the ability to provide printed quotes wherever they may be, is proving genuinely transformational for businesses that operate in this way.
Take Hillarys Blinds, where boss Julian Bond arms his workforce with an enterprise mobile app, a Brother printer, and a portfolio of sample blinds, curtains and other products.
Its consultants go to prospective customers' homes, which enables them to come up with a design that fits their needs precisely.
"Our offering is unusual," he says. "We bring the retail experience to your home."
The real-world communication has been critical to the firm's success, he claims. "It's difficult to determine feel and quality over the internet," he says.
"Some fabrics look beautiful on a screen but can feel cheap. Some wooden blinds might be just 5p difference in price but one will take two hands to pull up, and the other just one."
By bringing samples into people's homes, they get to truly understand what they are buying.
But this strategy is complemented by mobile technology: a virtualisation app takes a picture of the customer's home, and then overlays the products they want to buy over the image so they can see how the curtains or blinds will look.
"We also use our portable printer to leave the customer with a professional-looking receipt or quote," adds Bond. "That differentiates us from the competition."
Rivals are typically small local tradesmen who leave "scrappy pieces of paper", he explains.
Founded in 1971, Hillarys is now the biggest supplier of residential window coverings in the UK, turning over £200m and employing 1,500 full-time staff as well as a network of field sales agents.
"We've seen double-digit growth over the last few years in an industry that is contracting," says Bond.
On the move
Founder and chairman of kids' food brand Ella's Kitchen and best-selling author of Little Wins Paul Lindley is using mobile technology to manage his diverse empire wherever he may be.
"I have a number of different jobs, so I'm literally always on the move and work from a virtual office," he says.
This is why it is crucial that he can receive and process documents from anywhere.
A decade ago, signing and returning contracts was a slow and painful process, which meant returning to the office to print and stamp and finally post.
But today, handheld printers and scanners can help entrepreneurs like Lindley get the job done in moments. "It's fantastic because I can either email something straight back or send it to print wirelessly," he says.
Milk Beauty is another business that is always agile – so much so, that it doesn't even have an official headquarters.
From blow-dries to manicures, massages to spray tans, its mobile therapists whizz across the length and breadth of London offering customers beauty treatments galore.
Founder Lucy Patterson has grown the firm to 60 beauty technicians over the past four years, and now her team manicure 30,000 nails a week. But operating a mobile workforce has its downsides.
"We work all around London, which is a big distance to manage," she says. "And while some of our beauty therapists work for us full-time, others dip in and out, so it's a diverse workforce too."
Out and About
In the early days, Milk used a generic online calendar for field service management, but Lucy soon realised this wasn't fit for purpose.
"It was easy to makes mistakes typing in the information, and people could accidentally delete things very easily," says Patterson.
Today, her workforce uses the When I Work app, which has "revolutionised" the business, she claims. The mobile workforce management app pushes reminders about appointments, warns of clashes, and lets the therapists swap shifts easily.
"This has reduced the time we spend on scheduling by 35%," says Patterson. "It also has GPS tracking, which means we know when our team has arrived at a location. Security-wise, it's been important because we know they're safe."
According to the 37-year-old, mobile technology has been integral to the success of her business.
"I'm a huge advocate," she says. "This business couldn't have existed 10 years ago. The whole company is built on cloud-based software.
While Milk Beauty has been borne out of mobile field service management tech, Pimlico Plumbers started life as a traditional plumbing business back in 1979.
Founder Charlie Mullins OBE now has 250 vans on the road helping customers with everything from burst pipes to broken boilers. As the business has grown, it has evolved to keep pace with modern life.
Doing it Digitally
"We keep it simple, but technology has become very important to the business," says Mullins, who acted as a business advisor to David Cameron when he was prime minister.
"We have GPS tracking systems on the vans, which tell us where engineers are at all times. This means if there's an emergency in Chelsea, we can find the nearest person to the job.
"Quite often, they're in the same street! That makes us much more efficient and saves on fuel too."
Mobile phones have been essential to the business for many years, but now they are used for more than just general communication. Pimlico Plumbers used to struggle with parking vans in London's residential areas but now its engineers find free spaces using an app called AppyParking.
"It means they're not driving around for ages," says Mullins.
However, it's the most recent mobile workforce management innovation at Pimlico Plumbers that will make the biggest impact on field worker productivity, according to the 64-year-old entrepreneur.
"We have taken on a new iPad system, which means engineers can write out invoices and send them back to the office instantly," he says.
"This will be the best thing we introduce. Our engineers used to bring a pile of invoices back once a week, as well as other documentation such as estimates, but now it's all done digitally. It saves a lot of time for us."
Mobile is a Must
Mullins and Patterson aren't alone in employing an increasingly mobile workforce. According to research house Strategy Analytics, the number of field workers will increase from 1.32 billion in 2014, accounting for 37.4% of the global workforce, to 1.75 billion in 2020. This means that within three years, 42% of the global workforce will be mobile.
Sara Tomaszewska, founder of Birmingham-based Little Media Bureau, uses a team of freelancers to run client social media accounts.
The entrepreneur, who has been in business for a year and a half, says that she and her team – which is based all over the UK - use all the social media apps, from Instagram to Facebook and Twitter, to manage client reputations online.
"We do almost everything on the go and try to respond to every query instantly, says Sara, "and mobile is a must."
But it takes more than these mobile platforms alone to run a virtual agency. Tomaszewska and her freelancers need to crop and enhance pictures, add logos and watermark images on-the-go. They use specialized mobile apps, designed with field workers in mind.
"Back in the day I would have to edit photos on my desktop computer, and then send them to my phone to upload onto Instagram, but now I can do it all from my mobile," she says.
She uses Brandstamp for adding logos to pictures, Resize for changing images sizes, HelloSign for signing documents, and WeTransfer for sending lots of photos from her phone in bulk. She also uses the app CamCard for scanning business cards, which puts them straight into her contacts. "It's all about being able to work from anywhere at any time," she says.
Mobile technology not only makes field workers more efficient, it also keeps them safe on the road.
Untethered from the Office
Send for Help, which was set up by brothers James and Will Murray in 2010, uses state-of-the-art GPS key fob-sized devices to help protect 150,000 mobile workers. It's become the largest lone worker protection firm in the world, turning over £8m.
"Our biggest customer is the NHS, which has nurses going out into community on their own, and also utility companies, which send people out to read meters," says James Murray.
"Our device has GPS built into it and a SIM card so you can make a two-way voice call."
When field workers feel threatened, they can press an SOS button, which allows a controller to see their location and begins an audio recording of events. If there is a genuine threat Send For Help has a hotline into the emergency services, which bypasses 999.
Based in Epsom, Surrey, the firm is using this technology to bring comfort and security to the mobile workforce.
"Organisations want to protect their staff," says Murray. "They have turned on the news over the last few months and seen events both at home and abroad which inevitably heightens awareness of safety and security. We live in uncertain times, and this has seen a number of prospective clients cement their decision to use us."
Mobile technologies – from mobile print and scan to tablet and mobile apps – are helping build an agile UK workforce, untethered from the office and capable of working from anywhere.
As customers – both businesses and consumers - demand increasing immediacy of service, successful firms must build logistical and operational efficiencies into their business model.
Milk's Patterson explains: "Today, we offer a totally human service, but it's totally powered by mobile technology."
Find out more about Brother's mobile print solutions and how they could be applied in your business.