The dog-friendly office index
Where to find the UK's most dog-friendly workplaces
The UK has always been a nation of dog lovers, and now that enforced working from home has come to an end and people are returning to the office either full time or in a hybrid capacity, it may be hard to say goodbye to your furry friends. But we have some paw-sitive news for you – since dog-friendly offices have been recognised to promote a stress-free and productive environment, dogs are now welcome more than ever in the workplace.
To discover which UK cities and sectors are offering the most dog-friendly offices, we analysed job postings on Indeed which included reference to a 'dog-friendly office'.
We then analysed a sample of these job postings to reveal which sector is most open to dogs in the office and conducted a survey of 1,000 UK adults to find out what the public thinks about this doggy development.
We also partnered up with Certified Animal Behaviourist, Caroline Wilkinson, to gain insights in ways workplaces can ensure it's a safe environment for pets and colleagues.
The best UK cities to take your dog to work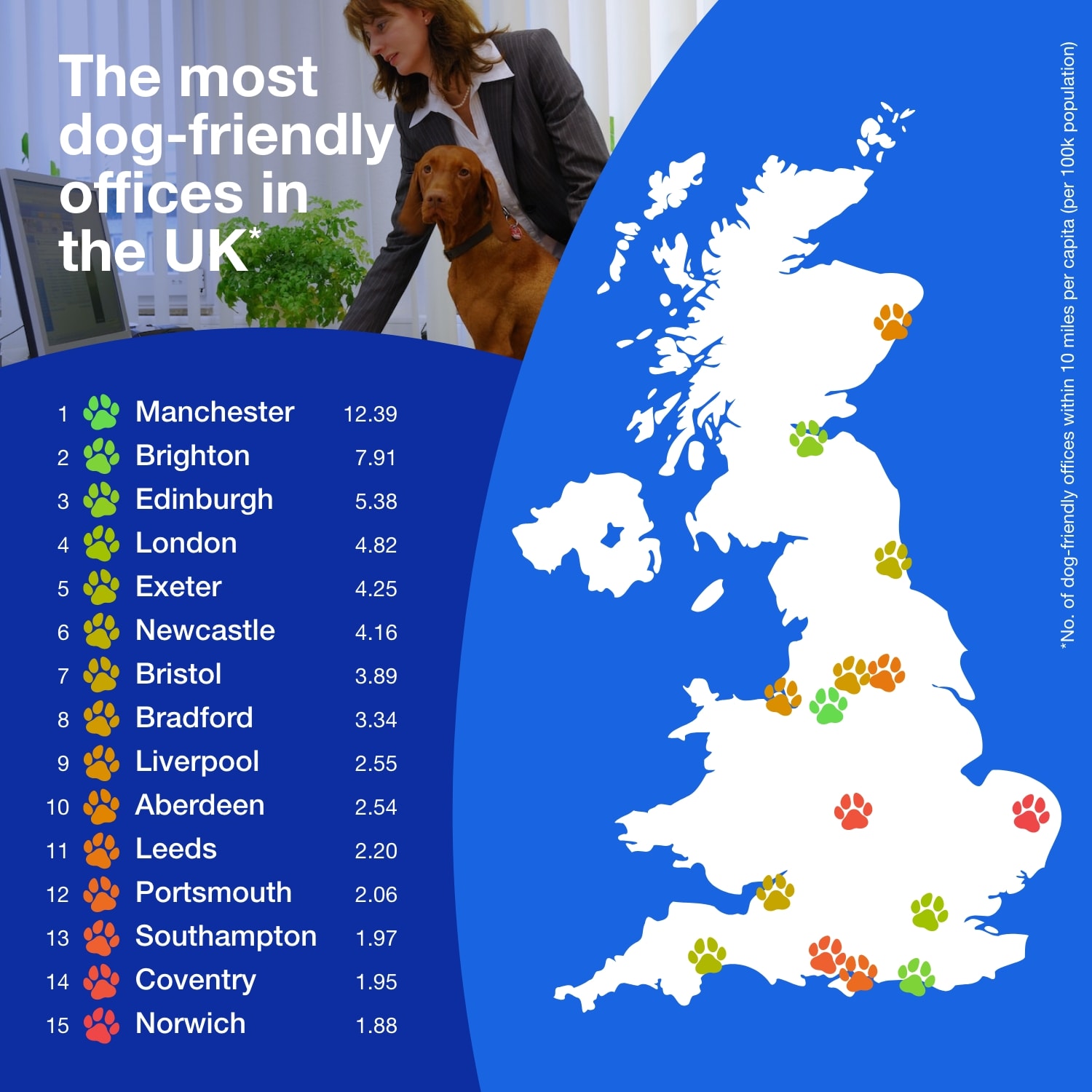 1. Manchester
Manchester leads the way with the most dog-friendly offices per capita, boasting 12.39 per 100,000 people. Outside the capital, the city also has the most dog-friendly offices, with 49 dog-friendly offices near the city centre. Whether you have a Maltese or a Mastiff, Manchester offices have the pawfect policy for you and your dog companion.
2. Brighton
In second place is Brighton, with 11 dog-friendly offices near the city centre, 7.91 per capita. Brighton's pebbly beaches offer an idyllic spot for you and your dog to enjoy your lunch break – with the extra perk of no sandy office footprints.
3. Edinburgh
Edinburgh is the third city in the index, with 25 dog-friendly offices near the centre, which equates to 5.38 per capita. From Shetland Sheepdogs to Skye Terriers, Scotland is home to some of the most beautiful dog breeds. The city itself has plenty to offer, with everything from green space to dog friendly pubs and restaurants – now that's surely something to set tails wagging!
4. London
It may come as no surprise that the UK's capital has the most offices allowing pets, with an astonishing 364 dog-friendly offices– but when we compare this to the city's population, that equates to 4.82 dog-friendly offices per 100,000 people. Our fluffy friends are welcome in most London parks and green spaces, with Hyde Park the perfect option for workers seeking some doggy downtime. With lots of space for your puppy to roam around with his new playmates on your lunch break, you'll both be refreshed and ready to return to work in no time.
5. Exeter
Exeter places fifth in the index, with five offices near the city centre, 4.25 per capita. As a cultural hub, Exeter provides the perfect cityscape for a coffee break and a stroll – so schedule in a well-deserved puppuccino for all your dog's hard work!
The survey says...
A dog-friendly office sounds like a pet owner's dream, but do the stats back it up? Take a look at how the rest of the UK feel about the possibility of some furry new workmates!
As the graphic shows, more than half (51%) think that a pet-friendly office is a good idea. Out of all the age groups, 16–24-year-olds were the biggest fans of dogs in the office.
However, on the opposite side of the debate sits 45–54-year-olds, with 35% of this age group being against the idea of pets in the office – more than any other age bracket. Reasons cited include phobias, allergies, and pets being a distraction.
Overall, out of the total people surveyed, 28% think dogs should not be allowed in the workplace while 21% said they weren't fussed either way.
Most desired cities for a dog-friendly office
Bristol
Bristol residents favour dogs in the office more than any other city, with our survey revealing 51% of Bristolians support dogs in the workplace.
You are spoilt for places to walk your dog in Bristol, from well-kept parks to stunning nature reserves, as well as the city's harbour to take your pooch during lunch. With so many perks to having puppies in the office, and all the amenities to cater for them, who wouldn't want them in the workplace?
Leeds
Leeds ranked just behind Bristol as the second most pro-dog city, with 41% of these respondents in favour of an office dog. With plenty of open green space, Roundhay Park is perfect for your dog to let off some steam and tire them out before an afternoon back at the office.
Cardiff
In third place comes Cardiff – with 39% in support of having an office dog companion. With so many beautiful landscapes to explore, from mesmerising waterfalls to beautiful woodlands, it's no surprise that South Wales is one of the best destinations for walkies with our furry friends.
Belfast
Belfast ranked last, with a dramatic dip to only 7% of respondents favouring dogs in the office. However, if residents ever changed their minds about adding puppy playmates to the work roster – there are plenty of parks, gardens, and trails to keep their furry friends entertained.
The most dog-friendly sectors
Software development
Our research revealed the software development sector currently offers the greatest number of dog-friendly office positions. Overall, 26% of the total number of vacancies catered to a dog. With Google setting the standard for dog-friendly offices over in the US, many companies have followed suit in the industry. So, you can be sure to find a lot of tails wagging in the software development sphere.
Marketing
The second most dog-friendly sector is marketing, with 13% of the total listings offering a spot at the desk for our four-legged friends. With the marketing industry being known for its creativity and flair, it's no surprise that dogs are welcomed into the workspace to boost morale and to get creative juices flowing!
Sales
The third most dog-friendly sector is sales, with 13 dog-friendly office positions available – equivalent to 9% of the total listings. What better way to seal the deal than with a dog by your side?
Business development
Business development is the fourth most dog-friendly sector, with 5% of listings offering the perk of having a pooch in the office.
Recruitment
The fifth job sector is recruitment, with seven dog-friendly office positions available, accounting for 5% of the total listings. We don't know about you, but we've heard that puppies can be very persuasive – so they are naturals in this office environment.
Dog-ifying your office
Although not every industry will be well suited to being a dog-friendly environment compared to others. We asked Caroline Wilkinson, Certified Animal Behaviourist how offices can be a safe and fun environment for our pets.
Caroline said: "Assessing each dog for its individual suitability is really important, as is having an open dialogue with colleagues on an on-going basis to keep checking if the dog is coping."
"Regular Canine Body Language training sessions should also be incorporated so that those colleagues who aren't so familiar with being around dogs can understand how the dogs are feeling – when it's okay to approach the dogs and when they need space."
"Things to consider in the office policy might include how many dogs can comfortably attend each day. Having a free-for-all can end up with chaos and stress, for both staff and the dogs of the office. It's important to not only consider how much physical space is available for those dogs, but if there are easy ways to separate them – either by child gates or doors – if the need arises."
"Creating some calm enrichment zones is also a lovely idea. Just like you might think of the fun things you can add to an office break room for colleagues – a space with different textures, toys, and stuffable food toys can be great for dogs to spend a few minutes of positive time so they aren't getting bored of sitting around all day."
With the nationwide shift to pet-friendly offices in full swing, welcoming our fluffy friends into the workspace is becoming the new norm. Whether you're in a home office environment, hybrid working or returning to the office full time, dogs make the perfect companion.
---
Methodology and sources
We looked at job postings on Indeed, which included 'dog-friendly office' as part of the description. We then analysed a sample of job postings and assigned them into sectors, to assess which sectors most welcomed dogs in the office. In total, 574 jobs mentioned 'dog friendly office' in the description.
We also conducted a survey of 1,000 UK adults, asking them if they felt having dogs in the office was a good or bad idea - and asked them to expand on their reasons for feeling this way. Open responses were assorted into themes ( e.g., 'distraction to work').
Only cities with a population of 100,000+ people were included in our Indeed dataset (not the survey).
We applied a radius of 10 miles from the city to gather info on the number of job postings.
Data accurate as of December 2021.