SME Robotics: An emerging opportunity for businesses
Robotics were once the sole preserve of heavy industry, but today, small businesses are starting to deploy them too. Three SMEs explain why.
Robots have been commonplace in heavy industry for decades – Fiat's famous advert entitled "Built by robots", which showed huge industrial machines building its Strada model to the soundtrack of Mozart's Figaro, first aired in 1979. But many other sectors are beginning to wake up to the benefits that automation can bring, and smaller firms are beginning to utilise robots for the first time.
Josh Valman (pictured below) is the founder of RPD International, which allows companies to use its smart supply chain to make almost any product cheaply and quickly. Start-ups use RPD to manufacture small batches of products, while large corporates use its agile production line to create prototypes.
"A big company like Unilever can manufacture tens of thousands of units each day but we may only produce 10,000 units in total for any one customer," explains Valman. "This means we need a supply chain that is capable of doing many different things without having to change facilities or buy in new expensive machinery."
Robotics help the three-year-old firm to offer a flexible service. "We use robotic arms, which can do a variety of things," Valman explains. "If you're only making 10,000 units, that won't justify a price tag of £400,000 for robotics. But if you can use the robots for lots of 10,000-unit projects, then they pay for themselves."
Robots are very useful for undertaking repetitive and laborious tasks, he adds. "If I have a product that comes in 10 colours, with lots of different plug and language options, for example, I would use robots to pack a red one with a UK plug and English instructions into the right box. They are really good for combination stuff like that."
Indeed, retail giant Amazon uses a 45,000-strong robot army to pick and pack products across its vast fulfilment warehouses.
The rise of the 'co-bot'
Smaller companies are not swapping their human workforce for robots – at least not yet. Instead, one of the biggest trends in robotics is a move towards collaborative robots – or "co-bots" as they are now known.
Robots are becoming increasingly sophisticated but still fail to demonstrate the same dexterity as the human hand, for instance. So now these machines are being designed to work in tandem with people to complete tasks. Take Baxter, designed by Rethink Robotics, which has a pair of robotic arms and an LED screen for a face. This machine has been programmed to be totally safe – it senses the person working beside it to avoid causing injury. You can also teach Baxter by taking its arms and manipulating its "hands" in order to train it. Rethink Robotics later launched Sawyer, a more hi-tech version of Baxter.
Rival outfit ABB has also got a robot on the market, the headless YuMi, which is popular with small manufacturers because of its relatively low pricetag of £30,000.
Cost is key to driving adoption, and innovative robotics firms are now introducing novel payment models to help even more small companies access these clever devices. Take British robotic solutions start-up Automata, which has created a lightweight, easy-to-use robotic arm named Eva. The robot is built super cheaply with the help of Autodesk software, giving the arms a pricepoint of just £2300 plus each robotic arm connects to the internet so that Automata can charge its customers on a 'pay-as-you-go' basis.
Overcoming the barriers to adoption
"There is a massive perception hurdle when it comes to robotics and we're working to change this by introducing even more affordable options," says Mostafa Elsayed, co-founder of Automata. "The manufacturing industry is changing rapidly, with companies opting for on-demand services over large-scale, heavy investment. Our service model enables customers to only pay for the hours they're using Eva – a bit like an hourly wage. We believe that the future of manufacturing will be based on these kind of flexible, affordable subscription-based services."
As robotics firms start producing these machines in greater quantities, the prices will fall yet further, spurring higher rates of adoption. According to a study by research firm MRRSE, the market for robotics is set to grow by almost 50 percent each year until 2024, reaching an estimated value of £13.1bn that year.
Morgan Innovation & Technology, which manufactures hi-tech products on behalf of new inventors, doesn't currently use robots at its facilities. However, technical director James Quest believes that the falling price points, improved functionality, and obvious efficiencies they can bring mean that it won't be long before the company takes the leap.
"There are many exciting technologies and improvements to robotics and their use in the manufacturing sector," he says. "As we develop our manufacturing to handle higher throughput, the use of robotics becomes a consideration to help reduce assembly costs, improve quality and even conduct some quality inspection with machine vision."
Robots don't have to be humanoid machines with two arms, they can be small unassuming devices. As long as they fit the technical definition of: "A machine capable of carrying out a complex series of actions automatically, especially one programmable by a computer", that machine is a robot.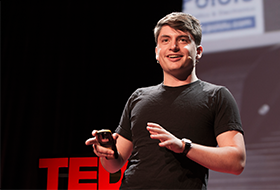 Back in the UK
At Bow Tie Construction, a London-based construction firm specialising in Passivhaus – low-energy buildings – they are now using a robot to radically improve the accuracy of their plans, reduce the time it takes to complete Passivhaus refurbishments and save money for clients.
"We use 3D scanning technology to capture data on buildings," explains Bow Tie boss Rafael Delimata. "That means we can see if walls are uneven, if window frames are crooked. It creates a 3D image that we can view on the computer, and turn into real 3D models." Crucially, the 3D scanning robot can turn the data it collects into an image that can be viewed through a virtual reality device, so that clients can simulate walking around their dream home, and find potential snags before it is built.
The technology was expensive to buy, admits Delimata, but will soon pay for itself. "Once you start working with builders, it is not unusual for projects to be completed late, or over budget," he says. "This is particularly true of refurbishments because of insufficient information about the building. We have found that by spending more money up front to carry out the 3D scan and build proper models, we eliminate unforeseen problems in future so that work can be completed on time and to budget."
Robotics revolution
According to RPD's Valman, transparency is a major driver of the robotics revolution. Companies are increasingly demanding that robotic sensors are installed to bring visibility to the manufacturing process in real time. "Companies historically have had very little communication with manufacturers, except for getting a price, and later the products," he explains. "But if you're paying £9 a unit, you may presume that's the price of the thing – until you find out that the manufacturing process is flawed and there's a lot of wastage, so you're paying £9 for something that should cost you £1.50." Many small companies are now using sensors to help customers understand the throughput of each machine and prove their efficiency.
It is clear that businesses around the world are waking up to the new robotic age - and now even governments are being forced to react to the trend. Earlier this year, a proposal to give robots a new legal status of "electronic person" was put to the European Union. As with any developing technology, there will be challenges for early adopters but firms who refuse to acknowledge the rise of robots may risk being left behind.
Learn how small businesses from various sectors are employing technology to their advantage by improving productivity and reliability by visiting Brother's business solutions homepage.