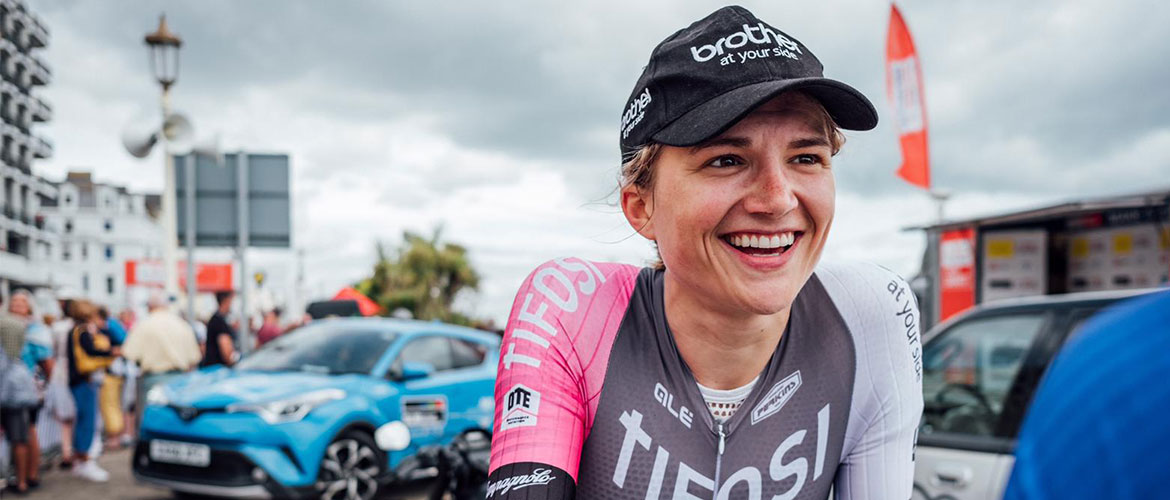 Leah Dixon: a meteoric rise
Leah Dixon only started cycling two years ago. Since driving a day-long breakaway on the opening stage of the Tour de Yorkshire, she's quickly become the worst-kept secret in women's cycling.
It's early on a humid Thursday evening in August when Leah Dixon takes our call. She's about to begin a turbo session but generously agrees to talk.
After another day spent as a procurement manager for a national retail chain ("I take care of the fixtures and fittings: everything you see in the shop, except for the stock"), her work as an athlete is about to begin. It's 7.30pm.
There is little glamour in domestic cycling, but it is rich in opportunities to create memories that will last a lifetime; still more alluring is the promise of greater things to come. Dixon is enjoying a breakthrough season in the startlingly successful debut campaign of the Brother UK-Tifosi p/b OnForm squad.
At the Tour de Yorkshire, she delivered a performance to compare with any this season on British roads, yet she is far from boastful. Instead, Dixon describes in level-headed terms her ambition to race in the UCI Women's WorldTour, should her meteoric rise continue.
Dixon only began competitive cycling two years ago; a surprising revelation, given the standard she has already attained. The speed of her progress is underpinned by greater experience of the athlete's life; its rhythms and routines, sacrifices and demands. Dixon was a middle-distance runner, and a good one - a Welsh national champion, no less - until repeated injury forced her from the sport.
She began a comeback of sorts by training for a marathon, but further injury (shin splints) led her, indirectly, to the bike, initially as a means of maintaining fitness. Fate intervened when she noticed an advert for a taster session with Wolverhampton Wheelers at Aldersley Velodrome. The rest is a remarkably brief history.
Dixon's rise doesn't even span her two years as a racing cyclist. She readily admits that last season, her first as a competitive rider, racing for the Brother UK-sponsored Cycle Team OnForm squad, her ambition extended no further than survival.
"I spent all of last year riding at the back," she admits, laughing. "I wouldn't have known if a break had gone, let alone been in it."
This season, the results of a consistent winter training programme have been apparent from the first race on the National Road Series calendar. Dixon's time has come.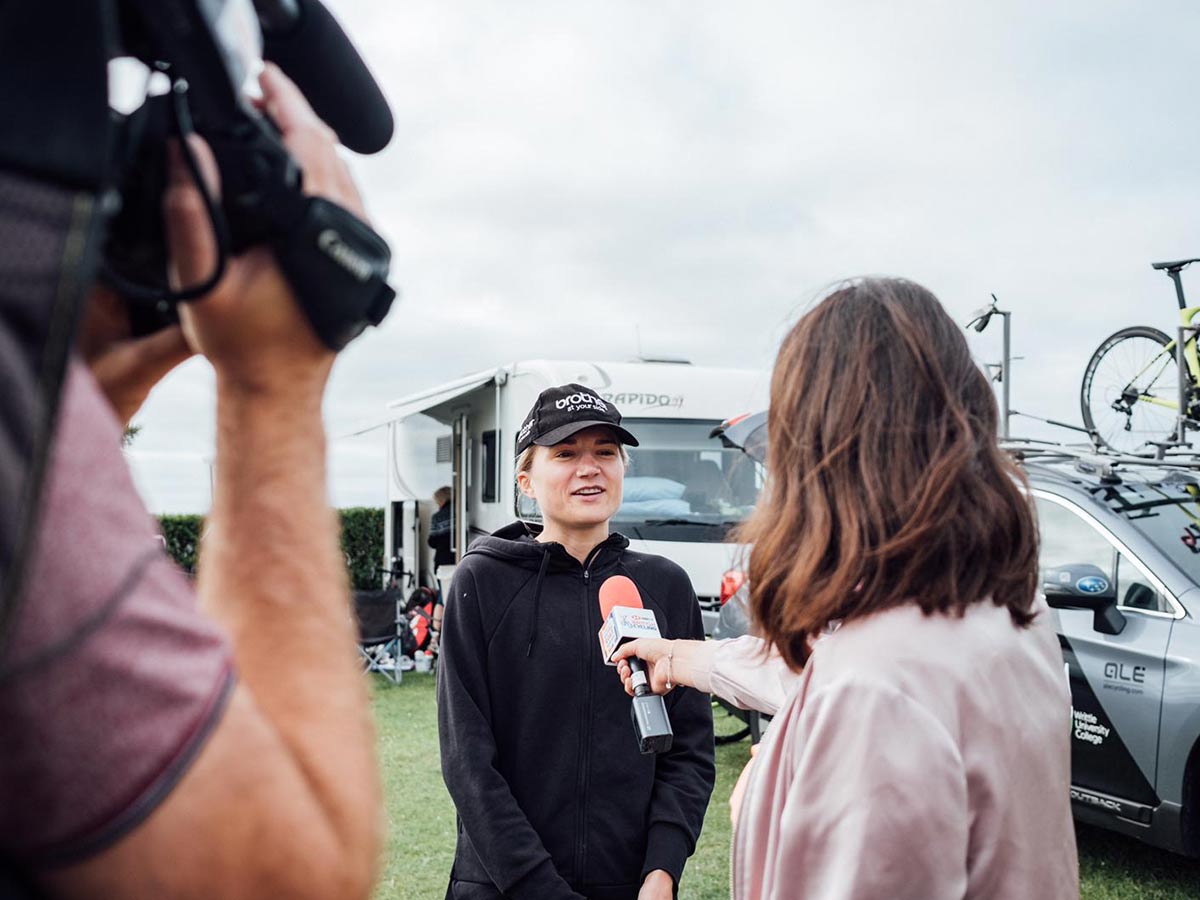 The power of momentum
Dixon announced her presence on the national stage with a performance of strength, power and maturity at the Klondike GP.
Four months later, describing the events of a windy day in Saltburn, she still sounds surprised. A day begun with no expectations of the podium ended with third place behind winner Anna Henderson, her team-mate, and runner-up Jos Lowden (Brother UK-FusionRT).
She describes savage climbs and big crowds; two features of a wild day in Cleveland likely to have impressed themselves on the memory of anyone present. Dixon has additional reasons for recalling the details, however: the Klondike GP set in train a season in which she has continued to gather momentum.
"On the run into the finish, Anna and Jos were away, and there might have been a group of about 10 of us following. Even at that point, I had no plans to sprint for third. I was trying to lead out Becks Durrell, our team leader, but I came around the final corner and no one came past me."
That impressive start made by Brother UK-Tifosi p/b OnForm to British Cycling's flagship series for women's road racing triggered a period of dominance that today has given Simon Howes' squad an unassailable lead.
Dixon attests to the power of momentum; the reinforcement of belief among a group of individuals that makes the whole greater than the sum of its parts.
"Everyone gets on really well. We like and respect and support each other. Simon has done a brilliant job, and Paul Freeman too, in creating that team ethos. We all want success for the team."
Modesty prevents Dixon from offering her own performances as evidence, but one need only consider her increasingly polished palmares. This year, she has recorded overall victory at the Tour of the Reservoir (sealed by victory on the second stage), a place on the podium at the South Coast Classic and a top-ten finish at the Curlew Cup, in addition to her podium at the Klondike GP.
Dixon is living proof of the talent pipeline built by team manager Howes from a not-so-secret source labelled Cycle Team OnForm; a development outfit for men and women, senior and junior. Dixon clearly impressed her boss during her time in OnForm's harlequin colours and has taken a significant step forwards since staking a place on his new, elite team.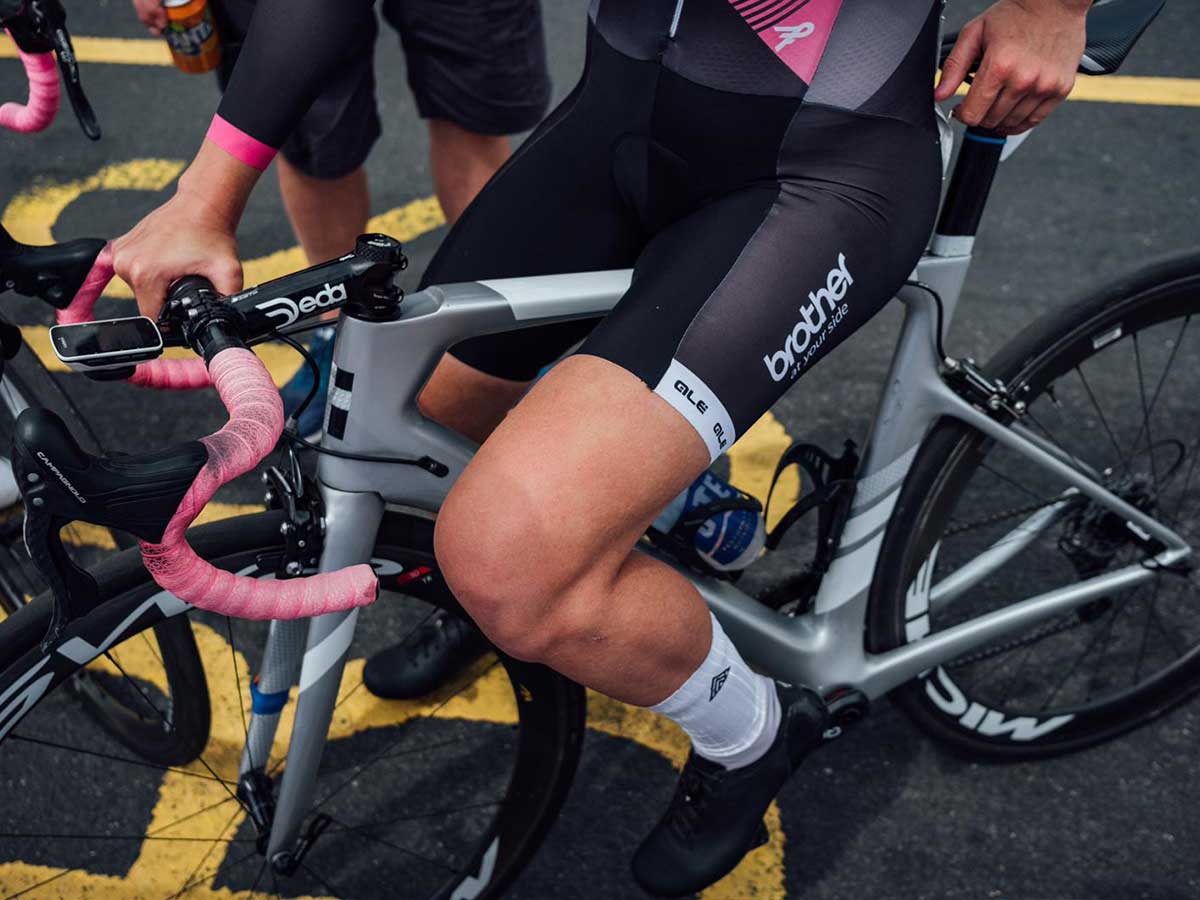 A poorly kept secret
A concurrent programme of external recruitment has seen Howes supplement the talent sourced 'in-house' from Cycle Team OnForm some of the strongest and most established riders in domestic women's cycling; a description that fits Rebecca Durrell, to name only the team's highest-profile signing, to a tee.
Recruited from Storey Racing, and previously a rider for the UCI-registered Drops team, newly-crowned British circuit race champion Durrell has become even stronger since joining Brother UK-Tifosi p/b OnForm, winning or finishing in the top five in almost every race she's started this year. Dixon has paid close attention to her more accomplished team-mate.
"I've learned a lot from Becks this season. She's always calm, reads the race really well, and always knows what to do. We've been quite dominant as a team and so it's been a steep learning curve for me, still being so new to racing. If I'm unsure about what to do in a race, I always turn to Becks."
Dixon is also able to call upon the experience of boyfriend Jacob Tipper, who races on the road with Ribble Pro Cycling and on the track with Huub-Wattbike. His advice prevents her from "meltdown", she laughs, and while road racing is a shared interest, she has no desire to transfer her talent to the track.
"I'm scared of the banking and the general lack of brakes," Dixon jokes, admitting that she rode in the bottom group in her few track league appearances last winter.
Her talent on the road, however, is no longer in dispute and, since driving an all-day breakaway at the Tour de Yorkshire, she has fast become the worst kept secret in women's cycling. Dixon played a central role in the two-rider escape that defined the opening stage; a move initiated by Bigla's Lizzie Banks, herself a graduate of a Brother UK-supported team.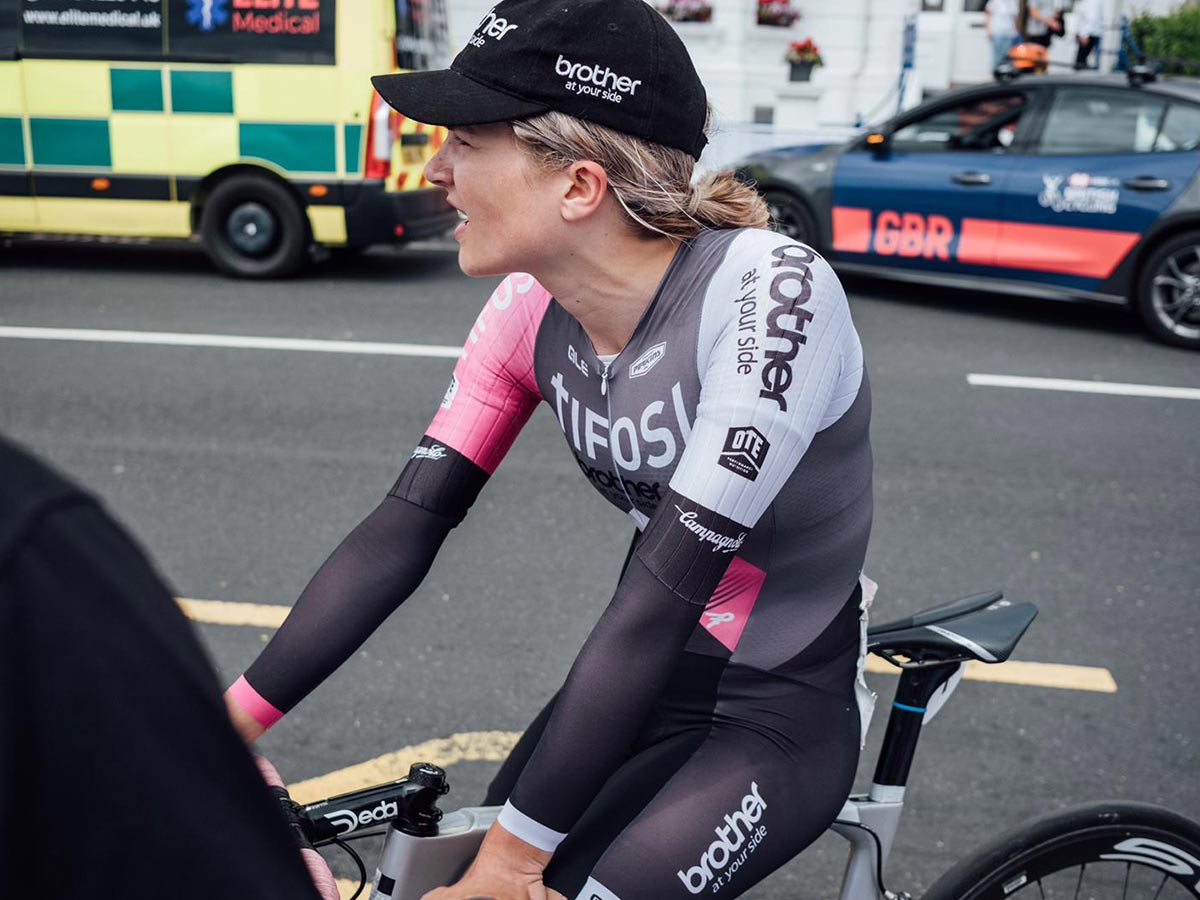 An unforgettable day
The events that unfolded over the next three hours provided the material for an unforgettable day of racing, one which saw the British pair gain raucous support from the thousands who lined the 132km route from Barnsley to Bedale and from the millions more who watched at home, bellowing at their television screens.
The pair stayed clear until the first of two laps of the World Championship circuit in Harrogate, when they were joined by three other riders. Strengthened by the presence of fresh legs, Dixon's group held off a rampaging peloton comprised of UCI Women's WorldTour talent until just 3km to go.
Driving rain did not weary them and only the combined might of a world-class field driven by former World Champion Lizzie Deignan (Trek-Segafredo) could bring them to heal. Television viewers voted Dixon the most combative rider, concluding a highly successful stage in which team-mate Henderson finished eighth in a bunch kick contested by the world's best sprinters. Mission(s) accomplished.
"It wasn't necessarily planned, but it was definitely a goal. We had a team chat the night before and decided that the goals for the day were to get somebody in a break, if there was one, and to get a top 10 finish, which Anna [Henderson] duly delivered," Dixon recalls.
"It was a great stage. The support we got from the roadside was massive, despite the fact that it rained for quite a lot of it. It helped enormously, especially when people shouted our names as we rode through the towns and villages.
"On the finishing circuit in Harrogate, the crowds were huge. I never expected to make it that far. When the kilometres were ticking down, I started to get a bit excited. Even now, I look back and think, 'Maybe I should have made one last attack towards the end.' Who knows what might have happened?"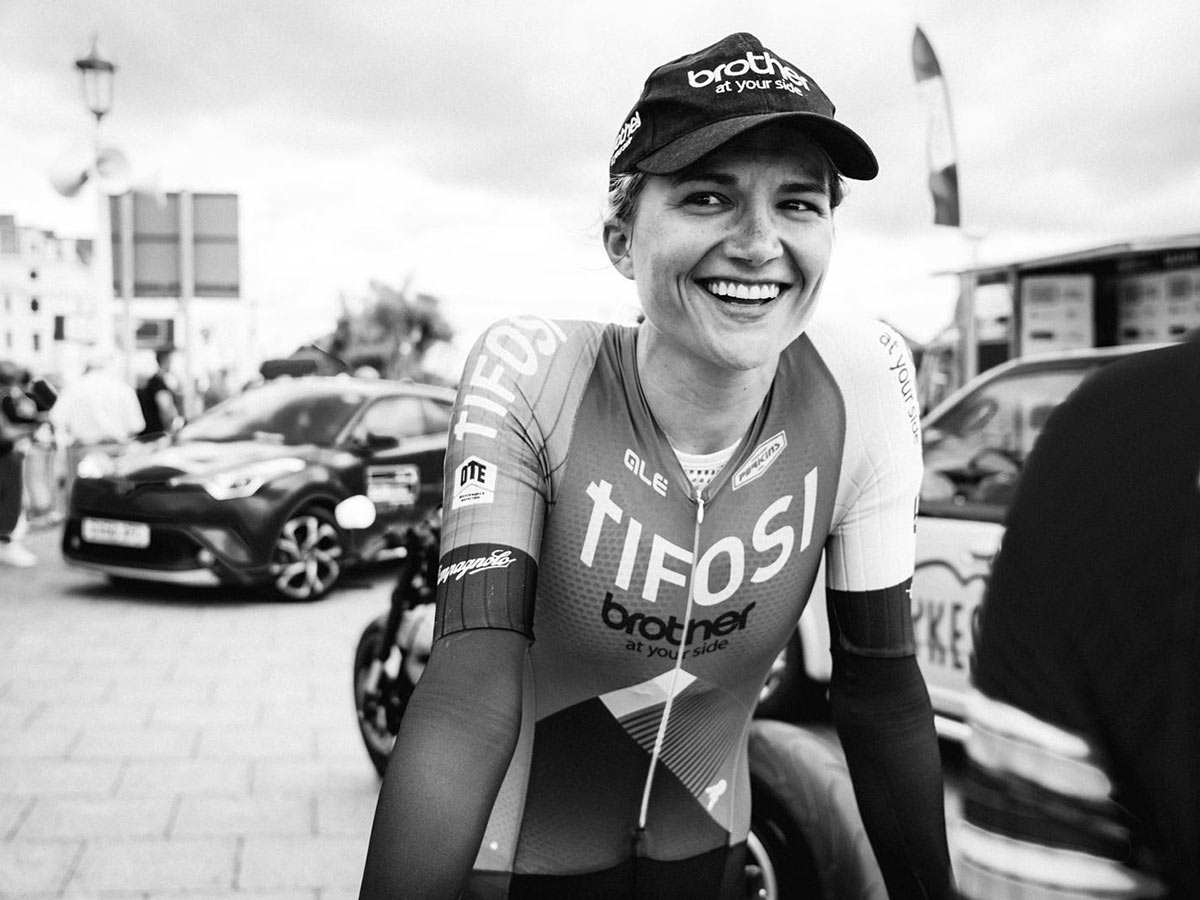 Determination and resolve
Dixon surely cannot have regrets after such a magnificent ride. It is a measure of her ambition however that she allows herself to think that a prize greater even than the combativity award might have been within her grasp, despite such accomplished opposition. She does not rule out one day joining them, either.
A step from a Brother UK-supported domestic women's team to the professional ranks is not unprecedented. Banks, her breakaway confederate in Yorkshire, is living proof; so too is Banks' Bigla team-mate Sophie Wright, who last year raced for Team Torelli-Brother.
"All of this has happened pretty quickly for me, but if it became a possibility, it would be great to join a UCI team and race in the Women's WorldTour," Dixon reveals.
Modest to a fault and genuinely surprised by the speed of her progress, she is not looking too far ahead, but neither does she rule out one day joining those who are not forced to rely on a day job to support their racing.
We conclude the conversation by apologising for having intruded so long upon her training time, but Dixon is gracious and insists that we have not inconvenienced her.
Pleasant, engaging and intelligent, a Cardiff University graduate and regular reader, Dixon's determination to succeed is as clear in her resolution to cycle on the spot on a sultry summer's evening as in any race, Such qualities should take her far.