Crimson Performance: The people's team
The most inspiring stories are often those that involve the overturning of odds; tales in which determined characters acknowledge the prevailing tide and wade into the water anyway, believing in themselves and their cause.
Matt Hallam is just such a character and his elite, Brother UK-backed Crimson Performance-Orientation Marketing cycling team, founded to grant a sporting chance to riders in the North West, is just such a cause.
Hallam is now into the second year of a three-year plan conceived before the team had turned a pedal. His efforts have gained respect from the custodians of some of Britain's most prestigious bike races, and he has collaborated with bodies across the sport, from blue chip sponsors to grassroots organisers. He has strengthened and expanded his squad, and the team has staged their own race.
"Our goal this season was to step up. It's been hard graft and a very steep learning curve but we're committed to doing what we set out to do, which is to turn up to the UK's biggest races and pitch ourselves against full-time professionals. For us, it's still about providing opportunities for riders in the North West, which was the founding motivation. It's amazing to be able to do that, to do it well and to provide them with the support they need," Hallam says.
"It is tough. There's not many of us; essentially, it's still me running the team on a day to day basis. I am lucky to have a core group of friends who give up their free time to help at races, driving the team car, helping in the feed zone and a host of other tasks," Hallam says.
"Without the likes of Jason Ridehalgh, Matt Jones, Ryan Manders and Tommy Bustard, it would be a real struggle to support the riders as well as we do. We're not a professional team and we try to do the best we can with the resources we have, but from the outset, there's been a good vibe around the team. We're viewed as the underdog, to some extent. We're the people's team."
If this wasn't enough, Hallam runs two businesses directly related to the team. Crimson Performance is a power-based training platform offering innovative power profiling and training support. He has also built an enviable reputation as a bike fitting specialist, who can name Olympic champions among his clientele. For the team however, these are still early days and he relies upon the support of commercial backers. Having Brother UK at his side is a significant advantage.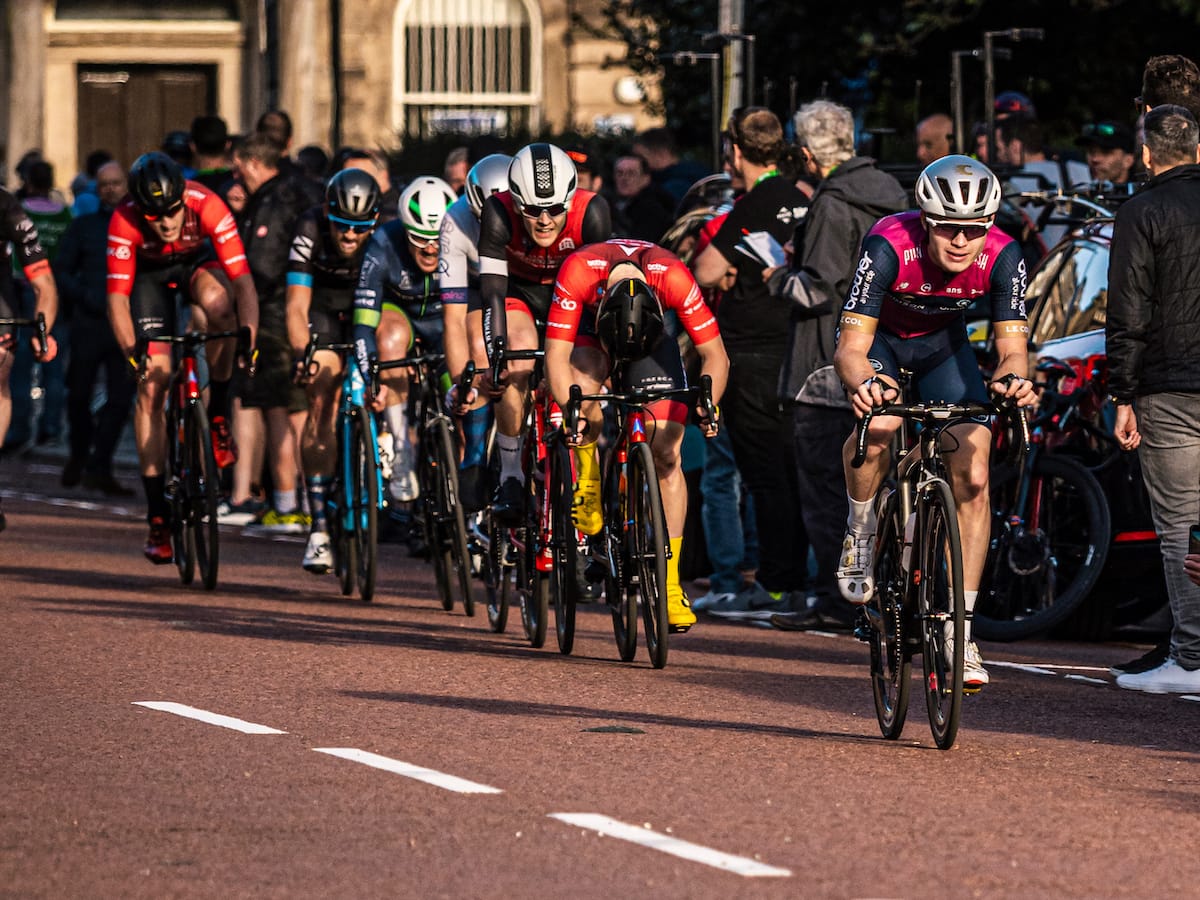 Championing the underdog
Hallam is entirely realistic about his team's position in the hierarchy of the domestic peloton. The more accomplished the opposition, however, the greater the reward his team enjoys in competing against them.
Only one member of Crimson Performance-Orientation Marketing is a full-time rider. Competing against those able to dedicate their entire working day to training and recovery therefore provides Hallam's squad with a satisfaction that cannot be measured solely by results.
"We're pitching ourselves against experienced riders, some of whom should be in the WorldTour. On some days, we're racing against the likes of Scott Thwaites (Vitus Pro Cycling Team, powered by Brother UK) and it's bonkers. I tell the lads: 'Step back and just remember: we only have one full-time rider and 13 lads who ride part-time.' I think it's just amazing," Hallam says.
As the team's founder and rider-manager, he is well placed to comment on the demands of building a squad from scratch. As well as these formal titles, Hallam is responsible for the duties of what would be a legion of supporting roles in larger teams, ranging from performance director to sponsor liaison. He is qualified to use terms like "hard graft" and "steep learning curve".
This year, Crimson Performance-Orientation Marketing was invited by organisers of the Lincoln Grand Prix, arguably the most prestigious one-day race on the domestic calendar, to field as many riders as the six UCI Continental teams that headlined the race. The contrast from the previous season, where only Hallam and three of his team-mates were invited to test themselves on a course punctuated by the savage cobbled climb of Michaelgate, could not have been greater.
"We were fighting for spaces at the Lincoln Grand Prix last season. This year, we had eight riders competing. I couldn't quite believe we got riders eight into the race. We're already being seen as a genuine team and one that gets stuck in. The first goal when we turn up is to enjoy ourselves, ride as hard as we can, and do our sponsors proud. That's good enough for me as team manager."
Making the scene
Crimson Performance competes in an exceptional era for men's elite cycling in the UK. The six UCI Continental squads by themselves represent a domestic peloton of unprecedented strength-in-depth. Among those who lead them are riders who have competed at the sport's highest level, and within their ranks are several destined to follow the same path.
Further, the new HSBC National Road Series has brought fresh, well organised and hugely demanding events to the calendar. Coverage of these races too has improved and broadened, making the series a more attractive proposition for sponsors - so much for the "British road racing is dead" narrative, peddled by some media outlets in the closed season.
"The level of racing in the domestic scene is exceptional and the racing is great to watch. There are so many quality riders in the National Road Series races that any suggestion of the sport dying a death is completely false. I think the scene at an Elite level is thriving," Hallam confirms.
"The likes of Vitus Pro Cycling Team, powered by Brother UK and Team Wiggins-Le Col are guys at the centre of the action at the Tour de Yorkshire, competing with WorldTour riders, yet we're racing against them in National Road Series events."
Despite such obvious quality, Crimson Performance-Orientation Marketing has been able to hold its own, both on the bike and off. The battle for sponsorship is as intense as any duel on the road, and represents another area in which Hallam's standards are of critical value. Crimson Performance's backers have been quick to recognise the value of a smart, courageous and friendly squad, prepared to mix it with more established teams and extend the hand of friendship to spectators.
"From the outside looking in, we look like a professional team. The style and quality of the image we portray is key. So many of our sponsors message me on Instagram, saying that the team looks great and the images have driven engagement their way,'" Hallam reports.
"The image that we work so hard to develop really helps when we want to put squads into National Road Series events. Money talks and we now have a healthy budget to put riders in races, even though they're very expensive. It's great that we've broken through and that our standards are becoming known."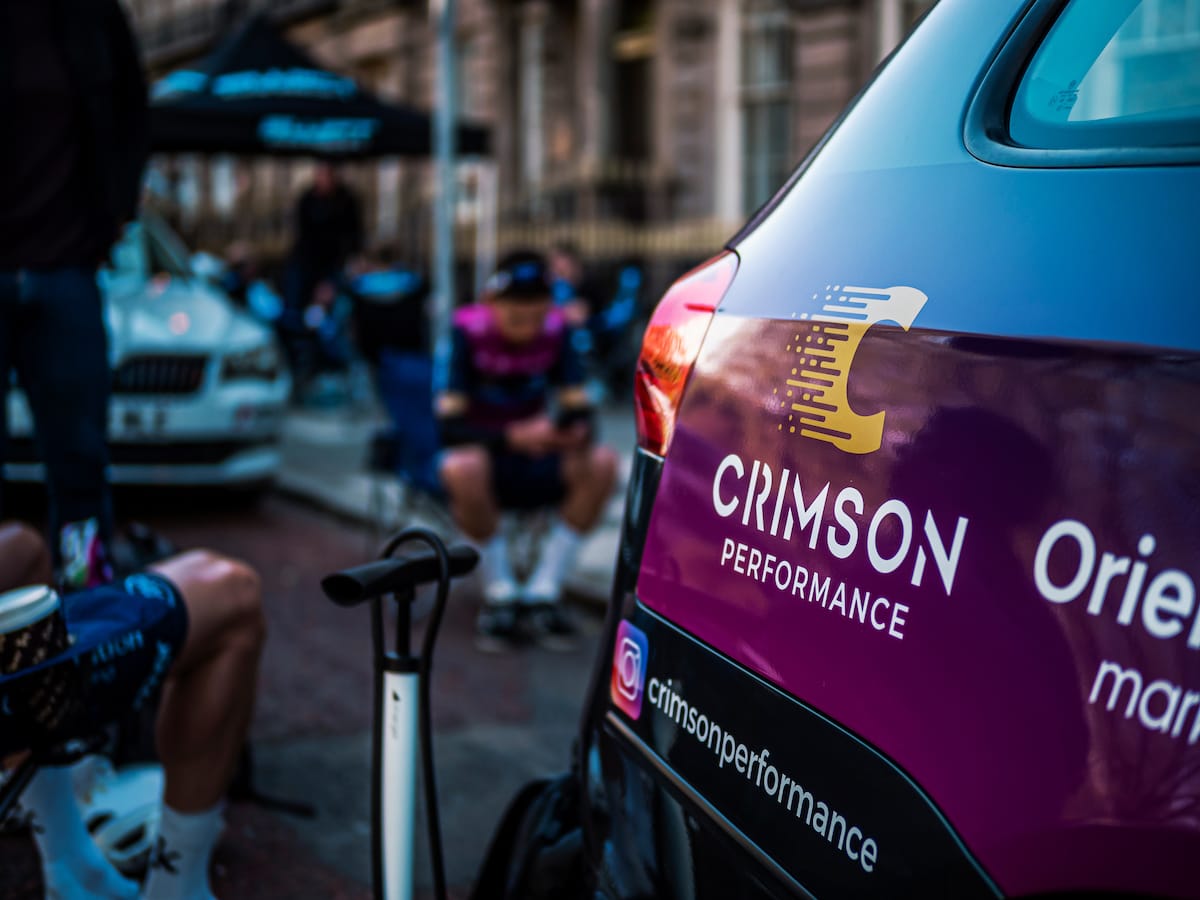 Business and pleasure
Hallam has created a perfect synergy between the development of his business and his team. While this is not unprecedented in cycling (the short-lived, but game-changing Cervélo Test Team is arguably the highest-profile example), Hallam's story gains authenticity from its organic growth: a start-up team founded to promote a start-up business.
The Crimson Performance aspect of the Crimson Performance-Orientation Marketing team was launched in March last year and provides an online platform for users to maximise the use of their power meter through profiling software and a training programme builder. Further, Hallam is a bike fitting specialist of growing repute. The two services, essential for anyone with a serious interest in riding a bike, are perfectly aligned with the goals of the squad.
"It's quite a unique story for our team. A team is a great vehicle to promote a business, whether that's power testing or bike fitting. We offer cycling-specific services and our riders are ambassadors for those services. The return, from a business perspective, is revenue: people book bike fits because of our social posts about the team and subscriptions come in from referrals across the platform," Hallam says.
"Both businesses are developing well. The bike fitting is expanding, and is already busier than we ever thought it would be. The growth allowed me to step away from a big business six months ago to set-up on my own, and I now work full-time as a bike fitter. It's been a success story and I remind myself to take stock of that."
Olympic champion Elinor Barker is among those who now rely on Hallam's bike fitting expertise. It's a measure of his competence that such a high-profile athlete should choose to publish her satisfaction on social media. Hallam is modest however, and reminds us that not every customer who walks through his door has a collection of gold medals.
"I work with a lot of riders who keep coming back to see me. Elinor is a classic example. I've worked with her for three years and in that period, she's come back a number of times. It's a great endorsement for the services we offer and validation that our reputation in the north of the UK is very, very strong, but Elinor's Instagram post is a snapshot. We don't work with full-time pros every week."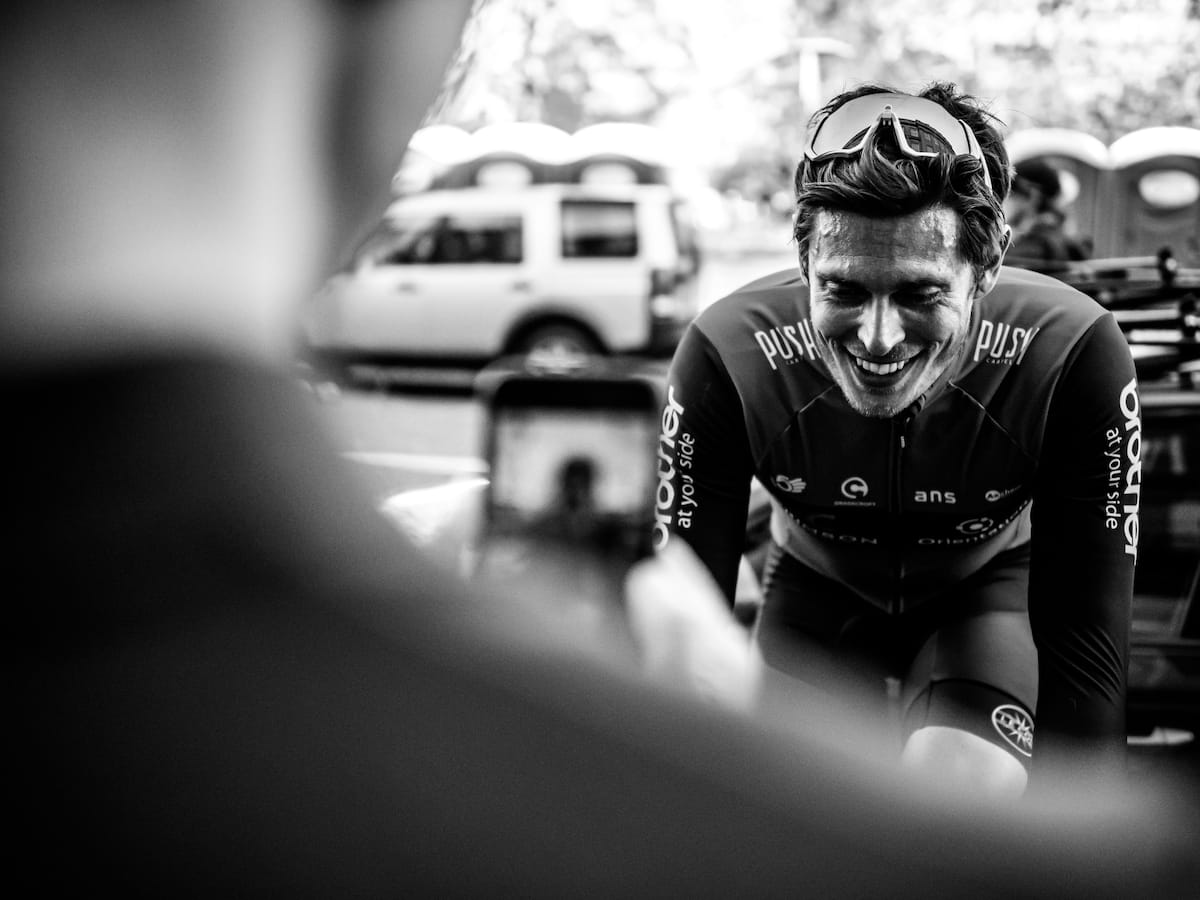 A rewarding occupation
The demands of running two cycling-specific businesses and serving as rider-manager to an elite cycling team could easily become overwhelming. While Hallam is a driven and determined character, he is also sufficiently honest to recognise the limits of his endurance, both on the bike and off.
A spirit of collaboration and a genuine desire to improve the racing scene in the North West for everyone has eased his workload, to a small degree. Collaborations with the Push Cartel shop in Ambleside and with Cold Dark North, a cycle travel company and race organiser committed to promoting riding opportunities of North West England, are expressions of both.
"I've made a concerted effort to engage with businesses like Cold Dark North and Push Cartel, who are doing amazing things for cycling in the North West. I have the pressure of running a race team and my own business. It's thinking of ways of taking off some of that pressure, whether it's just engagement or creating a collaboration that works. You have to be welcoming and to take help when it's offered, otherwise it's too much for one person," Hallam says.
He talks openly about his desire to make Crimson Performance a pillar of his cycling community. Collaboration with other cycling enterprises in the North West is only aspect of this, however. His development of a women's team with no goal greater than inspiration is another fine example. Extending the thrill and rewards of racing to a new community of riders is a duty he has approached seriously.
"The women's team has different goals to the men's. It's not about results, but about trying to inspire other women to have a go at racing. We wanted a squad to enter into regional races and to present a welcoming face to women racing for the first time. It's worked really, really well. Our team is supporting races that maybe in years gone by might have struggled for entries, and actively engaging with riders who might be competing as individuals or as private teams."
Jake Womersley
Jake Womersley is refreshingly down to earth for a member of Yorkshire cycling's most regal dynasty. Grandson of the great Brian Robinson, the first Briton to win a stage of the Tour de France, Womersley seems to derive greater pleasure discussing his illustrious relation than his own career.
Now a fixture of the domestic peloton, Womersley is based near to Huddersfield, the brother of Bianchi-Dama's Becky Womersley and partner to Annie Simpson of Brother UK-Tifosi p/b OnForm. He could scarcely be more immersed in the Yorkshire cycling scene.
Such credentials make him the ideal recruit for Crimson Performance-Orientation Marketing.
"Matt wants us to win and to perform well in bike races for our sponsors, but that doesn't mean we don't enjoy the racing. Every race I've been to with the team and with Matt we've had fun, even when the end result wasn't what we wanted," Womersley says.
"Matt is really good at supporting each rider and celebrating their ability as an individual. He wants everybody to do well. He takes pressure off your back. You're racing for yourself, but also to give something back to Matt as well, who puts in so much of his own time."
He speaks with enthusiasm about Crimson Performance's own race, held in June on the Old Hutton circuit near Kendal, as an example of how teams can help to stem a growing scarcity of National B races by staging their own events. Hallam is fortunate to have riders who take responsibility for growing the team's stature such as Ben Harrison, who played a key role in its organisation. Illness prevented Womersley from taking part, but he believes it should be a catalyst for change among other teams.
"Matt has shown sponsors that not all of their investment goes into the team, but that some is used to promote their businesses through a race as well. By staging a race even with a limited budget, he shows other teams at the same level that it's something they should be looking at," he maintains.
"More teams should be doing that to help the racing scene, in my view. It's not going downhill, but there aren't many National Bs. In future, it should become a British Cycling rule, that if you register a team, you have to put on a race."
Jonathan Bridge
"The crowds on Michaelgate were fantastic. The Lincoln Grand Prix is one of those races where everyone knows about 'the climb' and can sense what it's going to be like. You get goosebumps every time you go up, and you climb it 13 times. It's been the standout race of my season, and a memorable day out."
Last year, Jonathan Bridge agreed to join Crimson Performance-Orientation Marketing for the 2019 campaign in the hope of competing in the most prestigious races on the domestic calendar. They do not come more prestigious than the Lincoln GP.
This year, among the thousands of people who lined the brutal, cobbled ramp that snakes its way past Lincoln Cathedral were those who had come to cheer on Bridge. He responded by finishing in the top 40 - an impressive result for a 21-year-old competing in 'National A' races for the first time this season.
"For a lot of the younger guys especially, competing at this level is probably the best way in the British scene to get your name out there, and certainly for us to get the name Crimson Performance-Orientation Marketing out there. The National Series races generate a lot of media coverage. They're the biggest events on our calendar, and major goals for the team. If you consistently perform in the top 20 and top 30, that's definitely not to be sniffed at."
Life with Hallam's team has met all of Bridge's expectations. He acknowledges the manager's influence in the team's immaculate presentation, but maintains that the riders also have fun. He has swiftly become accustomed to the esteemed company of the most accomplished riders on the six UCI Continental teams that Crimson-Performance-Orientation Marketing now regards as rivals.
"We rock up against the best riders in the country. The top end of that spectrum is capable of racing in the WorldTour. For a rider my age, to race next to these guys, elbow to elbow, sometimes seems unrealistic. It was scary at first – we're human as well! It was a bit strange to begin with, but you soon realise that everyone has to suffer, which makes it more bearable. It's not just you!"
Tarn Fynn
Tarn Fynn is just three days from arguably the biggest race of his young career, when we speak. The elite men's event at the National Road Championships awaits him, with a field including some of the most accomplished riders in the sport.
Fynn's willingness even to engage combat with the stars of Team Ineos, Team Dimension Data, Lotto Soudal et al - the heavyweight entrants from UCI WorldTour - offers a window on the ambitions of his Crimson Performance-Orientation Marketing team.
"It will certainly be an experience, lining up against some of the best riders in the world, but I'll give it a crack. You don't get opportunities like this very often, and I wouldn't have had this one, if it wasn't for two years racing with Crimson Performance-Orientation Marketing."
Fynn is well positioned to comment on a team whose development seems set to fast forward. Hallam's three-year plan is progressing to schedule, in year two, they are competing in races like the Tour of Lancaster and the Rutland-Melton CiCLE Classic. Fynn has embraced the challenge.
"The credit must go to Matt, who's done an incredible job, especially with the team's image, which is very professional and does have an effect on us as riders: we race to get stuck in and compete, and not just to make up the numbers," he says.
Fynn notes the rapid evolution of Hallam's team from an outfit with development and elite squads to one whose men's team at least is solely focused on the biggest races of the domestic calendar. Despite this sharpening of focus, life inside Crimson Performance-Orientation Marketing remains enjoyable, he maintains, citing a ten-day, pre-season training camp in Calpe.
He admires the professionalism of the new HSBC National Road Series and the bringing together of two separate formats - road and circuit racing - under one umbrella. The development has given the domestic scene momentum and continuity, he believes.
The Ryedale GP is Fynn's biggest target for 2019. He raced in last year's rain-soaked edition, competing as his team's sole entrant. While he enjoyed the circuit, he was unable to maintain his earlier form so late in the season. This year, he hopes to have "a proper crack".
A rare investment
The giant in the North West cycling community of course is Brother UK. A long-term and committed supporter of UK cycle sport, providing monetary backing for four teams, a fleet of neutral service vehicles and sponsorship of Britain's biggest races, it has become the domestic sport's most trusted partner, driven by the passion of Managing Director Phil Jones MBE, who last year rode the entire 1,130km route of the Tour of Britain, one day ahead of the race.
"We just couldn't do this without the support of Brother UK and others," Hallam admits. "It's a complimentary relationship. Phil has always believed in me and provided us with opportunities, but there's a huge responsibility to deliver return on investment; one that we're always aware of and do everything to achieve. For someone to give us money to invest in a race team and believe in our projects as much as Phil has done is extremely rare."
Hallam's reference to a complimentary relationship extends to a shared belief in cycling's value as a social good. Jones believes passionately in cycling's ability to deliver improvements to physical and mental health that ultimately reduce the burden on the NHS. Hallam's view, understandably, is regional and focused on performance, but even here the phrase "community" is relevant.
"We're doing things off our own bat, putting on our own race and supporting races by Cold Dark North, it's about helping to build a scene in our home county. We want to be seen as a pillar of our cycling community, which resonates with sponsors. We can only see it being as a win-win, as long we don't start losing money, and a benefit to everyone involved, even to fourth cats in their first road race, which is really important."
As the Crimson Performance business and the Crimson Performance-Orientation Marketing team move from strength-to-strength, so Hallam's goal of making both enterprises a pillar of the cycling community in the North West draws closer. His acknowledgement of the vital role played by Brother UK in the development of the team provides further evidence of his professionalism. Crimson Performance is a sporting enterprise proud to have Brother UK at its side. It's likely that the same satisfaction exists within the corporation's headquarters in Manchester.
Images by Joe Cotterill Photography, courtesy of Crimson Performance.