Brother UK-FusionRT: A day with the team
Brother UK-FusionRT's 2019 line-up is arguably the strongest that manager Terry Williamson has assembled. For evidence, one need look no further than his team's performance in the opening race of this year's National Road Series for women.
On a gruelling and technical course in East Cleveland, Brother UK-FusionRT finished the day with a rider in second place on the road and the squad ranked second in the team classification, at the end of three hours of intense racing in the Klondike GP.
Jos Lowden jumped clear with a display of strength that only British circuit race champion Anna Henderson (Brother UK-Tifosi p/b OnForm) could match (Henderson emerged victorious at the end of a closely-fought contest). Molly Patch, another of Williamson's rising stars, held a watching brief, but, as we shall learn, might have joined the duo.
More significantly, Brother UK-FusionRT had been animators in chief of a race that brought together arguably the strongest line-up ever assembled for a national women's race. Patch was active in the early stages, but when Lowden jumped clear, played a supporting role with Jenny Hudson, Emma Lewis and Rebecca Richardson to prevent rivals from chasing her team-mate.
Williamson, vastly experienced, has seen too much to mistake swallows for summers, however.
"The Klondike result was superb and if we're able to repeat it, then yes I am confident for the rest of the season, to a certain extent. However, I've been involved in cycling almost my entire life, in management since 2005, and worked with this team, on and off, since 2011. I know things can change very rapidly and without warning. A crash, illness, or one or two other things can alter the whole scenario. We'll take each race as it comes."
The team is now in its eighth year, but the mixture of youth and experience, of proven and developing talent means this is arguably its strongest incarnation. While Williamson is too experienced to assume an unbroken connection between cause and effect, strength and results, he remains optimistic.
More importantly, he points out, the team is cohered around a shared philosophy (his own, naturally enough), which decrees that for a rider to do her best is enough. The reverse is also true: to give less than everything is unacceptable.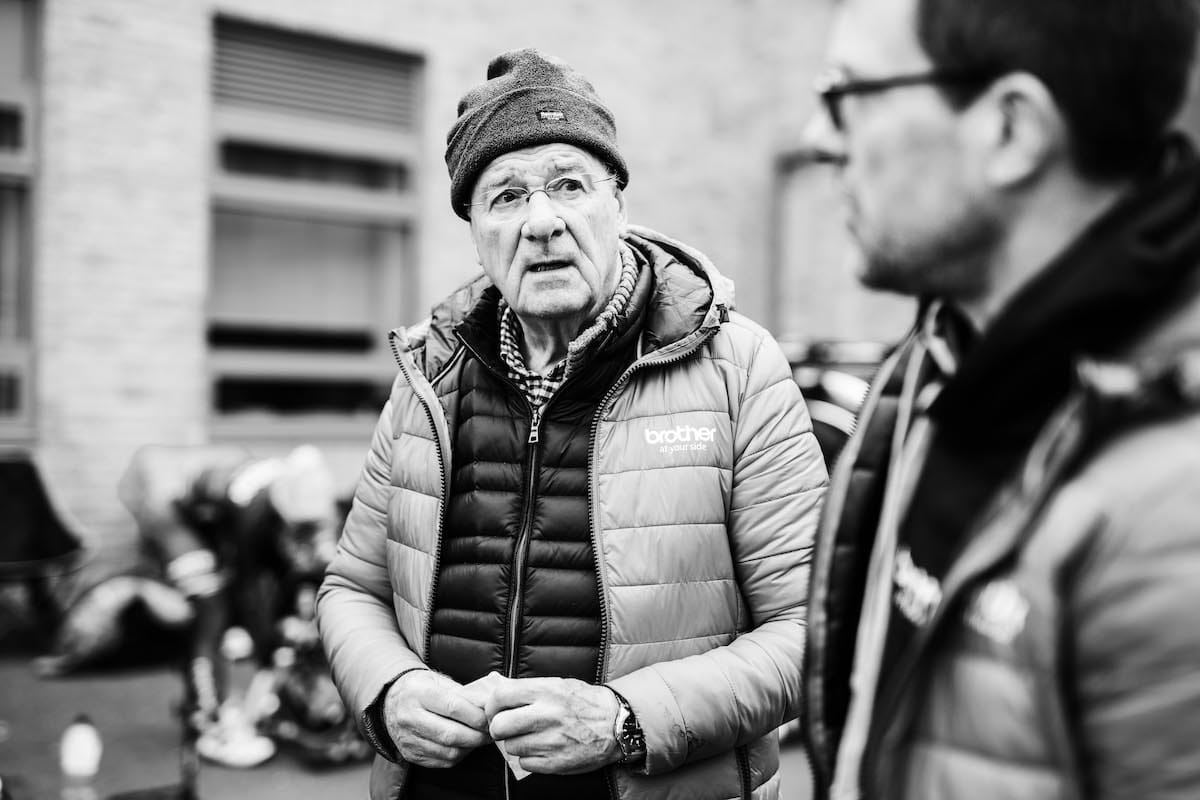 Everything for each other
Williamson's ethos is a fundamental tenet of more scientifically-grounded philosophies practiced elsewhere, notably at British Cycling, whose focus is also upon process rather than outcome. There is a further aspect to the Brother UK-FusionRT approach, however: first give everything for each other. Individual success derives from team effort.
"If you want the team to look good, you've got to do the teamwork. If the team looks good, you look good. The riders have been enormously receptive to that message. They all feel the same, and talk a lot about it between each other on WhatsApp. That's also true for the new recruits, especially April [Tacey], Georgia [Bullard] and Rebecca Richardson," he says.
"Rebecca is like an open book: she knows that she's learning, that she has a long way to go, but that it's only race experience she requires. In my chats with her, she's constantly talking about being part of the team and being involved in team work, without any real gain in terms of individual results."
Unflinching honesty is part of the Williamson ethos too, and he does not exclude himself. He admits to mistakes made previously by recruiting riders not fully aligned with his 'team first' approach, even if he finds it difficult to describe the precise qualities required.
"It's a little bit indefinable. You sit and talk to a rider, as I did with Molly up in Birmingham, and maybe it's the way they speak, but they soon identify themselves as the sort of person who wants to contribute to the team. Molly was a classic example of that, while with other riders you don't have such a good feeling," he reveals.
"To some extent, the word has slowly got round over the years that the riders we attract enjoy themselves. They do have a sense of humour and like taking the mickey out of each other. I actually find their WhatsApp page quite shocking! It proves however that they're in harmony, and open with each other. They said to the new girls at camp, 'I hope you're ready for this,' but they slotted in very well."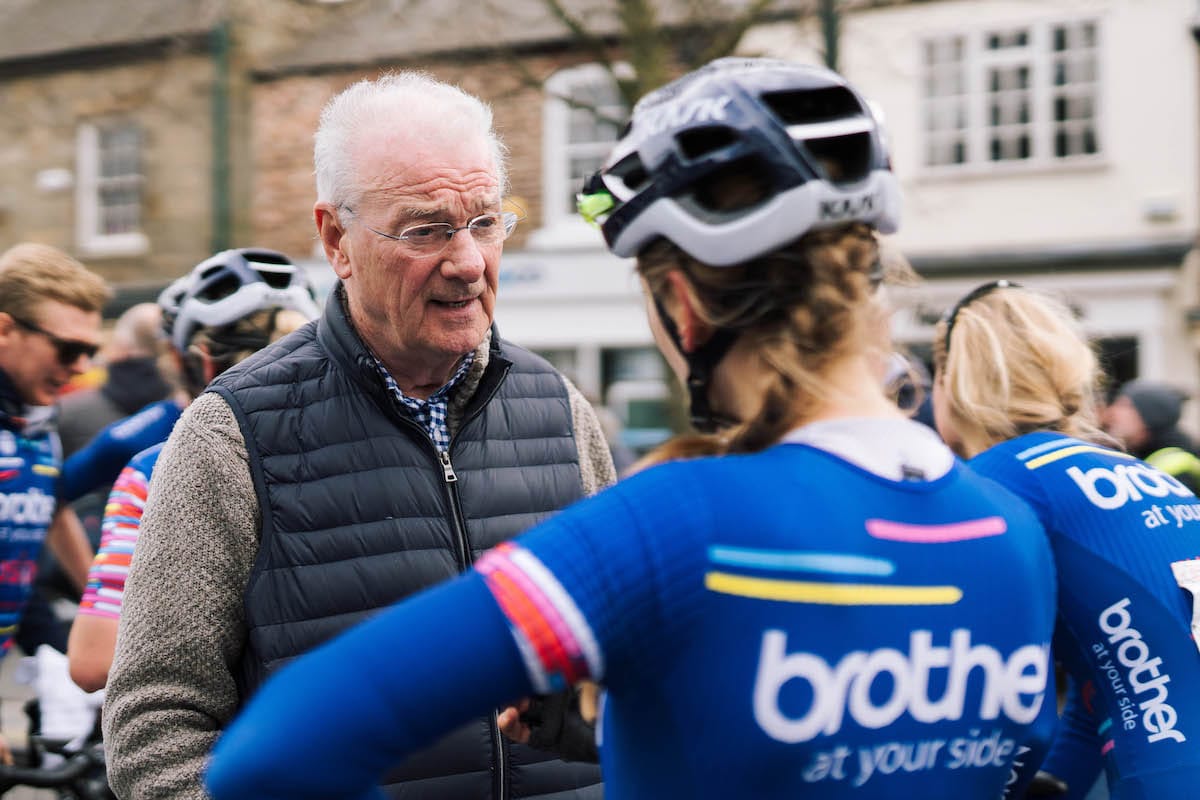 Pressure drop
With expectation comes pressure, but Williamson is sanguine, rather than anxious. He knows that his squad's collective strength makes them marked women when the flag falls. He has a simple solution for riders who might regard the team's growing status as a burden: take each day as it comes.
Put simply, he has been in the game too long to heap pressure upon the shoulders of athletes he already trusts to give everything. Recruitment to Brother UK-FusionRT hangs on a rider's willingness to commit totally to the squad's goals, rather than on a decorated palmares, after all.
"I tell them: 'You know you're good, you know we've got strength-in-depth, so just tackle the race today; take it a day at a time. You know the issues, try to address them.' I try not to overburden them, and instead get them to enjoy the challenge. They pretty well know what needs to be done, and what they're capable of. That's all you can ask: that they give their best."
Pressure can be a destabilising force even among the most confident individuals. Williamson regards as a feminine trait the tendency among many of his riders, past and present, to interpret the failings of others as their own.
He has spent long, post-race car journeys listening to disappointed female riders take what might have been a collective failure onto their own shoulders. Conversely, he has driven young male riders only too keen to shift blame for their own failings onto team-mates or staff.
While he is clear that such a broad assessment is not without exceptions - some female riders he has worked with have readily blamed team-mates for their own failings, while some men have taken to heart the consequences of a wider failure of strategy or the shortcomings of team-mates - he is mindful of a female tendency to shoulder responsibility.
"It's one of the fundamental differences you notice [between men and women]. With female riders, it's about balance and trying to be supportive. It hasn't always worked - there have been women who've been happy to blame colleagues and team-mates - but you get to know your riders and quite honestly those we have now are very concerned not to let their team-mates down."
Molly Patch
Molly Patch is an intelligent young woman with a wry sense of humour and a determination to explore the full extent of her talent. Now in her final year of study for an art history degree at the University of Birmingham, Patch races on track and road, in the British Universities and Colleges Sport championships (BUCS) and the National Road Series.
It was in the latter that Patch showed her growing confidence at the Klondike GP, positioned at the sharp end of the race when team-mate Jos Lowden jumped away, followed by friend, training partner, university colleague (and, on this occasion, rival) Anna Henderson (Brother UK – Tifosi p/b OnForm). The latter won the race, but Lowden's podium was a significant result for Brother UK-FusionRT.
"When Jos attacked, and when Anna went across, part of me thought: 'I wish I'd jumped on her wheel.' You don't know how things are going to pan out. While I'm so pleased we had a podium, I think we had the strength in numbers to get a good team result, or to place someone high up in the team rankings."
The spirit within Brother UK-FusionRT is not lost upon Patch, who coined the phrase #TerrysAngels. Like her team-mates, she speaks volubly in support of the man at the helm, who visited her in Birmingham prior to her joining the team, and assured her that her studies would always come before bike racing.
Formerly a runner and triathlete, who lived in Melbourne for six months in 2015 on a sporting 'gap year', Patch admits to a competitive streak, honed in a family of competitive spirits; notably her father (mistaken for Chris Froome at last year's national time-trial championships, to his daughter's amusement) and her twin brothers, Joe and Archie, whose opinions matter most to her.
Patch is facing some big decisions, personally and professionally, but is keenly aware of the pathway her talent might place her upon. The UCI Women's WorldTour has a growing constituency of British riders, with Bigla's Sophie Wright a recent graduate from a Brother UK-supported team. With Henderson on a similarly irresistible rise, Patch does not lack inspiration. The courage with which she has confronted the autoimmune condition alopecia proves that she does not lack character, either.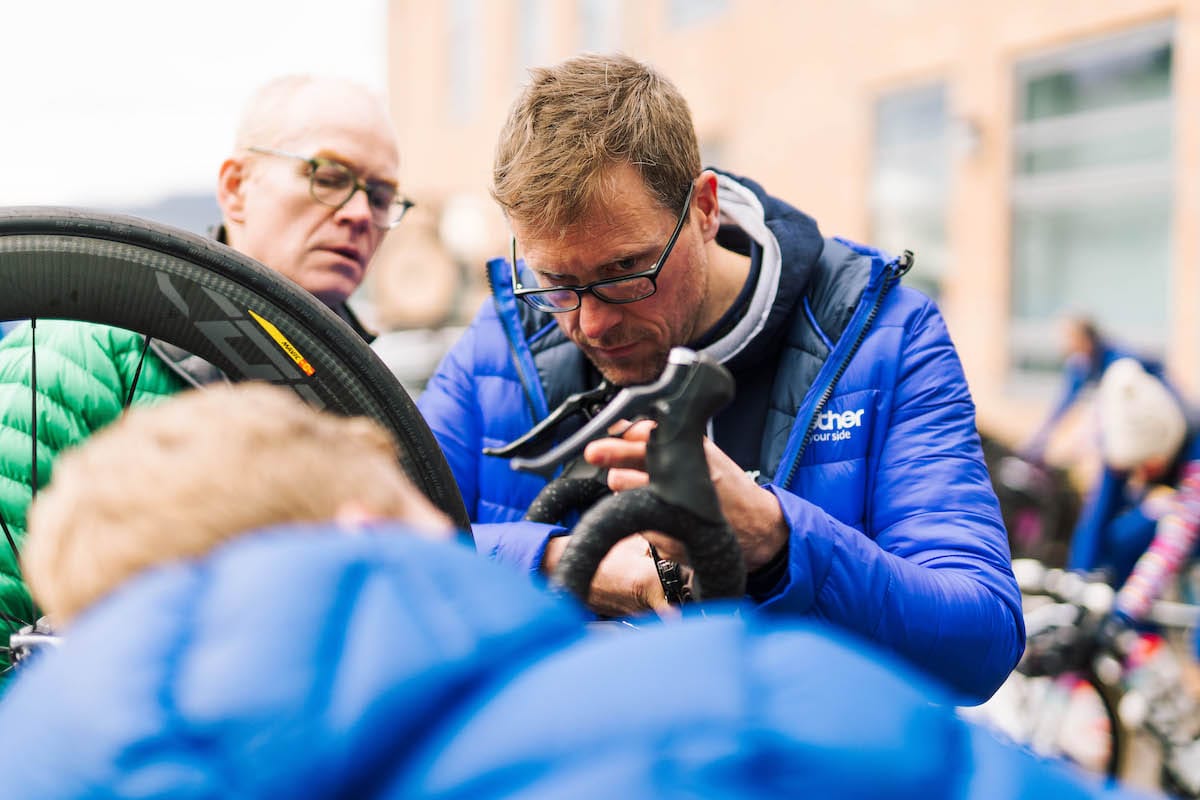 Neil Shier
"The riders give us a reason to be at the race, but I think we give them banter and support. We make them laugh and help them to relax before the race, which benefits them, one hundred per cent. People who support Brother UK-FusionRT are there for one reason, which is to support the girls."
Neil Shier, husband of team rider Ruth, provides a neat summary of the benefits he and fellow helpers offer to team morale. The psychological and emotional boost offered, while important, is the least practical of his many duties, however. His role extends to driver and mechanic, cook (preparer of lunches, at least) and bottle washer.
After managing a team of gas engineers each day, he switches to 'swanny' mode on his return home, ensuring Ruth has everything she needs, including motivation, to train after her own long day at work as manager of a pharmacy. Their weekends are given over entirely to racing. Early starts and journeys of up to five hours are routine.
Pre-race, Neil can be found setting-up turbo trainers, attaching computers and transponders to bikes, and numbers to riders. He makes final mechanical checks, including all-important tyre pressures, gathers jackets and jerseys removed on the start line, and, during the race, hands up bottles. When the race has finished, his supporting role encompasses the emotional.
"Sometimes it involves mopping up the tears at the end of the race. Emotions can run high. Terry is very good at standing and listening. They often say they've let the team down, and we say: 'We watched you and you couldn't have done more. You did what you had to do and didn't give up,'" he explains.
"That's the ethos of the team: give everything, and it doesn't matter where you finish, the results will come. Terry loves the riders to put all they've got into the ride. He gets emotional watching them, but that's what Brother UK–FusionRT is about: we love it if the team does well, and we love it if the team doesn't do well."
Claire Steels
"He's the best egg!"
To describe Terry Williamson merely as "a good egg" is not praise enough for Claire Steels, whom he discovered 18 months ago, collapsed with future team-mates Emma Lewis, Rebecca Johnson and Ruth Shier "in a bit of mess on the floor" at the end of the gruelling 2017 edition of the Tour of Sussex, where she had just finished third.
"Terry said something along the lines of, 'You've done really well for a club rider,' because I was wearing a man's skinsuit from Peterborough CC, which was about ten sizes too big. He told me he thought I had potential and to call him," she remembers.
"I called him and explained that I knew nothing about road cycling but was very keen and wanted to see how far I could go. I told him that I was very committed, and very enthusiastic and loved sport. That was it. Receiving the news that I was in was a bit like Christmas Day, which sounds really cheesy, but I was so happy."
Steels does not exaggerate her love for sport, describing it as a "constant" and a "great leveler". Twice an age-group duathlon world champion, and formerly a runner and hockey player, who now runs a fitness business from her home on Mallorca, she is well qualified to comment.
"Sport teaches us so many valuable lessons and gives us a certain element of self-confidence and belief that you can't get elsewhere. I think there's a place for that in everyone's life: emotionally, physically and mentally. When I've finished in cycling, I'll definitely go on to do something else. Sport will always be a part of my life."
The Klondike GP offered Steels the most challenging engagement of her cycling career, but one she concluded among the first twenty finishers, despite a host of "self-inflicted" mechanical issues that later saw her relegated for a "sticky bottle" infringement - a charge hotly contested by Steels and Williamson.
Steels' prospects for the season ahead seem bright. Her stated intention is to continue to learn, and in such a supportive environment as Brother UK-FusionRT - "It's like meeting up with old friends, every time you see them" - she seems well placed to do so.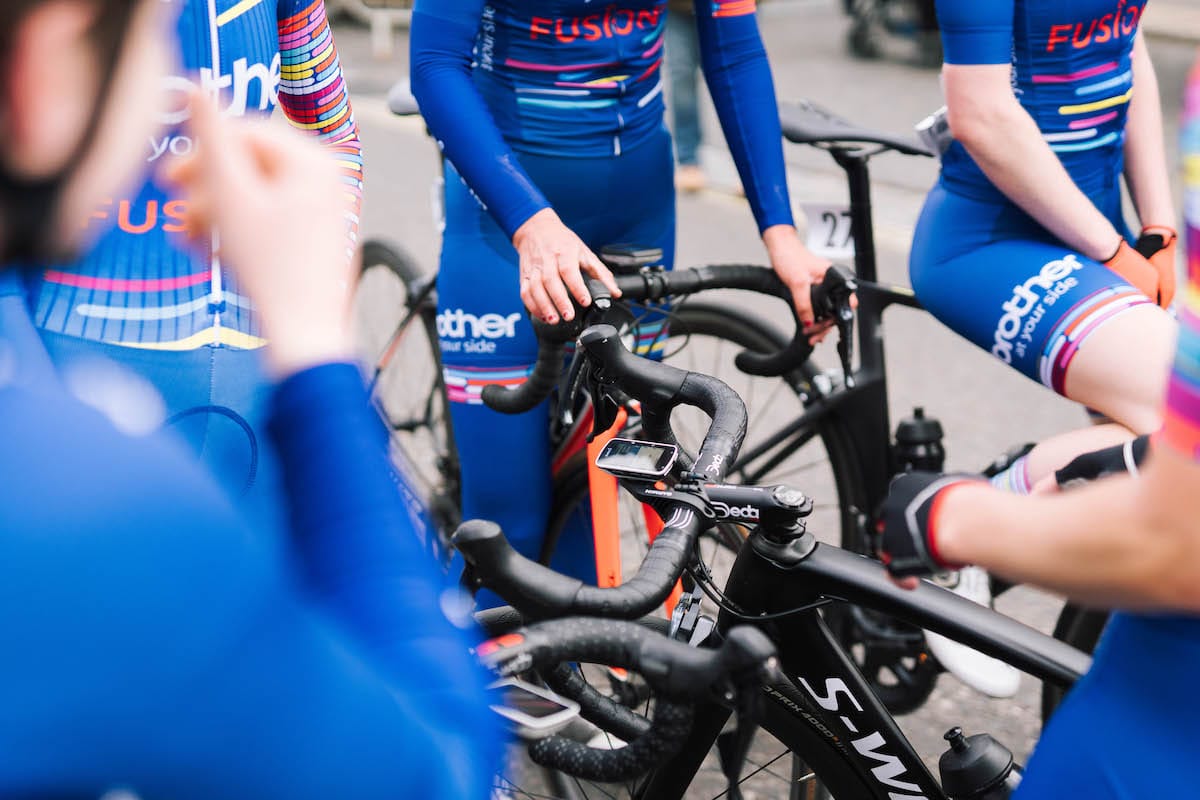 Georgia Bullard
"I'm not an out-and-out sprinter, and I'm not an out-and-out climber," Georgia Bullard admits. "I'm still trying to figure out what type of rider I am."
At 18-years-old and preparing for a short break from racing to sit her A-level exams, Bullard's search for a cycling identity is entirely understandable. That she has already gained a place on a squad so established as Brother UK-FusionRT is testament to her talent and tenacity.
Having witnessed the team at close quarters in last year's Rás Na mBan, while racing for a rival squad, she wasted little time in following the advice of future team-mate Emma Lewis to contact Williamson on her return from Ireland.
When we speak, she has completed two races in the team's distinctive blue kit, hanging tough and learning her trade at the demanding Capernwray Road Race, won by team-mate Jos Lowden, and playing an active team role at the Dave Peck Memorial, where Molly Patch finished fourth.
"I love bunch racing, which is high-speed and intense, because I'm very competitive, but I also love the team aspect, working together, trying to help one rider to win. It's a brilliant feeling when it pays off. You feel that perhaps you've contributed."
A competitive swimmer from a very young age, and later a triathlete, before focussing on cycling as a member of Bourne Wheelers (an association she maintains), Bullard's career is unfolding in double time. She is targeting the U23 race at this year's national championships, and hopes for selection for the new Bourne CiCLE Race, an event so local that the course encompasses her training loops.
She has already tested herself in the region's premier event, the CiCLE Classic, and despite being involved in a crash ten miles from home that required stitches in her chin, would love to return. It's infamous gravel sectors hold no fear for her, only the promise of exhilaration, which is central to her love of the sport.
"I don't mind the gravel." she confirms. "It's thrilling to race there. I think women's cycling has progressed so much in the last couple of years. The racing is as competitive now as it's ever been, and that's what makes it so enjoyable."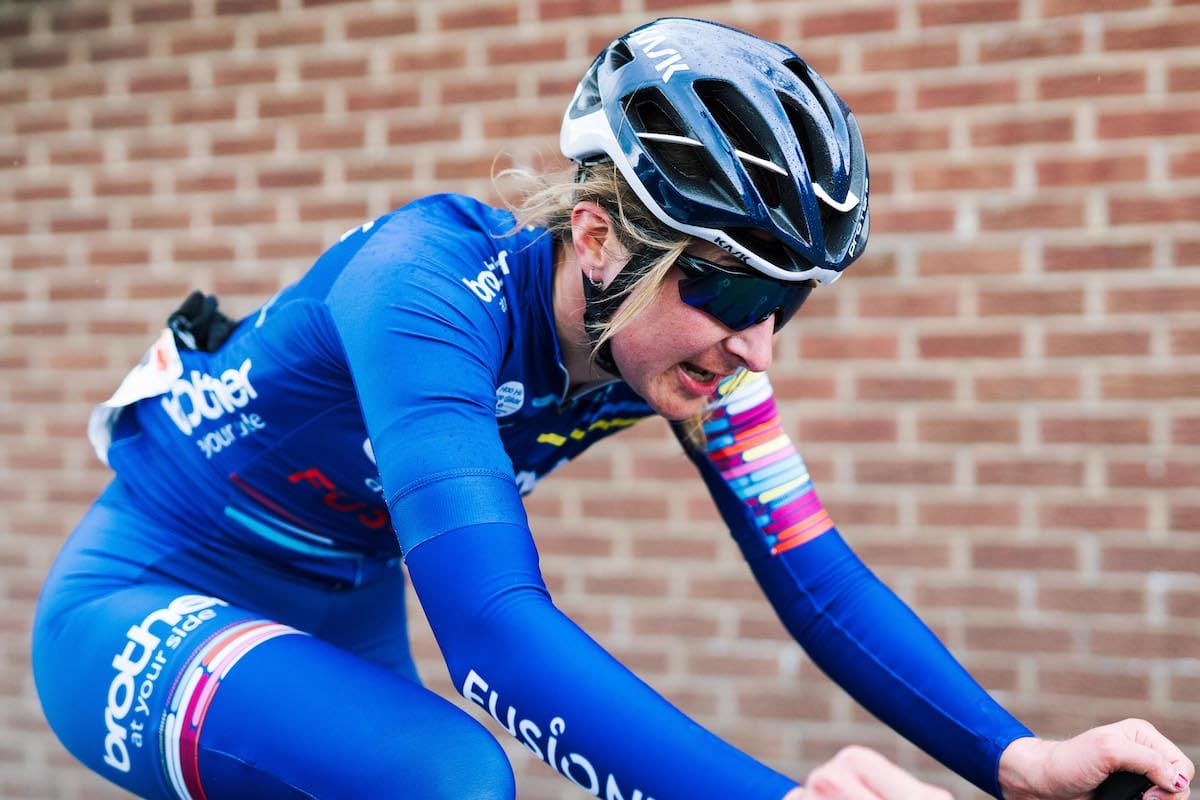 Rebecca Richardson
Rebecca Richardson is another new recruit for Brother UK-FusionRT, and has wasted little time in maximising her contribution to the team. Her rapid integration into a squad with several proven talents is only a continuation of a racing career set to fast forward.
At the age of 26 and pregnant with son Arthur, she decided to become an elite athlete. Five years later, she recorded podium finishes in the 2018 Welsh championships in almost every road discipline, and last September beat the accomplished Nicola Juniper by a second to win the Welsh hill climb title. The result began a relationship with the watching Terry Williamson in emphatic style.
For more recent evidence, consider her performances at the Klondike GP and the Coalville Wheelers Road Race. At the former, she sacrificed herself for her team-mates prior to the technical downhill sections that follow the climb of Saltburn Bank, knowing that her still-developing descending skills would see her "spat" from the bunch (she describes the race as "the most brutal, but best" of her career to date, with "no room for weakness").
A fortnight later in Coalville, having overcome her descending difficulties with intensive coaching sessions involving a Go-Pro camera, she was part of the squad that helped propel team-mate April Tacey to victory. The sensation leads us to the heart of Richardson's joy in riding for BrotherUK-FusionRT.
"Winning at Coalville with April was a brilliant feeling. We were all buzzing. It was clear that we all genuinely felt we had helped to make that happen. It was irrelevant which position each of us had finished, because April had won," she explains.
A mother, and an architect with her own practice, Richardson must be as adept at time management as hill climbing, but her dedication to cycling is not in question. One of seven siblings, and with a childhood spent cycling alongside her father as he pursued ultra running challenges, she is steeped in endurance sport (sea kayaking and mountaineering, to name only two) and has made cycling her own.
Richardson is targeting the Tour of the Reservoir, but will travel to Tyneside in June focussed on process, rather than outcome, and determined to give her all. Such a mindset, adopted as she pursues a "learning" year with Williamson's guidance, can only benefit her team.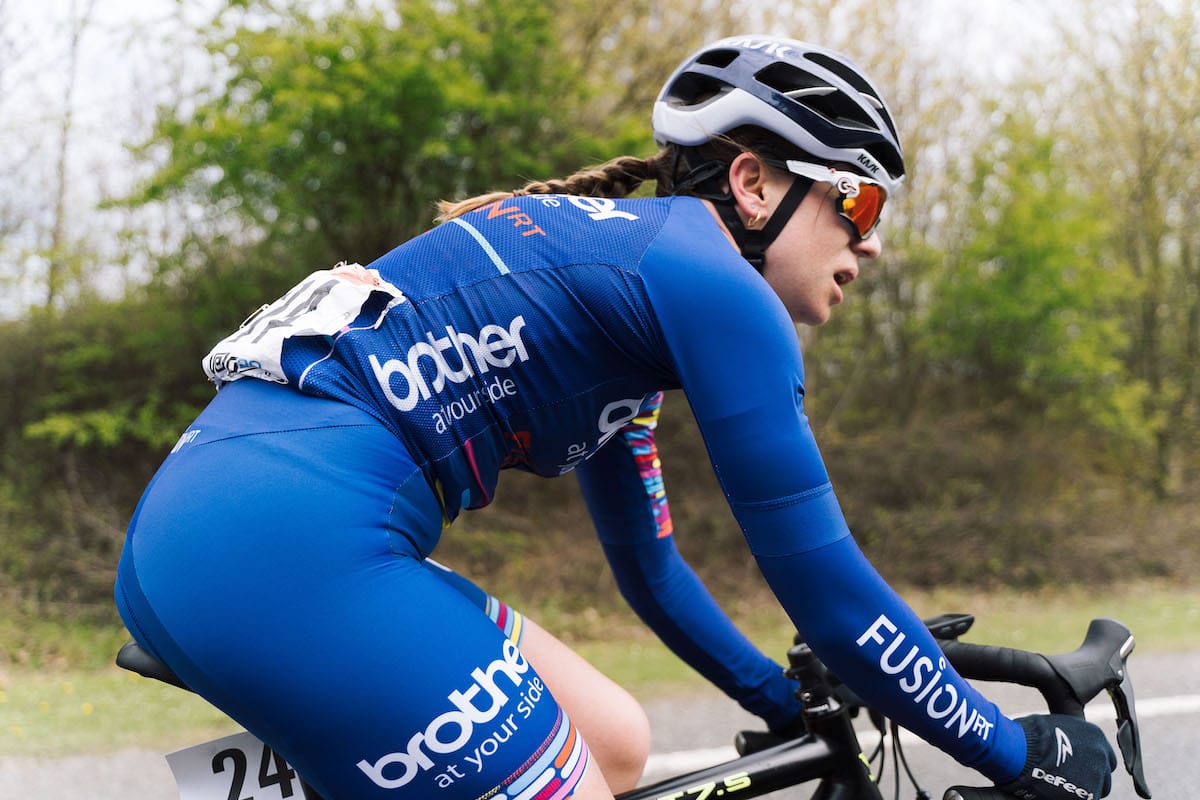 Jenny Hudson
When a rider as experienced as Jenny Hudson says that the 2019 incarnation of Brother UK-FusionRT established itself as one with strength-in-depth by finishing second in the team and individual classifications at the East Cleveland Klondike GP, it's worth taking note.
Hudson has ridden in every iteration of manager Terry Williamson's squad and has become the consummate team rider. In any other team, she would be the 'go-to' road captain, but it is typical of Brother UK-FusionRT that this responsibility is shared among the riders.
Indeed, Hudson admits she would find permanent occupancy of the role too stressful. In a separate conversation, Williamson attests to her ability to lead the team, but she prefers instead to help her team-mates. It is not only longevity that has made Hudson the quintessential Brother UK-FusionRT rider.
She offers a succinct, but detailed summary of the Klondike GP, noting the technicality of the course and the necessity of positioning on a parcours that pitched riders directly from descents to climbs, revealing, in a telling phrase, that she had, "spent a lot of time looking at the tarmac."
Her description encompasses the tangible effect of the wind, and also the psychological impact of the opening race of the season on the peloton's collective willingness to attack. Additionally, she notes the comparative speeds of the bunch and the break.
Hudson concludes with the generous assessment that those at the head of the race deserved to be there: riders who had excelled in climbing, descending and positioning on a course with no hiding place. Patch's early aggression and Lowden's instigation of the decisive break makes the case for Brother UK-FusionRT.
"I think we've set the bar quite high, getting two of our riders into the break and being the team that animated the race, with Molly [Patch] putting in a couple of attacks and Jos [Lowden] forming the winning break," she says.
"I think we'll be a marked team from now on, not that we weren't previously. To arrive at the first race of the year and claim second place, tenth place and second team overall, I think will make a name for ourselves as a team with strength-in-depth."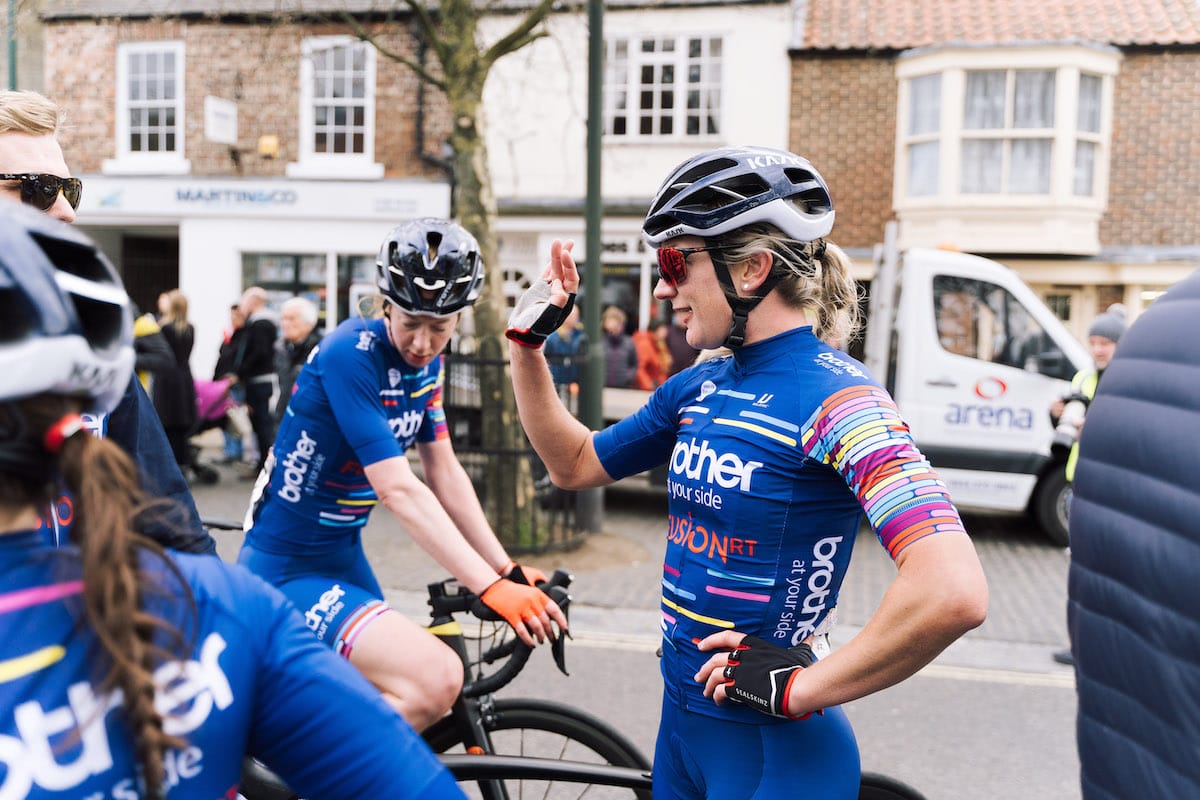 High times
Vastly experienced, Williamson is not given to counting chickens. His team has made a remarkable start to the season, with Lowden following her impressive runners-up spot in East Cleveland with victory at Capernwray, and April Tacey turning in a breakthrough performance to win the Coalville Wheelers Road Race, but he has seen scenarios shift too quickly in the past to become overconfident.
When we speak on the phone, two days before the Lincoln GP, Williamson offers an insight into the constantly moving target of team selection. Fiona Russell's withdrawal through injury is an unexpected blow, while Tacey's surprising success at Coalville has placed her in contention to start arguably the most prestigious race on the domestic calendar.
"Fiona is quite outspoken, good in the bunch, and one of the best descenders, but recently she crashed and bruised or cracked a rib, and is having difficulty breathing. On Wednesday, she pulled out of the squad for Lincoln. She was upset, but it was the right thing to do. This sort of thing happens and that's why we have to take it a race at time," Williamson explains.
"On the other hand, I didn't expect April would do so well at Coalville. When it became clear that Emma [Lewis] couldn't get away, we went to Plan B. April must have attacked three or four times before she rode clear and the other three did an excellent job of blocking for her. April really showed grit and determination in that win; exactly the right sort of attitude."
Long experience of shifting circumstances might prevent Williamson from becoming carried away, but there is little question that morale in the Brother UK-FusionRT camp is high. Those interviewed for this article spoke at length in support of the man at the helm, and of the bonding between riders, staff, and supporters.
In 2019, Brother UK finds itself in the happy position of supporting two leading British women's teams, a fact illustrated with the greatest clarity by the one-two finish achieved by Anna Henderson (Brother UK-Tifosi, p/b OnForm) and Jos Lowden (Brother UK-FusionRT) at the East Cleveland Klondike GP.
There is no question of split loyalties, however. To be at the side of even one of these teams would be rewarding. To be at the side of both, and, in the case of Williamson's squad, with one centred on teamwork and camaraderie, is a significant bonus.