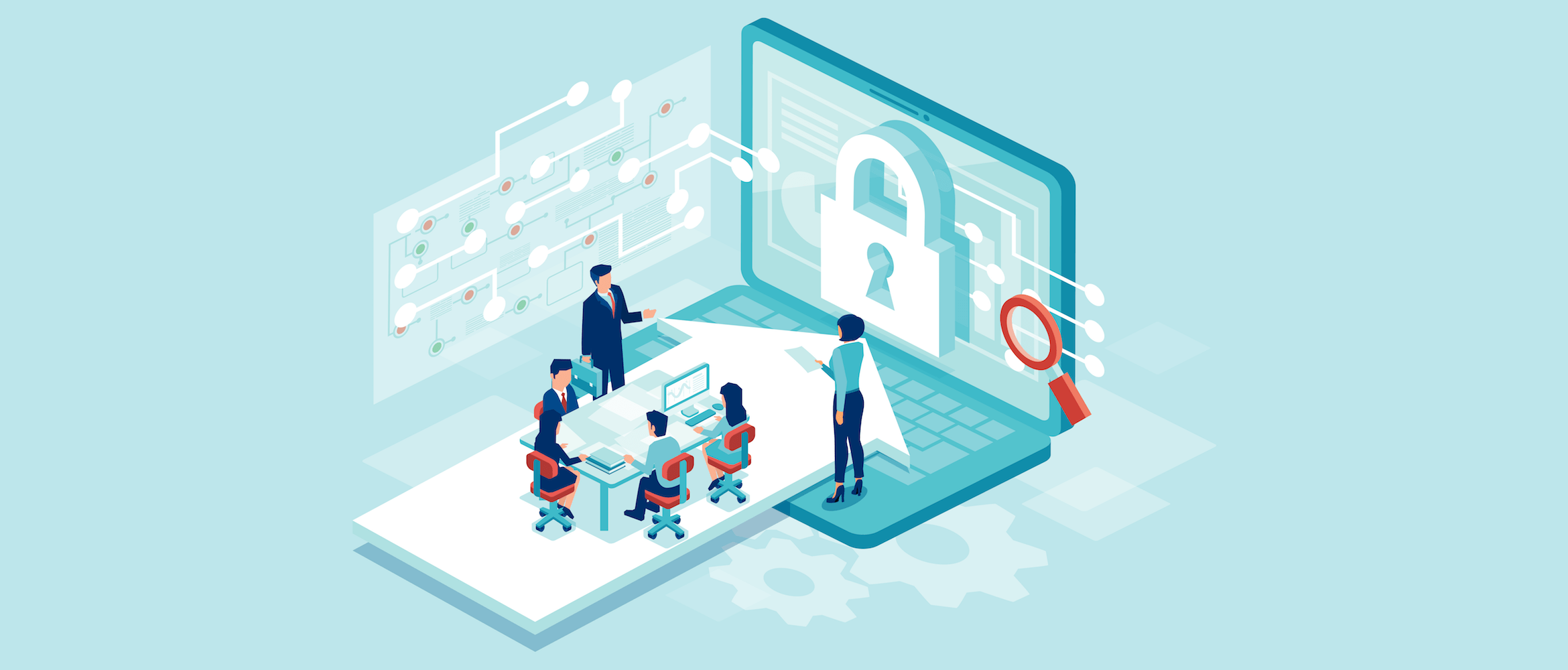 How Brother print technology can protect your business against cyberattacks
Printers are more sophisticated and connected than ever, and this has created new vulnerabilities to cyberattacks. But, with the right safeguards in place, you can keep the risk to a minimum.
There are more ways than ever to send documents to and from your printer. You can print jobs by email, from cloud computing platforms or direct from mobile devices, and you can scan documents direct to folders on a server or the cloud.
But, without the right security measures in place, this added convenience can also create more risk.
With a full operating system, access to local networks and devices, and the ability to handle large amounts of sensitive data, printers have become a target for cybercriminals.
Considering the average cost of a cyberattack to a UK business is £4,200, a third of organisations are attacked at least once per week, and the financial and reputational damage can be much greater than that, - an unsecured printer can be an expensive liability.
It's a concerning situation, but one that can be remedied with the right support and direction.
Security is one of the key pillars of business at Brother, so we're in an ideal position to ensure you have the protection you need. As a starting point, we'd strongly recommend studying and following the government's Cyber Essentials guidelines, as summarised below.
1. Secure your internet connection
A good starting point when it comes to boosting cybersecurity is ensuring a secure internet connection. It's crucial to use a router or firewall when connecting your printer to the internet, as shown in the illustration below. Many printers operate from an external IP address by default, so switching to an internal one straight away is a must. Brother printers will be protected from unauthorised access if you use an ISP and a private IP address. We also provide IPSec and TLS/SSL encryption to keep your documents safe over the network.
2. Secure your devices and software
When installing new printers, always make sure you check the settings of devices and software. Manufacturers often set default configurations to be as open as possible, to make getting set up more straightforward.
Too often, users don't change these default settings, leaving an open door for hackers.
Brother helps you prevent data falling into the wrong hands by authenticating users via Active Directory, LDAP or NFC.
3. Control access to your data and services
It's an unfortunate fact of business that your printers may need protecting from your staff as well as external actors, whether they're simply misusing functions or have more malicious intentions.
Cyber Essentials suggests limiting staff access to reduce the risk of problems. With Brother devices, you have full control over how users interact with your printer's features.
Our secure function lock allows you to restrict certain features to selected users, and you can prescribe scan-to folders, so documents always end up in the right place.
We also provide numerous features to protect documents themselves. Our pull printing technology, for example, ensures files aren't printed until released by a user's unique PIN or NFC card. That way, you can be sure that nobody else has seen or copied any confidential information. The same goes for scanning. By password protecting scanned documents you can ensure only intended recipients can view them.
4. Protect yourself from viruses and other malware
British SMEs are under constant threat from criminals, with 4,500 successful hacking attempts taking place every single day.
One example Cyber Essentials refers to in its guidance is ransomware, which makes infected systems unusable until the owner pays a ransom. You may associate viruses and malware mainly with PCs, but your printer is also on the front line in this battle.
Something we're seeing more and more of is phishing scams that send emails from hacked printers. Our professional printer range can help defend your business from these sorts of threats.
We use automatic intrusion detection to constantly monitor against hacking. If an attack is detected, your printer will take preventative measures to keep you and your network secure. The end-to-end encryption our printers use also prevents your data from being intercepted on the way to the printer or while it's stored on the printer itself.
5. Keep your devices and software up to date
Cyber Essentials advises that applying updates is one of the most important things you can do to improve security.
Fortunately, it can also be one of the quickest and cheapest too.
By keeping on top of password management, changing default settings and updating firmware as soon as new versions become available, you can go a long way to keeping your printer protected.
If you're looking for a simple, effective way to keep printers up to date and secure, consider rolling out a managed print service (MPS). MPS solutions such as Brother's come with an initial, in-depth security assessment to identify print and IP risks your organisation faces. We'll then draw up a security plan to mitigate those risks, as well as future proofing against further potential threats.
Follow the guidelines and find the right partner
Considering that more than 10% of all security incidents affecting businesses involve a printer – 59% of which result in data loss – it's never been more crucial to invest in robust print security.
Following Cyber Essentials guidance is key, but in this environment, it also pays to choose a print partner with exceptional security credentials.
At Brother, we'll work side-by-side with you to keep your print environment up to date, efficient and secure. All of our products offer end-to-end encryption and port-based access control, so you can connect and share documents with confidence. And of course, we back it all up with comprehensive support.
If you'd like to learn more about effective print security, read how our hardware, services and solutions provide triple-layer security across your network, devices and documents - protecting confidentiality and locking out infiltrators.
I've also written a blog on cyber security innovations that could change the face of your workplace, from blockchain security to behavioural analytics, that makes for an interesting read.