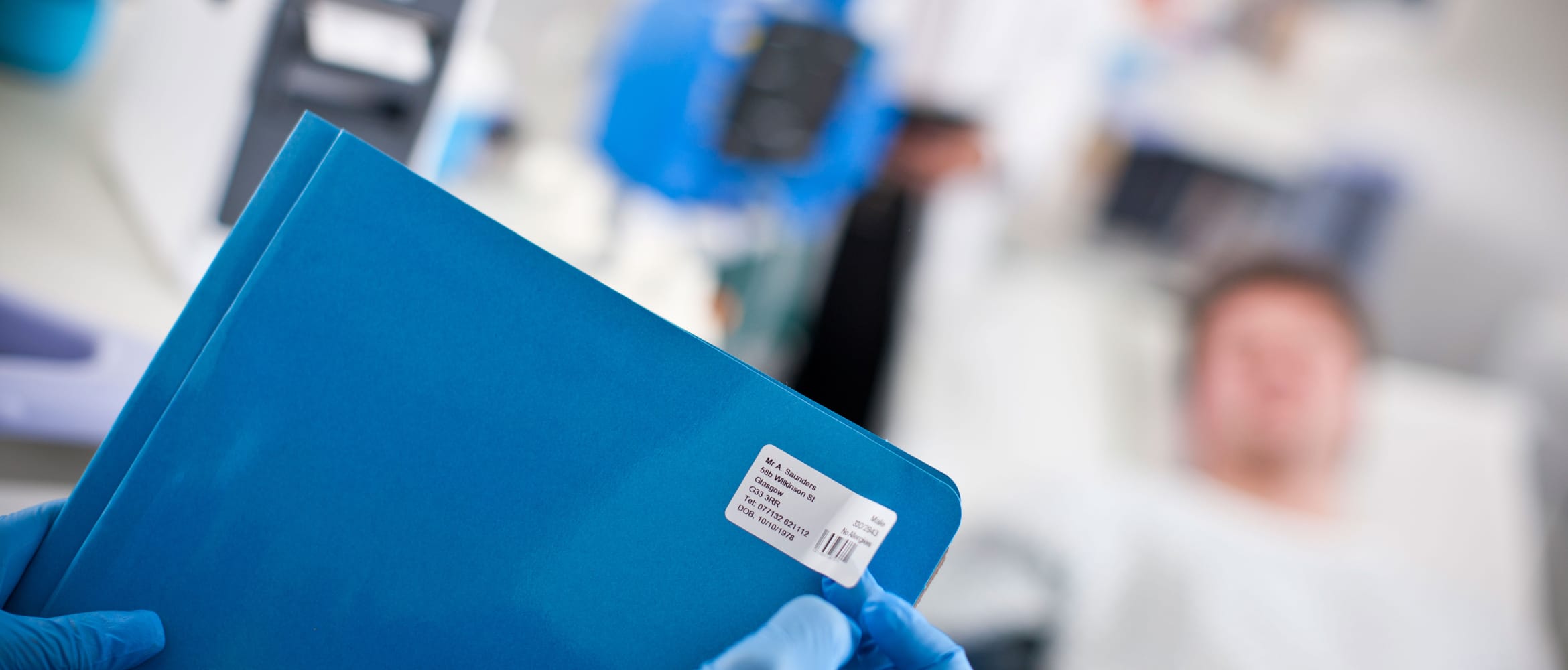 Give your identification process a health check
When it comes to identification in the healthcare industry, there is no margin for error. Specialist healthcare printers can produce clear, efficient and reliable identification on hard-wearing labels and wristbands with antimicrobial coating.
Why patient safety is the key to quality healthcare
Identification in the healthcare industry has been identified as a major area of improvement in the pursuit of greater patient safety.
The pressures of the job are intense and workflow can be complex, with multiple departments working with the same patient during the course of their treatment, making accuracy an absolutely critical consideration at every stage.
A case of mistaken identity can mean a patient is given the wrong medicine, incorrect tests or even the wrong surgical operation, with potentially life-threatening consequences.
Accordingly, identification processes are taken incredibly seriously, but there remains an opportunity for improvement.
A demanding environment
The World Health Organisation (WHO) estimates that the global cost of medication errors is more than £32.5 billion.
While incalculable, the human cost of such errors is of course far greater.
So, it's clear that the identification process is essential in ensuring that patients and their treatments are correctly matched.
Embracing innovation to introduce better ID solutions brings the potential to improve patient safety, create more efficient processes and save precious healthcare resources.
No margin for error
To prevent identification errors and meet strict regulatory compliance, the process needs to be strictly administered, yet versatile enough to meet the diverse needs of various departments.
From printing a patient's details on arrival by ambulance and creating patient wristbands for operations, to pharmacy prescriptions and labelling for blood and specimen samples – effective identification technology must be functional, well understood and reliable.
Optimising efficiency
There are a number of challenges that healthcare professionals face and organisations should build labelling strategies that comply with regulatory frameworks and put patient welfare first, while also optimising operational and cost efficiencies.
One simple yet powerful way to reduce the risk of human error and improve workflow is with specialist healthcare printers that can produce clear, efficient and reliable identification on hard-wearing labels and wristbands with antimicrobial coating.
Brother's "at your side" philosophy informs every stage of our product development strategy and our labelling and mobile print devices have been created to reflect the needs of the healthcare sector that we know so well.
We have more than 25 years' experience working in partnership with the industry, developing products that fulfil the specific needs of hospitals, laboratories and clinics.
Through rigorous research and development, we consistently innovate new technology to improve identification processes, with cutting-edge solutions for deployment across the sector:
To find our more about Brother's Healthcare Solutions visit our Healthcare hub.