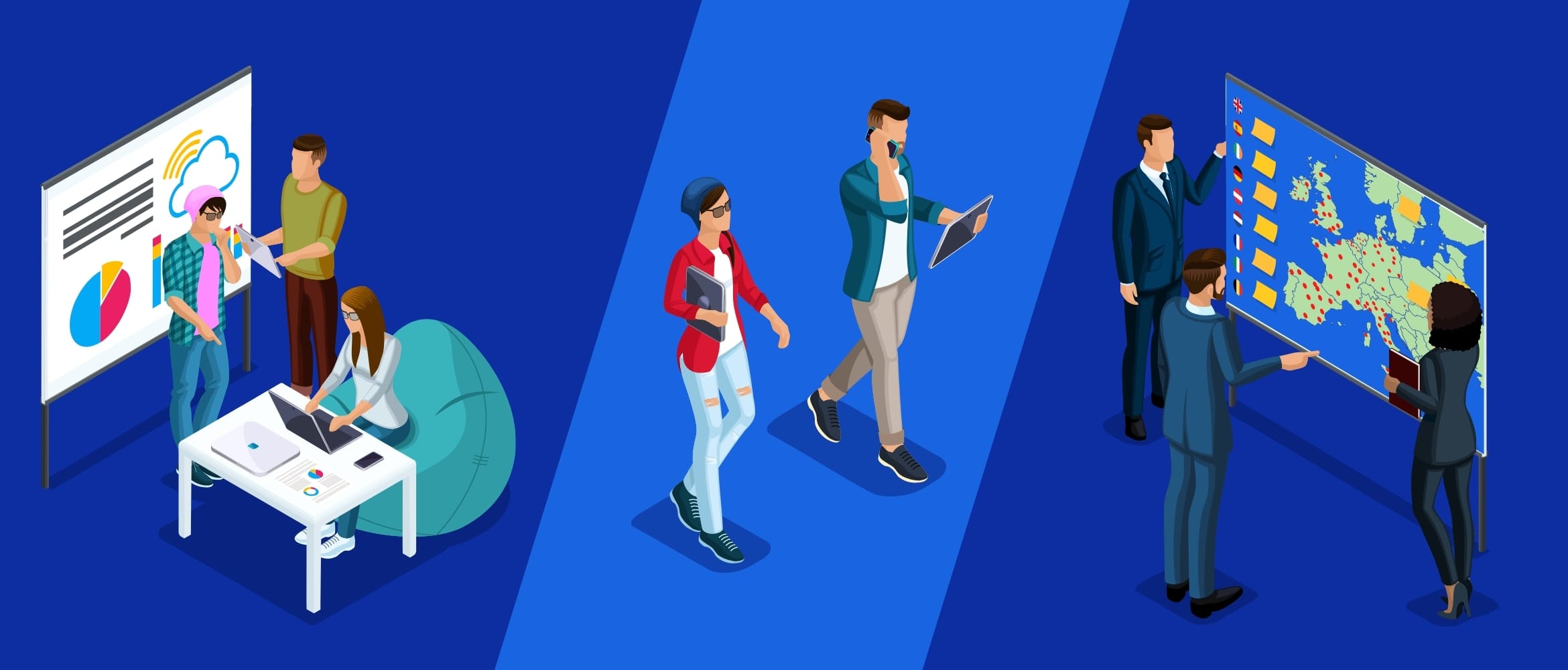 European start-up hubs
Many of the world's leading brands once started out as small business ventures and were only able to grow through the sheer perseverance and vision of an ambitious business leader.
Every single new start-up has the potential to grow into a large multinational company, disrupting and changing the way their market operates.
All good entrepreneurs know that for businesses to flourish, a highly skilled workforce is needed as well as access to financial support. Unsurprisingly, Europe has become a hotbed for start-up success stories in recent years. Certain European cities, such as London, Berlin, and Paris, have emerged as major start-up hubs, attracting entrepreneurs, investors, and talent from across the globe.
The European start-up ecosystem managed to raise close to $100 billion from investors in 2022, and there are estimates that 160,000 new start-up businesses are created each year in Europe.
You might be wondering which sectors and industries are attracting these investors. To find out, we reviewed data on newly registered companies based in Europe from Crunchbase.
Our research found that in 2022, the United Kingdom was home to the largest proportion of crypto start-ups in Europe, accounting for 28% of all crypto start-ups across the continent. While other European nations remained more cautious of crypto in 2022. Countries such as Germany, France and Belgium chose to prioritize professional sectors such as software, analytics and HealthTech.
You can read some more of our findings below – but feel free to jump straight to whichever section is of most interest to you using the following links:
United Kingdom
Described as the "Silicon Valley of Europe", London has produced more unicorn start-ups than other hubs across Europe. British start-ups are most likely to be based in London, with our research suggesting that 75% are located in the capital. Manchester has the United Kingdom's largest tech start-up scene outside of London, followed by tech and analytics companies based in Cambridge.
Start-ups in the UK saw the most investment in 2022 outside of Silicon Valley. The start-ups receiving funding from investors spanned various sectors, including fintech, healthtech, e-commerce and many others. The available data on Crunchbase suggests 30% of all European start-ups involved in cryptocurrency investment were based in the UK.
Germany
Germany has one of the most vibrant start-up ecosystems across all of Europe. German start-ups benefit from the wide range of initiatives introduced by the government, including tax breaks and grants. One of the most notable forms of support the German Government has pioneered is the is Digital Jetzt grant or the "Digital Now" grant, which aims to accelerate the growth of small and medium sized enterprises which specialise in creating digital products such as Artificial intelligence, cybersecurity and robotics. Budding entrepreneurs can secure additional financial support from venture capital firms and advice from a growing number of incubators across the country.
Berlin is at the forefront of Germany's start-up scene. Our research suggests 44% of German start-ups were registered in Berlin within the last year. Outside of Berlin, other active German start-up scenes are found in Munich, Hamburg, and Frankfurt.
Germany has the largest e-commerce market in Europe, with the sales of the top 1000 stores reportedly reaching €80 billion in 2022, according to the EHI Retail Institute's E-Commerce Market Study.
Unsurprisingly, some of Germany's best-known start-ups are consumer-facing companies such as HelloFresh, the meal kit delivery company, and SoundCloud, the music streaming service.
However, the start-up scene across Germany is remarkably diverse, spanning many industries. Our research indicates that sectors that have thrived most over the past year include health tech, artificial intelligence (AI) and software as a service (SaaS).
France
While many countries struggled economically in 2022, France's start-up scene seemed to flourish. According to data from Dealroom, French start-ups managed to raise $5.7 billion in the first quarter of 2022 and overtook Germany in terms of investment.
The data we analysed from CrunchBase suggests most of the investment would have been concentrated in the Île-de-France region which contains Paris, with 65% of new French start-ups based in the city alone.
In previous years, France has cultivated well-known, consumer-facing start-up companies such as BlaBlaCar, a ride-sharing platform, and Deezer, the music streaming service. However, in 2022, software companies were responsible for sectors with the highest number of new entrants, particularly financial services, and cyber security sectors.
To aid the growth of France's start-up scene, the French government has implemented policies to support entrepreneurship and attract more overseas talent. The French Tech Visa programme allows holders to work in France for up to four years. It was designed to attract those familiar with working within start-up sectors in other countries.
Italy
The Italian start-up scene has made remarkable progress in securing new investment. Despite reports of a decreasing number of Italian start-ups in the country, Italy – along with France – stands out as one of the few European countries where investors increased their funding level for start-ups over the past year.
In 2022, Italy also founded its first two unicorn start-ups, Scalapay and Satispay, both in the fintech sector. Outside of fintech, Italian start-ups span many sectors. Our research highlighted AI, clean tech and crypto as the country's most prominent sectors.
The automotive sector is one of Italy's major industries. Unsurprisingly, our research indicated that Italy also had the highest proportion of automotive start-ups in the study, such as Nope Engineering – a group of engineers using computer-aided design (CAD) and virtual testing in motorsports.
Italy's start-up ecosystem is distributed more evenly across the country compared to other countries in the study. The Lombardy region has the most vibrant start-up community, with at a glance a third of newly registered Italian start-ups based in Milan (33%) alone.
Austria
Like the French government, the Austrian government has been looking to attract talented international entrepreneurs to the country. In 2017, the government introduced a start-up founder visa, the "Red-White-Red Card". The programme aims to attract entrepreneurs with experience running start-ups to help nurture the growing Austrian start-up community.
Austria's start-up ecosystem has been described as "small but mighty", with the rate of investment into new start-ups outpacing larger countries.
Austria has been the most successful in nurturing start-ups in professional sectors. Our research indicates that biotech, software, and architecture and construction industries are leading the way. Our findings also suggest most of the start-up community is concentrated in Austria's capital, Vienna. 95% of newly founded start-ups have headquarters in Vienna.
Belgium
The start-up network in Belgium is less consumer-focused than in other European countries. Belgium is better known for producing innovative business-to-business (B2B) start-ups, which aim to change how business is carried out.
Some of Belgium's most prolific start-ups have been resource planning software, sales productivity software and data intelligence companies. One of Belgium's most successful start-ups is Collibra. Founded in Brussels, this data intelligence company became one of the fastest-growing start-ups and is valued at over $2.3 billion.
Most of the new entrants in Belgium's start-up scene continue the strong legacy of focusing on the B2B market. Multiple analytics firms, cloud computing and biotech agencies have been registered on Crunchbase within the last year. There are also companies which seek to break the mould, such as the healthy meal delivery company Freshkart, which already operates in several markets.
Most of Belgium's start-up scene is based across the Flemish regions, with 41% of the country's start-ups based in Brussels alone. Liège was identified as the hotspot for start-ups in the Walloon region, accounting for 12% of the country's start-ups.
Netherlands
Most of the Dutch start-up community is concentrated in North Holland, with Amsterdam as the epicentre. Our research indicates that more than half (62%) of Dutch newly registered start-ups on Crunchbase were registered in Amsterdam. Other vibrant start-up communities are found in Rotterdam, Utrecht, and The Hague.
In the past, the Netherlands has developed successful start-ups across a variety of sectors. Notable Dutch start-ups include Booking.com, a travel booking site, and WeTransfer, the online file-sharing service. Sectors we identified as continuing to grow in the Netherlands include healthtech, crypto and e-commerce. The country's tech start-ups will also benefit from the growing number of newly established marketing and advertising agencies over the past year.
Ireland
Most of Ireland's new start-ups are based in Dublin; our data suggests that 78% of Irish start-ups have their headquarters in the capital – likely due to the city's financial institutions. County Cork followed Dublin in a distant second place, with only 7% of start-ups located here.
In previous years, some of Ireland's most successful sectors for start-ups have been fintech, healthcare, and software. Ireland's most notable start-up success story was online paytech company, Stripe. Stripe became one of the world's fastest-growing companies after receiving investment from venture capital companies and PayPal founders Elon Musk and Peter Thiel. Today, Stripe is valued at $74 billion.
However, the e-commerce sector (both consumer and B2B businesses) is gaining popularity in the Irish start-up scene. One such example is Tipple, a company that seeks to tap into Ireland's famous drinks export market by making it easier for alcohol brands to export internationally.
Spain
Spain is home to many successful start-ups across a range of sectors. One of the country's most prolific start-ups was its first-ever unicorn investment, Cabify, the nation's Uber competitor. Cabify was created less than two years after Uber. The platform charges passengers based on distance rather than time and can operate as a courier.
While there were new entrants within the transportation and logistics sectors in 2022, our research suggests that the sectors which saw the most growth in Spain were AI, media and entertainment, and e-commerce.
Spain's start-up scene is primarily centred around its major cities, including Madrid, Barcelona, and Valencia. Barcelona has emerged as a start-up hub due to its favourable business climate and thriving tech community. It is home to several large co-working spaces, incubators, and accelerators, including the Barcelona Tech City, which is the largest start-up cluster in southern Europe. Our research found that 34% of Spanish start-ups were registered in Barcelona, followed by Madrid, with 32% of newly incorporated Spanish start-ups.
Methodology
Brother scraped data available from Crunchbase on businesses based in Europe which registered on the site within the past year. The dataset contained information on 2026 companies registered across European countries. The data was scraped and analysed in February 2023. Each business was then categorised into popular sectors for start-ups and analysed on a country-wide level.
---
Additional Sources
https://stateofeuropeantech.com/
https://sifted.eu/articles/austrias-startup-ecosystem-brnd/
https://sifted.eu/articles/european-tech-data-2022/
https://www.ehi.org/produkt/studie-e-commerce-markt-deutschland-2022
https://www.cityam.com/exclusive-london-is-the-silicon-valley-of-europe-but-city-can-not-afford-to-sit-on-its-tech-laurels/