Molly Patch: "The only thing that can destroy me is me"
Molly Patch is a lifelong athlete and a natural competitor born into a family of competitive spirits. She is an intriguing mix of eloquence and good humour, courage and introspection.
She is a rising star in a new generation of British female cycling talent – Sophie Wright, Pfeiffer Georgi, Alice Barnes et al - who admits to questioning her presence on the start line of the bigger events of the calendar.
She is the talented time-trialist, three-times the British Universities and Colleges women's 10-mile champion, who finished fifth at last year's national championships, having initially been left without an invitation. Her convincing correction of the oversight offers a window on a determined character.
"The national time-trial championships had been a big target for me, and will be this year, too," she says. "After being knocked back last year and not given a start, it was satisfying to go there and put up two fingers, so to speak, and to show that I should be there."
For those who follow her on social media, Patch is the young woman with alopecia, brave enough to say, in a manner of speaking, 'I have an autoimmune condition. Deal with it.'
"A lot of people associate alopecia with stress, but I say it's just my immune system getting a little bit excited and needing something to do," she jokes. "The only thing that can destroy me is me."
Later, we will discuss more deeply the condition and her courage in declaring it so publicly, but her comment is revealing of a character able to place good-natured defiance ahead of understandable anxiety. "Humour is my coping mechanism," Patch admits, in a five-word summary that does much to illustrate the intelligent personality behind an impressive athletic talent.
She is a final-year student of art history at the University of Birmingham, and the recipient of a sports scholarship that allows her to split her time between intellectual and physical pursuits. A rider on the track and on the road, competing in the BUCS championships and British Cycling's National Road Series, Patch's life is one with cycling, and the Brother UK- FusionRT elite women's team, at its centre.
Her progression from childhood fan of the Tour de France, to star-struck waitress to Rogers, Ewan and De Kort during a sporting gap year in Melbourne, and now a rising star in her own right, is impressive. Whether bike racing could one day become her profession remains an open question; another we address in the course of an intriguing conversation with a rider who has more than cycling to discuss.
Her father's daughter
Patch's pathway to elite women's cycling is not untrodden. A runner and swimmer at school, she gravitated to triathlon and from there suffered the usual period of adjustment that comes from arriving in cycle sport with no bike handling skills and discovering that an engine without steering is only of partial benefit.
There is a broader significance to this briefest of summaries, however: Patch is an athlete by inclination. Sport has been a part of her life from a young age, whether in the swimming pool or on the athletics track. She is a competitor. As the youngest child of three, and a sister to twin brothers, perhaps she had little choice in the matter.
"We've always been a sporty and athletic family. My brothers Joe and Archie were a year above me at school. We all got into swimming, and, at the time, I enjoyed it more than they did. They're both very quick-witted, and they're twins, so you can double the effect," she says.
"Neither rides a bike, but they've done athletics and football and swimming, and we were very competitive at school, which sometimes got a little heated! I'm always so competitive with them - I'm the 'little sister' – but both are massive role models for me. Their opinion means the most."
Her parents are another key influence. Her father is a cyclist and runner, confused with Chris Froome while dressed in FusionRT kit at last year's national time-trial championships; a case of mistaken identity that continues to amuse his daughter. Patch also takes a good-natured pleasure, shared by her mother, a cyclist who works in a bike shop, from the superiority she now enjoys over the old man. 'Twas not ever thus.
"When I was at school and a runner, my dad and I would run early in the morning. I went to school in Highgate, so we would run all the way down to Regent's Park and back up [Hampstead] Heath, ramping it up and up, until I was sick - just to beat my dad!"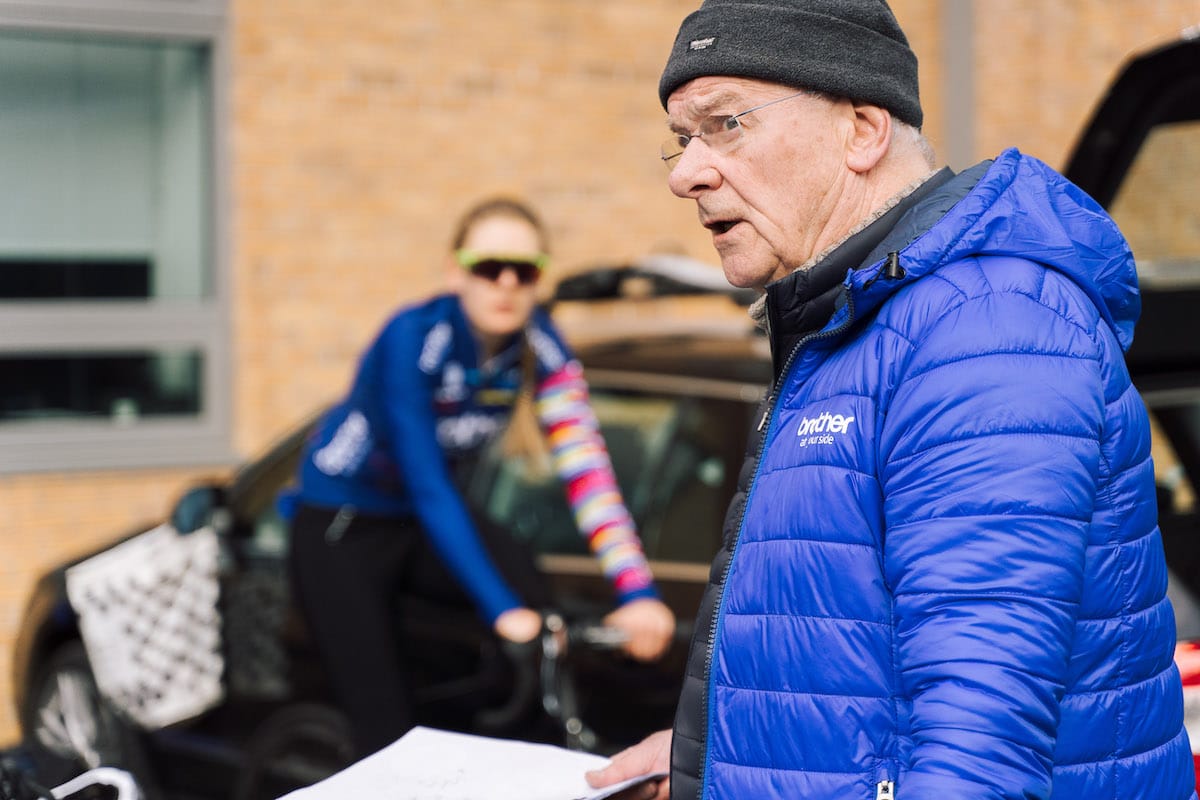 #TerrysAngels
Patch has recently begun her third season in the colours of Brother UK-FusionRT, even if those colours have changed significantly since the technology giant stepped up to the role of title sponsor.
Her first meeting with team manager Terry Williamson came at the end of 2016. Earlier that same year, she had competed in the Holme Valley two-day race; a fixture with a time-trial on day one, and a road race the following day. Patch's fortunes were mixed, to say the least.
"I came third in the time-trial, but my road race was terrible. I got dropped hard, and the experience opened my eyes to how much I needed to improve. I saw FusionRT work really well as a unit. I knew that to gain more experience, I needed to get onto a team competing in higher-profile races like those in the National Series."
Williamson travelled to Birmingham to sit down with the young rider and discuss her prospects, and made clear that her studies would take priority over bike racing. The pair got on well, and Patch, having previously noted the professionalism of his team, made it clear that she was keen to join.
The meeting laid the foundations for a season of learning in 2017. Patch was training hard and seeing the effect in her performance data, but numbers are one thing and racing is another; there is no substitute for experience. Happily, this vital commodity was precisely what her new team offered. Williamson, patient and supportive, proved the ideal manager.
If her results were "nothing to shout about", then this period proved necessary to Patch's education as a bike racer. While her achievements in local and regional events hinted at a greater potential, those that placed her on the national stage exposed a lack of self-belief. Williamson proved his qualities as a manager in such disheartening moments.
"My biggest downfall was a lack of confidence in the bunch, descending, bike handling and all that. I knew I had good numbers, that I was training quite well, but I wasn't up there at the front quite as much I'd expected. Terry never became annoyed, if I couldn't finish a race. He's more disappointed if you haven't done as much as you can do."
Team spirit
As manager, it's natural that Williamson's input will have the greatest effect on the team and how it races, but within Brother UK-FusionRT the impact is greater than elsewhere. Williamson inspires affection in his riders, where others might identify respect as the most they might achieve.
The motto #TerrysAngels is one that causes Williamson some embarrassment, but Patch reveals with glee that the monicker was her creation. This small aside in a wider discussion on the competitive value of team spirit offers another window on her character: playful, well-intentioned, and a cohesive force.
"Terry's great. He's provided opportunities for so many people in cycling. You've only got to look at the calibre of riders who've gone through his ranks, and how well they've done. They all started with Terry. He's got a good outlook on women's racing: he's not afraid to be honest, he's not afraid to say you could have done better, but he always has your best interests at heart."
Patch lists a host of benefits that accrue from camaraderie within a cycling team. Its unique nature - that the efforts of an entire team are required to secure victory for an individual - demands an extra commitment from its members to a shared spirit, she maintains.
"In races, each time we ride alongside a team-mate, we ask: 'How're you doing? How're you feeling?' It might be that they are a strong rider, but not feeling so great. You can decide how you're going to ride a race from that."
The approach, born out of simple concern, offers an immediate return on investment if the rider questioned is the designated leader and feels under par, or one given a supporting role who finds themselves with the legs of a lifetime.
"If younger riders are to learn how to be in a winning move, it's important that they have the opportunity to take what they've learned in smaller races and put that into practice. If you're constantly put in the position of working for someone else, you'll never feel that your hard work is coming to fruition, unless everyone is there to support you when you're feeling good on the day," she says.
Humour, defiance and complexity
Few medical conditions can be at once so public and as simple to conceal as alopecia. Either approach brings challenges. A person who hides any aspect of their being that is natural is unlikely to find long-term happiness, while courage is required to confront difference and abandon further attempts at concealment.
Patch does not lack courage. By posting an image of herself on Instagram last summer without a 'hair system', she made the most public declaration of her condition, one that began at the age of four. The supporting text made clear that such an intelligent and humorous personality as hers would not be curtailed by something as innocuous, in the grand scheme of life, as hair loss.
This is not to belittle the impact of alopecia on its sufferers, and especially on a young woman. Patch's Instagram post struck a defiant note ("I'm so bored with having my life and emotions dictated by my bloody hair"), but she acknowledges its effect and the extra layer of anxiety added to those that any student might feel on moving away from home to study.
"I lost all my hair when I was 18, which is a difficult age to lose your hair. When I came to university, I found it hard to cope with. I'd been through a few fluctuations in my emotions toward it - being in sport and in cycling has helped; my hairstyles had never been 'high maintenance' - but the last year has been a massive turning point," she says.
"I put a post on Instagram without my hair and said, 'This is the situation. I'm not Britney Spears – I haven't had a meltdown'! I couldn't be bothered to hide it any more. I just got sick of not feeling comfortable. During that very hot period last summer, I started going out without hair systems. It just got too hot and I couldn't be bothered!"
By the time she completes this brief, if unflinchingly honest summary, the wry tone has returned, and it's easy to envisage Patch, the confident young athlete, shrugging her shoulders and striding out into the world, unconcerned by its opinion. Such oversimplifications tend to be the domain of Hollywood movies, however. Reality is often more complex.
Get the message
Patch's announcement of her condition on Instagram was not a spur of the moment decision or one made on a whim, but the source of long consideration and discussions with her family.
Social media is intrinsic to the lives of Patch's generation, perhaps more so for athletes, and especially for cyclists, whose sport by its nature brings freedom and frequent changes of scenery, often photogenic. Within this context, posts on more serious topics, and especially on subjects as personal as a medical condition, are rare.
For those with the required courage, however, social media can be a tool for empowerment and a chance for the account holder to control the message. In this case, Instagram proved the perfect channel for Patch to literally uncover her condition. Her courage was rewarded.
"I cried a little bit with all the response the post generated; not breaking down, but welling up with emotion. We had quite a big build up to it - my parents were a bit worried for me - and I was so nervous about putting up the post. For so long, I thought people would say, 'That's so weird'. You normally assume the worst, but I got some really surprising responses," she says.
Senior riders in the British women's peloton were among those who commented on the post, which generated an overwhelmingly positive reaction. This, perhaps as much as the sense of relief from no longer having to conceal her alopecia, made the exercise worthwhile.
"A lot of people came out and said, 'Good on you for putting it out there. Massive respect!' Everyone has a story. People go through hard stuff. If someone is open, it normalises the situation and makes people think, I'm not the only one who's having a bit of shitter', for want of a better phrase!"
Wry commentary comes naturally to Patch; perhaps humour is more than a coping mechanism and in fact evidence of a personality strong enough to laugh at life's trials.
When in East Cleveland
Patch was at the heart of the action at the East Cleveland Klondike GP, the opening round of the National Road Series. Pitched against an extremely strong line-up, with Brother UK-Tifosi p/b OnForm and Drops among the competition, Brother UK-FusionRT took significant steps to proving Williamson's belief that this is a squad whose time has come.
Held on a technical course beset by windy conditions, the race offered no gentle introduction to the 2019 National Road Series, but an early test of strength. As a result, only the strongest riders were prepared to take it on, turning 'the Klondike' into a brutal meritocracy. Those at the sharp end of the race were those who deserved to be there.
Patch, team-mate Jos Lowden, and Anna Henderson (Brother UK-Tifosi p/b OnForm), her friend, university colleague, training partner and rival swiftly moved to the head of the bunch, making an early statement of intent in a race that would later become a war of attrition. With positioning critical on the fast, twisting descents, Patch's burgeoning confidence left her poised to strike when the decisive moves were made.
"When Jos attacked, and when Anna went across, part of me thought: 'I wish I'd jumped on her wheel.' You don't know how things are going to pan out. While I'm so pleased we had a podium, I think we had the strength in numbers to get a good team result, or to place someone high up in the team rankings."
Career progression
The season ahead promises much for Patch. With Brother UK-FusionRT already established as one of the strongest teams in the British women's peloton, she can expect to receive opportunities to lead, and to call upon the strength-in-depth of an established squad when those opportunities arise. Having learned her trade with a team defined by its unique spirit, support from her team-mates is almost a given.
Patch has clear goals, both within the team and as an individual. After a winter on the boards that peaked with second place in the women's team pursuit at the British championships, and the aforementioned victory in the BUCS Championship women's 10-mile time-trial, she is ready to maximise her opportunities with Brother UK-FusionRT.
"The national time-trial championships are a big goal for me, and I'm looking forward to the later races in the National Series, like the Curlew Cup. I'm really looking forward to the Lincoln GP, and if we can get a start in the new Women's Tour of Scotland, that would be amazing too."
The greater question remains: will she pursue the ultimate goal of turning professional? The pathway from a Brother UK-sponsored team to the highest level of the women's sport is not untrodden. Sophie Wright's ascension to the UCI Women's WorldTour with Bigla proves that the step can be made, and few would bet against Henderson following.
"I feel like I've come so far, that I'd love to give it a proper crack and see how far I can get. I'm lucky with the support I get from family and university. I'm around such high achievers at university, such as Anna [Henderson], and we train together quite a lot," Patch says.
"It can be quite daunting to think that this is an achievable goal and realistic, when I haven't won nearly as many as races, but there's no harm in dreaming and working towards that goal. The start of the season has gone so well that it's hard not to look so far ahead, especially with cycling, which is a sport you mature into."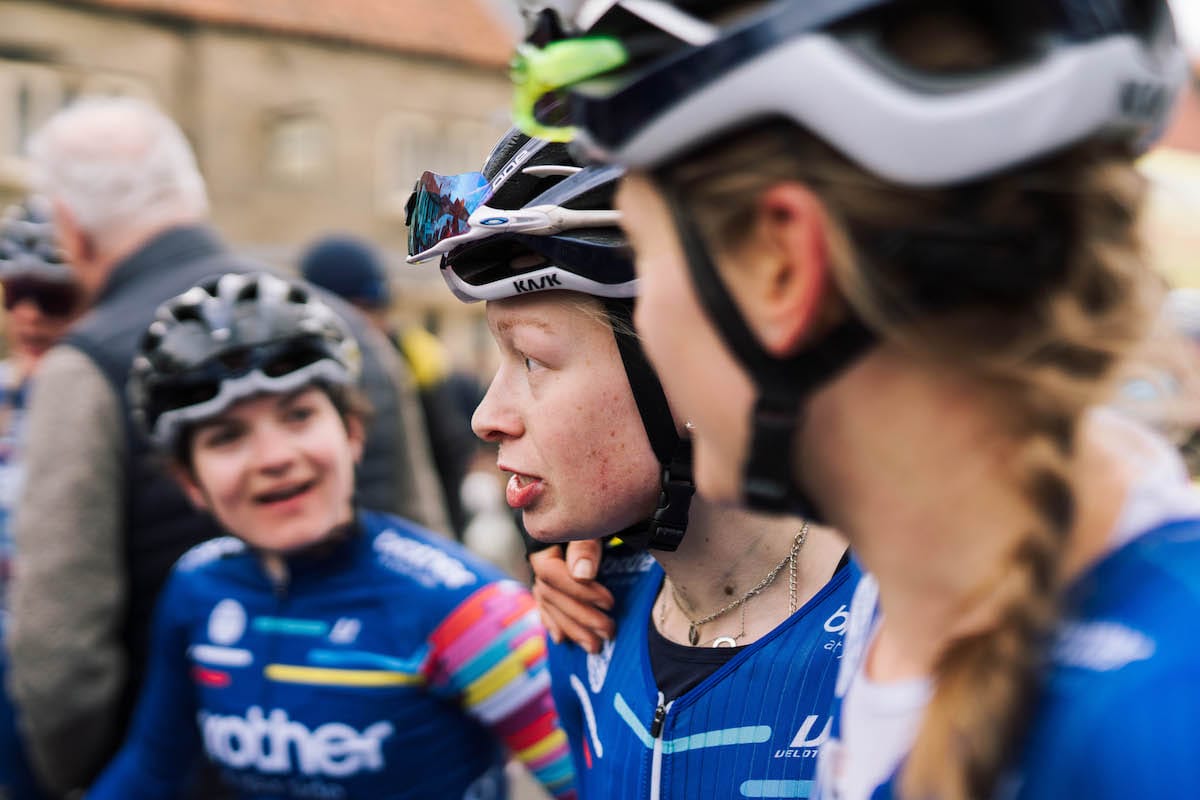 Life decisions
While an opportunity to turn professional is far from guaranteed, even for the most talented riders, Patch has shown several of the necessary traits required to turn a hobby into a living; determination, tenacity and continual improvement among them. Further, she is part of a scene which has caught the attention of the heavyweight squads of the UCI Women's WorldTour. Perhaps only Denmark can rival Great Britain for young, gifted female cyclists.
In recent years, the talent pool of British women's cycling has deepened with every season, as the popularity of the sport grows and opportunities increase. The clustering of the most able athletes at certain teams, a phenomenon repeated in all sports, has seen the rapid emergence of strong squads (Breeze, Drops, and Storey Racing, as well as the aforementioned Brother UK - Tifosi p/b OnForm), but Brother UK-FusionRT has no reason to fear any of them. Patch, who learned her trade with Williamson's team, has earned a place at its helm.
Life, as John Lennon observed, is what happens when one is busy making other plans. Patch has a degree to finish and opportunities in her personal life that might take her back to Australia. Her partner Joe Perkins, another talented rider and her male counterpart as reigning BUCS 10-mile time-trial champion, is soon to take a job there related to chemical engineering, following PhD studies at Nottingham University.
"I've got lots of life decisions to make," Patch concludes. Mature and intelligent, and having already lived in Melbourne, she is better-placed than most to make an informed decision. Sport is central to life in Australia, part of the national identity, and she will not lack opportunities to continue her cycling career, if life again leads her Down Under.
In Terry Williamson, she has a manager whose support she can rely upon, whatever she decides. Having made clear at the outset that her studies must come before bike racing, he is unlikely to insist that team commitments preside over personal. As of writing, nothing is yet decided, and those who have watched Patch make such rapid progress with Brother UK-FusionRT will hope to see her fulfil her goals for 2019 in its striking blue kit, whether, ultimately, it is Australia or the professional ranks that call her.