Overview
Multi-capture desktop scanning.
With the Brother PDS-Flatbed range, users can scan fragile paper, A3, passports, brochures, magazines, binder documents and photos from the convenience of a work station environment.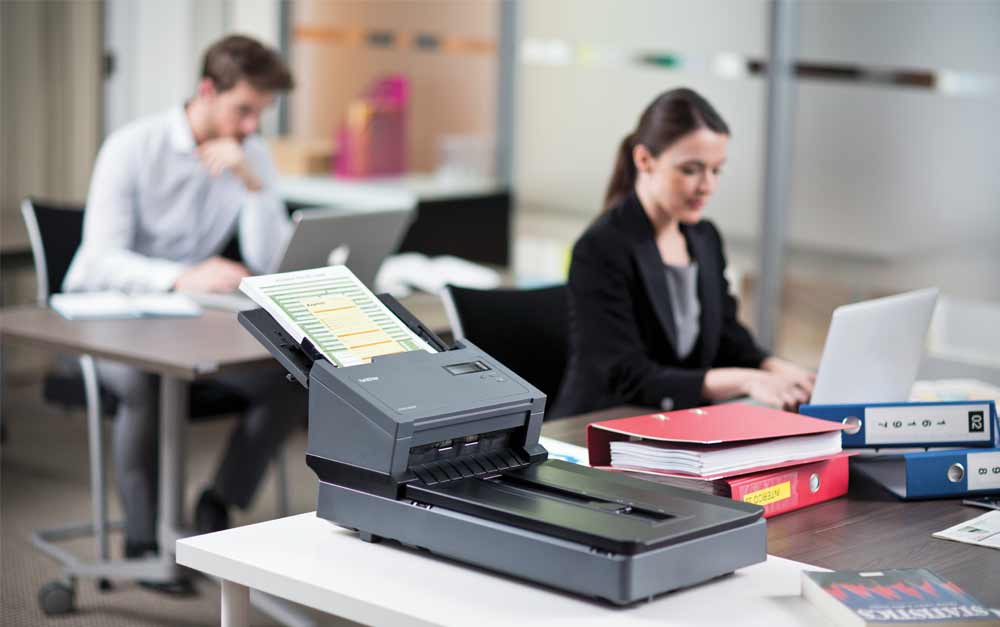 All users. All departments.
The option of scanning from both an ADF and flatbed allow businesses to incorporate several departmental requirements at once, giving increased flexibility and productivity across the office.
Scanning documents at up to 120ipm* (images per minute) and equipped with a range of advanced Image Processing capabilities, our new flatbed scanners make repetitive workflow processes quicker and more efficient across a multitude of departmental requirements.
*PDS-6000F
Advanced Image Processing.
Advanced image processing features clean scanned documents, ensuring information is captured accurately. This results in less ink wastage when documents are printed, reduces file size for sharing and generates a clearly legible article when reading.
Auto Image Rotation, Auto-Crop, Auto-Deskew
Align scanned images for a professional finish.
Blank Page Removal
Scanned blank pages can be automatically detected and removed, reducing file size and document preparation time.
Background Processing
Smooth and remove unwanted colours, creases or shadows from the scan.
Dynamic Threshold / Binarization
When images and text are difficult to read due to colour density, the Dynamic Threshold tool lightens or darkens images as required; for sharp, clear and easy to read documents. The levels of light and dark tones can be adjusted as necessary to improve readability.
Colour Dropout
Remove red, green or blue singular or background colours for sharper, easy to read text and to prevent bleed through.
Auto Colour Detection
With Auto Colour Detection, the scanner eliminates the need to pre-sort batched documents or use separator sheets. Storage space is significantly lessened and the time needed to pre-sort documents is reduced.
Multi stream
Colour images can be saved into mono and greyscale versions, as well as colour, for multi copy use.
Despeckle
When original documents have marks and ink blots, the intelligent image enhancement tool helps create a sharp and crisp image.
Edge Fill / Clean Up
Removing unwanted edging produces clean page borders without scanning shadows.
Punch Hole Removal
Produce clean page borders by removing punch hole marks from the scanned image. Our intuitive fill function can also colour match the document background.
Split Image
Scan and split single page documents into separate images for sharing or viewing as individual files.
This is especially useful for sending different areas of content within one document to different departments.
2 in 1 Scan
Scan 2-sided documents and save as a single-page image for easier and quicker viewing.
Continuous Scan
Allows bulk document scanning to be processed and stored as a single job lot, even when stopping to refill the ADF.
Digital Imprinter
Electronically imprint page counts, dates, times and custom references, onto scanned images.